Hurricane Harvey Warning In Texas and Other States!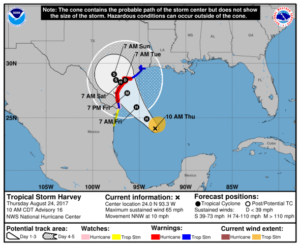 Hurricane Warning Alert!: Friday, August 25, 2017 for Following States:
Texas, Louisiana, Arkansas, Tennessee, Alabama and Florida
Heads Up! Hurricane Harvey is definitely strengthening into a major hurricane and is now forecasted to become a category 3 storm, before it hits the Texas coastline this Friday, August 25, 2017. Major Hurricanes carries winds of over 110 mph and should be considered a great threat to your life and property in this area.
Hurricane high winds will make landfall along the south Texas coast and tropical storm force winds are expected to move along most of southeast Texas. The rainfall of this storm is gigantic with 15+ inches of rain. Much of the Texas Gulf Coast and areas just inland should prepare for this! As much as 30 inches of rainfall is expected to in some areas.
Secure Arkansas anticipated Hurricane Harvey when we were looking at the effects of the Solar Eclipse for Monday, August 21. At the time of the eclipse Harvey was stationary in the Gulf of Mexico heading toward the coast of Texas.
As always, you can find our email articles posted on our website:SecureArkansas.com.  The Search box is a handy tool.  For more information about a topic, just type it into the Search box on our website, and click Enter!
Securing the blessings of liberty,
Secure Arkansas
securetherepublic.com/arkansas
[email protected]
Share This Article