Lethal Ingredients in Covid-19 Injections and Other Consequences…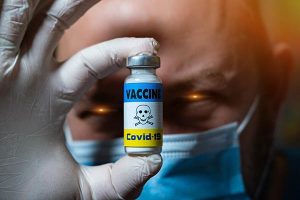 Are you aware of the ingredients in the Covid-19 shots?
If you had the shot, did you receive any information showing the ingredients or the side effects?
According to the Nuremberg Code, the voluntary consent of the human subject is vitally essential. We do NOT consent! We need to speak that loudly and clearly. The public are mentally, physically, economically, and spiritually suffering from what has been dictated and deployed onto every living soul on earth, and this experiment needs to be brought to an end.
Mandating this detrimental Covid-19 "vaccine" (the proper term is injection) began to be dumped and forced onto the public in order to attend churches, graduations, proms, and even work, for many.
Our corrupt healthcare system is loaded up with deadly medicines, deadly shots, and is fully saturated with organized crime, where the corrupt predatory system is silently waiting and stalking us until we fall ill/ prey to pharmakia (sorcery). The marketing fraud and ghastly propaganda of the latest Covid-19 injections carries a strong, violent force of demonic activity intended to harm, shorten your lifespan, and end your life. This Covid-19 "vaccine" bioweapon needs to be stopped as soon as possible!
This infographic, published by the Connecticut Department of Public Health and released on the Hal Turner Radio Show, reveals that the injections are NOT safe, let alone effective AND could even cause death.
What ingredients are in the Covid -19 vaccine? Do we need to know about the injurious SM-102, a poisonous chemical ingredient in the Moderna shot? Why are we so concerned? Because Chloroform, one of the ingredients in the Covid-19 shot, is a solution used with the noxious SM-102! Chloroform travels throughout the human body and breaks down into phosgene gas, which is fatal to humans because the lungs fill up with fluid! Phosgene toxicity goes into a phase where nothing is happening and people who received the Covid-19 shot may say, "I feel fine," but then it develops into pulmonary edema.
Health authorities and manufactures have known that this deadly Covid-19 combo of nasty chemical cocktails could have the potential to kill. It's harming too many people and causes vascular damage, blood clots, and death.
The SM-102 Material Safety Data Sheet describes this chemical as "NOT FOR HUMAN OR VETERINARY USE"
According to the manufacturer, Cayman Chemical Company in their filing with the Occupational Safety and Health Administration (OSHA), this chemical causes "Acute Toxicity "Fatal in contact with skin."
In that same OSHA filing, the manufacturer declares SM-102 "Causes damage to the central nervous system, the kidneys, the liver and the respiratory system through prolonged or repeated exposure."
Pfizer's vaccine studies are based on FRAUD and put lives in danger, warns former Pfizer vice president
mRNA vaccine studies are based on fraud, conceal serious vaccine injuries
Pfizer skipped animal studies to hide pathogenic priming, a deadly effect of coronavirus vaccines.
When the animal is exposed to the wild virus later, their immune system overreacts, destroying itself. This overactive immune response caused the death of all the animals exploited in the study. These animal studies were bypassed for the COVID-19 vaccine trials because the scientists were well aware of animal fatalities from previous coronavirus experiments. Dr. Lee Merritt: In Animal Studies, after being injected with mRNA Technology, ALL animals died upon reinfection. What happened is all animals died… but they didn't but they didn't die of the "vaccine". What they died from what used to be called immune enhancement" and now they call it "antibody dependent enhancement" (ADE).
OSHA drops BOMBSHELL: Employers who mandate covid vaccines may be held liable for "any adverse reaction"
The question and answer in full:
If I require my employees to take the COVID-19 vaccine as a condition of their employment, are adverse reactions to the vaccine recordable?

If you require your employees to be vaccinated as a condition of employment (i.e., for work-related reasons), then any adverse reaction to the COVID-19 vaccine is work-related. The adverse reaction is recordable if it is a new case under 29 CFR 1904.6 and meets one or more of the general recording criteria in 29 CFR 1904.7.

This clarification comes as an increasing number of employers seek to mandate the experimental injections despite possible illegality. The Wall Street Journal (WSJ) reported this beginning trend in varieties of fields, including machine operators, office workers, restaurant waiters, and medical staff.
So, employers beware!
Remember: the COVID-19 injection is an "investigational new product", and you can read about it directly from the Food and Drug Administration (FDA). This is under an Emergency Use Authorization (EAU) and is NOT fully licensed by the FDA. The issuance of an EUA is different than an FDA approval (licensure) of a vaccine.
Thankfully, it is illegal to mandate vaccines under Emergency Use Authorization, and the law is clear: states are barred from mandating a vaccine approved for emergency usage. (See Section VI. Preemption.) It also should be illegal for private businesses, airlines, or your employer to mandate a vaccination while it is approved under an EUA.
ARE YOU TRULY INFORMED? "If only I knew then what I know now…" This article and video entitled "The Covid Vaccine On Trial: If You Only Knew…" is moderated by Maureen McDonnell, a pediatric registered nurse for over 40 years who organized dozens of children's health conferences where she met hundreds, if not thousands, of parents of children who were harmed by vaccines. She explains:
"When these parents learned about the role of vaccines had played in causing their children's health problems, or their behavioral or developmental conditions, many of these parents came up to me at these events and looked me straight in the eye and said, 'If only I knew then what I know now, boy would I have made different decisions.' "
From the transcript:
All the presenters you are about to hear from tonight are here for one reason. They don't want you to look back at this time and this decision as to whether or not to take this particular vaccine and say, "If only I knew then." As we all know, censorship is now at an all time high, yet few topics are more significant than this one. One has to ask, why is there so much mistrust of this vaccine, and why is it so difficult to obtain information and have a discussion about the science and data related to this particular vaccine?

This webinar seeks to fill the void that has been created by the extreme level of censorship and answer some of those hard questions that you and millions of concerned individuals around the world are asking.
In the video and transcript, Dr. Sherri Tenpenny and Dr. Lawrence Palevsky mention polyethylene glycol, and anaphylactic shock is one of the symptoms associated with that particular ingredient which has NOT been tested for safety when injected! The concern is that the lipid nanoparticles may travel ANYWHERE in the body.
Tenpenny also outlines seven mechanisms of injury associated with the Covid-19 shots.
If you prefer to read the transcript of the video, click here.
Remember, when dealing with the medical industry and their destructive drugs, we are dealing with the most powerful force and the most profitable industry on earth… and how quickly people submitted to the lockdown, losing their businesses and way of life, shows us that we have been thoroughly conditioned for more threats and chaos to come.
We have cocooned in our homes long enough! Whenever we observe deception and censorship in all forms of the media, we should beware, because they are silencing voices that need to be heard! Top scientists are warning us about these deadly injections, but the US Government, powerful corporations, and top universities are moving forward to put policies in place that would jeopardize the health of all of us. Reiterating, our public policy has been captured by the global elite such as Fauci, Gates, Rothschild, Buffet, Soros, the United Nations, the World Health Organization, the CDC, and the World Economic Forum.
If we could save just one life with the information we put out to the public, then it's worth all of the trouble and effort.
Parents, you must stand up for your children and keep them from receiving this deadly injection. Here's an article you must read.
And why isn't Fauci being criminally investigated for developing biological weapons that have been deployed against humanity?
From the article:
During a recent segment, Carlson called on federal law enforcement to immediately launch an investigation into Fauci's obvious malfeasance concerning every imposition that has come about since this whole thing began.

For instance, where is the science to back wearing a mask? If the "vaccines" do not prevent the spread of the Chinese Virus, then why are people being told to get them? How about the fact that safe remedies exist for the Wuhan Flu that Fauci refuses to acknowledge?

It has been more than a year since the plandemic began and Fauci still has nothing to offer beyond injections, masks, and fear. How is this a true representation of "science?"
In closing, we have been lied to, and if you still think our tyrannical government and medical health officials that are currently in place would not harm you or your family members, think again! The global elite have a lack of conviction and a terrible lack of respect for humankind, and we are witnessing the torture and mass execution of humanity on a large scale.
"You may choose to look the other way, but you can never say again that you did not know."
— William Wilberforce
As always, you can find our email articles posted on our website: SecureArkansas.com.  The Search box is a handy tool.
For more information about a topic, just type it into the Search box on our website, and click Enter!
Securing the blessings of liberty,
Secure Arkansas
securetherepublic.com/arkansas
[email protected]
Share This Article