No Vaccine Mandates in America… and Leave our Children Alone!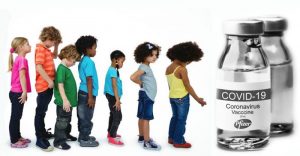 What is this vaccine mandate seeking to accomplish? Annihilation? Think about the threats. We have been enslaved by the man-made Covid-19 bioweapon from the authoritarian Communist Chinese Party (CCP), the cabal of billionaire global players, and the Big Tech elites' surveillance system that is extracting all our biometrics.
Regarding Covid, Dr. Peter McCullough recently stated in a lecture to a large audience in Michigan on September 24, 2021 that "we're in the middle of a major biological catastrophe." He went on to explain that "there has been an injection of a substance into half of Americans' bodies, and there's yet to be a report to America on safety." Noting that every industry has high standards of safety, he stated that it's "beyond astonishing" that there is no independent safety monitoring system for this situation. "We never let the company decide on the cause of a problem. We never let a company tell us if a product is safe," McCullough said, and "not having a Data Safety Monitoring Board will go down in history as a colossal misstep in public health."
Of course, we're being told that our children need to be "vaccinated" against Covid-19 now, too! 17 Pharma Henchmen Who Voted to Experiment on Your Kids – and How to Shun Them
The 17 members of the U.S. Food and Drug Administration's Vaccines and Related Biological Products Advisory Committee who voted 17-0 in favor of authorizing Pfizer's COVID vaccine for kids ages 5 to 11 all have deep ties to pharma.
Why are we allowing our healthy, defenceless children to be subjected to an experimental "vaccine" …especially if they have a 99.997% survival rate if infected with SARS-CoV-2?
Isn't this a nano-tech vaccine that replicates… an operating system, device, or an injectable computing system? What do you think will happen to you or your loved ones when this crosses the blood-brain barrier? Sounds like an Artificial Intelligence (AI) that replicates itself in the human body. It appears that the self replicating mRNA vaccines were created BEFORE the Covid pandemic, and then the Chinese bioweapon appeared on the world stage to work chaos among the masses.  Forced vaccines with this type of technology are the perfect evil delivery system that can cause us to fall under control of nefarious influences and destruction.
"Woe unto them that call evil good, and good evil; that put darkness for light, and light for darkness; that put bitter for sweet, and sweet for bitter!" — Isaiah 5:20
Warning! The vaccines have NOT been proven safe or effective, dear reader.  ALL the COVID-19 vaccines cause the body to express large amounts of the spike protein to occur by design in the human body and most concerning, the spike protein causes cell and tissue damage, blood vessel injury, and blood clots. Injected people/victims will see chronic diseases emerge like we've never seen before. The future could be very dim for the human race as the consequences from the loaded vaccines play out.
Have you seen what is in some of the Covid injections? MUST WATCH:  This video on Rumble is one of the most serious we've seen so far in our research. It's long, and the information in it may be difficult for some to believe. You can watch it in bits, but please be sure to WATCH IT and share our article with everyone you know. People need to be made aware of what is inside of the Covid injections! This information is being kept secret from the public and even those in the medical community… unless they study it themselves.
The secret of freedom is educating the people, whereas the secret of tyranny is keeping them ignorant and dependent.
Stop the mass vaccinations before it's too late! If you take the jab, you could become a piece of inventory to be tracked. Haven't we seen enough of the erosion of our freedoms since a Covid "pandemic" was incorrectly declared on the world? And when did our employers become medical overseers of our health and what's best for us? We should already have a legal, federal, and religious exemption under Title 7 of the U.S. Civil Rights Act that prohibits religious discrimination at the worksite, but big corporations are ignoring it.
Do NOT take over jobs or positions of those that are refusing to be vaccinated as the Biden Misery Index is rising. Let those damnable companies suffer for following the dictator Klaus Schwab World Economic Forum (WEF) scheme and letting go of their valued employees. Some cunning companies are offering huge signing bonuses to those that will take over a position of the unvaccinated (if they are vaccinated). What would you do for money? Scripture says,"For what shall it profit a man, if he shall gain the whole world, and lose his own soul? Or what shall a man give in exchange for his soul?" in Mark 8:36-37.
If you can't properly discern that this maleficent "vaccine" campaign is NOT in your best interest… read no further.
Millions of us will stand firm and NOT take this vile, demonic injection, even if we are incentivized, criminalized, shamed, bullied, coerced, or punished. We aren't saying this is easy, either… but the intimidation, fear tactics, and false trust in government entities being pushed onto the public is NOT from God: "For God has not given us a spirit of fear, but of power and of love and of a sound mind." — 2 Timothy 1:7.
"Let us hold fast the profession of our faith without wavering; (for he is faithful that promised.)" Hebrews 10:23 KJV
Hold fast to the profession of your faith in Yeshua and in the Word of YHVH. The word "profession" means to confess; to promise; to acknowledge; assent; to give thanks. It is a weighty thing – a covenant affirmation or acknowledgement. It's not a flippant thing to say, that has nothing to back it up. It is a serious and committed statement. The dictionary meaning of profess or profession is: a declaration; to lay claim to; to declare openly; announce or affirm; avow or acknowledge; to affirm faith in or allegiance to. Confess means: to admit as true.
So, stand firm, and don't waiver! Tell people why they shouldn't take this insidious injection. Any so-called minister of God telling people to get this Covid shot is a false prophet. Remember, some churches were incentivized to promote the Covid vaccine campaign. You will know them by their fruits.
Biden's America is now greatly divided, including many family members and friends. Tucker Carlson recently aired this on Fox News: Biden Talks About Unvaccinated Like a President Talking About Foreign Dictators.
Here is Biden's viciously wild and inflammatory speech in Chicago at Clayco Construction owned by Robert Clark. This corrupt politician is saying it's been a pandemic of the unvaccinated. Employers like this are dangerous to work for…
Attention, Legislators! In the US, we should NOT allow a governor to abuse our constitutional rights and mandate anything. Every state should be protected from insane medical abuses, tyranny, lockdowns, and mandates. Our economy and our health cannot handle anymore disastrous declarations. The storm of inflation is raging, the supply chain is crippled, and gas prices are surging, too. This, too, has all been in the plan to take down America. Under the crippling Biden Administration, we are paying a lot of money just for our basic needs to be met. Soon we will become a cashless society. The American standard of living has definitely been lowered. Our legislatures across the country should provide us more protection and NOT get us in deeper with the corrupt dictatorial federal government!
States: get busy and FIGHT for us… please! We NEED a good political response from our legislators… not just an inept legal one from the courts. Our businesses need to be protected from the heavy-handed ways of the predatory federal government that can swoop down on us. It's the small businesses that make America thrive! The federal government should only have limited and enumerated powers, period.
Here's what's going on in Florida, Nov. 4 2021:  there will be no vaccine mandates for children! Governor DeSantis forbidding vaccine mandates, mask wearing mandates and vaccine passports. Bravo, Governor! …if the perverted courts don't block it.
Many of us, our spouses, and/or family members are facing job termination because we will not take the technological deadly injection developed by criminals that know the extreme potential for harm it will cause once released on the innocent public. All this health and economic devastation for shots that do NOT prevent infection or transmission of SARS-CoV-2.
Unfortunately, our healthcare system has been bought and paid for by corporate America. We can see their black hand in what is happening in hospitals across the country. It is nothing but criminal. This is the result of the corporate takeover of medicine. Pharmaceutical companies, share holders, and insurance companies are getting rich from this evil synchronized depopulation agenda. We know what happens with the love of money…
And what about our good doctors? They are NOT allowed to practice good medicine anymore. They have been bullied and intimidated for long enough! Let's do our best to get behind our doctors that are brave enough to speak out. Most doctors are not allowed even to consider the side effects, illnesses, or deaths that come from these Covid shots! The corrupt state Boards of Medicine are actively intimidating and threatening physicians, nurses, and frontline workers with loss of licence and/or jobs or title distinctions if they don't follow through with Dr. Death's/Fauci's synthetic mRNA injection mandate.
A sincere thank you to all the courageous doctors, nurses, and professionals who willingly speak out in such a time as this.
In India, their state government has declared they are Covid-free after Ivermectin is promoted. India has a population of 241 million people. How is it that Uttar Pradesh has fully recovered from COVID despite the fact that only 5.8% of its population have been fully vaccinated, compared to the USA that has 54% fully vaccinated? 
Check this out:  The Research Is Clear:  Ivermectin Is a Safe, Effective Treatment for COVID. So Why Isn't It Being Used?
Despite efforts to denigrate ivermectin as "horse paste" and prevent doctors from prescribing it and patients from using it, the latest research shows this safe, inexpensive drug is effective at keeping COVID patients out of the hospital.
And this:  Review of the Emerging Evidence Demonstrating the Efficacy of Ivermectin in the Prophylaxixis and Treatment of COVID-19
Note: The authors declare that the research for the paper was conducted in the absence of any commercial or financial relationships that could be construed as a potential conflict of interest.
The Front Line COVID-19 Critical Care Alliance Prevention & Treatment Protocols for COVID-19 (FLCCC) recommendation is based on the following set of conclusions derived from the existing data, which will be comprehensively reviewed below:
Since 2012, multiple in vitro studies have demonstrated that Ivermectin inhibits the replication of many viruses, including influenza, Zika, Dengue and others (Mastrangelo et al., 2012;Wagstaff et al., 2012;Tay et al., 2013;Götz et al., 2016;Varghese et al., 2016;Atkinson et al., 2018;Lv et al., 2018;King et al., 2020;Yang et al., 2020).
Ivermectin inhibits SARS-CoV-2 replication and binding to host tissue via several observed and proposed mechanisms (Caly et al., 2020a).
Ivermectin has potent anti-inflammatory properties with in vitro data demonstrating profound inhibition of both cytokine production and transcription of nuclear factor-κB (NF-κB), the most potent mediator of inflammation (Zhang et al., 2008;Ci et al., 2009;Zhang et al., 2009).
Ivermectin significantly diminishes viral load and protects against organ damage in multiple animal models when infected with SARS-CoV-2 or similar coronaviruses (Arevalo et al., 2020;de Melo et al., 2020).
Ivermectin prevents transmission and development of COVID-19 disease in those exposed to infected patients (Behera et al., 2020;Bernigaud et al., 2020;Carvallo et al., 2020b;Elgazzar et al., 2020;Hellwig and Maia, 2020;Shouman, 2020).
Ivermectin hastens recovery and prevents deterioration in patients with mild to moderate disease treated early after symptoms (Carvallo et al., 2020a;Elgazzar et al., 2020;Gorial et al., 2020;Khan et al., 2020;Mahmud, 2020;Morgenstern et al., 2020;Robin et al., 2020)
Ivermectin hastens recovery and avoidance of ICU admission and death in hospitalized patients (Elgazzar et al., 2020;Hashim et al., 2020;Khan et al., 2020;Niaee et al., 2020;Portmann-Baracco et al., 2020;Rajter et al., 2020;Spoorthi V, 2020).
Ivermectin reduces mortality in critically ill patients with COVID-19 (Elgazzar et al., 2020;Hashim et al., 2020;Rajter et al., 2020).
Ivermectin leads to striking reductions in case-fatality rates in regions with widespread use (Chamie, 2020).
The safety, availability, and cost of ivermectin is nearly unparalleled given its near nil drug interactions along with only mild and rare side effects observed in almost 40 years of use and billions of doses administered (Kircik et al., 2016).
The World Health Organization has long included ivermectin on its "List of Essential Medicines"
Don't take the "vaccine", dear reader… Why? Read this from Paul Craig Roberts from the Institute for Political Economy saying, "Our hospitals are jammed with people seriously ill and dying from the Covid vaccines." Do NOT play Russian roulette with your life.
See below what's been happening to the vaccinated. Open your eyes! It's not the unvaccinated people you should be concerned with, but the vaccinated.
Must read this in California: Ventura County Nurses Blow The Whistle on Crisis in Local Healthcare. Listen to the voices of knowledgeable nurses.
Or how about this article from Zero Hedge that was referenced: Something Strange is Happening at Hospitals All Over America. Here's a snippet below:
But at this particular hospital in Michigan, we are being told that some of the main things that are being treated include "abdominal pain", "respiratory problems", "blood clots" and "heart conditions"…
For humanity to blindly accept these experimental alien synthetic injections is ludicrous.
Dr. Anthony Fauci – This minister of propaganda is EVIL and spouts lie after lie.The government, vaccine developers, and the elite global players such as Bill Gates, Klaus Schwab, the Rockefellers, and George Soros and the like, care not for your health and well being!
Remember, Fauci funded (through the Obama Administration) the Wuhan Institute of Virology and collaborates with the sinister red hand of the Chinese Communist Party (CCP) that can be seen all over the globe.  China's dark history of concentration camps should have concerned us decades ago, let alone the other atrocities such as organ harvesting that has also taken place for many decades now.
Today, the Communist China Regime still dreams of social control across the planet as they continue to use AI assisted surveillance systems. This surveillance system could be used for profiling and/or punishing people. Look at what's going on inside China's DNA dragnet, the world's largest police-run database. Never underestimate the power of the Chinese Communist Party (CCP).
And see this article from Reuters: China's gene giant harvests data from millions of pregnant women. Here's a disturbing snippet from that article:
The scale of BGI's accumulation of prenatal data, and its collaboration with the military in prenatal and neonatal research, have not been previously reported. The company has published at least a dozen joint studies on the tests with the People's Liberation Army (PLA) since 2010, trialling and improving the tests or analyzing the data they provided, the Reuters review found.
This article mentioned the Communist People's Liberation Army (PLA). Their cold-blooded military is experimenting on people and even stealing their organs. Fauci continues to work with Communist China.
We are now clearly seeing the malfeasance, fraud, and conflicts-of-interest that has been committed by our U.S. medical officials.
The vaccines that have been developed are harmful, risky, and considered dangerous. There is more to this agenda than meets the eye. Extinction codes will play into all this chaos.
Remember Ephesians chapter 6:
"Finally, my brethren, be strong in the Lord and in the power of His might. Put on the whole armor of God, that you may be able to stand against the wiles of the devil. For we do not wrestle against flesh and blood, but against principalities, against powers, against the rulers of the darkness of this age, against spiritual hosts of wickedness in the heavenly places. Therefore take up the whole armor of God, that you may be able to withstand in the evil day, and having done all, to stand.

Stand therefore, having girded your waist with truth, having put on the breastplate of righteousness, and having shod your feet with the preparation of the gospel of peace; above all, taking the shield of faith with which you will be able to quench all the fiery darts of the wicked one. And take the helmet of salvation, and the sword of the Spirit, which is the word of God; praying always with all prayer and supplication in the Spirit, being watchful to this end with all perseverance and supplication for all the saints…"
Dr. Peter McCullough, an internist, cardiologist, and epidemiologist in academic medical practice in Dallas, Texas, has been busy talking, educating, and opening our eyes about the"catastrophe" of COVID-19 "gene-transfer" vaccines and the "loaded weapon" of the spike protein they produce. Here is McCullough's radio program you can link to in order to stay updated.
From the corrupt National Institutes of Health (NIH) you can find that genome sequencing continues and so does genome surveillance. You might want to look at the Human Genome Project (HGP), too. The human race is in one big messy experimental project.
Did you know NIH has a National DNA Day that is tied to genomics? Aren't we fighting for our human DNA to remain intact? See Messenger RNA (mRNA) and what it does or listen to the short narration from that link here.
Get familiar with this talking glossary of genetic terms that will be helpful in understanding, especially for doctors and healthcare professionals.
Dr. Anthony Fauci, Director of the National Institute of Allergies and Infectious Disease (NIAID), a division of the NIH, and who has also worked with the the National Institute of Child Health and Human Development (NICHD), should be considered one of the world's most evil men of today. He cannot be trusted. Look at this horrific project:  The House That AIDS Built that occurred in 2003. Dr. Fauci was responsible in for experimenting on children in the New York's Washington Heights Incarnation Children's  Center (ICC):
From the introduction to the article The House That AIDS Built:
In New York's Washington Heights is a 4-story brick building called Incarnation Children's Center (ICC). This former convent houses a revolving stable of children who've been removed from their own homes by the Agency for Child Services. These children are black, Hispanic and poor. Many of their mothers had a history of drug abuse and have died. Once taken into ICC, the children become subjects of drug trials sponsored by NIAID (National Institute of Allergies and Infectious Human Development) in conjunction with some of the world's largest pharmaceutical companies – GlaxoSmithKline, Pfizer, Genentech, Chiron/Biocine and others.

The drugs being given to the children are toxic – they're known to cause genetic mutation, organ failure, bone marrow death, bodily deformations, brain damage and fatal skin disorders. If the children refuse the drugs, they're held down and have them force fed. If the children continue to resist, they're taken to Columbia Presbyterian hospital where a surgeon puts a plastic tube through their abdominal wall into their stomachs. From then on, the drugs are injected directly into their intestines.

In 2003, two children, ages 6 and 12, had debilitating strokes due to drug toxicities. The 6-year-old went blind. They both died shortly after.  Another 14-year old died recently. An 8-year-old boy had two plastic surgeries to remove large, fatty, drug-induced lumps from his neck.

This isn't science fiction. This is AIDS research.
Fauci Led NIAID Spent $5.6 Million Taxpayer Dollars Forcing Beagle Puppies to Endure Bites from 250 Ticks. You may have heard about this.
In the most recently uncovered Kansas State University research study, up to 138 six-month-old Beagle puppies have been (or will soon be) injected with a lab-made mutant bacteria. Five days after being infected with the mutant bacteria, the puppies are forced to endure the bites of 250 blood-sucking ticks for an entire week. After 7 days, the ticks are removed and the puppies are subjected to bi-weekly blood tests for another 8 weeks. When the blood tests are complete, the dogs are killed—and YOU paid for it.
The experiment also involved cutting some of the puppies' vocal cords so they couldn't bark! (Apparently, this practice was common in scientific settings to "reduce noise levels".)
Where is human decency and compassion? Where is the respect for life? Do you REALLY want this guy to dictate our health policies for mankind?
Here's a letter that Senators Rubio, Paul, and colleagues sent a Letter to Fauci about the cruel and torturous puppy experimentation that Fauci funded through NIAID.
The FDA, CDC, and the NIAID are to protect the venerable public, NOT to follow the corporate tyranny and corrupt bureaucrats running the government. They're to identify all safety concerns. They're not to act as marketing firms for drug companies, but that's precisely what they've doing… plus, they are lining their pockets with millions of dollars.
This is Gestatpo Germany all over again. Wake Up, America and the world. We have evil men involved with our medical wellbeing. Biden is strictly following orders from the global cabal like Klaus Schwab, Bill Gates, Anthony Fauci, but our "special" Congress does NOT have to take the mandated insidious injection because they are part of the legislative branch. Moreover, there is no mandate for the illegal aliens illegally coming across the chaotic border. Biden's globalist policies have put our country in great jeopardy.
If you've got time to watch this lengthy 40-minute video, Dr. Been presents some telling and detailed information: Spike Protein Goes to Nucleus and Impairs DNA Repair (In-Vitro Study)
In addition, the COVID "Vaccine" spike proteins destroy DNA repair pathways, paving the way for CANCER to grow and spread.
Here are a few snippets from the article.
(Natural News) Those creepy vials full of mystery chemicals that they are calling "vaccines" for the Wuhan coronavirus (Covid-19) have been found to destroy the body's ability to protect the integrity of DNA, which over time can cause cancer.

In essence, Chinese Virus injection spike proteins inhibit natural DNA damage repair, which is an essential component of the body's adaptive immune response. Jab spike proteins localize themselves in the nucleus of cells and block key DNA repair proteins such as BRCA1 and 53BP1 from doing their job.
So, what are the legal rights of the people harmed by the SARS-CoV-2 shots?
As mentioned in one of our previous articles, people only have ONE YEAR to file for benefits if they suffered damages/injury or the death of a loved one due to the Covid-19 injection. The Countermeasures Injury Compensation Program (CICP) was created via the PREP Act (to limit the vaccine manufacturers' own responsibility and liability for serious injuries and DEATH!) and here are the details and how to file: Comparison of Countermeasures Injury Compensation Program (CICP) to the National Vaccine Injury Compensation Program (VICP).
This program/compensation fund shifts liability for "vaccines" to the government (taxpayers, actually) and shields the drug manufacturers… and this is highly suspicious.
People are being harmed, crippled, or killed by the deadly vaccines every day, and the victims and their families need and demand proper compensation. We all know the financial responsibility should be on the vaccine manufactures, NOT on the taxpayers!
…But wait, haven't the vaccine manufacturers been granted immunity? Wow! Many people are woefully ignorant of the grave adverse side effects being reported and the consequences of harm that can develop in their bodies.
Thankfully, Montana and Texas have a private employer vaccine mandate ban in place as of October 8, 2021. Also, 21 states are banning vaccine passports (and Arkansas is one of them). Arkansas has joined the lawsuit to ban vaccine mandates… We are wishing this could have happened earlier, though. The Biden mandate is an attempt to federalize public health issues involving vaccination that belong within the States police power. That's what Missouri's Attorney General Eric Schmitt stated in the lawsuit that he filed.
Fight for our U.S. Constitution! The OSHA rules need to be examined closely because this is not just about vaccines but is much more about imposing the corporate will on the people and expanding government. Since when did OSHA get jurisdiction over vaccines? They do NOT have the authority to mandate employees to get the deadly injection. We are not a hazard! They reject immunity conferred through prior infection, but they acknowledge that the vaccinated can get and transmit the delta variant. Good grief!
Yes, mandatory vaccines, tests, and check-ups sound like what's going on in Communist China…
As always, you can find our email articles posted on our website: SecureArkansas.com.  The Search box is a handy tool.
For more information about a topic, just type it into the Search box on our website, and click Enter!
Securing the blessings of liberty,
Secure Arkansas
securetherepublic.com/arkansas
[email protected]
Share This Article