Important Global COVID Summit 1/8/2022 – North Little Rock, AR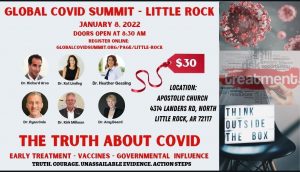 If you've been looking for an opportunity in Arkansas to hear in-person information about Covid-19 from knowledgeable professionals, this is it.
Secure Arkansas is excited to share information about a special event that will be held in North Little Rock very soon, so register quickly before seats fill up:
Saturday, January 8, 2022 from 9:00am-4:00pm
LOCATION: Apostolic Church, 4314 Landers Rd, North Little Rock, AR 72117
Join physicians, scientists, and frontline professionals to discuss insights and analyze findings regarding COVID-19 treatment and care. The group will place particular emphasis on questions around COVID-19 vaccinations for children.
SPEAKERS (click for bios):
Dr. Richard Urso
Dr. Katarina Lindley
Dr. Heather Gessling
Dr. Kirk Milhoan
Dr. Amy Beard
Dr. Ryan Cole
Plus, other special guests!
Doors open at 8:30am.
PRICE to attend: $30 – click here to purchase
PLEASE BRING: Pen, notepad, reusable water bottle, and a sack lunch (or you may leave to purchase food)
Also, you may attend a VIP Dinner with the Doctors
from 5:30pm-8:00pm
Only 50 tickets available – $90 additional charge
See the image below for more info: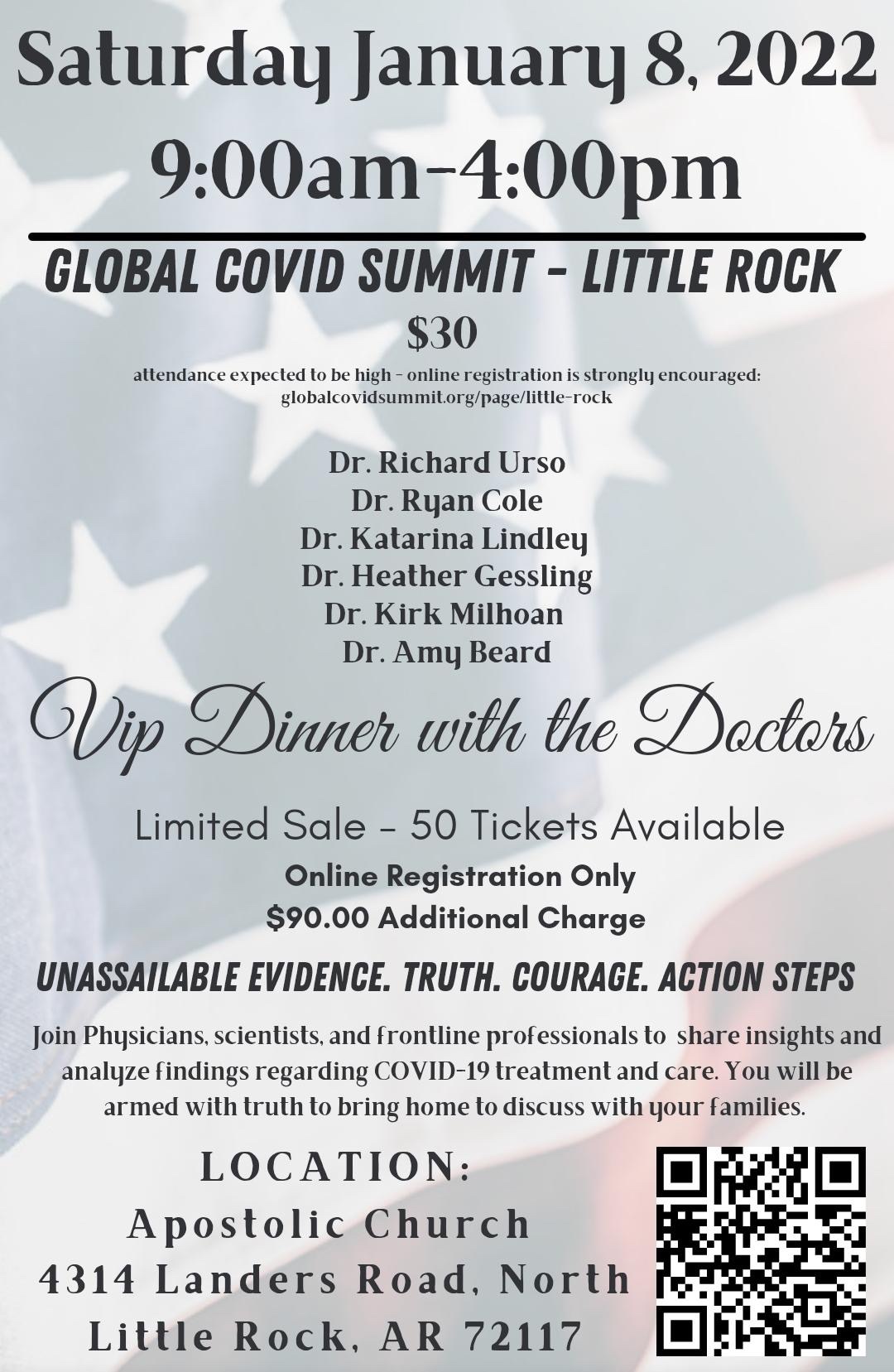 If you don't live close by, it will be worth the drive!
Doctors and healthcare professionals in Arkansas and even other states, please try to attend this.
As always, you can find our email articles posted on our website: SecureArkansas.com.  The Search box is a handy tool.
For more information about a topic, just type it into the Search box on our website, and click Enter!
Securing the blessings of liberty,
Secure Arkansas
securetherepublic.com/arkansas
info@securetherepublic.com
Share This Article