Arkansas' 3rd District Best Choice: Neil Kumar (R)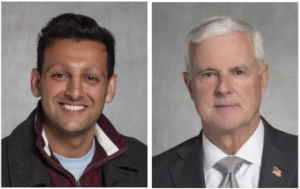 Neil Kumar (R) vs Incumbent Steve Womack (R) in Arkansas' 3rd Congressional District
Pictured: Arkansan Neil Kumar (left) is facing U.S. Rep. Steve Womack in the 2022 Republican Primary for Arkansas' 3rd Congressional District
Neil Kumar (R) — Best Choice!
Secure Arkansas believes that Neil Kumar is the best choice for Arkansas' 3rd Congressional District.  Neil is a strong supporter of states' rights and strong Christian values.
Please remember to vote in the Primary Tuesday, May 24th. If Neil doesn't get elected in the Primary, it will be over for him in this election cycle because he cannot advance on to the General Election, dear reader.
Have you heard him speak? Here is a YouTube video of Neil Kumar's Arkansas rally at the Capitol exposing Medical Tyranny.
Neil Kumar deserves to be heard!
Here's Neil's platform: neilforarkansas.com
Also, here is what Neil is passionate about:
End the Great Replacement by halting ALL immigration, building the Wall, and deporting every illegal.

Defend the Second Amendment ABSOLUTELY.

Fight to Protect Life by criminalizing infanticide, stripping medical licenses of abortionists, indicting politicians who use taxpayer funds for abortion, indicting donors to abortion providers, and criminalizing the use of fetal tissue.

End the War on the Working Class by repealing the Civil Rights Act, ending affirmative action, banning Critical Race Theory, dismantling Leftist terrorist groups, and defending the January 6 Trump supporters.

Make the Family Great Again by providing childbirth bounties to stay-at-home mothers, eliminating no-fault divorce, reforming the anti-family "family court" system, taxing university endowments, and forgiving student debt–by making the universities eat the cost.

End the Opioid Plague.

Fight LGBT Perversion by ending gay marriage, restricting adoption to straight married couples, criminalizing LGBT propaganda to minors, and criminalizing transgender drugs and procedures.

Secure Our Elections by mandating in-person paper ballots ONLY, voter ID, and fully auditing the illegitimate 2020 election.

Put America First by ending foreign aid and foreign interventionism, repudiating Chinese debt, penalizing offshoring and outsourcing, and rebuilding our manufacturing.

Preserve Our Heritage by protecting monuments and defunding the anti-American education system.
Isn't it time for a change? We are living in critical times, and we NEED a good, strong congressman to represent the state of Arkansas moving into our future.
Steve Womack is a Disgrace — Womack certified the Biden 2020 Election on January 6,2021 and Womack did not support any objections to the certification
Steve Womack Hates Trump and Hates Trump voters more
Steve Womack Loves China and Hates Trump voters more
Womack Calls Trump Fans "Extremists"
Womack Says Biden Won! and "we should accept that".
Womack Voted for Pelosi Witch Hunt
Womack calls Trump Voters Un-American!
Shockingly, the incumbent, Congressman Steve Womack, voted for the nationwide vaccine passport and also refused to answer questions 7, 8, and 9 of the Arkansas Voters Guide survey that was sent to him.
Neil Kumar opposed questions 7 and 8 and supported question 9:
Question 7 COVID: Allowing private employers to mandate COVID-19 vaccinations for employees.
Question 8 Foreign Policy: Using the U.S. Military to defend Taiwan against Chinese aggression.
Question 9 Enforcing anti-trust laws to break up large tech companies like Google and Facebook.
Neil Kumar completed Ballotpedia's Candidate Connection survey in 2021. Click here to read the survey answers.
But Steve Womack did not complete the Ballotpedia's Candidate Connection survey.  The question is:  why?
And who's funding Womack's campaign? Not surprisingly, Steve Womack seems to have endless amount of global players  — including the Waltons — providing the huge sums of money to keep this RINO in office. Click here to follow the money for Steve Womack. After you get here, click Top Donors to see his Contributors.
Steve Womack must be defeated in the May 24, 2022 primary.
The GOP is repulsed to let Neil Kumar to talk at several GOP functions. View for yourself how rudely Neil has been treated while on the campaign trail:  Watch Neil Kumar's Carroll County campaign speech. (2:40 minute video)
The RINO Grand Old Party (GOP) of Arkansas is trying to block this man and censure the voice of true conservatives and will even stoop to bullying, if necessary. Unfortunately, the RINO GOP will NOT acknowledge that there was voter fraud in the 2020 Presidential Election in America.
Here is a revealing article entitled The Walton's Go To War On Ozarkia that Neil wrote to make people aware of what has been transpiring in the Bentonville area.
Here's a brave and noteworthy snippet from Neil's article that exposes what is happening in small town Bentonville:
The destruction of our Southern heritage is more than symbolic, of course. The Waltons—through Walmart and the foundation—are importing legions of urban Leftists to colonize Bentonville. Now, LGBT flags fly from the rooftops and Biden signs line some of the streets. This is in a county that voted more than 60 percent for POTUS 45 Trump in 2020.
We are sure statements like Neil's would anger the globalist Waltons because they are used to getting their way and running the show.
The nation's wealthiest family, the Waltons, living in our small and conservative state should cause us to realize that money can buy almost everything… including politicians, and that's just what they have done across the state, especially in the 3rd Congressional District. Here's a good example:
Hillary Clinton has had deep ties to Walmart for many years and has even served on Walmart's board.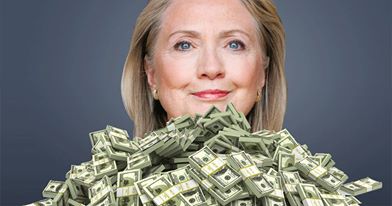 Here's a snippet from the Arkansas Online article linked above:
Despite the family's long-standing connection with Hillary Clinton, the former secretary of state and Walmart board member, the children and grandchildren of Sam and Helen Walton have long backed mainly conservative candidates and groups. However, new data shows some family members shifted their donations more to the left in recent years. 
In closing, Neil says, "I will represent Arkansans—and ONLY Arkansans—no matter the cost." 
But Womack would have us mandated to be injected over and over again… while representing Big Business, Big Pharma, and global players.
If you want to elect someone that would truly represent you in the 3rd Congressional District, then Vote for Neil Kumar – he's your man! Give him your support because this battle is heated, and we need a strong leader who will stand up against the status quo and global tyranny… to protect the freedom and sovereignty of our great state and nation.
Godspeed, Neil!
As always, you can find our email articles posted on our website: SecureArkansas.com.  The Search box is a handy tool.
For more information about a topic, just type it into the Search box on our website, and click Enter!
Securing the blessings of liberty,
Secure Arkansas
securetherepublic.com/arkansas
info@securetherepublic.com
Share This Article