Cease and Desist Notice to Arkansas Governor, All State Senators, & All State Representatives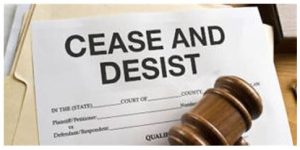 To: Arkansas Governor Sarah Huckabee Sanders, all Arkansas State Senators, and all Arkansas State Representatives, this is a Cease and Desist letter.
You are all being put on notice to Cease and Desist and repeal all Acts that have violated the exclusive original jurisdiction of the counties in Arkansas as laid out in the Arkansas Constitution:
The County Courts shall have exclusive original jurisdiction in all matters relating to county taxes, roads, bridges, ferries, paupers, bastardy, vagrants, the apprenticeship of minors, the disbursement of money for county purposes, and in every other case that may be necessary to the internal improvement and local concerns of the respective counties. The County Court shall be held by one judge, except in cases otherwise herein provided.
This cease and desist notice will serve as evidence that you have been given notice of your illegal behavior. If the Arkansas Governor, State Senators, and State Representatives continue their unconstitutional behavior of violating the Arkansas Counties after receiving notice, this can serve to strengthen a legal claim against the violating parties.
The Quorum Court of each county has exclusive original jurisdiction in every matter… of local concern.
With "Exclusive Original Jurisdiction" if the parties cannot settle the matter, no other court but the Supreme Court has authority, under the Constitution, to take jurisdiction. The Counties have more power than the state government when it comes to "Exclusive Original Jurisdiction" in issues that affect their counties.
Listed below are a few of the Acts that must be repealed as they violate the Exclusive Original Jurisdiction powers of the counties in Arkansas. See Arkansas Constitution Article 7, Section 28. The legislators violated their oath of office when they introduced and passed the UNCONSTITUTIONAL legislation, and the governor violated her oath of office when she signed the UNCONSTITUTIONAL Act into law.
From the Arkansas Constitution:
Oath of Office

Arkansas Constitution Article 19, § 20

§ 20. Oath of office.  

Senators and Representatives, and all judicial and executive, State and county officers, and all other officers, both civil and military, before entering on the duties of their respective offices, shall take and subscribe to the following oath of affirmation:

"I,_______ , do solemnly swear (or affirm) that I will support the Constitution of the United States and the Constitution of the State of Arkansas, and that I will faithfully discharge the duties of the office of ________, upon which I am now about to enter."

Grounds for Removing from Office

Arkansas . Constitution Article 15,  § 1

§ 1. Officers subject to impeachment — Grounds.

The Governor and all State officers, Judges of the Supreme and Circuit Courts, Chancellors and Prosecuting Attorneys, shall be liable to impeachment for high crimes and misdemeanors, and gross misconduct in office; but the judgment shall go no further than removal from office and disqualification to hold any office of honor, trust or profit under this State. An impeachment, whether successful or not, shall be no bar to an indictment.

Arkansas Constitution Art. 7, § 27

§ 27. Removal of county and township officers — Grounds.

The Circuit Court shall have jurisdiction upon information, presentment, or indictment, to remove any county or township officer from office for incompetency, corruption, gross immorality, criminal conduct, malfeasance, misfeasance or nonfeasance in office.
.
Remember, a Cease and Desist letter provides notice that legal action may and will be taken if the conduct in question continues.
Examples of harm: Regarding Acts 819 and 851, there is property boundary encroachment and invasion of privacy, not to mention that in Arkansas, a person or entity can get an LLC and not be a U.S. citizen and can even be a foreign enemy, and THAT opens up our state, our nation, and our people to harm. Remember, there are known Communist Chinese people (such as Gang Hu) doing this in Arkansas. These crypto data mining centers hook up to our electrical grid that's already overloaded! They use up our precious water resources and pollute. They blast out EMF waves and terrible noise, they drive up our electrical rates, and yet they get a pass on sales and use taxes! This is harmful as it has lured the Communist Chinese to our state, considering that of the crypto mining sites are tied back to Communist China, our known adversary. Read some of our many past articles on that:
.
Another example, Act 197, the fluoride mandate bill: there is harm to the citizens in Arkansas counties whenever they ingest fluoride in their drinking water from water systems that have added the toxic chemical.
.
Lastly, the case for paper ballots — the communist Chinese have access to the voting machines which are easily hacked, and the majority of the components are made in China. We have covered this in past articles such as these:
.
Here's an article from NBC News: Chinese parts, hidden ownership, growing scrutiny: Inside America's biggest maker of voting machines
Some snippets:
"The voting machine lobby, led by the biggest company, ES&S, believes they are above the law," said Sen. Ron Wyden, D-Ore., a member of the Intelligence Committee who co-signed the letter. "They have not had anybody hold them accountable even on the most basic matters."

Chinese manufacturers can be forced to cooperate with requests from Chinese intelligence officials to share any information about the technology and therefore pose a risk for U.S. companies, NBC News analyst Frank Figliuzzi, a former assistant director of the FBI for counterintelligence, said. That could include intellectual property, such as source code, materials or blueprints. There is also the concern of machines shipped with undetected vulnerabilities or backdoors that could allow tampering.

The issue took on greater urgency after the FBI disclosed in July 2018 that a Russian oligarch had invested in a Maryland election services firm. Officials in Maryland and North Carolina have started questioning voting machine makers about potential foreign ownership.
.
In closing:
Arkansas Governor Sarah Huckabee Sanders, all Arkansas State Senators, and all Arkansas State Representatives must Cease and Desist all attempts to violate "Exclusive Original Jurisdiction" powers of the counties in Arkansas. Those who continue to violate their Oath of office will be subject to being removed from office. All previously passed Acts that violate the Exclusive Original Jurisdiction powers of the counties in Arkansas MUST be repealed immediately as they are unconstitutional and they go against Arkansas' Counties laid out in the Arkansas Constitution Article 7, Section 28. The unconstitutional Acts are causing substantial harm to the citizens in Arkansas counties.
.
To view past articles on our website, click "Posts & Articles" at the top left. Once there, scroll down to view them, and click the "Next Page" button at the bottom right to view more past articles. They are listed from most recent to least recent.
Click here if you'd like to sign up to receive Secure Arkansas email alerts!
.
As always, you can find our email articles posted on our website: SecureArkansas.com.  The Search box is a handy tool.
For more information about a topic, just type it into the Search box on our website, and click Enter!
Securing the blessings of liberty,
Secure Arkansas
securetherepublic.com/arkansas
info@securetherepublic.com
image credit for cover image
Share This Article