Part 1: Ark. State Rep. Admits to Taking Bribes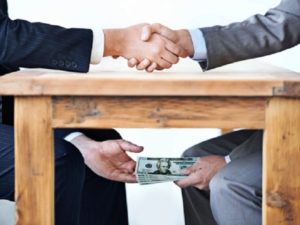 A press release was issued on January 4, 2017, by the United States Department of Justice concerning bribes accepted by a Arkansas representative and a non-named Senator from Northwest Arkansas. Representative Micah Neal, 43, of Springdale, Arkansas, pled guilty to receiving approximately $38,000 in bribes from officials at non-profit entities. (Secure Arkansas will list these entities in Part Two — a subsequent article — very soon.)

Ark. Representative Micah Neal
89th & 90th General Assembly
photo credit
Secure Arkansas believes that this is just the tip of the iceberg. Concerned Arkansans should take an active, diligent watch during the 2017 legislative session. We know that bribery is going on all across the country, and corruption involves ALL political parties. It has no regional or political boundaries!
If anyone has similar cases that need to be reported (suspected or known fraud or public corruption), they can contact the FBI Hotline at 800-225-5324. OR, if you want to stay anonymous, you may contact us at SecureArkansas@gmail.com and we will investigate.
In this article, we're including other news stories and articles about this problematic issue.
We will start with the full press release from the U.S. Attorney's Office, Western District of Arkansas (hotlinked and included directly below).
The United States Attorney's Office
Western District of Arkansas
FOR IMMEDIATE RELEASE
Wednesday, January 4, 2017
WASHINGTON – An Arkansas state representative pleaded guilty today to conspiring to authorize and direct a total of $600,000 in state government funds to two non-profit entities in exchange for tens of thousands of dollars in kickback payments, announced Assistant Attorney General Leslie R. Caldwell of the Justice Department's Criminal Division and U.S. Attorney Kenneth Elser of the Western District of Arkansas.
Micah Neal, 42, of Springdale, Arkansas, pleaded guilty today before U.S. District Judge Timothy L. Brooks of the Western District of Arkansas to one count of conspiracy to commit honest services fraud. Sentencing will be scheduled at a later date.
As part of his guilty plea, Neal admitted that, between January 2013 and January 2015, while serving in the Arkansas House of Representatives, he conspired with an Arkansas state senator to use their official positions to appropriate government money known as General Improvement Funds (GIF) to a pair of non-profit entities in exchange for bribes. Specifically, Neal and the senator authorized and directed the Northwest Arkansas Economic Development District, which was responsible for disbursing the GIF, to award a total of $600,000 in GIF money to the two non-profit entities. Of the $600,000, Neal personally authorized and directed a total of $175,000 to the entities. In return for his official actions, Neal received approximately $38,000 in bribes from officials at those non-profit entities.
The Federal Bureau of Investigation and the Internal Revenue Service investigated the case. Trial Attorney Sean Mulryne of the Criminal Division's Public Integrity Section and U.S. Attorney Elser and Assistant U.S. Attorney Kyra Jenner of the Western District of Arkansas are prosecuting the case.
——-
Remember, Representative Micah Neal did plead guilty to receiving approximately $38,000 in bribes from officials at non-profit entities. Click here to read Micah Neal's plea agreement. (Neal pleaded guilty rather than face trial.) According to the charge, the state senator with whom Neal admitted conspiring had served in the state House of Representatives from 2007 through 2012 and in the state Senate since 2013. One senator who meets that description is Jon Woods, R-Springdale, who did not immediately return a call seeking comment.
——-
Here's an article from Channel 5 News dated January 4, 2017:
Arkansas State Representative From Springdale Admits To Taking Bribes <– click here to watch the news video. Part of the article is shown directly below.
SPRINGDALE, Ark. – An Arkansas State Representative from Springdale pleads guilty to bribery today (Wednesday, [Jan. 4, 2017]).
U.S. Attorney Kenneth Elser of the Western District Court says 42-year-old Micah Neal pleaded guilty to one count of conspiracy to commit honest services fraud.
A release from the Department of Justice says Neal admitted between January 2013 and January 2015, he collaborated with an Arkansas State senator, who is not named in the release, to use their official positions to appropriate 600-thousand dollars of government money to two not for profits in an exchange for kickback money.
According to Elser, Neal specifically authorized and directed 175-thousand dollars to go to the Northwest Arkansas Economic Development District, based out of Harrison, in return for 38-thousand dollars of bribe money from officials at the not-for-profit entities.
Neal did file for re-election last year, however, quit the race before the November election.
His sentencing will be held at a later date.
——-
Arkansas' Channel 5 said that the description given by Micah Neal matches Sen. Jon Woods, R-Springdale, and he may be the other person involved in the bribe along with Representative Micah Neal who just pleaded guilty. Over the past many years, Secure Arkansas has observed Senator Jon Woods working behind the scenes against many issues of concern to the Arkansas residents, so we are not surprised to see this sinister scandal happening!
The following picture of Jon Woods came from an Arkansas Times article dated November 7, 2015 and was taken during a fundraiser held by Governor Hutchinson. THREE WEEKS after the fundraiser, Senator Woods said that he would not seek re-election to the state Senate — after serving ten years!
Who is really pulling the strings? And who else may be involved? Hopefully, we can address this in our next article (Part 2).

Arkansas Senator Jon Woods and Arkansas Governor Asa Hutchinson
picture credit here and here
The following blog post article IS THE MOST IMPORTANT ONE OF THIS WHOLE ALERT and will bring you up to speed on the latest menacing occurrences in the bribery case within the Arkansas State Legislature, so be sure to click on it! We've included part of it as a snippet, but you'll want to click the link and read the whole thing.
January 6, 2017 by Warren Throckmorton
Last night on Facebook, Ecclesia College's president Oren Paris III denied any wrongdoing in the emerging Arkansas bribery scandal. Yesterday, state representative Micah Neal admitted conspiring with an as yet unnamed state senator to secure bribes from two non-profits, one being Ecclesia College, in exchange for funds administered by the state's General Improvement Fund.
——-
Again, THAT was just a brief SNIPPET! Be sure to read the entire article! (linked here)
In summary: according to the news reports and articles we've included, there are 4 entities involved in this bribery scandal:
Representative Micah Neal

Senator Jon Woods (allegedly)

Oren Paris III (allegedly) (He's the President of Ecclesia College)

Ecclesia College itself (allegedly)
There's more to come regarding this alarming, underhanded scandal.
Stay tuned for Part Two!
Your friends and family may also sign up to receive our Action Alerts by clicking here.

As always, you can find our email articles posted on our website: SecureArkansas.com. The Search box is a handy tool. For more information about a topic, just type it into the Search box on our website, and click Enter!
And remember:
Securing the blessings of liberty,
Secure Arkansas
securetherepublic.com/arkansas
info@securetherepublic.com
Share This Article