Copy of URGENT: 2nd Amendment Ordinance for Counties ALL Across the Country!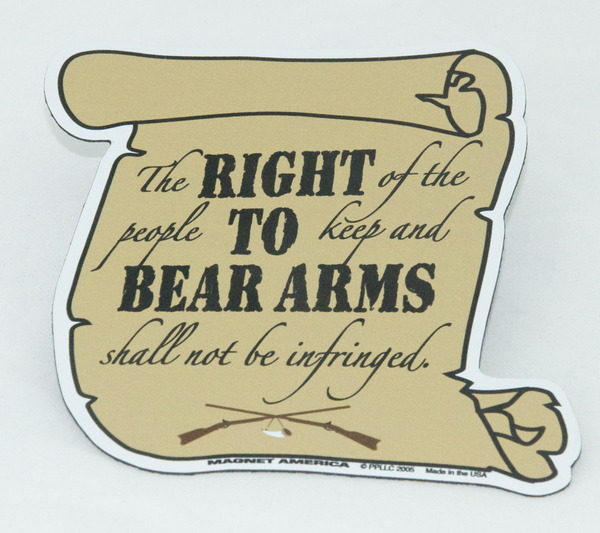 Will you help support our gun rights?
Arkansans are passionate about our gun rights, and city and county elected officials have the legislative power to implement this 2nd Amendment Ordinance provided here that is granted to them by our Arkansas State Constitution.
Stand up for the 2nd Amendment… or you could be disarmed! It is a safeguard against tyranny.
Unfortunately, many documents misrepresenting our Right to Keep and Bear Arms are coming from non-government associations (NGO's) and have been spread throughout state.
Those NGO documents are a hindrance and a waste of time for the Quorum Courts. The Quorum Courts need to be listening to the people and not to NGO's for directions that govern their everyday lives.
Inefficient documents have been sent to all the Arkansas County Sheriffs by an unelected NGO addressing the proposed state "Red Flag" Laws and Due Process and "Second Amendment County" Resolutions. Regrettably, Arkansas Governor Asa Hutchinson supports this unconstitutional law. He stated he would like to adopt an "Extreme Risk Protection Order"(ERPO) in Arkansas.
But did you know that all Red Flag Laws are unconstitutional? They originated from the defective Red Flag Rule created by the Federal Trade Commission and other government agencies… and they lead to unconstitutional gun confiscations. 

The Red Flag Law allows law enforcement to take away your guns without any due process. All they need to do is put you on their dangerous list. ANYONE can call in and complain about you potentially being a danger.
How? Red Flag laws allow the police or family members to petition a state court to remove firearms from a person who presents a danger to themselves or others. At the initial hearing, the petition and evidence are presented to support the claims of the individual in question (the "Respondent") is a threat… But lamentably, these hearings may be conducted "ex parte," meaning the respondent is not present to defend himself or herself. If the order is granted, the police will execute the order to remove firearms with no notice to the Respondent. In other words, the government could go into their house, unannounced, to remove their personal property and take away their rights! We have a right to be secure against unreasonable search and seizures and should object to ex parte hearings.
So, what can be done?
ATTENTION, Arkansas Quorum Court Justices of the Peace!  We are sure that most county officials want to step up and support the peoples' "Right to Bear Arms". That being said, would you please consider passing this 2nd Amendment Ordinance (linked above)? By putting this 2nd Amendment Ordinance into place, it will help protect the peoples' 2nd Amendment Rights and prevent unconstitutional changes in our right to keep and bear arms.
Also, we must be aware of the following: 
"All laws which are repugnant to the Constitution are null and void." 
~Marbury vs. Madison, 5 US (2 Cranch) 137, 174, 176, (1803)

"When rights secured by the Constitution are involved, there can be no rule making or legislation which would abrogate them." 
~Miranda vs. Arizona, 384 US 436 p. 491

"An unconstitutional act is not law; it confers no rights; it imposes no duties; affords no protection; it creates no office; it is in legal contemplation, as inoperative as though it had never been passed." 
~Norton vs. Shelby County 118 US 425 p. 442

The general rule is that an unconstitutional statute, though having the form and name of law, is in reality no law, but is wholly void, and ineffective for any purpose; since unconstitutionality dates from the time of its enactment, and not merely from the date of the decision so branding it.

"No one is bound to obey an unconstitutional law and no courts are bound to enforce it." ~16 Am Jur 2nd, Sec 177 late 2d, Sec 256
Remember, resolutions are a waste of time because they do NOTHING.
Simply stated: a resolution just makes and expresses an opinion as to some matter of county affairs. A resolution DOES NOT compel or cause any executive action! Again, a resolution squanders time for both the county and state legislators.
Secure Arkansas takes the position that if a quorum court wants to protect the 2nd Amendment Rights for the people in the county, then they must do it through a constitutionally-sound Ordinance. Let's not settle for the Quorum Court doing a Resolution instead of a Ordinance. Sadly, a Resolution offers NO protection to the people securing their God-given 2nd Amendment Rights… but an Ordinance does.
Oath of Office JP's are to uphold: We need county officials to take their oath of office seriously and defend the people of their counties. Their Oath of Office is listed in the "Constitution of the State of Arkansas of 1874:
Article 19, § 20 "Oath of Office".

Senators and Representatives, and all judicial and executive, State and county officers, and all other officers, both civil and military, before entering on the duties of their respective offices, shall take and subscribe to the following oath of affirmation: "I, _________ , do solemnly swear (or affirm) that I will support the Constitution of the United States and the Constitution of the State of Arkansas, and that I will faithfully discharge the duties of the office of _________ , upon which I am now about to enter."
In closing, we need a home rule advantage when it comes to protecting our gun rights! The quorum courts are a potent political division! If this ordinance linked here is implemented in your county, it can take precedence over any conflicting state laws concerning local affairs. Please get with your county official today and have Arkansas Justices of Peace (JP's) install this ordinance. Ask them, "Will you support the 2nd Amendment Ordinance?"
Justices of the Peace, will you please do the honorable thing and pass this 2nd Amendment Ordinance?
As always, you can find our email articles posted on our website: SecureArkansas.com.  The Search box is a handy tool.
For more information about a topic, just type it into the Search box on our website, and click Enter!
Securing the blessings of liberty,
Secure Arkansas
securetherepublic.com/arkansas
info@securetherepublic.com
Share This Article