Coronavirus: Follow The Money… and the Players!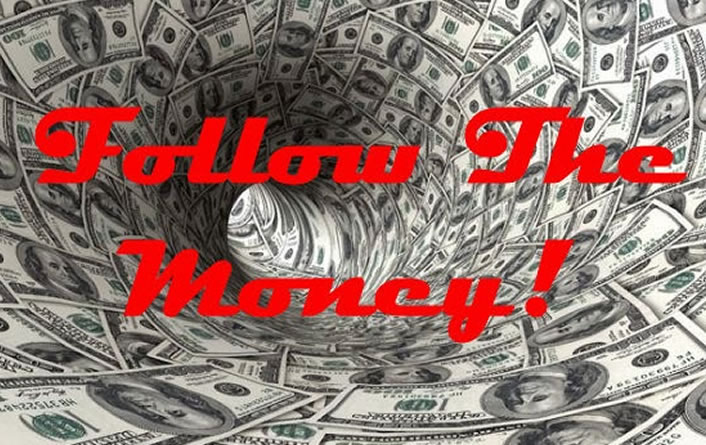 — The problem with the Deep State Shadow Government —
America, contracted out!
When times appear perilous and people are scared or angry, we look for answers. Sometimes we look for the person responsible… and/or we look for a hero, someone to save us… but what if that "hero" were actually the villain?
We have seen that governments around the world, including the United States, will ALWAYS take advantage of a crisis. No, we have not forgotten 9/11 and the murders and deaths of innocent people… let alone the horrendous policy called the "Patriot Act" that was rushed through Congress and put into place under the guise of protecting the American public under then-President George W. Bush! That was back in 2001…
More recently, a $2.2 Trillion Coronavirus Stimulus Package (phase 3) has been working its way through Congress and was just passed by the House on Friday, March 27, 2020… and President Trump signed it into law shortly after. What does this mean for our country?
And what about the military? They are gathering around the world in an attempt to "enforce" their global policies… and who knows what else??? It looks like Army recruits are being trained in biological AND electronic warfare… technology for continuous war. Under this, people get sick and die!
Global players create a crisis, most currently known as the coronavirus… and they also create the legislative "solution"! Moreover, they manage it. How do they do it? It is contracted out through public-private partnerships, especially foundations, which are the way the oligarchs launder money that steers social, economic, and even foreign policy.
A substantial amount of this Coronavirus propaganda has deeply affected the money markets, and certain privileged people have profited and are profiting by it! That, dear reader, is evil and criminal!
Who is grabbing all the money? Moreover, who is grabbing our freedoms?
This corrupt deep state is strategically organized by the use of cooperative agreements, grants, contributions, and CONTRACTS, and this is one of the largest intelligence operations that the world has ever seen. Dramatic, sweeping changes have been made and are continuing to be made, here in the United States and around the world.
This is a lengthy article, but stay with it, as we will tie in some unscrupulous players and agendas…
Intro summary:  In this article, we will address the Coronavirus crisis (COVID-19) and some of its connections, including:
How we got here… and why our country is about to crash
The players involved in this crisis: people, companies, foundations, universities, governments, and public-private partnerships (PPPs)
Who is conducting it, profiting from it, and how
Who runs the deep state… and who takes part in it
An alarming prior pandemic simulation
Special Note: For our overly-exposed healthcare workers who have not had the proper protective gear available, this is absolutely unacceptable! They are in harm's way. Who has REALLY been handling healthcare in this country? Who could have been involved in the shortages? " Real change happens at moments of crisis…" Our rights are in great danger now, and especially our healthcare…moreover, our money. Keep reading…
The Diabolical Plan: This devious agenda — via the redistribution of wealth from a lab-created virus and resulting man-made pandemic — has begun to restrict and twist policies to inhibit our freedom of healthcare, travel, and the ownership of property and businesses. Strict measures are carefully being put into place, as the elite globalists have been PLANNING this totalitarian coup d'etat for years now. Entire states and countries are shutting down. We are talking about a brutal economic impact on any country. (If small businesses close for a month, they could be bankrupt, not just here but across the globe.) The news is even talking about a cashless society. It appears that a harsh, dreaded, and unelected global government is being created to expand their power further. Humanity has been undermined once again!
Global uncertainty in this bio-warfare: Martial Law is surrounding us. When this long, drawn-out, man-made pandemic crisis is over, then what? What type of policies will stay in place for our country and in this generation? We might resent what the outcome for normal behavior becomes…
Invoking fear: Surgeon General Jerome Adams stated on Monday, March 24, 2020,
"I want America to understand: this week, it's going to get bad…"
Attention, medical workers: There is a clear and obvious shortage of PPE (Personal Protective Equipment). According to the Lancet, the Coronavirus (COVID-19) appears to cause a rapidly developing viral pneumonia in some patients,… but are you aware that some of the healthcare which you provide, including materials to keep you and others safe, is actually being managed by a British company called SERCO? They are the biggest corporation nobody's ever heard of…
*MUST READ! This shows the stranglehold Serco has on the U.S.  SERCO: Foreign Outsourcing Giant Takes Over the US National Security State
How does one corporation — and a mammoth British transnational corporation at that — provide so many critical services throughout the USA's Military-Industrial Complex, and yet very few people have ever heard of them?
It is only by correctly understanding the true role that the SERCOs of the world have in the running of the planet that anyone can even begin to apprehend the enormity and complexity, pervasiveness and profundity of the Government-Corporate Complex. Truly, the warnings of George Orwell's 1984 have found their full manifestation in the real 800 pound gorilla that currently rules the realm — the entire planetary civilization. As follows:  The Government-Corporate Complex Takes Complete Control Of The USA
Running under the guise of "public-private partnerships": SERCO Group is a contracting firm in the United Kingdom and a British outsourcer of public services, and their CEO is Rupert C. Soames (grandson of Winston Churchill).  Did they have world-class healthcare in place in the U.S, as they have touted? Obviously, somebody failed!
Pay attention, here! Public-Private Partnerships means the handling of our government is CONTRACTED OUT, in this case — to Serco!
Serco has the following operations in the United States:
Obamacare: Readers, are you aware that Serco runs the Obamacare website?
In July 2013, Serco was awarded a $1.25 billion contract to manage the implementation of the Patient Protection and Affordable Care Act, which makes Serco one of the most highly paid government contractors in the U.S. (Obama had his talking points prepared for him, and off he went on a big campaign.) The Affordable Care Act was signed into law in 2010 and remains in place today, still too expensive for many.
Health Insurance Companies
In 2018, Serco wins a $900M Contract to Support U.S. Health Benefit Exchanges. Here are some excerpts:
Serco Inc. has been awarded a contract worth up to $900 million to support eligibility determinations for consumers purchasing health insurance through the Federal Health Insurance Exchanges.

The contract was awarded by the Centers for Medicare and Medicaid Services, and has a one-year base period and four one-year option periods. The contract would be valued at approximately $900 million, if all option years are exercised.
Health and Human Services is contracted out… to Serco! Click the link, scroll down to Government Wide Acquisition Contracts, and click that to find info about:
Chief Information Officer Solutions and Partners III Unrestricted (CIOSP3)

Health and Human Services (HHS)
(Serco Inc.) Contract Number HHSN316201200045W (Program Ceiling $20 billion)
You can find Serco media releases here.
2020 U.S. Massive Mess! HHS is coordinating a half a million dollars for industrial masks (N-95 masks) to be bought for healthcare providers, and HHS is now fully integrated into FEMA. CDC is controlling how masks, gloves, and other PPEs (also respirators) are utilized. One doctor said, "We are at war with no ammo."
How did this country get stuck with such a shortage? Secure Arkansas believes the shortage was on purpose. Why were we not better prepared?
And guess who has handled USAID shipments? Serco. 
Click here for the USAID organizational chart.
Note on FEMA: In 2018, Serco was Awarded a $600 Million Single-Award ID/IQ Contract to Support Disaster Recovery. See the media release regarding the contract here. (Serco is a British company, and the snippets below are taken directly from their website.)   
*RESTON, VIRGINIA – January 2, 2018

Serco Inc., a provider of professional, technology, and management services, announced today that it has been awarded a position on the Federal Emergency Management Agency (FEMA) Public Assistance Technical Assistance Contract (PA TAC) IV. Serco will provide the people and resources needed to support the Public Assistance Program during major disasters and emergencies. To support a select region of the United States, Serco received a single-award indefinite delivery, indefinite quantity (ID/IQ) contract that has a ceiling value of $600 million over the next five years.

The U.S. Department of Homeland Security's FEMA Public Assistance Program, provides assistance to states, local government entities, tribes and non-profit organizations so that communities can quickly respond to and recover from declared major disasters or emergencies. Under this new contract, Serco is responsible for hiring and deploying a staff to supplement FEMA's recovery efforts. The Company will provide advisory and assistance services, technical assessments, cost analysis, as well as project management support to see relief efforts through to completion.

As the sole-awardee for Zone 2, Serco is responsible for 17 states across the mid-west including Ohio, Michigan, Indiana, Illinois, Wisconsin, Minnesota, Arkansas, Louisiana, Oklahoma, Texas, New Mexico, Colorado, Utah, Wyoming, North and South Dakota, and Montana. 
Serco has processing centers in London, Kentucky; Rogers, Arkansas; and Lawton, Oklahoma.
Clearly, FEMA/Serco is leading too many things in this country. They are involved in the White House Task Force involving the Coronavirus, and all 10 FEMA Regions have been activated during this time. See this: Serco Wins $600M FEMA Contact to Support Disaster Recovery Efforts.
Saturday, March 21, 2020 — In a White House Press Conference, we heard that we inherited a broken healthcare system. So, we might want to ask, who has been contracted to oversee our healthcare system? Looks like SERCO and CDC in the past. Now we see SERCO, CDC, and FEMA.
Keep in mind that when a "national emergency" occurs, FEMA is usually brought in to handle it. But who is over FEMA? SERCO handles many FEMA regions and has been awarded a mother-load of diverse government contracts! Check this out from their own website:  
Serco has been awarded a broad assortment of contracts ensuring that we can provide the services and solutions to government clients tailored to their specific time and budget requirements.
Serco Group has performed work on hundreds of contracts in North America, and has countless contracts worldwide, and they say that each contract is managed like a business in its own right. They dominate government contracts from our US Homeland Security and have been in charge of many FEMA regions. Government agencies would not know what to do without them. We are sure that Serco loves giving their IT services to our government!
This is WAY too much power and influence for anyone or anything to have…
People with great power are trying to manipulate healthcare and the health profession, and manipulation involves lying. Surely you can see that lying is commonplace, and NIAID (National Institute of Allergy and Infectious Disease) Director Dr. Anthony Fauci looks and sounds very suspicious when he is spouting his fearful rhetoric. NIAID is part of NIH (National Institutes of Health), and NIH invests approximately $41.7 billion annually in medical research. The NIH, NIAID, and CDC simply cannot be trusted with what is best for our health. (Remember, the CDC Foundation is a non-governmental organization, or NGO. It is an independent, non-profit organization that intertwines partnerships between the Centers for Disease Control and Prevention (CDC) and private-sector organizations. It is classified as a 501(c)(3). See the CDC Foundation Partners. Bill Gates' Microsoft Corporations is one of the partners of CDC.)
Fauci has led the NIAID for more than three decades and has advised the past 5 U.S. presidents on global health, even from the early days of the AIDS epidemic in the 1960s. (It looks like he is part of the deep state as well…) Fauci stated several years ago that the Trump administration would be challenged by ongoing health threats such as influenza and HIV but that Trump would also be surprised with a disease outbreak.
Phamaceutical Companies — Big Pharma is heavily involved here as well, as are universities and research and development labs. The Bill and Melinda Gates Foundation and Wellcome Trust are the major investors in pharmaceutical research and development. They have thrown tons of money at the Pirbright Institute which is allied with: British Merial (British), Sanofi-Adventis (French), Merck and Boehringer-Ingelheim (German).
Big Pharma Scientists Successfully Grow SARS 2.0 Virus "to Protect Us"  written November 15, 2015. Some snippets from the article:
More than a decade after its outbreak, the name "SARS" still incites memories of worldwide panic over a disease that, we thought at the time, couldn't be stopped. Now, 13 years later, scientists have created a hybrid version of a virus that could be the world's next pandemic, a "SARS 2.0."

"If the virus escaped, nobody could predict the trajectory," Simon Wain-Hobson, a virologist at the Pasteur Institute in Paris, told Nature.

The virus in question, a strain of bat coronavirus, is similar to severe acute respiratory syndrome (SARS), the disease that triggered widespread panic during an outbreak in Asia in 2002 and 2003 that spread to 29 countries, infected about 8,000, and killed over 700 people. After the outbreak, scientists concluded that the virus likely jumped from a species of bat to humans through a process called zoonotic transfer.
Attention, ALL readers: Now we're going to look more into some of the largest global elite players in the world. Is the United States in control of our national security? After reading all of the above information, do you still believe that? Or does someone/something else control it? You decide… and we need to continue to follow the money!
Serco is a British company that holds an alliance to the Crown. Let's look at the powerful Queen of England (a queen of 32 countries, head of a commonwealth of 54 countries, and owner of 1/6th of earth's land!) and her husband.  First, him…
Global Eugenics Master Manipulator: One familiar global player is Queen Elizabeth's husband, Prince Phillip. Did you happen to hear what he has said… multiple times over the years… about the growing human population?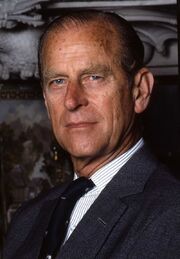 image credit
"If I were reincarnated, I would wish to be returned to earth as a killer virus to lower human population levels." ― Philip, Duke of Edinburgh
"Human population growth is probably the single most serious long-term threat to survival. We're in for a major disaster if it isn't curbed… We have no option. If it isn't controlled voluntarily, it will be controlled involuntarily by an increase in disease, starvation, and war."
"I just wonder what it would be like to be reincarnated in an animal whose species had been so reduced in numbers than it was in danger of extinction. What would be its feelings toward the human species whose population explosion had denied it somewhere to exist… I must confess that I am tempted to ask for reincarnation as a particularly deadly virus." ― Prince Philip, Duke of Edinburgh (in his Foreward to:  If I Were an Animal; United Kingdom, Robin Clark Ltd., 1986.)
Now, turning our attention to the Queen of England — She has her hands in the sinister Pirbright Institute (which holds the malignant patent for Coronavirus/COVID-19) and an Army Training Center, located in the Southwest of London at:
Cobbett Hill Earth Station, which was acquired by CETel in June 2019. This will significantly increase CETel's presence and activities in the marine and broadcast markets. Cobbett Hill offers an extensive range of satellite communication services to both marine and terrestrial clients in the corporate, media, oil & gas, NGO, military and government sectors.
Pirbright Institute in Surrey, UK — The Pirbright Institute does research and surveillance of virus diseases of farm animals and viruses that spread from animals to humans.
As you may recall from our previous alerts regarding the Coronavirus, there are patents for it, and here is one of them:
Coronavirus – United States Patent 10,130,701 owned by Pirbright of UK. Click on the link above to view the entire 50-page patent.
| | |
| --- | --- |
| United States Patent | 10,130,701 |
| Bickerton , et al. | November 20, 2018 |
---
Coronavirus
Abstract
The present invention provides a live, attenuated coronavirus comprising a variant replicase gene encoding polyproteins comprising a mutation in one or more of non-structural protein(s) (nsp)-10, nsp-14, nsp-15 or nsp-16. The coronavirus may be used as a vaccine for treating and/or preventing a disease, such as infectious bronchitis, in a subject.
---
 Another global player that everyone knows is… Bill Gates …and the Bill and Melinda Gates Foundation partially funds Pirbright Institute, which owns the patent on coronavirus. The following is a quote that Bill Gates made at the TED 2010 Conference in February 2010.
"The world today has 6.8 billion people. That's headed up to about nine billion. Now, if we do a really great job on new vaccines, health care, reproductive health services, we could lower that by, perhaps, 10 or 15 percent. But there, we see an increase of about 1.3."
Bill Gates, Microsoft co-founder, was also elected to the Chinese Academy of Engineering — one of the nation's top scientific think tanks — around November 2017.
Question: How is Bill Gates going to make the world healthier… and simultaneously lower the total world population?  What poison is in the vaccinations? Looks like certain debilitating vaccines are a method of population reduction…
$ Follow the Money $: Rich shareholders, stakeholders, and others who fund this questionable Pirbright Institute and who are set to make a FORTUNE on this Coronavirus scare are:
the Bill and Melinda Gates Foundation
Wellcome Trust
GlaxoSmithKline
DARPA (the Defense Advanced Research Projects Agency)
WHO (the World Health Organization), and
the United Nations (UN)
There is a lot of money to be made from this disaster, and with all the money going out from the taxpayers… new vaccines are being created (and of course, the HHS will not be held liable because they are exempt from damages of the vaccines to people's health!)
Here is a short video of Bill Gates addressing those attending the Global Vaccine Summit, May 2013.
Special Note about Gates: On March 13, 2020 (Friday the 13th), right after President Trump declares a National Emergency, Philanthropist Bill Gates resigns from boards related to Microsoft and Warren Buffet's holding company, Birkshire Hathaway, in order to donate more of his time to the Bill and Melinda Gates Foundation.
Gates sold test kits very early in the game! Stating:
The foundation has also been actively fighting the coronavirus pandemic and pledged $100 million last month to that effort. Part of that funding was dedicated to providing at-home coronavirus test kits to those at risk of infection in the Seattle area, where the foundation is headquartered.
The vaccine topic is what this elite philanthropist, Bill Gates obsessively speaks about all the time. It appears that healthcare has been a sound investment for him, and he is swamped with recruiting investors and government funding. Bill Gates' Millennium Foundation has had questionable involvement through the vaccination programs with Africans and Indians that could have sterilized many of them.
The Bill and Melinda Gates Foundation is heavily involved with medical and vaccine research. (More about this issue later…) The total grants this Foundation has given out is $ 4,415,204,265. This is all supported in the 990-PF IRS Return provided below. Warren E. Buffett is one of the Trustees of this Foundation and also contributed $2,404,602,169 to the Bill & Melinda Gates Foundation Trust, EIN 91-1663695. Click here for the Bill & Melinda Gates Foundation Trust 990PF 2017 IRS filling. (See page 15 for Warren Buffet's 2.4 TRILLION DOLLAR contribution.)
The following information is from Bill & Melinda Gates Foundation, P.O. Box 23350, Seattle, Washingon 98102  990-PF IRS Return of Private Foundation for 2017 (EIN 56-2618866) (This is a 1,154 page return!) Very interesting. 
Compensation of five highest-paid employees
Yinuo Li, Director, China Program, Beijing, China, total compensation $1,370,760
Alexander Ng, Dep Dr Health, INNO, Beijing, China, total compensation $844,380
Joseph Cerrell MNG Dr, Global Policy, London, UK, total compensation $1,487,989
Elizabeth Clyma, director, Global Dev, New Delhi, India, total compensation $1,193,948
Helene Madonick, Director Legal, London, UK, total compensation $1,008,762
Grants and Contributions
Pirbright Institute $411,878 (Holds Coronavirus U.S. Patent 10,130,701)
President Fellows Harvard College $65,597,830
Harvard Institutes of Medicine $7,717,803
Harvard Medical School $250,000
Cllinton Health Access Initative $37,335,353
Georgetown University $4,376,899
National Institutes of Health (NIH) $7,514,673
National Institute of Allergy and Infectious Disease (NIAID) which is part of NIH. The director of NIAID is Director Dr. Anthony Fauci $2,837,886
United Nations (U.N.) $ 42,281,953
All the global elite players/actors are always working together to empower a New World Order…
Take note: here in the United States, the CDC is heavily promoting forced, risky, and oppressive vaccine schedules… let alone the intrusive national or state-based electronic surveillance that is being conducted! We are being monitored and tracked. Communist China has already ordered an outrageously strict mandatory state immunization program! Will the U.S. follow? Click that link, dear reader.
Attention, state legislators: Do not get caught up in this mandatory vaccination issue! Will you follow China's communist policy? 
Regarding population control, yet another one of the global elite, media mogul Ted Turner, stated years ago that the world's population should be cut down to about 300,000,000 people.
Sadly, human depopulation is part of the United Nations' agenda… and has been for a long time. The chronically poor, elderly, and health-compromised have been specifically targeted at this time, but eventually, most of the human population will be targeted once again in the future.
Here is another university tied up in this mess. Take notice of this January 28, 2020 arrest below from the U.S. Justice Department:
Harvard University Professor and Two Chinese Nationals
Charged in Three Separate China Related Cases 

The Department of Justice announced today that the Chair of Harvard University's Chemistry and Chemical Biology Department and two Chinese nationals have been charged in connection with aiding the People's Republic of China.

Dr. Charles Lieber, 60, Chair of the Department of Chemistry and Chemical Biology at Harvard University, was arrested this morning and charged by criminal complaint with one count of making a materially false, fictitious and fraudulent statement. Lieber will appear this afternoon before Magistrate Judge Marianne B. Bowler in federal court in Boston, Massachusetts.

Yanqing Ye, 29, a Chinese national, was charged in an indictment today with one count each of visa fraud, making false statements, acting as an agent of a foreign government and conspiracy. Ye is currently in China.

Zaosong Zheng, 30, a Chinese national, was arrested on Dec. 10, 2019, at Boston's Logan International Airport and charged by criminal complaint with attempting to smuggle 21 vials of biological research to China.  On Jan. 21, 2020, Zheng was indicted on one count of smuggling goods from the United States and one count of making false, fictitious or fraudulent statements. He has been detained since Dec. 30, 2019.

Dr. Charles Lieber

According to court documents, since 2008, Dr. Lieber who has served as the Principal Investigator of the Lieber Research Group at Harvard University, which specialized in the area of nanoscience, has received more than $15,000,000 in grant funding from the National Institutes of Health (NIH) and Department of Defense (DOD). These grants require the disclosure of significant foreign financial conflicts of interest, including financial support from foreign governments or foreign entities. Unbeknownst to Harvard University beginning in 2011, Lieber became a "Strategic Scientist" at Wuhan University of Technology (WUT) in China and was a contractual participant in China's Thousand Talents Plan from in or about 2012 to 2017. China's Thousand Talents Plan is one of the most prominent Chinese Talent recruit plans that are designed to attract, recruit, and cultivate high-level scientific talent in furtherance of China's scientific development, economic prosperity and national security.  These talent programs seek to lure Chinese overseas talent and foreign experts to bring their knowledge and experience to China and reward individuals for stealing proprietary information. Under the terms of Lieber's three-year Thousand Talents contract, WUT paid Lieber $50,000 USD per month, living expenses of up to 1,000,000 Chinese Yuan (approximately $158,000 USD at the time) and awarded him more than $1.5 million to establish a research lab at WUT. In return, Lieber was obligated to work for WUT "not less than nine months a year" by "declaring international cooperation projects, cultivating young teachers and Ph.D. students, organizing international conference[s], applying for patents and publishing articles in the name of" WUT.

The complaint alleges that in 2018 and 2019, Lieber lied about his involvement in the Thousand Talents Plan and affiliation with WUT. On or about, April 24, 2018, during an interview with investigators, Lieber stated that he was never asked to participate in the Thousand Talents Program, but he "wasn't sure" how China categorized him. In November 2018, NIH inquired of Harvard whether Lieber had failed to disclose his then-suspected relationship with WUT and China's Thousand Talents Plan. Lieber caused Harvard to falsely tell NIH that Lieber "had no formal association with WUT" after 2012, that "WUT continued to falsely exaggerate" his involvement with WUT in subsequent years, and that Lieber "is not and has never been a participant in" China's Thousand Talents Plan.
[bold font, Secure Arkansas']
WOW. Is this most recent Coronavirus pandemic all part of that evil plan? You decide.
Prior Alarming Pandemic Simulation: Was this whole Coronavirus/COVID-19 pre-planned from the beginning? "Event 201" is an occurrence that most people have not even heard about it yet. From the article:
Two months before the outbreak of the coronavirus in the Chinese city of Wuhan, a group of experts conducted the pandemic simulation "Event 201", which was organized by John Hopkins University in the US and came to alarming results. The aim was to test how governments and authorities would behave in the event of a global pandemic with "potentially catastrophic consequences" and what effects it could have.

The virus used to do this was called CAPS: Coronavirus Associated Pulmonary Syndrome. It was estimated that 65 million people would die.
Coincidence?
This Event 201 is being touted as a "Global Pandemic Exercise"… but was it?  This Coronavirus/COVID-19 crisis is playing out eerily like they performed their dry run…
Be sure to watch this YouTube Video about it entitled "Event 201 Pandemic Exercise: Highlights"  (US 20170216427 A1), hosted in collaboration with the World Economic Forum. Of course, the Bill and Melinda Gates Foundation, NGOs, and the Chinese government were involved. Added to this master mix was the private sector and the business community. The participants included are people from NBC Universal, Johnson & Johnson, and UPS. This video makes you think that the players of Event 201 had prior knowledge of the future and how this would all play out.
Here's another article from January 23, 2020 about the pandemic simulation: "Health experts issued an ominous warning about a coronavirus pandemic 3 months ago."
In closing, if this is outrageous to you, pick up the phone! If you're concerned about where our healthcare and the health of we, the people, are headed, there is dangerous legislation swirling around right now. Contact your congressmen, and let them know your thoughts about all of this!
And stay tuned for our future articles about Serco and more of its oppressive and interpenetrating local and global ties. We've only begun to scratch the surface…
As always, you can find our email articles posted on our website: SecureArkansas.com.  The Search box is a handy tool.
For more information about a topic, just type it into the Search box on our website, and click Enter!
Securing the blessings of liberty,
Secure Arkansas
securetherepublic.com/arkansas
info@securetherepublic.com
Share This Article