Government Control, Pedophiles, and The Great Reset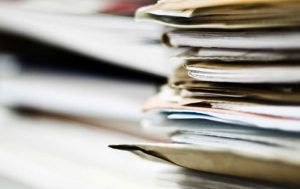 What happens to a country when freedom of speech is withheld? You're seeing it, and we're in great danger. Save the information found in this article, and please help dispense this information any way you can. (Some servers may go down and bounce articles.)
This is a must watch video. Breaking!! You MUST See This Now
The future is NOW! Secure Arkansas has been talking about this global agenda for years. What is the "Great Reset", and why did the satanic global elite cabal, their central banks, and their bought -off politicians meet in January 2020 with a horrendous agenda of a Great Reset? Read on… There are a LOT of details in this article, and if you're interested in who is trying to block the way of freedom and our operating as a constitutional republic, stay with us…
Who stands to gain?
What are the global elite trying to do? … Everything! A dark, New World Order is now moving on a swift track of global governance. Consolidation into a global government. A quote from Henry Kissinger last year printed in the Wall Street Journal said, "The Corona Virus Pandemic Will Forever Alter the World Order"!   The Covid-19 pandemic/lockdown is still being used to reset everything:
Globalization (Covid-19 policies now govern all countries. You might want to check the Ministry of Health and Family Welfare in India and Singapore"s Ministry of Health for example.)
Big Government
Politics
Economy (Yes, we have extreme economic devastation in the U.S. and around the world. They want to lower our standard of living!)
Industries
Employment (Small businesses are greatly affected and will be rooted out, and a large number have totally disappeared.) Corporations have been and will be tracking their employees' health. Thermal cameras and monitoring used.
"Sustainable" Healthcare
Money
Society
Food and water (We need access to clean, healthy sources, but GMOs, fluoride, and glyphosate are damaging to humans and the environment!)
Housing (Single family homes will be deemed unsustainable. Therefore, we would be required to live in tiny apartments.)
Education (Our children have been brainwashed by the globalist narrative long enough!)
Environment
Surveillance (Example: Contact Tracing. Bluetooth technology is being used — tracking us, where we go and what we buy.)
Technology (The Covid-19 vaccine/device is completely different and changes the human body and will alter the human genome as we know it)
Gender Identification
Our human bodies (Yes, with this dangerous Big Tech vaccine device, our bodies will be changed.) Do NOT get injected with this experimental Big Tech device.
Human Depopulation Agenda (Wars. Abortion. Medical mistakes. The Covid-19 vaccine device may cause infertility.)
This is human exploitation.
So, the world stage a.k.a. trap has been set, dear reader. The United Nations (UN) will require many rules to be in place for this world to operate because they will mandate all UN States with their malignant global policies. They are cunningly moving us "towards sustainable development for all". (Sounds good but, it's NOT!) The think tank for the UN is the Department of Economic and Social Affairs (DESA). The UN databases are full of information on YOU. On all of us.
Caution! Be careful not to let the globalists pit us against each other! They've already tried to do this, especially with the false dichotomy of "Republican vs. Democrat". But both sides are fallible.
However, hold on… There may still be some hope because some things are about to happen. Yes, the situation is volatile. We cannot stand by and let this country go to the devil! Silicon Valley is censoring top voices in America, but our great country is full of great, brave people. However, Marxists like Zuckerberg via Facebook, Twitter,  Google, and Apple will try to block communication and are trying to pull a coup to overthrow the government. (Notice the same controlling shareholders in all of these social media groups!)
Our internet may go down for a bit. There may be more news broadcast from the Emergency Broadcast System (EAS) this month, so get prepared.
A special note: We at Secure Arkansas have added a link on our website to Parler, an American, Twitter-style social networking service launched in August 2018. You can find our articles there now, in addition to our website and some social media sites.
Update! Some group of people tied to Amazon is calling for this company's cloud unit to drop Parler, and Apple has removed Parler from their app store. (Stay tuned with Parler. Apple will be dealt with in the near future.)
Will we be strong enough to hold back the darkness (NWO) they have prepared for the destruction of this country and our people?
CALL TO ACTION FOR ARKANSAS — We all need to be calling and contacting our Federal legislators and ask them what they are doing about the censorship being done by these communist groups (Facebook, Twitter, Google and Apple).
(The local office numbers for the Arkansas Federal Lawmakers can be found in the hyper-links.)
Other states, contact your own U.S. Senators and  U.S. Representatives
Here's what other sites who support keeping our Constitutional Republic in place are saying:
Natural News says, "many traitors" to be arrested shortly… final list of confirmed traitors acquired during congressional vote for President.
Congress flipped against truth and voted to accept the fraudulent Biden electors, making Joe Biden the "president-elect."

Trump did NOT concede, and the "transition of power" doesn't necessarily mean a transition to Biden 

Under the cover of night, the treasonous US Congress voted to install CCP puppet Joe Biden into the White House, confirming his fraudulent slate of electors as accepted. A few hours later, Trump issued a statement about a "transition of power." Here it is:

Even though I totally disagree with the outcome of the election, and the facts bear me out, nevertheless there will be an orderly transition on January 20th. I have always said we would continue our fight to ensure that only legal votes were counted. While this represents the end of the greatest first term in presidential history, it's only the beginning of our fight to Make America Great Again!

Trump released a video that contained a "proclamation to disperse." This was the video in which he told everybody to "go home in peace."

This statement, it turns out, is a necessary step to invoke the militia or US armed forces to defend the republic.
10 USC Section 254 is called "Proclamation to disperse" and it explains:
Whenever the President considers it necessary to use the militia or the armed forces under this chapter, he shall, by proclamation, immediately order the insurgents to disperse and retire peaceably to their abodes within a limited time.

That is exactly what Trump did yesterday.

He then boarded Air Force One and flew to a military base in Texas, where he could be safe from any kinetic coup attempt in the swamp of Washington D.C. This was tweeted out by CodeMonkeyZ, citing MonkeyWerx:

— Ron (@CodeMonkeyZ) January 7, 2021
+Sidney Powell's 270 page Document Detailing Alleged Election Fraud
I honestly don't think the American people need any more evidence of election fraud.  We know it went on.  It's been going on for decades.  What we need is justice brought against the fraudsters, something that really hasn't taken place. Yet, we'll throw this on the massive pile of evidence over the years that has led to virtually no justice, except in a few cases locally.  Attorney Sidney Powell has now released a lengthy 270-page document detailing alleged fraud in the 2020 elections.

The documents were released to Zenger News, and include affidavits, evidence and testimony from many witnesses and sources detailing alleged fraud in the 2020 election.
Because there's been such a large information dump, it's hard to sort through everything, but we believe there's truth in this next article. All sources are being heavily censored. Remember — all roads lead to Rome, and the Deep State is heavily involved in discrediting the narrative of the messengers.
Italian government implicated in elaborate election fraud scheme against Trump
Friday, January 08, 2021 by: Ethan Huff
Switzerland recently purchased the sole rights of Scytl, the bankrupt Spanish company tied to Dominion Voting Systems that, according to several statistical analyses, switched hundreds of thousands of votes from President Donald Trump to Biden.

Italy was involved as well, according to former CIA agent Bradley Johnson. Italy played a direct role in manipulating votes to favor Democrat candidates at the expense of Trump and the Republicans.

According to former CIA agent Bradley Johnson. Italy played a direct role in manipulating votes to favor Democrat candidates at the expense of Trump and the Republicans. Johnson at least partially confirmed the story about U.S. special forces raiding and recovering Dominion servers that were hosted at a covert CIA facility in Frankfurt. Others confirmed it as well, calling the operation a success as it brought to light irrefutable evidence of election fraud. Gen. Thomas McInerney later claimed that following the raid, a violent fight ensued between CIA paramilitary, which was called in from Afghanistan to defend the station, and the U.S. special forces group that conducted the raid. The encounter resulted in five deaths.
Readers, we cannot turn our heads away from the perverted sexual activity among those who hold positions of high power, whether elected or appointed any longer, especially paedophilia.
General Flynn's List Exposes D.C. Pedophile Network
"A former CIA agent says that Gen Michael Flynn was ousted from the White House after obtaining a Washington, D.C. pedophile list naming list naming high-level politicians who belong to a DC pedophile ring." According to Robert David Steele, "Flynn was fired after he obtained a list of names, some of whom the FBI were actively investigating in connection to the PizzaGate scandal and one of whom was Vice President Mike Pence's best friend." When this incredible information is exposed more to the public domain, it will bring greater scrutiny into the life of VP Pence.

"a former CIA officer says there are locations in Washington, D.C. and Saudi Arabia where children are routinely ordered and trafficked to highly-placed politicians operating in the capital. According to Steele, Donald Trump is our last chance to take down the Deep State."
Government and Elite Pedophile Activity Explained
There are some choice examples provided in this article with links.  Remember, government pedophile activity is protected by the main stream media because a pyramid of complete control exists, where the person below someone on the pyramid is threatened daily (indirectly or directly) to comply to all wishes of the people who serve above them. Welcome to the "hedonism gone wild" and satanic society, which masquerades daily as civilized, cutting edge, and forward thinking. This can also create trauma bonding. It's time people start to pay attention….
Click here for a pdf copy of 465 page unsealed court transcripts of Ghislaine Maxwell (the woman that worked with convicted paedophile, Jeffrey Epstein.)
Lawlessness! The majority of what's going on today is being done by non-elected people! Congress did NOT do their duty on January 6, 2020. Our Electoral College failed us… but should it be annihilated? No, we still need our Electoral College. We believe there is an evil process in the works to bring about a new constitutional amendment that would totally wipe out the electoral college shortly. We have been witnesses to the rule of law being destroyed across the country! The powers- that- be have incrementally been at work revising the way the electoral college works. There have been electoral college reform bills that have been proposed to switch to a district system or switch to a national popular vote; "switch" is the key word. We must beware of states joining a National Popular Vote Compact (NPV)!   Who are these people, anyway?
We should NOT be resting in a nest of unelected bureaucrats…  The global elite want the United States just to be related to the North American Union — Canada, the United States, and Mexico.
Once again, our congress AND state legislatures have betrayed us. Did your state legislator call for an audit on the fraudulent election? Vice President Pence is acting like a traitor. The sitting Vice President presides over the meeting of the Electoral College. We have not even had an audit from states where the heavy election fraud occurred. Rigged elections have shown how blatant the communist players have become.
Criminals will be revealed, but when?… Sometimes we need to know where to look.
Civil War! Why? Because we have had biological warfare loosed upon us, AND it's getting serious in other parts of the world. The pandemic has been pre-planned for many years.
What else is being covered up here? This new socialist movement paid for by the global elite and corporate oligarchy (nasty global elites like George Soros, Bill Gates, the Clinton Foundation, and Big Tech) are determined to take down America. Sadly, Americans have been subjects of the socialist controlled media that twists and turns true news into whatever they see fit. Lies, pretensions, and actors/ players, including political players on the scene will be filmed, and they will play out their part to be broadcast on the news as the truth.
Cyber warfare was deployed on American elections! The violent ANTIFA/BLM was loosed on D.C. Capitol and to deny that these people were not in the violence is asinine. Will these ANTIFA criminals ransack, burn, and loot other major cities across the United States like they committed over the summer of 2020? We have endured domestic terrorism all last year.  Could there be human trafficking and other dark atrocities that have occurred that need covered-up among the political elite? Our government is NOT what it seems.
What should be noticed and brought to your attention is that the paedophiles are in positions of high power and will protect all other known paedophiles and their dirty secret agenda. This recent example from a New York Times article dated January 7, 2021, reveals more than meets the eye. This New York City Administration for Child Services severe ties with Columbia University Professor Theo Sandfort. Child Services in every state should be checked out! An example would be New Mexico where Epstein's ranch was located.  Many suspect that this was a hot-spot of human trafficking and more vile crimes!
Jesuit-type militant infiltration! Our universities, our churches, our schools, and our government agencies — or anywhere that handles children — should be closely watched and supervised. Child predators are in our government. With all the human trafficking involved that was exposed from the Jeffrey Epstein case and the Clintons, we should know that we cannot trust the "almighty government" to guard our security… or the safety of our children! Why did the FBI continue to let that demented and dangerous man operate so freely at an international level around the world? The Department of Homeland Security (DHS), the Department of Justice (DOJ) , Juvenile Services, the Department of Labor, the U.S. Attorney General's Office, etc. If Military Tribunals are our only answer, then the year 2121 could be very turbulent.
Many government men in the justice system have FAILED to protect the public! William Barr, the current U.S. Attorney General, should resign from public office! Just one quick glance at the list of United States Attorney Generals should show you how corrupt the justice system has become!
Supposed suicide (by hanging) of Epstein: Chief Medical Examiner of New York City, Barbara Sampson, and coroner for the criminals and crooked politicians, Dr. Michael Boden (should be in his 80s now), was brought in to supposedly verify the autopsy of the paedophile Jeffrey Epstein, and the federal prosecutor went along with this. Remember, Dr. Boden is the shady coroner that was brought in to examine JFK and Martin Luther King Jr. at the time of their murders. He was additionally brought in on the O.J. Simson case.
WAKE UP! These organizations walk all over the Constitution! We have had a very fraudulent election that needs to be exposed. Our action plan should include contacting or checking into these UNconstitutional organizations because they closely direct every elected executive office in each state — for instance, ALL governors, ALL Secretaries of State are vulnerable to the influence:
NOTE: Remember, you can go to our website and use the "Search" box to search terms.
To understand Regional Government, it is necessary to know what Metropolitan Government (Metro) involves because Metro and Regional Government are really the same. Metro/Regional Government is the governing of an area or region by a central body of appointed (NOT elected) officials who have unlimited and sickening unconstitutional power!  Promoters of Regional Government claim that it is a new form of government, but it is the oldest form in history:  a dictatorship. Please try to understand just how big this leviathan has grown during the 20th Century! This monster is coiled, twisted, and deadly! Our country has been poisoned with frightful unconstitutional government. It has been writhing throughout governments across the planet! Nations have been threatened and forced to give up their sovereignty. Our once-great nation has had our constitutional protections dismantled incrementally while we slumbered and slept!
What is their evil endgame? Well, for starters, it is abolishing local governments. It tells local governments to bow to "the agenda" and move forward.  How is "the global agenda" implemented locally? That's what the National Association of Counties (NACo) has been busy doing for years!
NACo admits: This link claims that 48 of 50 states have operational county governments.  "Connecticut and Rhode Island are divided into geographic regions called counties, but they do not have functioning [county] governments."  County governments need to WAKE UP and regain local control before they go the way of Connecticut and Rhode Island!
Locally: We hear a lot about the Association of Arkansas Counties (AAC), the National Conference of State Legislators (NCSL), the Arkansas Municipal League, and the American Legislative Exchange Council (ALEC). The stranglehold that these Non-Governmental Organizations (NGOs) have on our state (including our legislators and governor) and on our counties and cities is much worse than you think! All of these NGO groups are funded with your tax dollars, grants, and lobby money, and unfortunately, many state legislators pridefully tout their involvement with Council of State Governments (CSG), and they appear unwilling or unable to shake loose of it. Their connections to CSG (and other NGOs like American Legislative Exchange Council/ALEC and National Conference of State Legislatures/NCSL) may be found in their biographies on the Arkansas State Legislature website (or on any state website). Also, CSG has subsidized stealth lobbyists to work in our state capitols with LOTS of taxpayer money to advance their corporate agenda. We're talking about a MULTI MILLION DOLLAR budget, funded mostly by taxpayers.  That means YOUR MONEY!
Are you willing to sit back and continually allow the NGOs (unelected officials) to run your city, county, school districts (producing children that are being socially engineered and heavily medicated!) and state government?
Remember, back in June 2017, that we all found out that none of our Arkansas county local elected officials or state legislatures were notified by the National Association of Counties (NACo) or Association of Arkansas Counties (AAC) about submitting their official comments to the EPA and weighing in on the definition of "navigable waters".
Did NACo/Association of Arkansas Counties (AAC) fail in NOT officially and directly informing Arkansas' 75 counties of their duty to submit a comment about this strategically and desperately important waters of the United States (WOTUS) issue??? YES!  Also, it appears it happened in all other states, too. Looks like they failed to act on purpose… deliberately neglectful! It has been reported to Secure Arkansas that the Association of Arkansas Counties (AAC) decided to "sit this one out"! This was regarding our WATER, folks!
It is time for the government to terminate their membership in all of the covetous NGOs (and some are International NGOs) in which they have memberships. We are reminding the reader once again that it's your tax dollars that are funding these NGOs and keeping them alive. Are we funding our own destruction?
More about the Council of State Governments (CSG): The organization chart of these 22 wolfish NGOs found by clicking here (and included in the body of the article directly below) shows "the network", controlled by CSG and developed by the selfish and powerful Rockefellers, to indoctrinate our public officials and redirect the course of American government so it could be managed by global government. These twenty-two (22) NGOs (bullet-pointed below) were originally housed in a building located at 1313 East 60th Street, Chicago, Illinois. This building was constructed with a $3 million dollar grant from the Rockefeller Foundation as reported in the Spelman Fund Annual Report of 1947-1948. This is where Metropolitan/Regional Government first got its start. The goal of this ruthless group — CSG — is to work secretly behind the scenes to undermine elected officials and independent thinking, eradicate personal property, destroy constitutional government and our political system, and subvert the sovereignty of the United States. This group is considered the political Mail Order law factory for providing model bills to state, county, and city government.  This means that it dictates policy and drafts legislation to make laws the same throughout the United States. This is all part of the global collectivist agenda that the United Nations has been planning since its founding in the 1940s.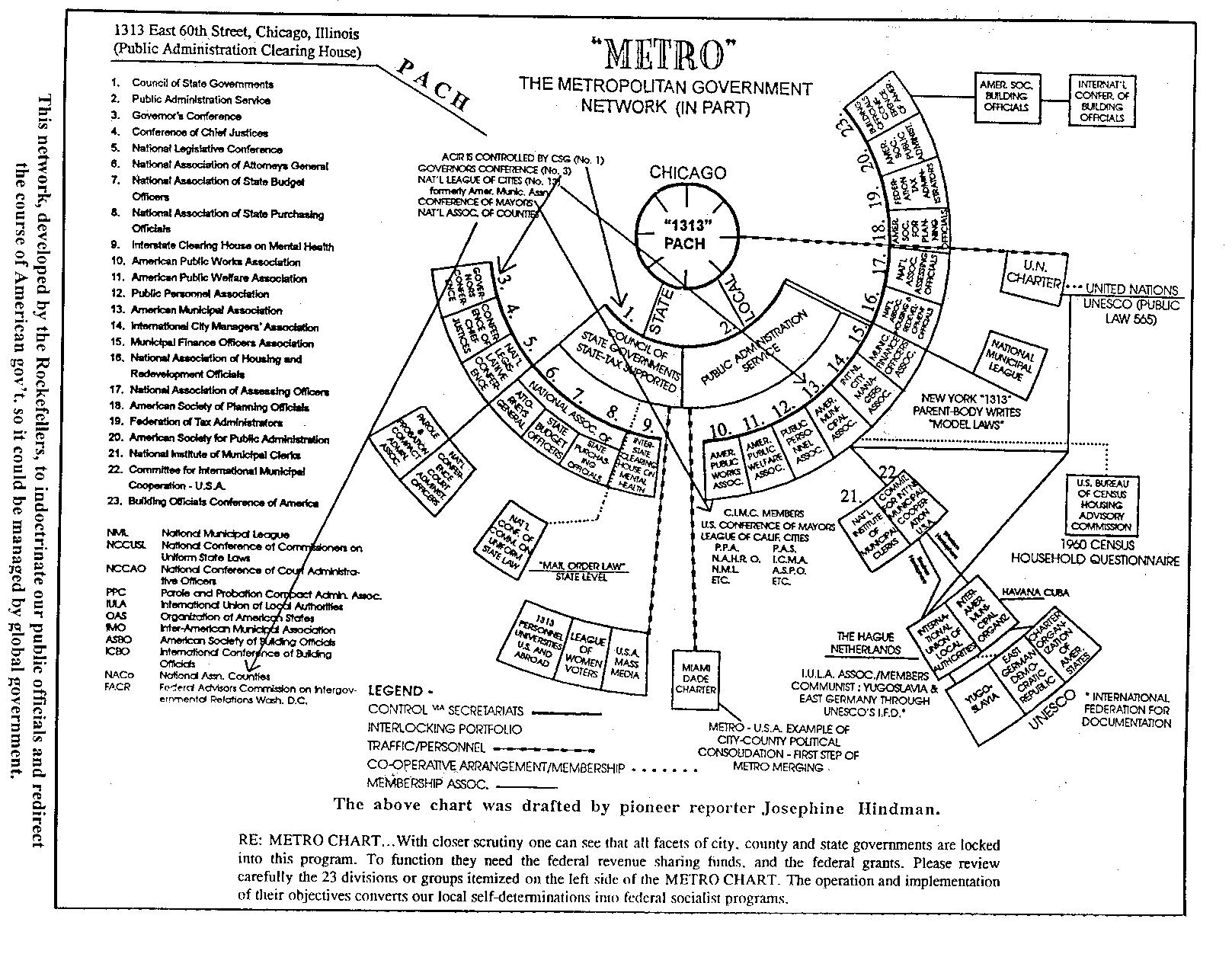 Political Law Factory – drafting legislation to rob millions of Americans of their freedom.
1313 East 60th Street, Chicago, Illinois
United Nations' disturbing involvement: Notice that the chart pictured above (and more easily viewed here) mentions UNITED NATIONS and UNESCO — Public Law 565.  Joint Resolution 305 became Public Law 565 of 1946.
It states that it's a "JOINT RESOLUTION Providing for membership and participation by the United States in the United Nations Educational, Scientific, and Cultural Organization, and authorizing an appropriation therefore."
It goes on to say:
"Resolved by the Senate and House of Representatives of the United States of America in Congress assembled, That the President is hereby authorized to accept membership for the United States in the United Nations Educational, Scientific, and Cultural Organization (hereinafter referred to as the "Organization"), the constitution of which was approved in London on November 16, 1945, by the United Nations Conference for the establishment of an Educational, Scientific, and Cultural Organization, and deposited in the Archives of the Government of the United Kingdom."
See how this convoluted, wicked web has been spun over the ENTIRE PLANET… entrapping all governments of the world, including the United States?!
Getting a clue in your own state and the interdependence between government and NGOs: The groups below are pretty much controlled and run by Council of State Governments (CSG) and financed by the American taxpayers at the federal level, and the Office of Management and Budget (OMB) formally known as the Bureau of the Budget (founded in 1921). OMB acts in liaison capacity with CSG and gathers together proposals on which federal agencies push state approval. CSG created its Committee on Suggested State Legislation and established a cooperative arrangement with National Conference of Commissioners on Uniform State Laws (NCCUSL) which provides CSG with a handy network through State Commissioners on Uniform Laws.
The Council of State Governments (CSG) is working with all forms of government, and it's complicated! Here's their agenda: —CSG is the permanent administrative office or secretariat for the National Governors Association; the Conference of Chief Justices; the National Conference of State Legislatures (NCSL); the National Associations of Attorneys General, State Budget Officers, and State Purchasing Officials; the Parole and Probation Compact Administrators' Association; the Juvenile Compact Administrators' Association; and the National Conference of Court Administrative Officers. The Council has a cooperative arrangement with the National Conference of Commissioners on Uniform State Laws. Objectives of "the Council" (CSG) are to assist or control all the state governments to look alike in their legislative, administrative, and judicial practices and services, to force interstate cooperation, and also – to facilitate and force federal to state relations and to force state to local relations.  This means that CSG's job is to make sure that policies being generated at the federal level are carried out statewide and locally.
Getting a clue locally for your state:  We are caught in such a tightly weaved, wicked web, it's hard to move, let alone have any freedoms. The government and the NGOs are debauched and gluttonous. They are involved in a money-grabbing, symbiotic relationship, meaning very tightly woven together to create a dictatorship. How? By the NGOs writing the state legislation AND even supplying local policies to be implemented by the government. Global to local! This is NOT good.
The following additional NGOs are all connected together in one way or another with the same goal as the Non-Governmental Organizations (NGOs) listed above. This list is not complete. It is just the tip of the iceberg involving a wicked web with many connections:
More clues on how powerful NACo really is: NACo affiliate organizations are aligned with departments within the county government structure. Members of the affiliates are county elected or appointed officials that perform a specific job within a county. Each of the organizations below has been officially recognized as an affiliate of NACo and is allowed one representative on the NACo Board of Directors.
**The National Conference of State Legislatures (NCSL) has this for the National Association of County Recorders, Election Officials, and Clerks (NACRC):
The International Association of Government Officials (a newly created organization created by a merger of the International Association of Clerks, Recorders, Election Officials & Treasurers (IACREOT) and the National Association of County Recorders, Election Officials & Clerks (NACRC)) holds events and disseminates information in support of local election officials.
Remember, most of the legislation that's funnelled through State Capitols comes either from the National Conference of State Legislatures (NCSL) or the American Legislative Exchange Council (ALEC). (We've written articles on them and their back-room dealings before. Check our website.)
Other NACo Affiliates: Affiliated associations 
County officials belong to six organizations that NACo assists in a limited way with meeting space at conferences, promotion of activities and staffing. The groups are organized based on ethnicity, gender and political party.
NACo's Ad Hoc Committees: 
NACo Task Forces: 
Other:  
————————————————————–
As the reader, hopefully you have now become more aware, so…  how do you plan on trying to keep a dollar in your pocket? How heavily taxed are you in your state and county? How restricted has your state or county become? We have much less money to spend, don't we? Thanks to NACo…
Now, if this wasn't bad enough, President Nixon signed Executive Order 11647 on February 10, 1972 establishing the ten Federal Regional Councils.  This EO furthered the poisonous goals of Metropolitan/Regionalism Government.
Nixon's EO 11647 was and "is" unconstitutional and has helped steer our country right down the path of United Nations Agenda 21 and its globalist trappings!  This goes against Natural Law and individual freedom.
Article IV, Section 4 of the U.S. Constitution declares:
"The United States shall guarantee to every State in this Union a republican form of government…"
A republican form of government is defined in Webster's New Collegiate Dictionary as one in which "the sovereign power resides in a certain body of the people – the electorate – and is exercised by representatives elected by, and responsible to, them."
However, under the Federal Regional Councils proclaimed by President Nixon, government in the ten federal regions would be administered by federal appointed bureaucrats accountable only to Washington, D.C.
Nixon's actions were a clear violation of the U.S. Constitution, according to Article IV, Section 4.
Also, Article IV, Section 3, Clause 1, of the U.S. Constitution stipulates:
"New States may be admitted by the Congress into this Union; but no new State shall be formed or erected within the jurisdiction of any other State, nor any State be formed by the junction of two or more States, or parts of States, without the consent of the Legislatures of the States concerned as well as of the Congress."
Nixon's unilateral establishment of the ten sinister federal regions (FEMA districts) violates this clause in the U.S. Constitution inasmuch as, prior to the issuance of this edict, the President did not obtain the consent of all the state legislatures concerned, nor of Congress.
Shown directly below is a map of the 10 FEMA Regions/ Districts.  Note that this was taken directly from the FEMA website.
10 FEMA Regions / Districts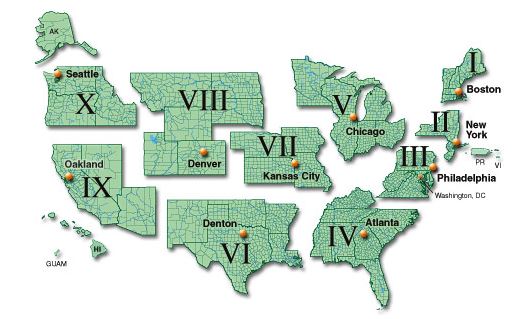 We are using an image previously used on their site because this one still includes the main cities in each district.
Another important fact to ponder is that state borders are being eliminated in order for the ten FEMA Districts to be fully implemented.
What could this mean for your state?  The 18 states listed below are the ONLY states that have a legally defined boundary in their state Constitutions. Dissolving a legally defined boundary was attempted in  Arkansas in 1995 by Governor Jim Guy Tucker, and a special election was held on December 12, 1995… but thank goodness, the call for a Constitutional Convention failed, with eighty percent opposed.  It appears to us after our decades of watchful research that Con-Cons (known these days as Article V Amendment Conventions) are typically called for malevolent purposes. PLEASE NOTE: when state border specifications are gone, the sovereign states will cease to exist. (Note for our Missouri readers: your state lost a legally defined boundary years ago.) Evil never sleeps, and you need to know that these 18 states will be targeted to have their legally defined state boundaries dissolved! More than likely, they will try to call for a Con-Con (Constitutional Convention a.k.a. Article V Amendments Convention) to do this. This is another reason we must stay alert, informed, and prepared for action, considering these are the only 18 states left with legally defined boundaries. They need to courageously and resolutely retain – and hold on to – their precious sovereign state status!
Since 1972, the following two states had their state boundary definition repealed. The voters of the state approved both of these messages. Montana removed the definition of their state boundary via a State Constitutional Convention a.k.a. Con-Con or Constitutional Convention.
Mississippi (The State boundary defined in Article 2, Section 3 was repealed from the Mississippi Constitution on December 19, 1990. This repeal was first ratified by the state electorate (voters) on November 6, 1990.)
Montana (The State boundary defined in Article I, Section 1 was repealed by Montana State Constitutional Convention approved on March 22, 1972.)
There is a plan to replace our existing Constitution:
No Rights — No Freedoms — Just Privileges!
When the government colludes with the major corporations, it results in extreme, radical authoritarian corporatism. That's an NGO in a nutshell.  Beware of a Constitutional Convention / Con-Con of any type!
The Metropolitan/Regional NGO planners want to dump the U.S. Constitution. Could the Convention of States (COS) be part of this agenda and not know it?
The terminology is constantly changing, to protect the globalists and communists.
Remember that part of their agenda is to disarm the public. This is from the U.S. Department of State archive which lays out the US plan to transfer Military power to the United Nations (UN) dated September 1961. The following is an easier to read document.  See U.S. State Department Document 7277, We are entering into in stage III of the document which is the complete disarmament of all ARMS.
In closing, take action locally. Stay involved because the burdensome United Nations communist policies come through your back door. You can see this in one of their slogans that's been playing out over the year: "Global to Local". Community organizers are being placed in towns and cities in all states. (More to come on this subject.)
But darkness only exists where there is no light.
Our prayers and our involvement are important, dear reader.
Please pass this article on to your friends and family, and print it off, also.
As always, you can find our email articles posted on our website: SecureArkansas.com.  The Search box is a handy tool.
For more information about a topic, just type it into the Search box on our website, and click Enter!
Securing the blessings of liberty,
Secure Arkansas
securetherepublic.com/arkansas
info@securetherepublic.com
Share This Article