Exposing Those Controlling the Covid Death Jab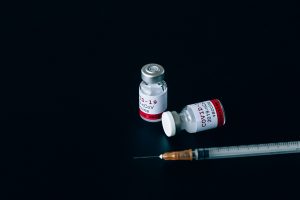 The Covid-19 jab is a death sentence and makes dead workers replaceable.
Are you prepared to be replaced?
CDC:  5,888 DEAD and 329,021 Injuries from COVID-19 Shots 
That's more than the Previous 29 Years of VAERS Vaccine Deaths.
(Vaccine Adverse Event Reporting  System)
From the June 4, 2021 release of VAERS data:
There are also another 5,884 life-threatening cases, 43,892 ER visits, 4,583 permanent disabilities, and 19,597 hospitalizations.
Historically, ONLY 1% of vaccine injuries are reported to VAERS, so the numbers they claim are shamefully under-reported. Here's some info from us that might be helpful.
The totalitarian World Economic Forum has planned monumental changes for the American family and household, claiming we have "too much".
So, what does this manipulative and controlling World Economic Forum do? Simply put, they are there to keep governments, political players, corporations (private sector), and businessmen on track with their Sustainable Development Goals, especially for UN Agenda 2030, which will gradually take away our standard of living… and our lives.
What we buy, what we do, where we go, where we work, where we live, and how long we can live on THEIR planet. Healthcare will be unrecognizable. Private property will be forbidden. You will hear them say something like, "That's not sustainable"! 'No Human Footprint' will be enforced in certain areas they designate. And to them, YOU are not sustainable. According to them, their planet is overpopulated. That's why there's a massive campaign for everyone to be injected. That makes their job of keeping with the depopulation agenda easier.
This July, Transform 2021 will be the big AI event (Artificial Intelligence), and this includes our healthcare. This could be chilling. In this AI Healthcare, one of the panelists represents Pfizer.
Do you actually think that the ruling global elite are going to let go of one of the best-designed crises that has ever been pulled off in history? (A scamdemic.) No, they are NOT. They are going to milk that cow dry and continue the fear-mongering of Covid-19, social distancing, and economic reform. Their 2020 militant tactics accomplished extreme control of humanity. The Imperial Overlords have spoken…
World Economic Forum (WEF):  What happened at their big Pow-Wow meeting in May 2021 that took place in Singapore?
1. Vaccines were in the discussions, and here's newly released the document (10 pages). They are desperately wanting to build back public trust, so they can continue to cause harm and reach more people with the toxic jab. It's better that people go willingly rather than by force. They will use "positive" news (like Queen Elizabeth receiving the Covid-19 injection) in order to push their propaganda. They don't want any negative news reporting healthcare workers refusing the jab or people saying, "I'm scared."
2. Another newly released World Economic Forum document (23 pages) talks about limiting contact with people, how delivery systems will be shaped in the future, and about electric vehicles. Cocooning will be the normal way of life. City people will seem to have it easy at first, that is, until strict guidelines and heavy-handed restrictions are laid down.
Here are some snippets:
Amazon has already ordered 100,000 electric delivery vans from start-up Rivian to be delivered by 2030.

UPS announced a minority stake in UK-based player Arrival, committing to order 10,000 purpose-built delivery vehicles.

FedEx is partnering with Walmart, Pizza Hut, AutoZone and other retailers to test its autonomous "SameDay Bot", which reportedly can navigate unpaved surfaces, kerbs and steps.
As you can see, we are in for quite a ride as the ruthless billionaire globalists move forward with their Sustainable Development Goals (SDG) which they say will transform not only America but the entire world. Klaus Schwab's The Great Reset, being initiated by the World Economic Forum, will be calling for the residents of the whole world to conserve energy. Expect energy outages. Radical environmentalists will be behind this agenda and will call for governments to enforce oppressive energy policies. Transform World deals with Artificial Intelligence in security, manufacturing, retail, and even more industries.
The rhetoric coming from the billionaire globalists touts that:
Consumerism isn't sustainable.
Single dwelling homes aren't sustainable.
Small businesses aren't going to be sustainable.
Livestock isn't sustainable.
Golf courses aren't sustainable.
Over-extended healthcare/disease management isn't sustainable.
Extended life isn't sustainable.
This is only a small sample of what they consider "not sustainable". You can see that those living in RURAL AMERICA are on the chopping block. We must stay diligent and continue to warn of the calamities ahead. Depopulation or Extinction Level Events are occurring across the globe. Misery for the masses continues.
Could mega corporations and power players that attend the World Economic Forum be using this extinction-level event to prepare for the deaths of those who've had the Covid-19 injection?
Attention! Coronavirus injections are an extinction-level event (ELE)  From the article:
Going beyond the Chinese origins of the Wuhan coronavirus (Covid-19) itself, of more pressing concern are the injections being widely dispensed that are reprogramming human DNA and turning people into walking spike protein factories. This is an irreversible phenomenon with deadly implications in the longer term.

"Because of the RNA and DNA altering aspects of the Covid injections, these 'vaccinations' cannot be undone. Consequently, those vaccinated individuals will either succumb to the ELE or become severely incapacitated to the point of becoming a great burden to their caretakers."

Chinese Virus injections are designed to kill you when the time is right.

"Coronavirus COVID-19, 5G 60 GHz millimeter wave, chemtrail-disseminated 'smart dust' and vaccine-delivered digitized RNA are mutually intensifying quaternary weapons deliberately launched and coordinated to shut down a targeted city or nation, commit genocide, depopulate and / or trigger an ELE," the report further explains.

DARPA-Big Pharma bioengineers keep themselves busy reformulating "vaccines" to make them progressively more deadly. This is what the upcoming "boosters" are for, which have absolutely nothing to do with protecting people against Chinese Virus "variants."

[Click here for more information on the Extinction Level Event.]
There will be some who will benefit highly from these "advancements"… but most will be destroyed. This is more about a depopulation agenda than about money.
Our scandalous president, Joe Biden, has set a sinister goal of having one shot or more administered to 70% of those 18 years of age and older by July 4, 2021. What a tragic propaganda campaign… We seriously doubt that one half of the U.S. population has been injected, anyway. The numbers have been skewed from the start. Dr. Fauci, the minister of propaganda, the CDC, and the NIH have ALL been proven liars. Moreover, the injurious substance is NOT a vaccine by definition. Looks like the vaccine substance is in fact a bioweapon and even more dangerous than the original infection. Could our government have been in on the attack?
These players are barbarians…
New Highly Suspicious Players and Big Technology Platforms Revealed! Next, what we want to introduce to our reading audience is MORE dubious players, the unknown/unnamed billionaires that fund our institutions and deal with experiments in our healthcare and medical devices and reprogramming, etc. Yes, if you've had the shot, you have been injected with a bioweapon device, and we are watching to see the fallout of this bizarre injection. The technology in the mRNA "vaccine" is really a dangerous device that has lethal potential, and yes, this whole well-planned "pandemic" will result in utter chaos for the public at large. We need to investigate more players and funders on the world scene. Look at how a university can be bought. Read on…
Geneticist George Church is one of the founders of the Genome Project, and there's more to this whole scheme than meets the eye…
George McDonald Church (born 28 August 1954) is an American geneticist, molecular engineer, and chemist. He is the Robert Winthrop Professor of Genetics at Harvard Medical School, Professor of Health Sciences and Technology at Harvard and MIT, and a founding member of the Wyss Institute for Biologically Inspired Engineering. As of March 2017, Church serves as a member of the Bulletin of the Atomic Scientists' Board of Sponsors. George Church, Ph.D. is on the Core Faculty as shown on Wyss Institute Website.
Found in Boston and Cambridge, Massachusetts, is the Wyss Institute for Biologically Inspired Engineering at Harvard University, located at two different sites, should be of concern to us. This sure sounds like a Frankenstein Lab! They list things like:
Follow the Money:
Attention, Doctors! Genome definition: In the fields of molecular biology and genetics, a genome is all genetic material of an organism. It consists of DNA (or RNA in RNA viruses). The genome includes both the genes (the coding regions) and the noncoding DNA, as well as mitochondrial DNA and chloroplast DNA. The study of the genome is called genomics.
In addition, there is also the Wyss Center for Bio and Neuroengineering located in Geneva, Switzerland, a non-profit (NGO) research foundation that focuses on all aspects of the brain, including human brain computer interfaces.
They focus and develop bio-inspired material and DEVICES (just like this technological injection/jab) for applications in healthcare, manufacturing, robotics, energy, and sustainable architecture. This politically liberal man, a Swiss billionaire eugenicist philanthropist, Hansjörg Wyss, has given hundreds of millions of dollars to this institute that translates technological discoveries into commercial products and therapies is an important part of the organization's mission. And he is the founder and the former president and chairman of Synthes USA, a medical device manufacturer. His Wyss Foundation has more than $2 billion in assets. As of 2021, Wyss had a net worth of US $6.5-[8.5] BILLION, according to Forbes.
Synthes Holding AG (formerly Synthes-Stratec) is a multinational medical device manufacturer based in Solothurn, Switzerland and West Chester, Pennsylvania, United States. It is the world's largest maker of implants to mend bone fractures, and also produces surgical power tools and advanced biomaterials.
In June 2012, Synthes was sold by its chairman, former CEO and largest shareholder Hansjörg Wyss, to Johnson & Johnson for $20.2 billion. It is now part of their DePuy franchise. Mr. Wyss controls a lot of dark money and has several non-profits. According to Influence Watch, Synthes has faced 52 felony counts stemming from allegations that it illegally experimented on patients, three of whom died. Four high-ranking executives pleaded guilty for the company's crime of running unauthorized trials, just like what seems to be happening today with this distorted delivery system in the shot. You can tell this man is evil by the company he keeps. Here's one of his buddies. The Wyss Foundation donated $5 million to the Clinton Foundation in support of "No Ceilings: The Full Participation Project."
Moreover, this shocking report from Capital Research says the same thing about Wyss:
Yet his success is marred by ghoulish controversy. In 2009, Synthes USA—with Wyss at its head—was charged by Philadelphia's U.S. attorney with running an illegal clinical trial on humans: Injecting them with a cement that turns to bone inside the human skeleton. The Food and Drug Administration (FDA) reportedly told the company not to use the cement during spine surgeries. Synthes ignored the warning, and five people died as a result.
The sustainable medicine of today that we call "healthcare" is more like disease management.
This is part of THEIR globalist agenda. The global elite have set it. This is what they're investing in and developing, and this is the chaos they're introducing onto the human population on the planet.
In closing, when all the pompous players involved one way or another in this plandemic scheme are barbarians, it's time to sound the alarm. Do you trust any of the vaccine developers, manufacturers, or players that attend the World Economic Forum and individuals such as Dr. Fauci, Dr. Jose Romero (Head of the CDC's ACIP Committee and Arkansas Department of Health), and Bill Gates? And, if the so-called "vaccine" is actually a grotesque medical device injection designed to kill… then what?
We are at a desperate moment in time.
This clearly means:
If a symptom of the Jab/Injection/Vaccination develops after an mRNA Jab/Injection/Vaccination, neither a doctor nor any other therapist can help you because  DAMAGE CAUSED BY "VACCINATION" WILL BE GENETICALLY IRREVERSIBLE.
If ever we needed a moratorium on humanity getting this deadly biological weapon/technological injection, it's NOW. We do NOT consent!
Could the Georgia Guidestones be correct? The global elite want to keep the world population at 500 million or under? The stones mention twice: "Leave room for nature…"
Stay tuned…
As always, you can find our email articles posted on our website: SecureArkansas.com.  The Search box is a handy tool.
For more information about a topic, just type it into the Search box on our website, and click Enter!
Securing the blessings of liberty,
Secure Arkansas
securetherepublic.com/arkansas
info@securetherepublic.com
Share This Article