HIGH ALERT: HB1142 Creating Nuclear Recycling Program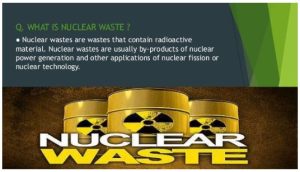 Say "No" to Long-Term Nuclear Waste Repository in Arkansas
In the Arkansas' Capitol: This worrisome bill is on the Agenda for February 9, 2023, Thursday morning at 10:00am. It could be pulled off the deferred list. This bill could be rushed through very quickly, so be sure to take action immediately.
HB1142 To Create The Arkansas Nuclear Recycling Program
Lead Sponsors: Rep. Jack Ladyman and Sen. Clint Penzo
For An Act To Be Entitled

AN ACT TO CREATE THE ARKANSAS NUCLEAR RECYCLING PROGRAM; TO DEVELOP AND EXECUTE A PUBLIC OUTREACH PROGRAM; TO PERFORM SITE SELECTION ACTIVITIES; TO ENGAGE SCIENTIFIC LABORATORIES TO DEVELOP DESIGN DOCUMENTS FOR THE ARKANSAS NUCLEAR RECYCLING PROGRAM; TO ESTABLISH ARKANSAS AS THE ONLY STATE TO DECLARE ITSELF AS A SITE FOR INTERIM STORAGE OF NUCLEAR SPENT FUEL WITH RECYCLING CAPABILITIES; AND FOR OTHER PURPOSES.
However — Arkansas does NOT wish to become an experimental state for a long-term nuclear waste repository! The search for a repository has been going on for many decades. A permanent repository would be a storage facility located deep underground and engineered for the long-term use, dear reader.
See this article from the Union of Concerned Scientists.
Warning! See this concerning, but informative snippet:
Some experts cite reprocessing as a partial solution to the nuclear waste issue. Reprocessing separates nuclear waste into component materials, including plutonium, which can then be re-used as nuclear reactor fuel—but also as the raw material for a nuclear weapon. UCS opposes reprocessing because it increases proliferation and terrorism risks while actually adding to the waste problem rather than reducing it.
Before we proceed to look into this questionable bill, we should be reminded of two things:
Arkansas has freshwater everywhere. We have aquifers, rivers, lakes, streams, creeks, wells, and so forth.
Radioactive waste is produced by industries such as mining, nuclear power generation, military defence, medicine, and certain types of scientific research.
This state is NOT the best choice to have nuclear recycling long-term storage repository, let alone be the ONLY one designated to receive the nuclear waste created by this nuclear recycling program. Radioactive waste is hazardous because it emits radioactive particles which, if not properly managed, can be a risk to our human health and environment.
Attention, read this report: One of the International Atomic Energy Agency's conditions for such a geological site is low groundwater content, which has been stable for at least tens of thousands of years, and geological stability, over millions of years. Goodness, is there somewhere in Arkansas that meets that requirement? Where would that be?
Nuclear waste is extremely expensive and hazardous to cleanup. The taxpayers do NOT want to get stuck with any costs from the outcome of this experimental nuclear recycling program that would lead to a long-term (permanent) repository.
Side note: Arkansas already has major problems with the clean-up of NABORS LANDFILL located near Mountain Home, Arkansas. Unfortunately, the Arkansas Department of Environmental Quality (ADEQ) refuses to deal with this Class 4 landfill, and they were the agency that issued the permit in the first place. We suspect a lot of dangerous nuclear waste there and it is in one of the most pristine places on earth, but it is NOT pristine anymore. Warnings have recently been issued regarding the fish. (More on this issue later.)
From CNBC: The feds have collected more than $44 billion for a permanent nuclear waste dump – here's why we still don't have one.
The federal government has a fund of $44.3 billion earmarked for spending on a permanent nuclear waste disposal facility in the United States.

It began collecting money from energy customers for the fund in the 1980s, and the money is now earning about $1.4 billion in interest each year.

Since the federal government has not established a permanent repository for its radioactive nuclear waste, it's had to pay utility companies to store it themselves. Currently, nuclear waste is mostly stored in dry casks on the locations of current and former nuclear power plants around the country. So far, the system is working, and in 2014, the Nuclear Regulatory Commission (NRC), the lead oversight body for the industry, has said that current storage technology would be sufficient for 100 years.
There is no need to pass HB1142 since the Federal Report states nothing needs to be done for 100 years.
We don't have a permanent nuclear waste repository or dump, and we in Arkansas DO NOT want it to be in our state!
U.S. Department of Energy Agency Financial Report – Fiscal Year 2022 (196 pages! Please allow the PDF time for it to load. If it won't work, try this one.)
Nuclear Waste Disposal (page 57)

The amended Nuclear Waste Policy Act of 1982 (NWPA) makes DOE responsible for the management and disposal of High-Level Waste (HLW) and Spent Nuclear Fuel (SNF) to protect public health, safety, and the environment.
Dangers of Radioactive Waste 

Costs of nuclear energy include the continued risk of reactor accidents and the dangers of transporting nuclear fuel, but perhaps the biggest concern is how to deal with hazardous nuclear waste, which can survive for hundreds of thousands of years. [1] High-level waste is produced as part of the nuclear fuel process and needs to be considered in order to avoid permanent damage to living organisms and the environment. [2] These dangerous byproducts remain intensely radioactive for a long time. For example, Pu-239 has a half-life of 24,000 years, Tc-99 has a half-life of 220,000 years, and I-129 has a half-life of 15.7 million years. [3] As a result of the hazards that long-lived radioactive waste poses to society, disposal regulations require isolation of these wastes for tens of thousands of years. [3] How to keep this radioactive waste in storage is another issue that must be taken into account when considering nuclear energy use.
Who gave this legislation to Senator Penzo and Representative Ladyman?
It appears that this legislation came from the American Legislative Exchange Council (ALEC), the corporate bill mill, that's who. Corporations in ALEC hand legislators their marching orders every legislative session. ALEC pushes corporate-sponsored or corporate-drafted bills in most state legislatures across the country.
Corporate members of ALEC also advise "THEIR" legislative colleagues on strategies:
for securing passage of their bills that THEY want introduced and
for defeating bills that corporate members want opposed.
ALEC members play on a global scale.
The model legislation from ALEC is entitled "ACT TO ESTABLISH A STUDY ON COMMERCIAL APPLICATION OF EXISTING TECHNOLOGY TO RECLAIM AND REPURPOSE NUCLEAR FUEL RODS"
And from ALEC is another piece of model legislation titled "RESOLUTION URGING THE PRESIDENT AND CONGRESS TO ACT EXPEDITIOUSLY IN PROCURING A SITE OR SITES FOR THE STORAGE OF HIGH-LEVEL RADIOACTIVE WASTE"
Lastly, this one: "ACT TO CREATE A FEASIBILITY STUDY ON NEW NUCLEAR ENERGY GENERATION"
This brings up many important questions, such as:
Notice how America sinks deeper into the clutches of the communist billionaires that want to take over and control all our energy consumption…
Would this involve the United Nations, NATO? Yes, it does!
The North Atlantic Council oversees the Nuclear Planning Group. From their site:
The Nuclear Planning Group acts as the senior body on nuclear matters in the Alliance and discusses specific policy issues associated with nuclear forces. The Alliance's nuclear policy is kept under constant review, and is modified and adapted in light of new developments.
The Nuclear Planning Group was founded in December 1966 to provide a consultative process on nuclear doctrine within NATO.
The Nuclear Regulatory Commission licenses and regulates civilian use of nuclear energy to protect public health and safety and the environment. The Nuclear Regulatory Commission (NRC) was established as an independent regulatory agency under the provisions of the Energy Reorganization Act of 1974 (42 U.S.C. 5801 et seq.)
From the Federal Register regarding the Nuclear Regulatory Commission:
The Nuclear Regulatory Commission (NRC) has regulatory authority over storage and disposal of all commercially-generated nuclear wastes in the United States, as well as disposal of spent fuel and high-level wastes generated by the Department of Energy.
Christopher T. Hanson was designated Chair of the U.S. Nuclear Regulatory Commission by President Joe Biden, effective Jan. 20, 2021. He was sworn in as a Commissioner on June 8, 2020, and is filling the remainder of a five-year term ending on June 30, 2024.
The Commission

The NRC is headed by five Commissioners appointed by the President and confirmed by the Senate for five-year terms. One of them is designated by the President to be the Chair and official spokesperson of the Commission.
From the Department of Energy regarding spent fuel and waste disposition.
Agencies involved are the following:
U.S. Nuclear Regulatory Commission —  responsible for certifying the Type B packages in which spent nuclear fuel is transported

U.S. Department of Transportation — regulates transportation on roadways and railways

U.S. Coast Guard — oversees inland and intercoastal waterway transport
Excerpt:
The stakeholders in the issue of nuclear power are the local and federal governments, the citizens, and researchers and companies that would be involved. The government is involved because they have to fund the building of new power plants and the maintenance of existing ones. They have to regulate them and make sure that they are running safely.
People Interested in Nuclear Energy:
Snippet:
Nuclear Energy Institute (NEI's) Mission: The Nuclear Energy Institute (NEI) is the national and global policy-making process. NEI's objective is to ensure the formation of policy organization of the nuclear energy and technologies industry and participates in both the national policies that promote the beneficial uses of nuclear energy and technologies in the United States and around the world.
Nuclear Energy Institute is busy promoting the United Nations (UN) Sustainable Development Goals. The target date is 2030… Something the China-loving Joe Biden and son want very much to see put in place.
They also claim to be the voice of the U.S. Nuclear Industry.
Nuclear Energy Institute Membership Roster
As of January 2023, NEI has 328 members.
Bill Gates and energy:
TerraPower, a nuclear innovation company, and PacifiCorp, a regulated utility, announced today their undertaking of a joint study to evaluate the feasibility of deploying up to five additional Natrium[1] reactor and integrated energy storage systems in the PacifiCorp service territory by 2035.
It looks like Bill Gates has overtaken the energy industry.
In closing, it's the billionaire philanthropists, like Bill Gates, who want this long-term nuclear repository in Arkansas. Here's why Bill Gates wants to build all power reactors.
TerraPower, backed by Bill Gates, looks to turn Nuclear Waste into Power. Gates will profit from handling the Nuclear Waste from the federal government and will also make money generating power from the Nuclear Waste.
TerraPower is privately owned. Shareholders include Bill Gates, the billionaire founder of Microsoft, and investors Intellectual Ventures, SK Group, ArcelorMittal, and CRV.
Bill Gates Would Like to Build All of the Nuclear Reactors
From the article by Popular Mechanics:
In November 2021, Gates announced that TerraPower's demonstrator project for his Natrium reactor will be built in the coal town of Kemmerer, Wyoming. The $4 billion project will transform a coal-fired power plant into a nuclear one while also training the plant's employees to become nuclear technicians.
Terra Power is involved with the private sector, governments, universities, and international organizations. They're also involved with the Los Alamos National Laboratory.
Leadership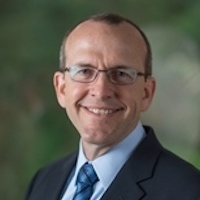 President and CEO
Chris Levesque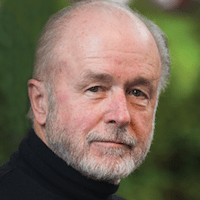 Chief Technical Officer
John Gilleland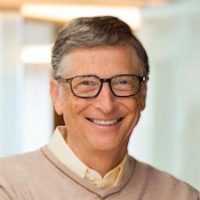 Chairman of the Board
Bill Gates
Related articles:
Here is the portfolio for the Gates Foundation.
They state that in 2021, the foundation funded grantees in 50 states and the District of Columbia. Internationally, they funded work in 144 countries.
Bill Gates's Experimental Nuclear Power Plant Halts Construction in China (artice from 2019)
MidAmerican Energy seeks Iowa approval to study new nuclear power plant technology
From the March 2022 article:
Nuclear energy hasn't been generated in Iowa since the August 2020 derecho shut down the Duane Arnold Energy Center near Palo.

But gaining attention is a new type of nuclear power plant — smaller, modular and designed to be safer in power outages. Iowa utilities are watching pilot projects involving them in other states, and MidAmerican Energy wants to invest in a study here of new nuclear technology.

The Duane Arnold plant near Palo, which began operating in 1975, was set to be decommissioned in October 2020. But the Aug. 10, 2020, derecho caused damage to the plant and so it closed permanently about three months early.
Nuclear Power is based on the false narrative of Climate Change — Climate change that ignores history
The UN is using climate change as a tool… not an issue.
A snippet:
There is just no evidence of human-induced climate change. There is nobody willing to call them out on this nonsense with just showing the dramatic swings in temperature over the centuries.
IMMEDIATE ACTION REQUIRED: Please call and email these members of the House Committee on Health, Welfare and Labor TONIGHT (Feb. 8, 2023) and tell them that we do not want a long-term nuclear waste repository in Arkansas. Vote NO on HB1142. It's on the committee agenda for Thursday, Feb. 9 at 10:00 am. It's on the list of deferred bills, but it could be pulled up and rushed through, so PLEASE act quickly and reach out to these Representatives!
And contact Governor Sarah Huckabee Sanders as well:  501-682-2345
Rep. Lee Johnson, Chair  lee.johnson@arkansashouse.org  (479) 883-6393
Rep. Josh Miller, Vice-Chair – josh.miller@arkansashouse.org  501-365-3599
Rep. Jeff Wardlaw – jeff@jeffwardlaw.com  870-226-9501
Rep. Jon S. Eubanks – Jon.Eubanks@arkansashouse.org  479-438-0533
Rep. Stephen Magie – stephen.magie@arkansashouse.org   501-327-4444
Rep. Richard Womack – richard@richardwomack.com   870-403-6287
Rep. Deborah Ferguson – ddsferg@gmail.com   870-735-7098
Rep. Jack Ladyman- Sponsor – jackladyman@gmail.com   870-340-7499
Rep. Mary Bentley – mary.bentley@arkansashouse.org   501-889-3556
Rep. Justin Gonzales –  justinrory@yahoo.com   870-245-6365
Rep. Kenneth B. Ferguson  – kenneth.ferguson@arkansashouse.org   870-413-8942
Rep. Fred Allen  – fredallen99@comcast.net   501-804-7844
Rep. Aaron Pilkington  –  aaron.pilkington@arkansashouse.org   479-308-8384
Rep. Mark Perry  –  mperry@windstream.net   (501) 982-4561
Rep. Bart Schulz  – bart.schulz@arkansashouse.org   870-613-1940
Rep. Kendra Moore  – kendra.moore@arkansashouse.org  479-966-9191
Rep. Ryan A. Rose –  ryan.rose@arkansashouse.org  479-285-6383
Rep. Zack Gramlich  – zack.gramlich@arkansashouse.org   479-831-8072
Rep. R. Scott Richardson  – scott.richardson@arkansashouse.org  479-308-8260
Rep. Jeremy Wooldridge – jeremy.wooldridge@arkansashouse.org 870-565-7784
Or, to email all of the Representatives in the committee at one time, you can copy and paste this list into your email "TO" box. (Your email server should automatically add commas between each one after you copy/paste the list, or you may need to insert the commas yourself, depending on your email server.)
stephen.magie@arkansashouse.org
mary.bentley@arkansashouse.org
kenneth.ferguson@arkansashouse.org
aaron.pilkington@arkansashouse.org
kendra.moore@arkansashouse.org
zack.gramlich@arkansashouse.org
scott.richardson@arkansashouse.org
jeremy.wooldridge@arkansashouse.org
.
As always, you can find our email articles posted on our website: SecureArkansas.com.  The Search box is a handy tool.
For more information about a topic, just type it into the Search box on our website, and click Enter!
Securing the blessings of liberty,
Secure Arkansas
securetherepublic.com/arkansas
info@securetherepublic.com
image credit for cover image
Share This Article