Update on Harrison's Proposed Crypto Mine 5/25/23 and more!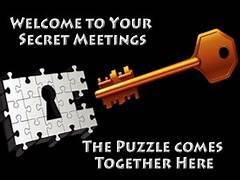 Harrison's Proposed Crypto Mine Update 5/25/23,
info about non-public city "education meetings"…
and MORE!
Will the City Attorney of Harrison, Arkansas Nancy Cartwright, Harrison Mayor Jerry Jackson, and the board members give up the almighty dollar and do what's best for the community, or will they try to relocate the dangerous Communist Chinese crypto mining site or simply try to put up a sound barrier to solve the noise problem? The sound barrier won't solve the problem, folks. Researchers have seen that prolonged exposure to noise can lead to high blood pressure and other cardiovascular issues and exocerbate mental health disorders.
Here's the update on the proposed crypto data mine in Harrison:
Green Digital withdraws permit application (You'll need to pay a small fee to read the entire Harrison Daily Times article):
The Harrison City Council on Thursday, May 25, convened at the Signature Bank community room in downtown Harrison to approve or deny a conditional use permit for Green Digital LLC, the owner of a proposed crypto mining facility off of Old Bellefonte Road. On the Tuesday before that, May 23, the Harrison Planning Commission deferred the decision to the city council, which led to this event.
And this was posted on Facebook: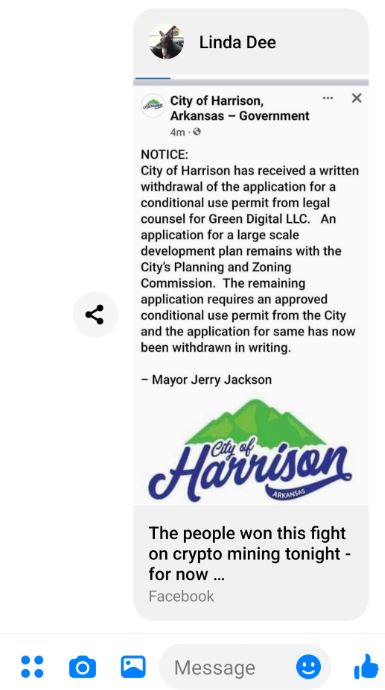 We need to keep our eyes and ears peeled because who knows WHAT this communist Chinese company "Green Digital LLC" (or whatever name they choose to call themselves in the future that may change, as per their known M.O.) will do next?
Here is the link for the Harrison City Council members.
Here are the Harrison Planning Commission members.
There is a Special Called Harrison Planning Commission Meeting on Tuesday, May 30, 2023 at 1:30pm at City Council Chambers at City Hall, 118 Industrial Park Rd. Here is the agenda. Under Old Business, Green Digital Complex is listed. Someone still needs to be there to watch what happens. See below: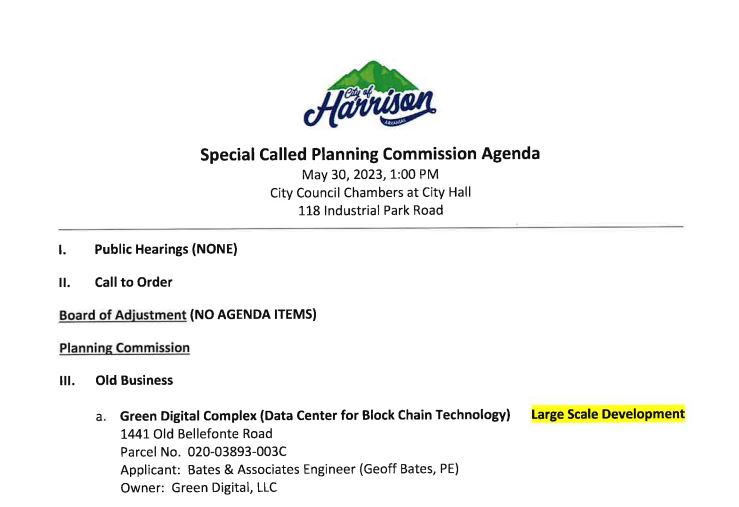 Better check this out, too:

Also, Harrison's City Attorney Nancy Cartwright has been corresponding with Attorney Jason Carter on her "education meeting" planned on Monday, May 8, 2023 in order to bypass the Freedom of Information Act (FOIA). This was not open to the public! Attorney Charles Jason Carter operates the Carter Law Firm, LLC located at 1002 Front Street, Conway, Arkansas. Jason's telephone number is 501-352-9587 and his email address is jason@carterlaw.us. Jason Carter is also General Counsel of the Arkansas Municipal Power Association and the Arkansas Municipal League. Could Jason Carter be in conflict of interest since he is the General Counsel for both? Neither of these two groups are the friends of the people.
Nancy Cartwright – City Attorney – Harrison, AR
Phone: 870-517-5879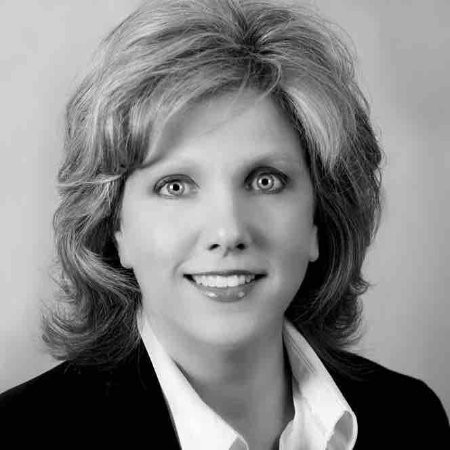 City of Harrison, AR – City Attorney Jan 2023 – Present

Arkansas Public Defender Commission -Deputy Public Defender July 2016 – Dec 2022

Partner – Davis Law Firm Mar 23014 – Jan 2023

Attorney Specialist – Office of Chief Counsel – State of Arkansas Sept 2006 – Mar 2014

Partner – Campbell, Mathis & Brantley, PLC – Aug 1999 – Jul 2005

Attorney – Reeves Law Firm – Aug 1997 – Aug 1999
The question is: why does the Harrison Arkansas City Attorney, Nancy Cartwright, have to go out of the area to get answers to questions that she should have been able to solve on her own? Maybe it is time for the City of Harrison to look for a new City Attorney. It is time for the voters to do a recall on the Harrison City Attorney. She surely isn't working for the people that elected her.
Arkansans and America do not want Crypto Mining operations in their çities, counties, or state! We also cannot trust the Chinese. Here's just one of many comments on Facebook on the Boone County Good Government page regarding the Chinese and cryptomining (posted 5/25/2023):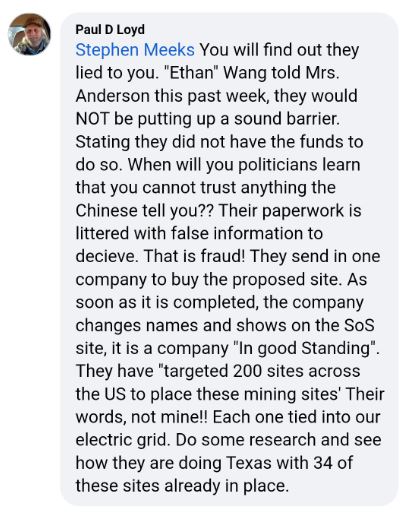 Thank you, Paul, for calling out Representative Meeks!
Remember — Metahash Global changed their name to Green Digital LLC. We mentioned it in a previous article: Cryptocurrency Players in America That Could Be Tied to the Chinese Communist Party… From that article:
From the Harrison Daily Times on 4/22/2023: Green Digital faces test from planning commission
A few enlightening excerpts:
The Harrison Regional Chamber of Commerce in August 2022 hosted a visit from Yizheng "Ethan" Wang, with a company by the name of Metahash Global, to establish a cryptocurrency mining operation at 1441 Old Bellefonte Road in Harrison. Metahash Global signed a buyer's contract to purchase the five-acre lot located at the corner of Old Bellefonte Road and Mountain Vista Road in Harrison with a Sept. 30 closing date. The land deal did not close in September due to negotiations regarding power access with Entergy, according to the buyer's real estate agent, Franklin Harp with Weichert REALTORS®-Market Edge.

The buyer's contract was later amended to reflect the buyer's new business name, Green Digital LLC, and to extend the closing to Dec. 15, 2022, and the land deal ultimately closed on Dec. 15, 2022. Green Digital, LLC was deeded the five-acre industrial property by Claridge Products and Equipment for the price of $600,000.

Wang is the hired project manager for Green Digital, LLC, formerly under Metahash Global. Metahash Global was the name initially established to market the company's miner hosting services, according to Wang.
You'll want to invest the meager $2 to read that entire article so you can see all of the details.
Why did China ban Crypto Mining?  Could it be that they didn't want the carbon footprint, so they dumped it off onto America?
Must read: "Cryptocurrency's Dirty Secret: Energy Consumption"
Crypto has a dirty little secret that is very relevant to the real world: it uses a lot of energy. How much energy? Bitcoin, the world's largest cryptocurrency, currently consumes an estimated 150 terawatt-hours of electricity annually — more than the entire country of Argentina, population 45 million. Producing that energy emits some 65 megatons of carbon dioxide into the atmosphere annually — comparable to the emissions of Greece — making crypto a significant contributor to global air pollution and climate change.
We live in a world with secret meetings, back door deals, and under-the-table operations. These are often performed out of the public eye with the hopes of never being discovered. "For there is nothing hidden that will not be disclosed, and nothing concealed that will not be known or brought out into the open." – Luke 8:17
Now, back to Harrison City Attorney Nancy Cartwright and Conway Attorney Jason Carter, here are the FOIA documents on the recent secret meeting in Harrison.
(Read the 328 pages for yourself, and save them for later, if you like.)
The following is an email sent by Nancy Cartwright, City Attorney of Harrison, Arkansas, to Conway, Arkansas Attorney C. Jason Carter and his answer back to Nancy Cartwright:
—–Original Message—–
From: Nancy Cartwright
Sent: Sunday, May 7, 2023 3:18 PM
To: Jason Carter
Subject: Questions — City of Harrison
After our call last week, I took steps to schedule a legal training/education meeting with commissioners and council members as a group. In the scheduling email, it clearly states that the meeting is for me to address the procedures and legal issues facing the City as part of the applications by Green Digital. It further states there will be no discussion between attendees at the meeting on the issues and no questions to me from the group. I also conveyed attendees will have a chance to meet individually with me to ask their questions. Further, this was not set as a public meeting, but rather a training/education event. I took this to be consistent with the conversations you and I have had and that this is not required to be a public meeting and is not violative of FOIA- in that I've taken steps to avoid the discussion of the subject matter and am using as an opportunity to inform these officials on the procedure, law, legal advice, pre litigation issues, and potential outcomes and liability.
Unfortunately, over the weekend reports are now being made across social media that the Mayor is holding secret meetings with Green Digital (applicant) at the date/time I've set this legal training. This has been very disruptive (to say the least) today.
I still offer the meeting is necessary and consistent with my duty to keep my clients informed and educated on the procedure and issues. Do you see any error with my analysis? I apologize for reaching out over the weekend, but I am facing pressure to cancel the meeting and stop my efforts.
Again, many thanks.
Nancy Cartwright
City Attorney
P.O. Box 1715
Harrison, AR 72602-1715
Tel 870-517-5879
Mobile 870-715-7988
From: Jason Carter
Date: May 7, 2023 at 6:21:43 PM CDT
To: Nancy Cartwright
Subject: RE: Questions — City of Harrison
Nancy,
You're on the right track. The key is to avoid creating a public meeting of either the planning commission or the city council, which means that you should neither solicit a response from participants nor ask them to render a decision. City of Fort Smith v. Wade, 578 S.W.3d 276 (Ark. 2019).  Ideally, information should flow in one direction, from you to the group. If participants start engaging in sidebar discussions about how this should go during the meeting, then they are running afoul of the FOIA. You should warn them about this. Also, be wary of participants using you as a proxy for their discussions – speaking to one another through you.
A few extra points to consider: (1) Any presentation materials will be subject to FOIA. (2) You can (and should) advise your clients about FOIA but you cannot force them to comply. They're going to do what they're going to do. Given that risk, I still think it's a good idea to do the training. (3) The information you present during the meeting will be repeated to someone else outside the meeting before you make it to your car. Guaranteed. I still think it's a good idea to do the training.
Hang in there! Jason
—————————————————————
You may recall one of our previous alerts about HB1799 and data centers:  Senator Seeks to Repeal The Arkansas Data Centers Act (Illusive Legislation Involving the Right to Mine Cryptocurrency). Senator Bryan King has filed a much-needed Interim Study Proposal 2023 to repeal HB1799:
AN ACT TO REPEAL THE ARKANSAS DATA CENTERS ACT OF 2023;
AND FOR OTHER PURPOSES
Senator King stated, "I just want people to know I am working on this. This bill (HB1799) was NOT passed in a way to give the public proper notice or in an informed manner."
Senator Joshua Bryant from Rogers, Arkansas was involved in sponsoring HB1799:
AN ACT TO CREATE THE ARKANSAS DATA CENTERS ACT OF 2023; TO CLARIFY THE REGULATION OF THE DIGITAL ASSET  MINING BUSINESS; AND FOR OTHER PURPOSES.
We can see that he would have had heavy-handed corporate influence inflicted upon him to see this bill through. Did the Waltons or some of their minions approach this state senator?
Did you know that Walmart is a member of World Economic Forum's (WEF's) Global Future Council on Trade and Investment? Also, the WEF has maintained good cooperation with China.
Jim Walton, Alice Walton, and Rob Walton are the top three individual shareholders of Walmart. Walmart's largest institutional investors include:
the John T. Walton Estate Trust,
all-consuming Vanguard Group, and
the evil BlackRock. (BlackRock became the first foreign-owned company allowed by the Chinese government to operate a wholly-owned business in China's mutual fund industry.)
Did the Northwest Ark Council, a Walton funded foundation, advertise internationally to make our state the Communist Crypto Capitol? Did they offer 10,000 Bitcoin and a bike? How many apps came in from the advertisement? Around 35,000 apps came in for the jobs.
New effort to lure tech workers to Northwest Arkansas includes $10K in bitcoin, new bicycle
Nelson Peacock, president and CEO of the Northwest Arkansas Council, said in a statement. "This expanded incentive offer — Bitcoin and a Bike — not only embraces the growing trend toward the use of cryptocurrency as a payment option by employers but also helps increase our pipeline of talent to benefit tech employers, startups, cities, local businesses and the region overall."

According to a news release, the initiative is made possible by philanthropic support from Steuart Walton and Tom Walton through the Walton Family Foundation. The Walton brothers are grandsons of Walmart Inc. founder Sam Walton.
The globalist Walton's are greatly invested into Waltonchain.
Waltonchain: Leading Humanity to a reliable digital life.
Waltonchain project is named after Charles Walton (1921—2011), the famous inventor of RFID technology.

Waltonchain is the underlying public business ecochain. It resorts to RFID technology to create a unique combination of blockchain and the Internet of Things (IoT). On this ecochain, merchants can create customized child chains and monitor production, logistics, warehousing and retail circulation of all commodities. As a business ecochain, Waltonchain ensures that all data on it is authentic and credible. With the self-developed reader chip and tag chip, all data of physical commodities in circulation is automatically recorded to blockchain.
Thus Waltonchain avoids human interference, minimizes the data tampering possibility and creates a fair, transparent, traceable and credible new-generation business ecosystem.
Waltonchain and MEDIUM Will Develop the Chinese Market Together:
A Blockchain Publicity Hall Is Planned to Open in Yancheng China-Korea Industrial Park
As MEDIUM's partner, Waltonchain will develop the Chinese market for the ultra-high-speed blockchain solution dubbed Medium Distributed Ledger (MDL) and promote it in Yancheng and Shenzhen (China). First, with the establishment of a China branch of Korea Blockchain Institute in Yancheng China-Korea Industrial Park, MEDIUM's MDL platform and related technologies will be displayed at the Korean Blockchain Technology Publicity Exhibition Hall that will serve as a marketing base in China. Next, China's Shenzhen Special Economic Zone is chosen a key strategic market where MEDIUM will leverage Waltonchain's multiple promotion channels for marketing activities.

MEDIUM has already started to enter the Chinese market. In the agreement signed earlier with the Chinese blockchain company PeerSafe, MEDIUM stated its efforts in the promotion of the development of China's trade and financial transaction platform and future assistance in establishment of a China-Korea trade and financial transaction platform.

As a joint China-Korea IoT + Blockchain platform operating in Shenzhen, Waltonchain boasts of various promotion channels in China. This agreement will help MEDIUM expand its Chinese market and will help Waltonchain boost the development of blockchain operations.
The globalists seek a New World Order (NWO), a communist style dictatorship with the United Nations (UN) and the World Economic Forum (WEF) at the helm.
Now, let's look at the new crypto mining site in Newport! GMI Computing, led by Frederick Huang and Alex Yeh, has begun its operations in Newport. The address is: 950 AR-69, Newport, AR 72112.
We need to look into this operation, too. On Linkedin it says, GMI Computing is bringing in Semiconductor R&D to disrupt the commoditized Crypto Data Center business.
Delta Blackchain Fund was Founded in 2021 by World Bank, International Finance Corporation (IFC), and ConsenSys alumna Kavita Gupta. The World Bank is technically part of the United Nations.
China is cunning and sneaky! The consolidation of mining power also poses a risk to the overall security and integrity of the Bitcoin network.
The competitive nature of Bitcoin mining has led to the concentration of mining power in the hands of a few large mining operations. We know that Chinese miners control at least two-thirds of the Bitcoin hash rate.
In May 2022, there was a big landmark ruling: the communist Shanghai High People's Court declared Bitcoin to be virtual property protected by Chinese law. The communist court outlined that Bitcoin does have economic value and attributes that make it property.
China: Court classifies Bitcoin as virtual property and protected by law
Regardless, China still has a blanket ban in place for all blockchain and digital currency-related activities, including trading and block reward mining. The country continues to implement the ban with a crackdown on digital currency companies, block reward miners, exchanges, data aggregator websites, and even related social media accounts.

Meanwhile, the People's Bank of China (PBoC) has become the first major economy to launch its central bank digital currency (CBDC). Bloomberg reports that China is the leader in the growing central bank exploration of digital currency globally, having conducted several mass tests of their e-CNY.
March 1, 2023, following communist China's lead, Missouri House panel tries to regulate Bitcoin, other cryptocurrencies.
Bitcoin's insatiable appetite for energy is driving up pollution and costs for Americans, report finds
Bitcoin mines in the US have had a tremendous impact on power grids, a New York Times investigation reveals. The mines — which are giant data farms — use vastly more electricity than the communities surrounding them, driving up pollution from coal and gas power plants. The crypto mines also make electricity bills more expensive for their neighbors, even as the companies profit off incentives that grid operators offer to prevent blackouts during an energy crunch.

The newspaper identified 34 of the biggest crypto mines in the US, each operating at 40 megawatts or higher. Every single one of them, on its own, uses at least 30,000 times as much electricity as the average home in America. In Rockdale, Texas, the largest and most energy-hungry Bitcoin mining facility in the country burns through as much electricity as the closest 300,000 homes combined.

While they drive other people's bills up, crypto companies have managed to game energy systems in their favor. The company operating the Bitcoin mine in Rockdale, Texas, paid just 2.96 cents per kilowatt-hour last year, it reported to investors. That's compared to 13.5 cents residential customers typically paid that year.

How does a crypto mine get electricity for so cheap? In Texas, it can benefit from a program that pays industrial businesses to power down when the grid is under too much pressure. This happened in February 2021 when a severe cold snap disrupted energy supply — leaving millions of residents without power and ultimately killing hundreds of people. During the disaster, the state power grid operator paid one crypto mining company an average of $175,000 an hour to power down its computers. In 2020, five mines made at least $60 million from that energy-saving program, the Times reports.
What Montana Banning TikTok Means For U.S. Cybersecurity
What is concerning to us is the communist TikTok app captures everything on your phone and stores it in China. That is very concerning for our U.S. Cybersecurity. TikTok  has over 150 million American users and is a wholly owned subsidiary of Chinese technology firm ByteDance Ltd., which appoints its executives. Also, ByteDance is based in Beijing.
So, what are thinking whenever we are letting the untrustworthy Communist Chinese:
come in and buy our valuable American properties,
have crypto/ data mining centers built or refurbished,
hook up to our power grid that's already over-loaded,
drive up our electrical rates,
blast out horrific EMF waves and noise, and
use up our precious resources and pollute… all for a fraudulent scheme in computer codes used as cryptocurrency??
Remember, a scam is any means someone uses to get you to part with your hard-earned money.
The CCP's laws and regulations are only one aspect of their pervasive control. There are no legal limits on the communist party's powers. The communist Chinese government has also sought more direct control over companies by getting seats on boards of directors, both in China and worldwide, including our country. The infiltration of America continues as people are blinded by dollar signs and crypto mining.
In closing, it's time for crypto mining projects to be dealt with in Arkansas… and it's time for legislators to engage in their fiduciary responsibility, recognize the changed environment, and re-evaluate plans to spend taxpayer dollars to fund these Communist Chinese companies, the CCP.  The day has come for America to guard her information, resources, and properties. Our US taxpayer money should not be spent backing our known communist adversaries.
Appealing to our uncomfortable Governor Sarah Huckabee Sanders who is refusing to engage and to the Arkansas legislators:  when will there be a Special Session to discuss the communist invasion, them hooking up to our electrical grid, AND the repeal of HB1799 and HB1654? We cannot stonewall on this. The CCP is moving ahead, intentionally and deliberately, and NOT for our betterment. This special session needs to be done… and quickly!
.
Click here if you'd like to sign up to receive Secure Arkansas email alerts.
As always, you can find our email articles posted on our website: SecureArkansas.com. The Search box is a handy tool.
For more information about a topic, just type it into the Search box on our website, and click Enter!
Securing the blessings of liberty,
Secure Arkansas
securetherepublic.com/arkansas
info@securetherepublic.com
Share This Article