Government Secretly Tampering with FOIAs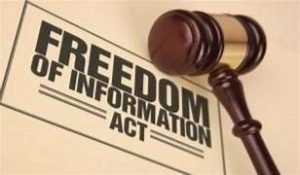 The Arkansas Attorney General has recently created a new group called
The Arkansas Freedom of Information Act (FOIA) Review Working Group
Why was a NEW FOIA group needed at this time, especially on the heals of this last hurtful and demonically inspired legislative session? There was a legislatively created state task force already in place that we were perfectly happy with! We know that Arkansas has one of the best Sunshine Laws, if not THE best, in the whole country.
Moreover, why were professor of law, Robert Steinbuch (who helped write the FOIA Handbook) and Attorney Joey McCutchen purposefully overlooked and not asked by Attorney General Tim Griffin to be a part of this new group? Is it because these dedicated men faithfully stood up and battled through the onslaught of anti-transparency bills forcefully catapulted out this last session? They have been a real blessing to the people of Arkansas. Again, these two men have a proven track record and have been outstanding 'Rock Stars' in this field and a staple in our Arkansas government regarding FOIAs and transparency.
The secrecy and suspicious timing of this newly created group definitely concerns us because in this last heated 2023 legislative session, transparency in government was heavily targeted! What are they wanting to hide?
What kind of sinister shenanigans are being pulled here? We know that this Attorney General wants changes. Will this new group leave us a strong, solid Freedom of Information Act (FOIA), or are they put there to dismantle our magnificent FOIA and incrementally take it apart like a bunch of predators?
Secure Arkansas is extremely disappointed in our inexorable Arkansas Executive Branch of Government and our legislature. More and more, we see the government harshly turning on the people, and we know that trust in our government, both federal and state, is at an all-time low. But what is so disturbing is that in this last fraudulent state session, the hardened lawmakers were deliberately trying to cram several anti-transparency bills down our throats! This government body seems to HATE transparency, so they want to work it over! The shady bills were hurled at us repeatedly from brutal RINO Republicans that are acting "woke".
It looks like it's the state versus the public! America will not be great again IF the people and information they need remain suppressed!
Our stellar Arkansas Freedom of Information Act (FOIA) is the People's Law and did NOT need to be amended… in any way! This law has been a survivor and faced many efforts over the years to exempt more records from the public eye. Why make it harder for people to get the information they may desperately need, and promptly? Sadly, it was a total betrayal of the people! Readers, keeping this precious law in place and UNTOUCHED is worth fighting for! Messing around with the People's Law will disrupt this entire state.
Shamefully, Rep. Mary Bentley and others sponsored HB1610 and greatly alarmed those of us who actually use FOIA requests quite frequently. If that malevolent bill would have passed, it would have painfully gutted our outstanding 1967 Sunshine Law!!! And the freedom-robbing bill said we could not have open and public government in Arkansas.
(We will address those other anti-transparency bills later.)
The new Communications Chief for the AG's Office, Jeff LeMaster, has said that the new group's meetings would not be open to the public.
Does that sit well with you? Well, it shouldn't, because it is outrageous, and we have had enough of big government secret back room dealing, hidden records, bullying, bribes, and lies. Back-stabbing the innocent taxpayers is creating major problems that need to be dealt with, and Republicans putting FOIAs in jeopardy must be stopped!
Shown below is a recent media release:
——————————————————
FOR IMMEDIATE RELEASE
June 14, 2023
CONTACT:
Jeff LeMaster (501) 683-1532
Attorney General Griffin Announces Creation of FOIA Review Working Group
Griffin: 'The last time FOIA was modernized, the iPhone hadn't been invented'
LITTLE ROCK – Attorney General Tim Griffin today issued the following statement announcing the creation of his Arkansas Freedom of Information Act (FOIA) Review Working Group and its members:
"The last time FOIA was modernized, the iPhone hadn't been invented yet. Since then, the use of digital records and new communications technology has increased exponentially, making it possible for public entities to create and retain more records than ever before, making responding to FOIA requests more complex and increasing the amount of FOIA requests being lodged with public entities.
"That is why this working group is so badly needed. It is a bicameral, bipartisan group that also includes members of the legal and press communities that will review the FOIA and provide my office with recommendations on how to improve the law."
Griffin named seven people to the FOIA Review Working Group. They are:
• State Senator Breanne Davis of Russellville
• Ryan Owsley, Deputy Attorney General, Opinions Division
• John Payne, Deputy Attorney General, Civil Litigation Division
• State Representative David Ray of Maumelle
• State Senator Clarke Tucker of Little Rock
• John Tull III, Partner at Quattlebaum, Grooms & Tull, PLLC
• Ashley Kemp Wimberley, Executive Director, Arkansas Press Association
"I appreciate Attorney General Griffin's leadership in assembling this group of individuals to explore the modernization of our state's Freedom of Information laws," Ray said. "It is important that our laws provide citizens with ample transparency wherever possible and give taxpayers the efficient, customer-focused government they deserve. I look forward to serving on this working group."
"Arkansas has one of the strongest FOIA laws in the country, and that's the way it should stay," Tucker said. "Over the years, the legislature has passed many FOIA amendments, which naturally were passed in piecemeal fashion. It's essential for a coalition of people with varying backgrounds but shared expertise and commitment to review those changes, as well as the changes in our society, to ensure that we have a strong FOIA fit for a modern world. I'm grateful to the Attorney General for assembling that coalition and looking forward to the work together."
"Guarding the state's Freedom of Information Act has been a large part of my legal career," Tull said. "I'm honored to serve with the other members of this working group to find ways to improve FOIA but maintain its strength. I'm thankful to Attorney General Griffin for bringing together this group to open this discussion."
"It is important to be proactive in having these discussions in advance of legislative sessions," Wimberley said. "I look forward to hearing the thoughts and ideas of others in this working group and seeing where there are opportunities to find middle ground while maintaining the strength of the state's FOIA."
About Attorney General Tim Griffin
Tim Griffin was sworn in as the 57th Attorney General of Arkansas on January 10, 2023, having previously served as the state's 20th Lieutenant Governor from 2015-2023. From 2011-2015, Griffin served as the 24th representative of Arkansas's Second Congressional District, where he served on the House Committee on Ways and Means, House Armed Services Committee, House Committee on Foreign Affairs, House Committee on Ethics and House Committee on the Judiciary while also serving as a Deputy Whip for the Majority.
Griffin has served as an officer in the U.S. Army Reserve Judge Advocate General's (JAG) Corps for more than 26 years and currently holds the rank of colonel. In 2005, Griffin was mobilized to active duty as an Army prosecutor at Fort Campbell, Kentucky, and served with the 101st Airborne Division (Air Assault) in Mosul, Iraq.
He is currently serving as the Commander of the 2d Legal Operations Detachment in New Orleans, Louisiana. His previous assignments include serving as the Commander of the 134th Legal Operations Detachment at Fort Liberty (née Bragg), North Carolina, and as a Senior Legislative Advisor to the Under Secretary of Defense for Personnel and Readiness at the Pentagon. Griffin earned a master's degree in strategic studies as a Distinguished Honor Graduate from the U.S. Army War College, Carlisle Barracks, Pennsylvania.
Griffin also served as U.S. Attorney for the Eastern District of Arkansas, and Special Assistant to the President and Deputy Director of Political Affairs for President George W. Bush; Special Assistant to Assistant Attorney General Michael Chertoff, Criminal Division, U.S. Department of Justice; Special Assistant U.S. Attorney, U.S. Attorney's Office, Eastern District of Arkansas; Senior Investigative Counsel, Government Reform and Oversight Committee, U.S. House of Representatives; and Associate Independent Counsel, Office of Independent Counsel David M. Barrett, In re: HUD Secretary Henry Cisneros.
Griffin is a graduate of Magnolia High School, Hendrix College in Conway, and Tulane Law School in New Orleans. He attended graduate school at Oxford University. He is admitted to practice law in Arkansas (active) and Louisiana (inactive). Griffin attends Immanuel Baptist Church and lives in Little Rock with his wife, Elizabeth, a Camden native, and their three children.
#   #   #
In response, here is an all-telling press release from attorney Joey McCutchen:
We must fight to keep FOIA strong! It's fine to modernize and have thoughtful discussions, BUT not weaken FOIA.  Any changes to weaken FOIA is wrong, and an all out war should be expected IF attempts are made to weaken FOIA. If this past 2023 legislative session is any indication, FOIA is going to take a beating.
In particular, HB 1610, sponsored by Representative Mary Bentley in the 2023 legislative session, would have gutted open meetings in Arkansas, allowing a quorum of governing bodies to meet in secret. Similarly, HB 1726, sponsored by Representative David  Ray, (and FOIA Guru Robert Steinbuch and one of the authors of the FOIA sunshine "Bible," The Arkansas Freedom of Information Act  was left off) who has been appointed to the working group, would have similarly gutted open records in Arkansas, allowing the sausage making of public officials  to be concealed, allowing any conversations in "anticipation of litigation" to be concealed. An attempt was made to railroad each of these bills through the legislature at the end of the session. Further, the bill would have charged 'we the people' for our own records in certain instances and lengthened the time we have to wait to get our public documents.  Is this modernizing FOIA? If so, please count me out of the modernization process. The legislative task force strongly opposed each of these bills and stated in its opposition to HB 1726.
Or better yet, take a look at anti-FOIA, anti-sunshine bill Senate Bill 543, sponsored by Senator Kim Hammer and Representative Bruce Cozart, which was railroaded thru the legislature in 4 days, yes 4 days,  at the end of the session and not one single transparency group ever saw it! It made in through 2 committees, the Senate floor and the House floor, without any debate and near total support! The bill allows school district boards to meet in executive session for "pre-litigation" discussions, litigation updates, discussion of superintendent contract disputes, discussion and consideration of settlement offers, discussions pertaining to real property. Did I mention it allows the school district's lawyer to be present? Obviously, this clandestine bill was not vetted by the legislatively created FOIA Task Force.  Is this modernizing FOIA?
Any FOIA Review Working Group must be open to the public, with public participation and comments permitted and welcome. After all, we are debating our sunshine laws.
Please share.
Joey McCutchen
Trial Lawyer
"Protect the 7th Amendment; it's the one that protects all the rest."
McCutchen Napurano – The Law Firm
P.O. Box 1971, 1622 North B Street
Fort Smith, AR 72901
Office: (479) 783-0036
Fax: (479) 783-5168
Toll Free: (800) 871-0036
#  #  #
Action needed! We must let our Attorney General and our illustrious Governor hear from us immediately. Tell them that our FOIA must NOT be weakened in any way and that we are seriously concerned about the motive behind creating this group. Ask them what was wrong with the last exemplary and experienced group.
Attorney General Tim Griffin  (501) 682-2007 oag@arkansasag.gov
Governor Sarah Huckabee Sanders (501) 682-2345 https://governor.arkansas.gov/
or
https://governor.arkansas.gov/online-services/contact-the-governor/
In closing, we guess you can tell that this newly-created FOIA group is completely unnecessary and NOT setting well with us because we think it poses a danger to the good people of Arkansas.
So, IF you care about our future… and IF you are thoroughly disgusted with the government… and IF you are tired of being tortured by the constant bombardment of abrasive, anti-American harmful bills sponsored by our legislators, then make a call, send a text, or type out an email because that takes little effort. We must rise and start organizing now, dear readers! Looks like trouble is on the horizon…
.
As always, our articles may be viewed on our website at  SecureArkansas.com. Once there, you may:
view current articles on the main page;
view older articles by clicking "Posts & Articles" at the top left of the main page and scrolling down.
view additional past articles by clicking the "Next Page" button at the bottom right.
To find information about a topic, just type it into the Search box on our website, and click Enter!
Click here if you'd like to sign up to receive Secure Arkansas email alerts.
Securing the blessings of liberty,
Secure Arkansas
securetherepublic.com/arkansas
info@securetherepublic.com
Share This Article