King Charles & "His" Green Climate Agenda, Part 1 (and the recent Maui fires)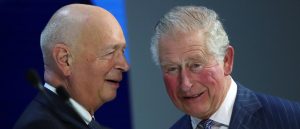 The totalitarian, gruesome, green global government, along with their propaganda and lies, are the big issues looming over us in these trying times.
Psalm 23:4 – "Even though I walk through the darkest valley, I will fear no evil, for you are with me; your rod and your staff, they comfort me."
This article is food for thought for those who would like to get to know the sadist global players surrounding the cunning climate change agenda and the many atrocities that go along with it. If you read diverse news reports, you will be able to get a better prospective on exactly what is going on worldwide.
Some concerning United Nations quotes:
"… since the 1800s, human activities have been the main driver of climate change, primarily due to the burning of fossil fuels like coal, oil and gas."

"Climate scientists have showed that humans are responsible for virtually all global heating over the last 200 years." (That's a UN typo on the word "showed". It should be "shown".)
UN quotes like these — their propaganda — are the reason the global elite are using for the genocidal culling of humanity. The Luciferian New World Order (NWO) is relentless in implementing their tyranny through their monstrous objectives, year after year!
"Professing themselves to be wise, they became fools." Romans 1:22
Have you seen these images?
.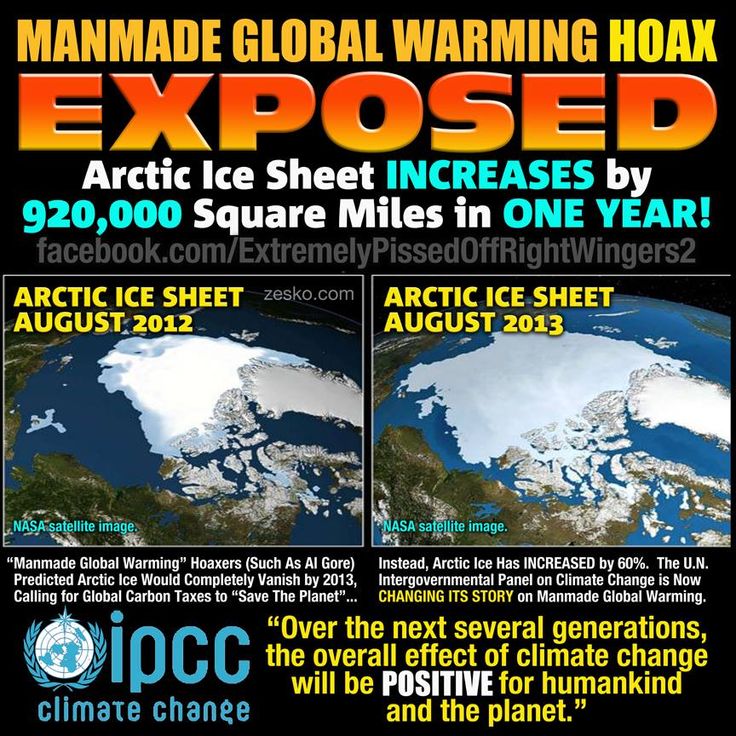 "While the earth remains, seed-time and harvest, cold and heat, winter and summer, and day and night shall NOT cease." Genesis 8:22
Disturbingly, the Luciferians' religion includes child sacrifice along the way to power, fame, and wealth. For years we've been hearing about royal families, police, politicians, military, judiciary, business men, and celebrities being involved in the torture, rape, abuse, and murder of innocent children, so we don't want to use the word "Luciferianism" lightly when describing the global elite in the NWO.
This year we are witnessing shifts of power in the earth, including world leadership.
The United Nations and their minions will be taking whatever actions are necessary to achieve their dreaded Sustainable Development Goals which appear to be what the ungodly overseers of the planet want to be implemented on humanity… one way or another. We need to understand that harsh measures have been laid down in order to "move forward" according to their heinous dictatorial agenda. If you listen to their elite talk, you will soon find out that WE are not sustainable.
Due to the warmer temperatures, we expected fires to to pop up and develop somewhere worldwide so the climate elite could tout, "See, it's global warming taking place! Therefore we MUST take action."
Now the recent all-consuming Maui fires in Hawaii and their heavy death toll in the community of Lahaina that were victims of this disaster are suffering greatly from being targeted. It will spark the radical climate change agenda to rage! See this quick video from a local resident. (Click on the 3 dots and download the video so you can hear him speak.)
And of course, the NWO media is NOT properly reporting everything going on there.
Wildfires are one thing. But the cause of THESE fires is much more sinister and deadly…
See this video: Maui Directed Energy Weapon assault, like 9/11, Paradise, CA., Malibu and Boulder fires.
Another video: Maui proof of Directed Energy Weapons & elsewhere, who benefits from these land grabs?
As stated in the video regarding vehicle damage: melted rims, melted glass, missing door handles, and melted engine blocks!!! Since when do wildfires cause such devastation? And note that there is no foliage around those cars TO burn. "Embers that blow in the wind" do not cause this level of incredible damage and destruction. Directed energy weapons and electricity-based plasma fires do, though.
.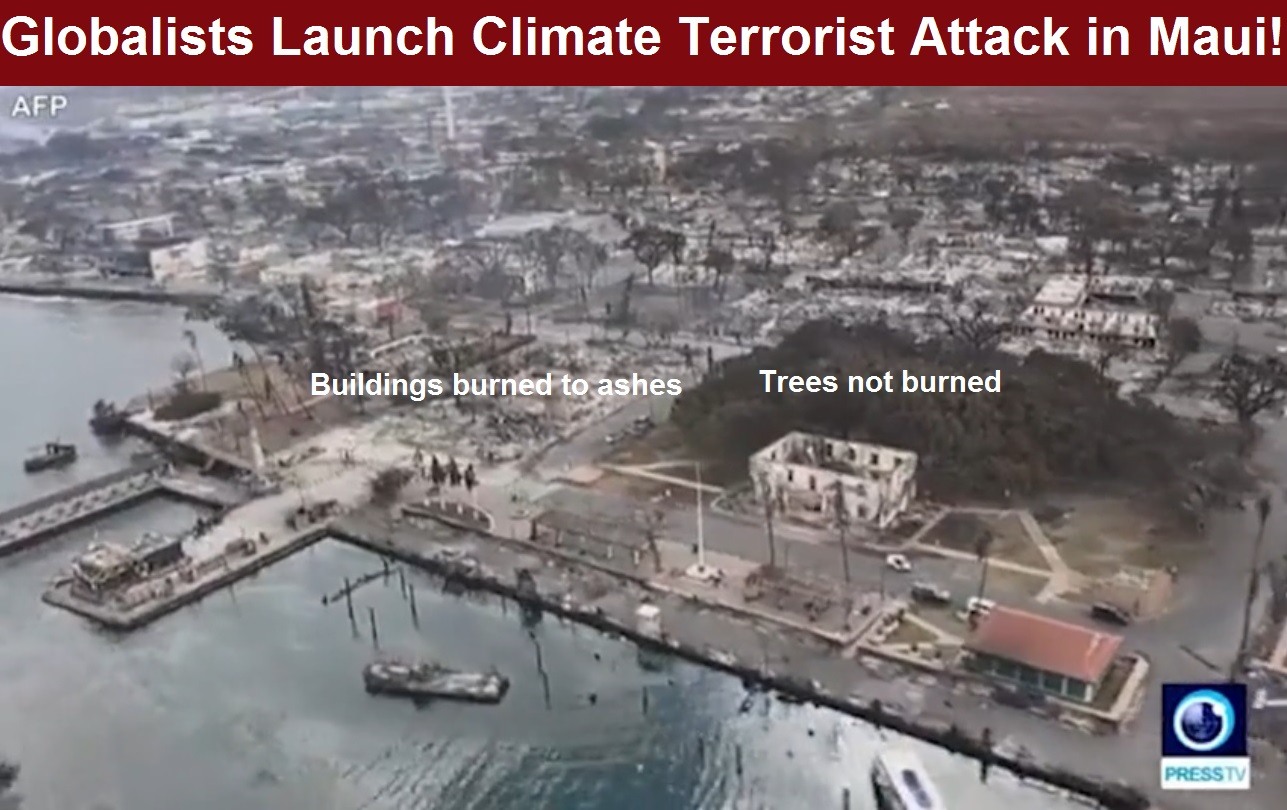 Globalists Launch Climate Terrorist Attack Against Citizens in Maui Destroying Lives and Property
Hundreds of people are feared dead and entire towns have burned to the ground in Maui, Hawaii, in what is clearly a climate terrorist attack by billionaire Globalists against the citizens of Hawaii, primarily on the island of Maui.

Just as Hawaii was the focal point of bringing the U.S. into the conflict during World War II, so today it appears that it is the focal point in the agricultural war of the 21st century. Hawaii today is the centerpiece for two vastly contrasting methods of producing food: the development of genetically engineered seeds and the development of Korean Natural Farming.

Biotechnology, with genetically modified seeds as their centerpiece, has taken over the food supply of the United States.

Hawaii, with its isolated and pristine ecosystems, is a perfect testing ground for the biotech's testing and development of genetic engineering.
Were the people who died burned from the inside out? This damage coming from a directed energy weapon is a plausible hypothesis…
Note: The photo above shows "Trees not burned". This is actually ONE tree — a historic beloved 150-year-old banyan tree in the heart of Lahaina.
And what about the people still missing?
Maui wildfire survivor tells of 'dead bodies floating in the water'
Hawaiian residents are bracing for the death toll to climb higher with around 1,000 people still missing in the apocalyptic wildfires.
Amy, our prayers are with you and all of the people in Lahaina, your neighbors. God has prepared you, other nurses, and doctors for this evil time to care and pray for the burn victims. You were born for such a time as this.
Matthew 5:4 "Blessed are they that mourn: for they shall be comforted."
Psalm 147:3 "He heals the broken-hearted and binds up their wounds."
The diabolical scheming of the global elite is still being loosed upon this earth under the green guise of "climate change".  A war has been openly declared on vulnerable humanity, and some may not even be aware of it. We are witnessing private philanthropy, propaganda, and persuasion purposely directed to flood the world with their lies.
Do you ever wonder who is the TOP elite globalist commanding the United Nations (UN), the World Economic Forum (WEF), and the entire world with this demonically inspired Climate Change Agenda being rapidly implemented now? It's none other than the "Green" Ecumenical Sovereign, King Charles III. It's been said that he is the clarion voice for environmentalism.
He has a lot of imagery, and we will only look at a few of those images… for now. Pay attention to the symbolism.
At the age of 74, King Charles III's full grandiose coronation ceremony was held Saturday, May 6, 2023. His reign was formalized at his coronation which involved sacred traditions. Many pledged their allegiance to Charles, including Prince William, and Camilla was crowned queen.
He was born on November 14, 1948 and ascended the throne at age 73 when his mother, Queen Elizabeth II, died in September 2022. He is the 40th sovereign to be enthroned AND the oldest person to become monarch in the United Kingdom. Moreover, he has been meticulously groomed from childhood for this time and this position he now holds on planet earth, so he is the longest serving heir-apparent in British history.
Coronation portraits are specifically designed to capture this monarch in a "display of power" at a defining moment in his reign. Quoting Alison Smith, chief curator at the National Portrait Gallery:

'Coronation portraits exist as propaganda,' says Smith. 'In the days before   photography and video, they proved an important way of propagating the royal image and enhancing the authority of kingship.'
The worldly spectacle was code-named Operation Golden Orb.
The Imperial State Crown, Robe of Estate, sceptre, and orb represent a monarch's authority over his subjects. The globe surmounted by a cross stresses that royal power on Earth is derived from God.
Charles must have had delusions of grandeur as he sat in the 700-year-old oak Coronation Chair. Underneath the seat was a sacred slab known as the Stone of Scone on which ancient Scottish kings were crowned. Moreover, he was anointed with oil from the Mount of Olives in the Holy Land, a part of the ceremony so sacred that it was concealed behind the screens and presented with an orb, swords, and scepters.
Note: King Charles the 1st was executed in 1649! Oliver Cromwell ordered that the orb and sceptres should be broken as they stood for the 'detestable rule of kings'. All the gemstones were removed and sold, and the precious metal was used to make coins.
Believing it's his sovereign birthright, King Charles III opened the service with the oath:
"I, Charles, do solemnly and sincerely in the presence of God profess, testify, and declare that I am a faithful Protestant."
A protestant, really? This ecumenical coronation event was also the first to include representatives of the Buddhist, Hindu, Jewish, Muslim, and Sikh faiths.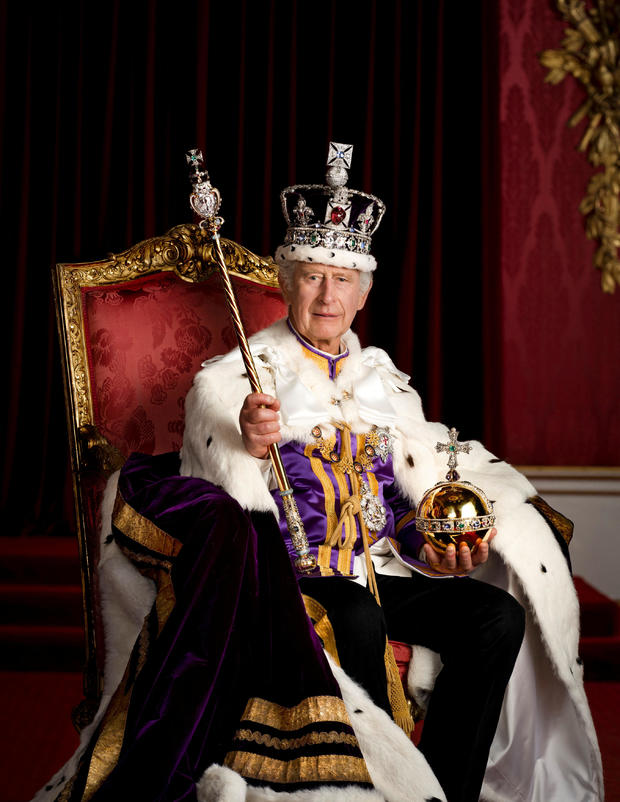 Britain's King Charles is pictured in full regalia in the Throne Room at Buckingham Palace, London. The king is wearing the Robe of Estate, the Imperial State Crown and is holding the Sovereign's Orb and Sovereign's Sceptre with Cross.
HUGO BURNAND/ROYAL HOUSEHOLD 2023/HANDOUT VIA REUTERS
.
Many world leaders and royals from other countries gathered at Westminster Abbey, London's iconic monument, to behold and hail the coronation of the new British monarch in this ancient rite with all it's pomp and splendor. Trumpets sounded inside the medieval abbey and the congregation shouted "God save the king!"
King Charles and other key royals joined a magnificent military procession after the coronation ceremony was over.
Westminster Abbey has been Britain's coronation church since 1066. Under the Crown, the king is now worth trillions of dollars, owning an infinite amount of land on this planet.
The Metropolitan Police said ahead of the big event they would have an "extremely low threshold" for protests during coronation celebrations, adding, "demonstrators should expect swift action"!
Amid a severe cost-of-living crisis, this whole Great Reset is devastating the world, using the over-used term "sustainability", is all under King Charles' green agenda, the carbon taxation scheme and… the infamous digital currency to track and control us using AI (Artificial Intelligence).
This powerful King wants crypto currencies, and he wants them heavily regulated, so get prepared because we think he will grant extensive oversight to the regulators. We will see a quick transformation within the AI investment sector. This top elitist, now King, wants a cashless society. Mr. John Howells, the man who is in charge of Britain's ATM network, said that cash has as little as five years left as its infrastructure experiences death by a thousand cuts.
Cryptocurrency! June 30, 2023: King Charles III Signs Groundbreaking Stablecoin Legislation
In a significant development for the crypto industry, the United Kingdom has solidified its commitment to fostering a thriving and regulated crypto landscape. Yesterday, King Charles III's signature transformed a UK bill into law, granting regulators extensive powers to oversee stablecoin and cryptocurrency operations.

Tether (USDT) is often considered the oldest stablecoin, launched in 2014.
We know that the New World Order must have a digital currency for tracking and control of the population. So, the Central Bank Digital Currency (CBDC) is coming unless our state legislators and Congress can stop it. If lawmakers keep passing these bad bills given by the global elites, it will put us deeper into the hands of the NWO.
Crypto can crash for any number of reasons, so beware. The stock market will become volitional, too.  We are already seeing people that are literally counting their pennies as they struggle with rising prices.
Moreover, the evil depopulation agenda should be included, too! Eugenics seems to have always been an issue with the "royal" family in the British monarchy.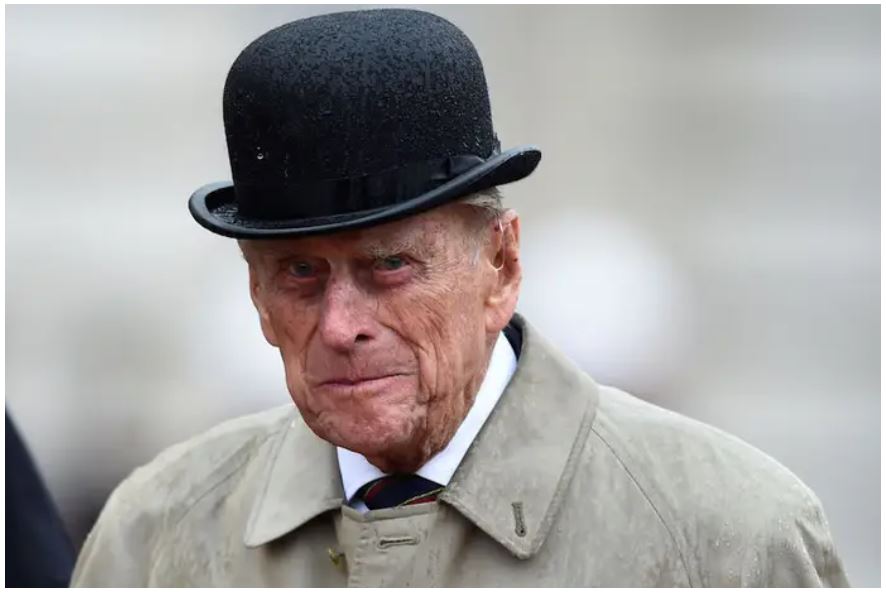 The Duke of Edinburgh Prince Philip turns 99 on Wednesday, June 10, 2020.
Hannah McKay – WPA Pool/Getty
Demented quote from Prince Philip. He passed at the age of 99:
"In the event that I am reincarnated, I would like to return as a deadly virus, to contribute something to solving overpopulation."
The Royal Institute of International Affairs (RIIA), also known as Chatham House, is one of the world's leading institutes/think tanks for the analysis of international issues. The RIIA helped develop what is now known as the United Nations (UN). At the Chatham House, King Charles and politics come into play because he is busy working and playing the horned-god on his sinister sustainable list of ideas for the planet and all the people dwelling upon it.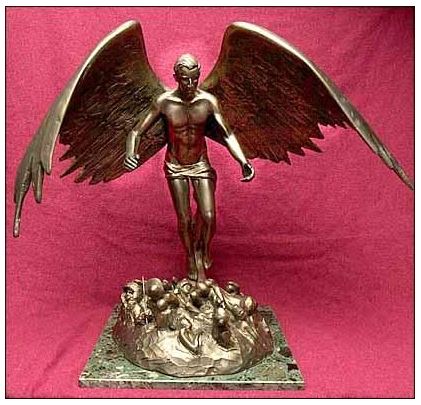 Above, we see this idolatrous Statue of Prince Charles (now King) made by Brazil depicting him as a winged "Savior of the World" shows his true colors.
This Luciferian appears as an angel of light, but in reality, is an angel of darkness.
The whole wicked green agenda is being hurled at us straight out of the pit of hell. In the coronation invitation below released by the head of the Church of England, King Charles, see the pagan image called the "Green Man" (Cernunnos):
Mysterious 'Green Man' on King Charles's Coronation Invitation Brashly Invokes Britain's Pagan Past
A snippet:
Scholars trace the Green Man's ancestry to remotest antiquity, in such figures as a Norse god, Odin, and the ruler of the Egyptian underworld, Osiris. His relatives include Robin Hood and Peter Pan, as well as the later English May Day custom of Jack in the Green. He was the theme of the Burning Man Festival, in 2007.
We must always remember that the Green Man has a dark side! This is a pagan symbol of rebirth. This invitation must have been planned to celebrate and reveal his New Age reign.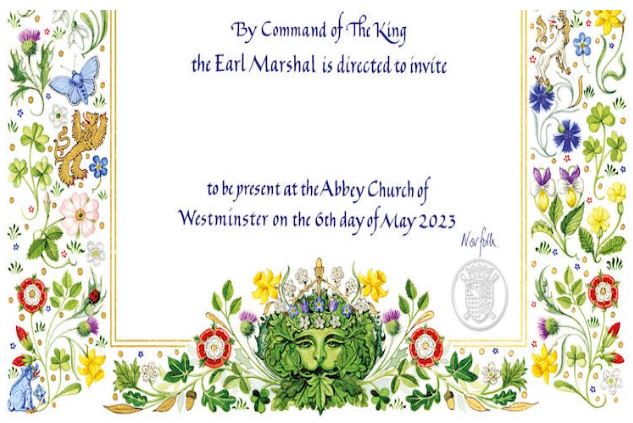 Open your eyes. This is life-changing information you might want to look at these days. This evil climate change agenda is dangerous and is designed to release chaos on humanity.
Cernunnos is the Green Man, and to the ancient Celtic people was the god of animals, fertility, and wild places. He was revered as one of the most important deities in the pantheon. In modern neopagan religions, he is also seen as a god of life, death, and rebirth. See Study.com.
"For we wrestle not against flesh and blood, but against principalities, against powers, against the rulers of the darkness of this world, against spiritual wickedness in high places."  Ephesians 6:12
King Charles is over Klaus Schwab of the World Economic Forum (WEF). The king had the hardened Klaus Schwab put in place there to oversee his directives.
Globalization Policies! This article was released in June 2020 entitled "The Great Reset"  from the World Economic Forum held in January 2020. They are anti-human and atheistic views of the world.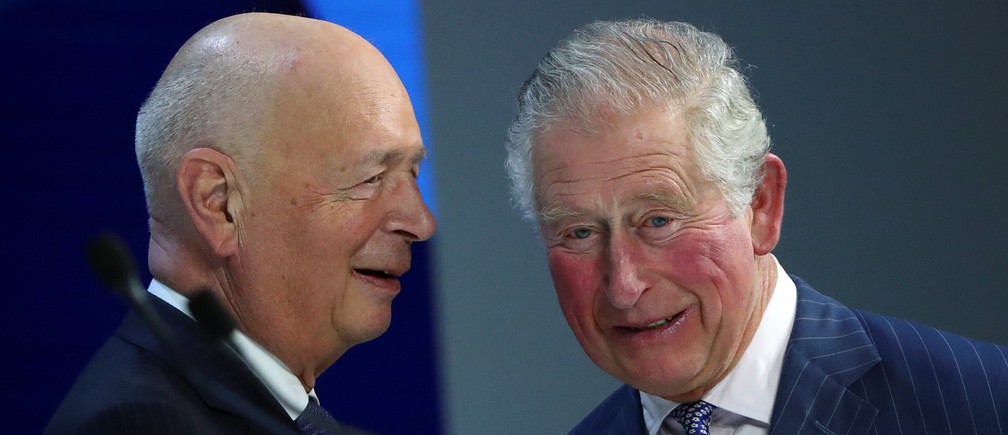 HRH The Prince of Wales and Klaus Schwab at Davos in January.
Image: REUTERS/Denis Balibouse
.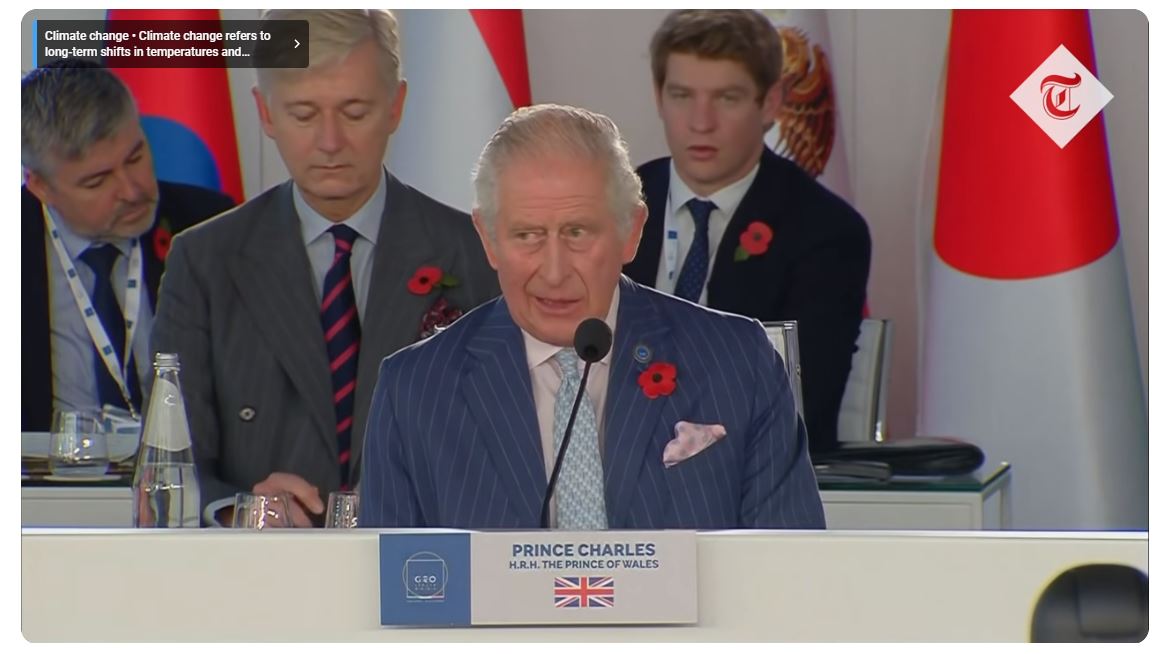 October 31, 2021– G20 summit: Prince Charles calls for 'trillions of dollars of investment' to tackle climate change   (46-second video)
Watch this one-minute and 36 second clip of Prince Charles in Glasgow because he's talking about a vast military-style campaign: November 1, 2021– Prince Charles At COP26: 'Time Has Quite Literally Run Out'
For your convenience, here is Prince Charles' radical COP26 Climate Summit Glasgow Speech Transcript.
COP27, the 27th U.N. Climate Conference, was done just like King Charles wanted it done. He even met with stakeholders BEFORE the conference to ensure the outcome.
King Charles to Host COP27 Event at Buckingham Palace
"His Majesty The King will host a reception at Buckingham Palace on Friday, 4th November 2022, ahead of the COP27 Summit. The reception will bring together over 200 international business leaders, decision makers and NGOs to mark the end of the United Kingdom's presidency of COP26 and look ahead to the COP27 Summit in Egypt," Buckingham Palace said in a statement.

Attendees will include the new British Prime Minister Rishi Sunak, COP President Alok Sharma. and U.S. Special Presidential Envoy for Climate John Kerry. The King will make a speech.
This new British Prime Minister Rishi Sunak, is pushing for the NWO digital dollar and founded a company called Infosys. Here is their 2022-2023 report if you dare download it. They are navigating change at the pace of AI. Some of you may be tempted to invest in the digital dollar and want to swell your bank account with digital currencies, but this won't be so easy to survive once AI gets loosed.
The CEO of Infosys this statement in a letter to their shareholders:
"We have developed a strong set of capabilities in generative artificial intelligence to enhance how we enable our clients to derive value. These capabilities are available to all our clients in the form of Infosys Topaz TM. "
Readers, this isn't Biden's green agenda. It is King Charles long-awaited green agenda, and he is pushing forward with it. The Biden Administration jumped and immediately came out with this fact sheet on climate change. If you recall, last year, Biden signed an expansive legislative package that included nearly $375 BILLION in climate-related incentives. It was the most substantial federal investment in history. Whenever the King speaks, Biden jumps and says, "How high"? We, the people, are betrayed on all sides, with no proper representation from our elected officials, and we have many internal enemies residing here in the U.S. But we cannot just give up, either.
Fascist King Charles is over the Public Private Partnerships effort globally and is pressing for private companies to do more to bolster clean energy.
See this must-read document dated July 10, 2023:
JOINT FACT SHEET: President Biden and His Majesty King Charles III Meet with Leading Philanthropists and Financiers to Catalyze Climate Finance
Today, President Biden and His Majesty King Charles III met at Windsor Castle with 23 leading philanthropists and financiers to help catalyze finance to support emerging markets and developing countries in tackling the climate crisis.  The gathering followed the Climate Finance Mobilization Forum, which was convened by the UK Energy Security and Net Zero Secretary Grant Shapps and U.S. Special Presidential Envoy for Climate John Kerry, and inspired by the work of His Majesty the King.

[Bold font, Secure Arkansas]
And this next AP article dated July 20, 2023 reveals just how deep this "green" agenda funding goes…
Public funding for King Charles III and royals has been recalculated due to windfarm deal profits
LONDON (AP) — The amount of public funding for King Charles III and the royal family's official duties has been recalculated for next year because of an unexpected profit boost from offshore wind farms on the monarch's Crown Estate, the U.K. Treasury said Thursday.

Charles and the royal family receive an annual Sovereign Grant from the Treasury that is based on a proportion of profits from the crown estate, a vast collection of land and property across the U.K. The crown estate is run independently and has assets worth around 16 billion pounds (nearly $20 billion), including some of London's most expensive properties.

The crown estate also manages coastlines and the seabed around the country, and six new offshore windfarm lease deals secured earlier this year have generated a windfall estimated to be worth 1 billion pounds ($1.3 billion) a year.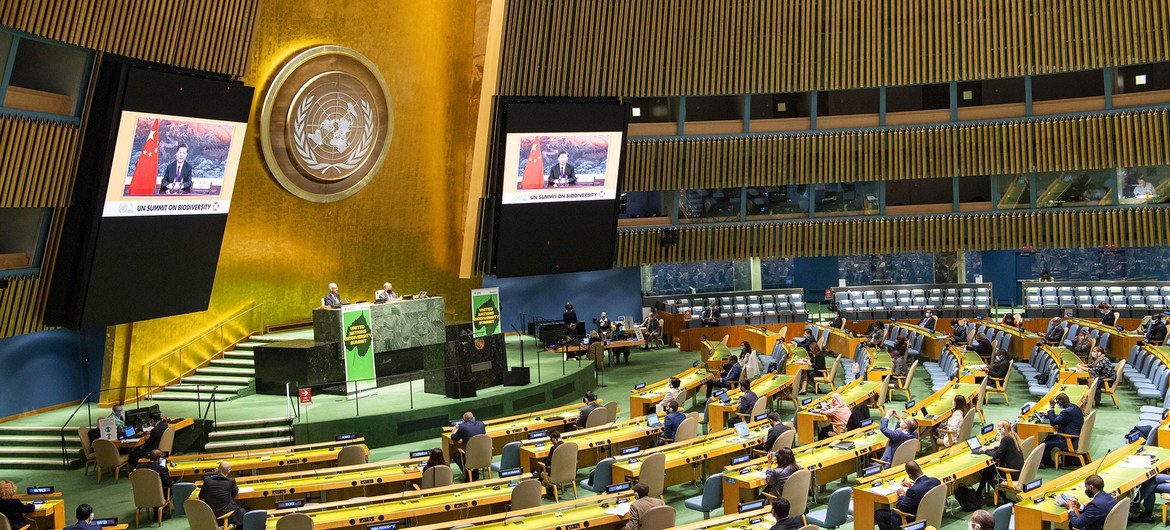 President of the People's Republic of China, Xi Jinping, addresses the UN Summit on Biodiversity
UN Photo/Rick Bajornas
Also, Charles executed the FIRST global security lecture for the United Nations (UN) and their senior officials concerning the urgent actions to be taken regarding Sustainable Development Goals.
LIVE: UN chief, Prince Charles, join calls for end to biodiversity destruction
The Prince called for a new "Marshall Plan" for a "blue-green recovery' rooted in a new circular economy, that has nature at its centre, and went on to list some ways to bring this about. These include implementing carbon pricing; accelerating carbon capture technology, including nature-based solutions; and ending "perverse" subsidies for fossil fuels.

"We know what we need to do, but we have to take bold steps now", he concluded. "So let's get on with it!"
Readers, the global elite have definite plans to change things severely and reduce the population on this planet!
This is why Charles III will be known as the 1st climate king, experts say
Now it is abundantly clear what Charles wishes to accomplish during his time as monarch, experts say…

Charles' efforts have also included championing initiatives to engage businesses around conversations about sustainability and, most importantly, focusing on trying to find solutions that work, according to Bob Ward, policy and communications director at The London School of Economics and Political Science's Grantham Research Institute on Climate Change and the Environment.

Due to his "extensive background" on environment and sustainability issues, there is "no doubt" that the depth of Charles' commitment to it runs deep, Alden Meyer, a senior associate working on U.S. and international climate policy and politics at E3G, a London-based think tank on climate policy, told ABC News.

In June 2021, before the G-7 summit commenced in Cornwall, Charles urged businesses to tackle the climate emergency alongside government, adding that unlocking cash within the private sector was the key to winning the battle against global warming and biodiversity loss.
Here's a quote from the UN, so what we are facing from the global elite:
We face a huge challenge but already know many solutions 

Many climate change solutions can deliver economic benefits while improving our lives and protecting the environment. We also have global frameworks and agreements to guide progress, such as the Sustainable Development Goals, the UN Framework Convention on Climate Change and the Paris Agreement. Three broad categories of action are: cutting emissions, adapting to climate impacts and financing required adjustments.

Switching energy systems from fossil fuels to renewables like solar or wind will reduce the emissions driving climate change. But we have to act now. While a growing number of countries is committing to net zero emissions by 2050, emissions must be cut in half by 2030to keep warming below 1.5°C. Achieving this means huge declines in the use of coal, oil and gas: over two-thirds of today's proven reserves of fossil fuels need to be kept in the ground by 2050 in order to prevent catastrophic levels of climate change.
Prior to the big plandemic event and economic destruction in 2020, the global elite met and reported on their accomplishments.
Here is a video of Prince Charles, Prince of Wales, and Bill Gates, Founder of Microsoft, attending the Malaria Summit on April 18, 2018 in London, England. Gates makes a very suspicious statement while talking with Prince Charles saying, "…we are done in India… no cases in Africa for over a year… Pakistan and Afganistan are doing their best, but because of the terrorism it's been tough…  not polio, but measles, some pertussis, the vaccine, in a way, we've been too successful." Then, Gates smiles…
Oh, how they like to INJECT their poisonous substances into unsuspecting humanity!
King Charles III is over the whole British Commonwealth — Look at all of the countries because that could be one-third of the global population! As of 2023, there are 15 Commonwealth realms:
Saint Vincent and the Grenadines
.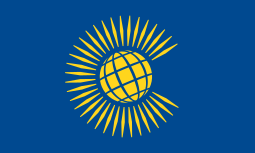 The expansive Commonwealth comprises 56 countries, across all inhabited continents. The members have a combined population of 2.4 billion people, again, it's almost a third of the world population, with 1.4 billion living in India, and 94% living in either Asia or Africa.
The symbol above centers on a globe, representing the global nature of the Commonwealth and the breadth of its membership. A gold globe, surrounded by 34 sunrays, on a blue field.
That's a lot of people, dear readers! The world does NOT need the royals influencing legislation and participating in world affairs.
Our own state of Arkansas dodged another bullet this last legislative session (2023) when one of our state legislators, Rep. Aaron Pilkington from Knoxville, Arkansas sponsored a threatening international resolution, HR1012:
TO ENCOURAGE THE UNITED STATES TO BECOME A MEMBER
OF THE COMMONWEALTH OF NATIONS.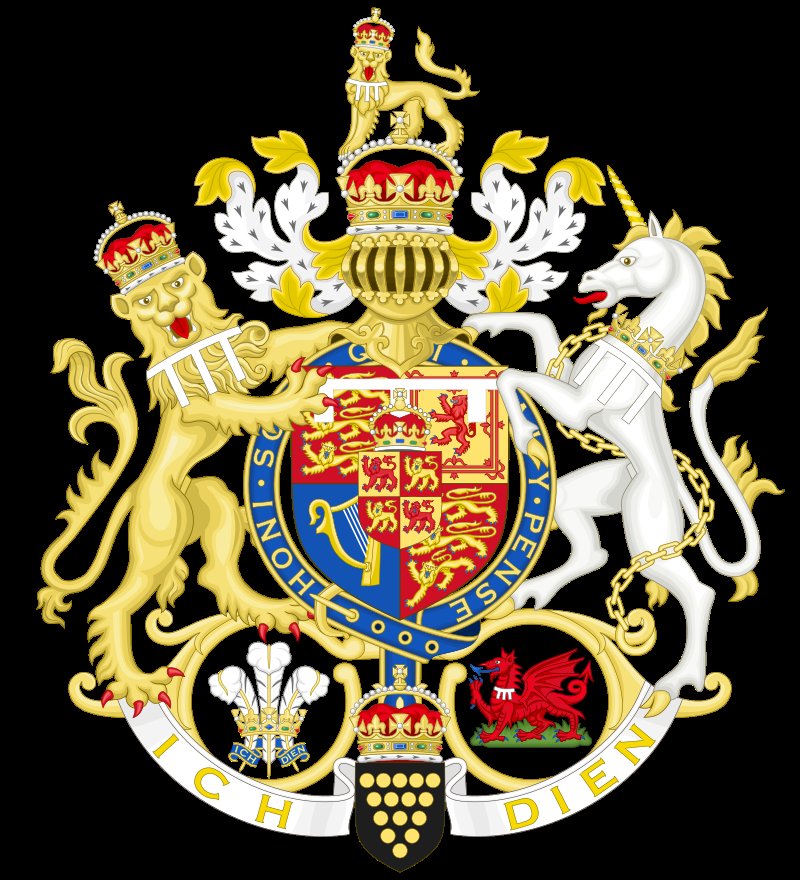 While visiting here in the US, certain royals and dignitaries are often given their own code name. Charles was given the name 'Unicorn'. The unicorn is the national animal of Scotland, part of its coat of arms for some 600 years. Tales of dominance and chivalry are associated with the mythological unicorn. Ancient cultures going as far back as the Babylonians, and the Indus civilization have featured unicorns.
The symbols in the Coat of Arms:
The crest represents England, Scotland, and Ireland, with the three lions of England appearing in the first and third quadrant, the lion of Scotland in the second and the harp or Ireland in the fourth.
The lion on the left is the 'English Lion' and the unicorn to the right is the 'Scottish unicorn'.
Stay tuned! Part 2 will be coming soon, as this was only an introduction. There is a lot yet to come, including more about symbols, royalty, and world domination…
.
As always, our articles may be viewed on our website at  SecureArkansas.com. Once there, you may:
view current articles on the main page;
view older articles by clicking "Posts & Articles" at the top left of the main page and scrolling down.
view additional past articles by clicking the "Next Page" button at the bottom right.
To find information about a topic, just type it into the Search box on our website, and click Enter!
Click here if you'd like to sign up to receive Secure Arkansas email alerts.
Securing the blessings of liberty,
Secure Arkansas
securetherepublic.com/arkansas
info@securetherepublic.com
image credit for cover image
Share This Article