Communist Sympathizers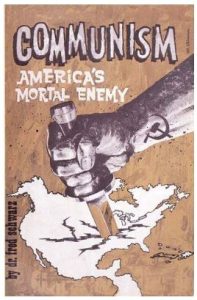 A picture speaks a thousand words…
Our country has been heading down a dark path that leads us directly to communism and captivity.
Presidents and governors here in America have foolishly played footsie with communist China, and evasively, Arkansas Congressman French Hill is more concerned with Putin than he is with China's Xi Jinping.
.
Communist Chinese companies ARE a national security threat.
.
There are BIG Chinese companies…
and then there are small Chinese companies, such as LLCs.
.
Chinese Companies Listed on Major U.S. Stock Exchanges
Linked here is table of Chinese companies listed on the New York Stock Exchange, NASDAQ, and NYSE American, the three largest U.S. exchanges.

As of January 9, 2023, there were 252 Chinese companies listed on these U.S. exchanges with a total market capitalization of $1.03 Trillion.
These Chinese communist companies need to be ejected from the United States. Or do you want serfdom? To work yourself to death for the communist Chinese?
This list does not include the data centers/crypto mines OR all of the farmland owned by the communist Chinese. If we don't stop the Chinese from buying up our prime farmland, the American farmers will be working for the communists and will produce food to feed China.
China Owns 380,000 Acres of Land in the U.S. — Here's Where
Although Chinese-owned land is a tiny fraction of all foreign-owned land in the U.S., its purchases have raised fears that the Chinese government could have control, through the Chinese corporations, over U.S. assets or gain access to U.S.-based information.

Indeed, during the past four decades, Chinese companies and investors have bought up land in the U.S. as well as purchased major food companies like Smithfield Foods, the United States' largest pork processor. Corporations own the majority of that land. Now legislation in Congress would restrict Chinese ownership of U.S. land.
In an article dated September 2022, we found out that Tyson Foods sold out their majority stake to a Chinese company called Shandong Bao Shuan Group, and they own 79.5 percent of the company! The Tyson office is headquartered in Springdale, Arkansas.
Smithfield Foods and Tyson are two of the largest pork and chicken processing companies in the U.S.
And don't forget this:
Across U.S., Chinese Bitcoin Mines Draw National Security Scrutiny
When a company with Chinese origins broke ground last year on a crypto-mining operation in Cheyenne, Wyo., a team at Microsoft that assesses national security threats sounded the alarm.

Not only was the site next door to a Microsoft data center that supported the Pentagon — it was about a mile away from an Air Force base that controlled nuclear-armed intercontinental ballistic missiles.

The location could allow the Chinese to "pursue full-spectrum intelligence collection operations," the Microsoft team wrote in an August 2022 report to the Committee on Foreign Investment in the United States, a federal body that monitors threats posed by overseas investors.
…AND YET, there was a glimmer of hope for Arkansas whenever we became the first state to force the global company Syngenta — owned by ChemChina — to sell farmland.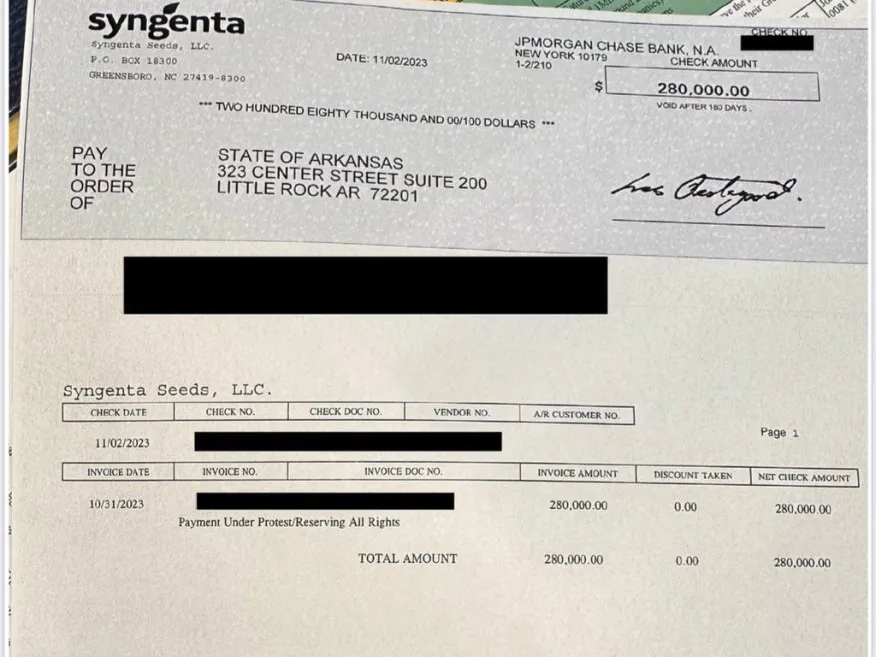 Arkansas orders Chinese-owned seed producer Syngenta to sell US farmland
Syngenta said it was disappointed and called the decision "a shortsighted action" that will hurt Arkansas farmers. The company owns about 1,500 acres (610 hectares) of U.S. agricultural land for research, development and regulatory trials on products used by U.S. farmers, spokesman Saswato Das said.

"Our people in Arkansas are Americans led by Americans who care deeply about serving Arkansas farmers," Das said. The company has owned the site in Craighead County for 35 years, he added.

The order is Arkansas' first enforcement action under a state law passed this year that prohibits certain foreign parties from acquiring or holding land. China is among the prohibited parties because it is subject to U.S. arms export controls known as the International Traffic in Arms Regulations (ITAR), Arkansas Attorney General Tim Griffin said.

If Syngenta fails to sell its land, owned by subsidiary Northrup King Seed Co, Griffin can "force them to get out of our state" with legal action, Huckabee Sanders said. The state also fined Syngenta $280,000 for failure to report foreign ownership in a timely manner.

[Bold and highlighted font: Secure Arkansas]
The company still has two long years to divest its Arkansas land holdings.
It was one of many Communist Chinese military companies operating here in the United States!
So, who is Syngenta? With management headquarters in Basel, Switzerland, Syngenta was founded in 2000 by the merger of the agrichemical businesses of Novartis and AstraZeneca, and acquired by China National Chemical Corporation (ChemChina, a state-owned enterprise) in 2017.
The Syngenta Group was officially renamed from "China Chemical (Shanghai) Agricultural Technology Corporation Ltd." to "Syngenta Group Co., Ltd."
Syngenta Group is supposedly one of the world's leading agricultural companies. So, they have been creeping into countries and taking over, working to "transform" how crops were grown in 90 -100 countries or more.
See their ESG Report of 2022 which shows how they work with:
Countries have been gullible to trust the Communist Chinese Party (CCP), the largest chemical corporation in China!
Communist China and chemicals in the food supply…
In our FOOD!!!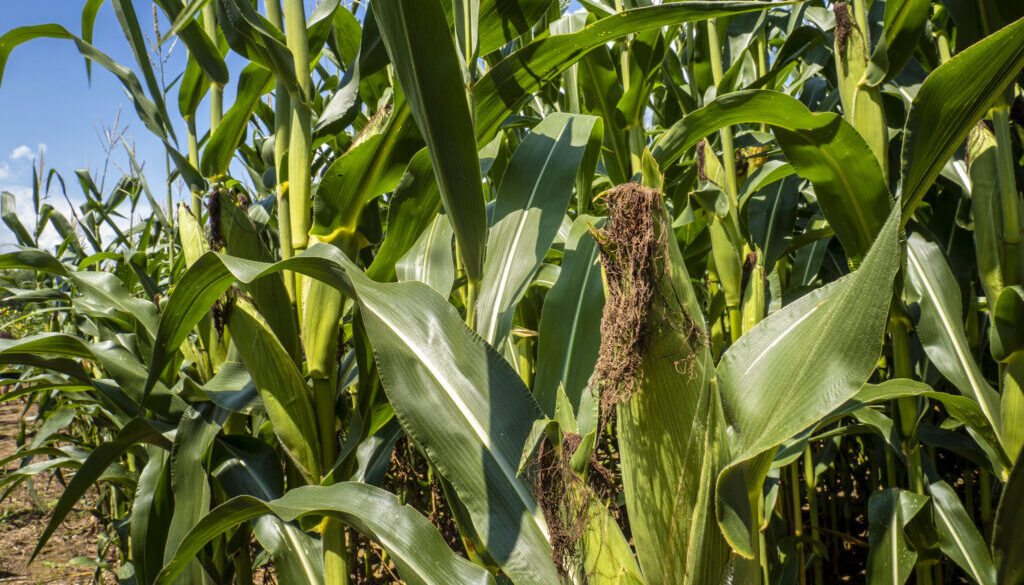 Side note: Were they using the "forever chemicals" PFAS? These toxic chemicals can also be found as 'active ingredients' in some pesticides. Active substances that fulfill the PFAS definition are commonly characterised by the presence of one or more CF3-group(s) in their molecular structure, and PFAS can be transferred from the water through the soil, where they may be taken up by the plant's roots.
EPA to Designate PFAS as Hazardous Substances; Impact to Farms likely to be Widespread
The Environmental Protection Agency announced a proposed rule to designate perfluorooctnoic acid (PFOA) and perfluorooctanesulfonic acid (PFOS), the two most common per- and polyfluoralkyl substances (PFAS), as hazardous materials under the Comprehensive Environmental Response, Compensation, and Liability Act (CERCLA).
Forever Chemicals may be a concern for Agriculture
An emerging issue in agriculture is the discovery that a group of chemicals referred to as 'forever chemicals' is being found at low levels in food produced on some farms in America. At present, these long-lasting chemicals have been seen in only a few farms with heavy groundwater contamination. The concern is that these chemicals bioaccumulate, meaning that soil, water, crops and animals build up higher concentrations over time because the chemicals stay in food produced. As people are at the top of the food chain, we would likely accumulate the highest concentrations.

The larger issue is that these chemicals can remain in the environment for more than 2000 years and bio-accumulate in humans…
Internal papers show Syngenta hid risks of widely used pesticide from public, regulators for decades
When Syngenta's internal research showed paraquat's harmful effects on brain tissue, it withheld that information from regulators. The company also downplayed the validity of similar findings being reported by independent scientists.

And the records show company scientists knew about evidence that exposure to paraquat could impair the central nervous system, causing tremors and other symptoms in experimental animal studies like those suffered by people with Parkinson's disease.
Attention! See this EPA Memorandum dated 5/18/23.
But, what about the communist Chinese Bitcoin mining sites invading Arkansas counties and polluting the area? Not to mention their hazardous noise levels, all the while property values plunge as the Chinese move into their facilities? They have been allowed to hook up to our electrical sub-stations and use an outrageous amount of electricity and water? Yes, communist Chinese have access to our electrical grid.
Why haven't THEY been addressed by our governor yet?
Let us add that our federal government is so corrupt that America has become a lawless country. China-loving Joe is a big problem, but so was former Arkansas Governor Asa Hutchinson and his son who took trips to and had dealings with China.
After the fraudulent legislative bills passed the Arkansas legislature with lightening-speed this last Spring 2023, communities have been left to deal with the harmful consequences of these hardened communist Chinese and their infiltration. Let us also remember that Arkansans are desperately filing lawsuits and trying to raise money in order to defend themselves from the adversarial Chinese companies.
Were the 2 bills (HB1799 & HB1654) which passed through our legislature written by the nefarious Satoshi Action Fund's Eric Peterson? He is pictured below. You can bet the bad boys behind this deadly legislation feel as if they pulled off a coup of the century. Who else is Mr. Peterson working with? We still have many questions… Look into each of those bills. Remember, the devil is in the details.
.
Remember, Senator Bryan King called out Senator Jonathan Dismang while Dismang was presenting HB1654…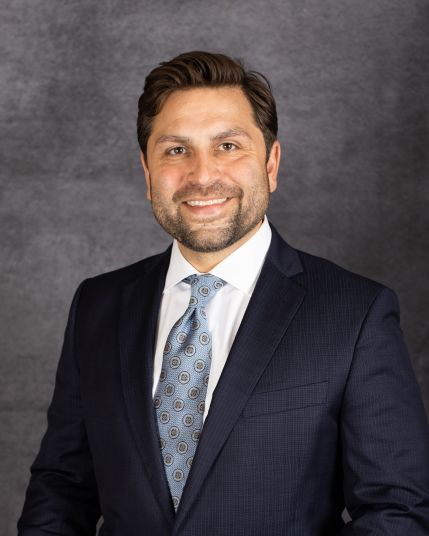 MUST WATCH: the introduction, discussion, and questions regarding HB1654 in the Arkansas Senate on April 6, 2023 here. It's only 4 minutes, and it sounds like Senator Jonathan Dismang is misleading the other senators when closing for this ridiculous bill, HB1654, giving TAX EXEMPTIONS to these digital data centers which are NOT data centers, but Bitcoin mining facilities. We feel Dismang was dismissive and disingenuous when questioned by the other senators. Senator Bryan King from Berryville literally asked him, "… it doesn't have anything to do with crypto-mining or any other type thing that's affiliated or anything like that….? "
Dismang replies, "No. Not that I know what that is, but no."
It looks like Dismang's reply was untruthful, as he misled the entire Senate with impunity! And as a result, it looks like the legislators may have relied on false information about this bill and cast their votes, to our detriment! Did Senator Dismang know what he was doing? We think he did. Keep in mind, he's been a legislator at the Arkansas Capitol since 2009… and he was Senate Pro Tempore for at least two consecutive terms.
Back in March of 2021, Senator Dismang introduced SB150 (Act 532) which addressed virtual currency, which includes cryptocurrency. But then in introducing HB1654 about data centers in April of 2023 in the Senate, he claims he doesn't know what crypto-mining is??? It sure sounds like he misled the whole Arkansas General Assembly. This is fraud, in our opinion, and Senator Dismang needs to resign from office; so, we are calling for his resignation.
We MUST keep demanding the repeal the Arkansas Data Centers Act, known as Act 851 (HB1799) that was fraudulently rushed through and signed into law during the final days of this last 2023 legislative session. It's that new, cunningly-created and titled "ARKANSAS DATA CENTERS ACT of 2023".
Senator Bryan King has nobly stepped up to the plate to help ward off communist activity here in Arkansas, to protect property rights and our businesses.
Click and watch this 7-minute video from CAM Media: Exclusive: Sen. Bryan King On Chinese Communist-Linked Crypto Mining Facilities In Arkansas
→   AND LET'S REMEMBER   ←
.
Senator Bryan King's Repeal of HB1799
still needs to be brought up
in an emergency legislative session!! 
And be sure to check out these five-star articles excellently written by Gabriel Dance of the New York Times, in case you missed them:
Please share Gabriel's insightful articles with others because these are the best-written so far on this subject, and there are still people who are unaware of what Bitcoin mining is or how it works.
Happening in Arkansas! One last thing before we close: we want to bring up the story about a suspicious tour bus that got stuck near the Hot Springs area on October 28, 2023. This location is in the Ouachita National Forest in Montgomery County, Arkansas.
Locals reported that it looked like 50-60 middle-aged military men who couldn't speak English (illegal aliens?) were carrying gear, camping style back packs, and water jugs, and got their unmarked white tour bus stuck; and unmarked white vans with no license plates came and loaded them up and took them away. These vehicles could have been a United Nations (UN) unmarked means of transport because the UN vehicles are traditionally painted white, but the federal government uses them, too. Many locals are distraught over this incident and said they have never seen a tour bus on those roads.
Here's what the official press release states:
Montgomery County Sheriff Neal Thomas

On Saturday, October 28, 2023, the Montgomery County Sheriff's Office received a call from a citizen reporting a tour bus was stuck on the road near Shady Lake. The call was transferred to Polk County. Additional information was developed and it was determined the bus was actually stuck on Road 106 in Montgomery County. Deputies responded to the scene. The U.S. Forest Service was advised and also responded.

Montgomery County Dispatch Center identified and contacted the owner of the bus company. The owner stated the bus was stuck and he had contacted a wrecker company in Pike County to get the bus out. However, due to the weather conditions, the wrecker company was not able to get the bus out but moved it to a safe location out of the roadway. The owner further stated the wrecker company would come back and remove the bus when it becomes safe to do so.

Deputies determined that the bus was occupied by a number of male subjects at the time it had gotten stuck but no one was with the bus when they arrived. A Troop Commander with the Arkansas State Police contacted the Montgomery County Sheriff' s Office stating that he had received multiple calls on the bus. Information was provided to the Troop Commander and he also made contact with the owner of the bus company. The owner advised him that everyone on the bus had been picked up and taken back to Dallas where they were from and the bus would be taken care of at a later date.

Due to community concerns and rumors of possible criminal activity, the Montgomery County Sheriff's Office has initiated an investigation into the incident.

#   #   #
The incident is currently under investigation… or is being covered up!
In closing, here's some more encouraging news. See how these brilliant Michigan townsfolk solved their communist Chinese woes and sent SHOCK WAVES to China! Be sure to watch the video in the link for the details!
Michigan town votes to oust entire govt. over Chinese factory plans — NewsNation video and news story by Brian Entin & Devan Markham — 11/8/23
A rural Michigan town voted to oust its entire local government Tuesday after the town board approved a Chinese-affiliated electric battery plant.

Residents of Green Charter Township, Michigan, strongly disapproved of their local township board's decision to greenlight the construction of a Chinese-connected electric vehicle battery plant in their community.

A locksmith was even brought in Tuesday night to change the locks on the ousted officials' former offices. The offices are now empty.
The Chinese-affiliated company Gotion previously denied allegiance to the communist party of China. However, its corporate records say, "The company shall set up a party organization and carry out party activities in accordance with the constitution of the communist party of China."
This statement speaks volumes about their intentions here!
Communist China has co-opted the United Nations which always has a Marxist leader.
Well, dear readers, it looks like this communist invasion is happening in many states, and it's up to the locals to stop it. Why are the governors across the states allowing any of this to happen?
Moreover, Gotion is a big multinational communist company. Do you think they care whether the locals like them or not? They are probably there to spy and infiltrate, just like the FBI suspects!
Remember to pray for our local officials because they are fighting off communist bullies who have lots of money and a strong hatred for Americans.
Also, we are greatly concerned about our open borders where militant men can enter anytime at will. Why wouldn't our adversaries take advantage of this and send in their men with such an opportunity to walk right in and take over. Sadly, sleeper cells do exist in the U.S.
The Chinese are preparing for war. Are we prepared?
Our country must never submit to the Marxists that lead the United Nations, and our American soldiers do not need to be fighting for the United Nations!
Happy Veterans Day to the men and women who have served and sacrificed so much.
.
As always, our articles may be viewed on our website at  SecureArkansas.com. Once there, you may:
view current articles on the main page;
view older articles by clicking "Posts & Articles" at the top left of the main page and scrolling down.
view additional past articles by clicking the "Next Page" button at the bottom right.
To find information about a topic, just type it into the Search box on our website, and click Enter!
Click here if you'd like to sign up to receive Secure Arkansas email alerts.
Securing the blessings of liberty,
Secure Arkansas
securetherepublic.com/arkansas
info@securetherepublic.com
image credit for cover image
Share This Article