King Charles and "His" Green Climate Agenda, Part 2 (and the recent Maui fires)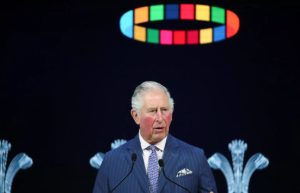 The fourth industrial revolution means a MASSIVE technological change! Could that mean technological tyranny, too? Absolutely.
Pushing the climate change agenda is how the global elite in the World Economic Forum, the United Nations, CFR, Trilateral Commission, Bilderbergers, Skull & Bones, Bill Gates, etc, think they can meet their sinister sustainable development goals. We are seeing climate change being used as an excuse for the destruction of anything and everything.
It is called "The Great Reset," and it is accelerating! Those behind it plan to keep the occupants on this planet in perpetual crisis until the global elite's goals are achieved.
Pictured is HRH Prince Charles delivered a special address during the 50th World Economic Forum (WEF) annual meeting in Davos, Switzerland, January 22, 2020.
Image credit: REUTERS/Denis Balibouse – RC22LE92QCCK
Just think… the evil transnational cabal met in January 2020 with a big agenda to fulfill that year. The World Economic Forum (WEF) started off with their year of jubilee (50th) by creating a pandemic, accompanied by their mRNA death/damaging jabs… topping it all off with economic destruction. Satan must have been proud as he was egging them along! We wonder how many governments of the world sold their souls to get position and power.
The Lord said in Mark 8:34-38
"When He had called the people to Himself, with His disciples also, He said to them, "Whoever desires to come after Me, let him deny himself, and take up his cross, and follow Me.

For whoever desires to save his life will lose it, but whoever loses his life for My sake and the gospel's will save it. For whosoever will save his life shall lose it; but whosoever shall lose his life for my sake and the gospel's, the same shall save it. For what shall it profit a man, if he shall gain the whole world, and lose his own soul? Or what shall a man give in exchange for his soul? For whoever is ashamed of Me and My words in this adulterous and sinful generation, of him the Son of Man also will be ashamed when He comes in the glory of His Father with the holy angels."
Maybe they were promised more destructive space weapons??? Talk about world conspiracy that is a threat to humanity… It's just like a scary science fiction film! They want to reset humans, too. Note: The vile mRNA injections have caused irreversible heart defects to billions of innocent people!
Looking back a few years: September 25, 2020 at the World Economic Forum (WEF), then-Prince Charles (who is now king):
When talking about the great reset, King Charles says:

The scale of the reset is "totally unprecedented," HRH the Prince of Wales explained, but its progress could be accelerated with a Marshall-like plan for people, nature and planets.
Klaus Schwab commented and said,… even if Covid-19 may still be with us for some time. But now it's really the moment and the window of opportunity to reset the world to make it more sustainable, more resilient and more inclusive.
Do you understand what they mean by "more sustainable"? If you don't understand, you soon will…
These are the organizations which help enforce the directives they are given by the global elite:
See this You Tube video: China's Secretive Spy Agency.
Many evil things are always happening. The surveillance of AI is there to implement global intelligence. Even our street-lights are being replaced with 5G-equipped LED lights.
US-focused Control Risks sees predictive AI partner Seerist gain stride (from 8/16/23)
GEOINT, OSINT, interceptions, software packages: the British corporate intelligence provider Control Risks Group's Virginia-based partner Seerist has been growing in strength through the hire of private and ex-government US intelligence experts.  
Here's the home page for Seerist.
PENTAGON ADMITS THEY HAVE 5G DIRECT ENERGY WEAPONS DEWS
(And remember that satellites could be placed on huge helium balloons.)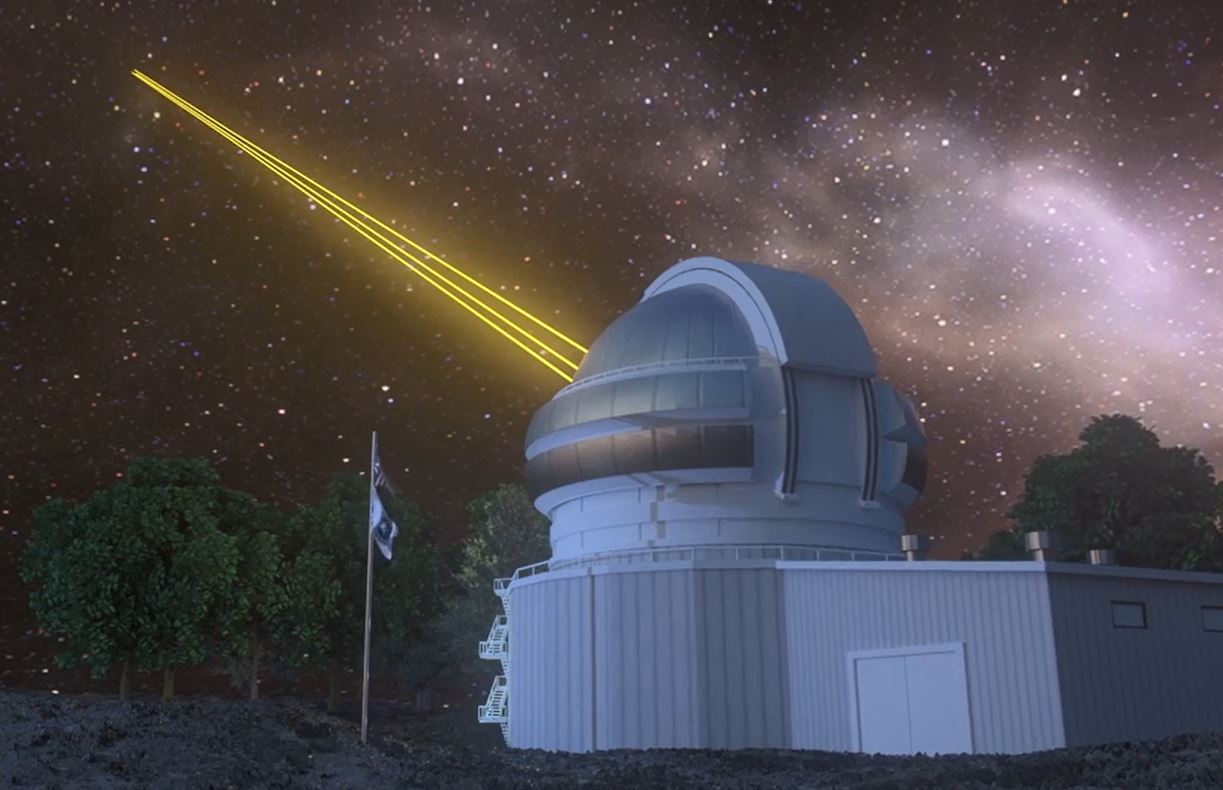 This Air Force Research Laboratory (AFRL) is worth researching to see what they are doing now.
AFRL's Directed Energy Directorate is the Department of the Air Force's Center of Expertise for directed energy and optical technologies. Located at Kirtland Air Force Base, New Mexico, the Directorate develops and transitions technologies in four core technical competencies:
high power electromagnetics,
weapons modeling and simulation, and
directed energy and electro-optics for space superiority.
The Kirkland Air Force Base is in New Mexico, but wait… there's also one on Maui, too! It's known as the Air Force Maui Optical and Supercomputing Site (observatory).
So, energy weapons are here, AND they can be used one way or another! And they CAN cause fires which they claim are wildfires. This malevolent climate change agenda will be accelerated with woeful force now.
More shocking news about Maui and their State of Emergency:
Lahaina has become the unbelievable nightmare picture for Crimes Against Humanity. The Lahaina death toll stands at 114 as of this writing, August 19, 2023. Over 1300 people are still missing! BUT Maui resident and volunteer Allisen Medina, 24, has also claimed authorities are underplaying the death toll: 'I know there are at least 480 dead here in Maui and I don't understand why they're not saying that'
The morgue worker, who is volunteering in the search, also described finding scores of bodies, adding that many were families – including young children – who had died at their homes in each other's' arms, unable to escape the flames. 'He found so many children, children and moms holding each other. Infants, toddlers, the unimaginable. Husbands and wives, whole entire [families] in a room just huddling together, burning to death,' Trost said.
The numbers are astronomical with the fatalities still climbing.
Remember from our previous article (posted 8/13/2023), there were many, MANY vehicles with melted rims, melted glass, missing door handles, and melted engine blocks!!! Since when do wildfires cause such devastation? And note that there is NO foliage around those cars TO burn. "Embers that blow in the wind" do not cause this level of incredible damage and destruction. Directed energy weapons and electricity-based plasma fires do, though.
And note the interesting photos of Lahaina below:
An aerial image taken on August 10, 2023 shows what buildings are still standing.
(Photo by PATRICK T. FALLON/AFP via Getty)
.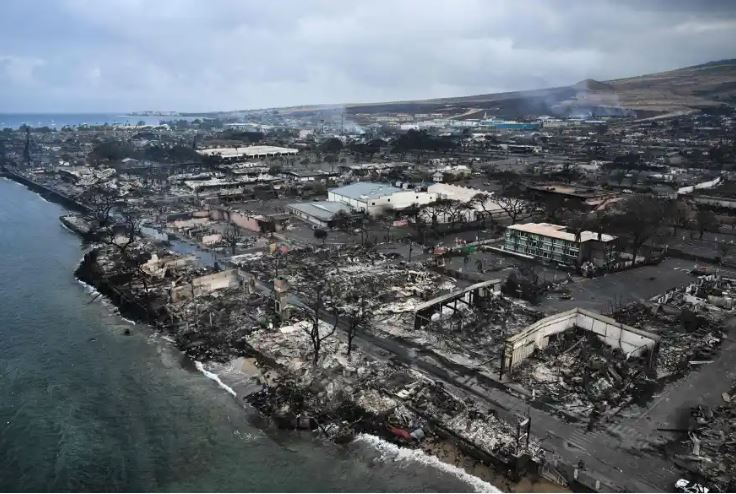 (Photo by PATRICK T. FALLON/AFP via Getty Images)
.
The evil lackey government officials — local, state and federal — have failed us once again, especially the beloved, destitute Hawaiian community. Yes, our government has turned against humanity. We are living with a depopulation agenda designed by the global elite and the governments they have put in place. The compromised Joe Biden is controlled by China and other entities.
Biden said FEMA had authorized a one-time payment of up to $700 per household for the Hawaiian residents who have been displaced. Saying he had authorized "all available federal assets" to assist local crews, including the U.S. Coast Guard, the Navy's Third Fleet and the U.S. Army.
NEWS RELEASE: MAUI HOMEOWNERS URGED TO EXERCISE CAUTION, REPORT UNSOLICITED OFFERS TO BUY THEIR PROPERTIES
BUT now, the insurance companies are telling the Hawaiian residents they have zoning infractions on their land and that claims will be denied… so the policyholders claims won't be paid? Can you imagine? This is just wrong…
Insurance Companies Already Denying Maui Fire Losses Due To "Zoning Infractions" – Navigating Insurance Claims Amidst The Aftermath Of Maui Fires: Important Insights For Maui Policyholders
Snippet:
The recent Maui fires have left a trail of unfathomable devastation in their wake, impacting communities, homes, and lives. As affected individuals begin the process of recovery, it has come to light that insurance companies are already denying insurance claims based on zoning infractions. This move by the insurance carriers has left policyholders in a state of uncertainty, frustration, and despair.
We can tell you that IF you are in an area they want… they will try to get it, one way or another! Yet again, another LAND GRAB.
Hawaii Insurance Risk In Spotlight After Maui Wildfires
Snippet:
An insurance crisis has taken hold in states with a high risk of costly natural disasters, specifically areas subject to increased impact from climate change, such as coastal states like Florida, Louisiana and California. In July, Farmers Insurance became the fourth major insurance agency to leave Florida in the past year, citing the increased risk of hurricanes. Other states are likely to follow as the risk of natural disasters and their anticipated damage grows. The crisis has limited homeowners' options for insurance and caused premiums to skyrocket.
We can see what's coming, can't we? The global elite say that single dwelling homes are NOT sustainable, so we'll get limited options for insurance and skyrocketing premiums. So, insuring our homes and businesses could be a lot more expensive, if we happen to live in coastal states or an area the global elite wants to deem off-limits.
7-second video- Governor Josh Green Scheming To Take Hawaiian People's Land
Hawaii Governor Josh Green's statement on August 12, 2023 regarding Lahaina, Maui land damaged by fires: "I'm already thinking about ways for the state to acquire that land, so that we can put it into work force housing… the state will take it and preserve it first."
A main stream news blackout is still occurring on Maui, so this IS a definite media and governmental cover-up of the targeted tragedies that happened there recently. Could this be a planned crisis? Yes! The viewing public worldwide DEMANDS to see more mainstream and private videos from the survivors there!
You've probably seen the before-and-after pictures of beautiful, historic downtown Lahaina on Maui: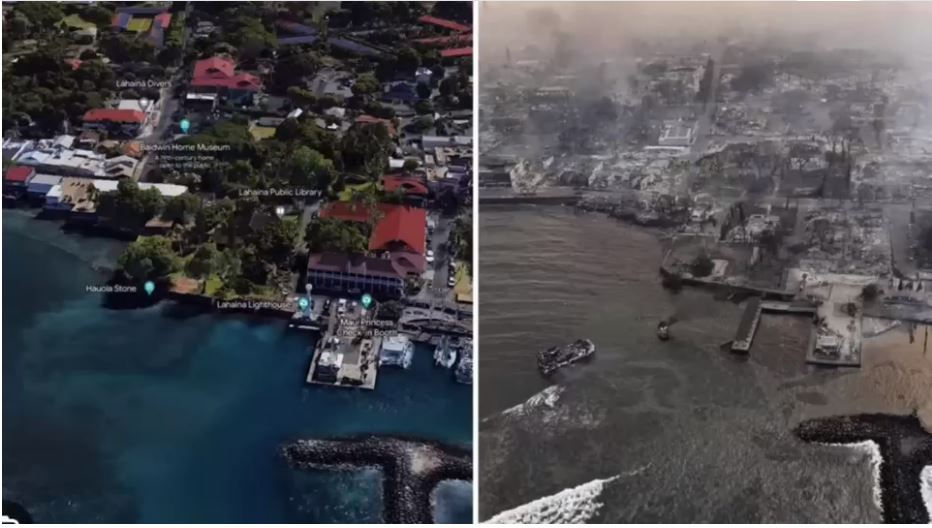 We were told by Governor Josh Green (D) that the fire began on August 8, 2023. He is calling for a "new" Lahaina to be rebuilt! But wait… At 11:00 a.m. on August 4, 2023, it was reported by satellites that a handful of small fires had started on Maui around the same time. The governor stated that Lahaina looked like a bomb had been dropped, and he wasted no time blaming the fires on climate change.
Consider these strange things:
Maui had around 80 sirens that could have alerted residents of an emergency. No sirens sounded as people were burning to death!
Maui's police chief, John Pelletier, was the Incident Commander of the Las Vegas country music mass shooting in 2017!
More and more of their plans keep getting exposed…
The greedy global elite, foreign investors, and realtors are salivating and pillaging for the prime ocean front property in Lahaina! The whole area was devastated, and hundreds of adults and children were killed… literally burned alive and wiped out! We do NOT believe this was just natural wildfires or downed electric lines, dear readers.
The Lahaina community was encircled with a ring of fire that looked had been contrived, and even boats were on fire IN the water.
Watch the aerial video (linked) taken from an airplane to see. Here are some snips from it: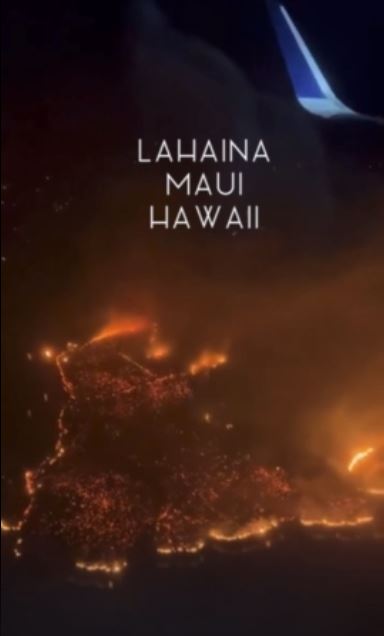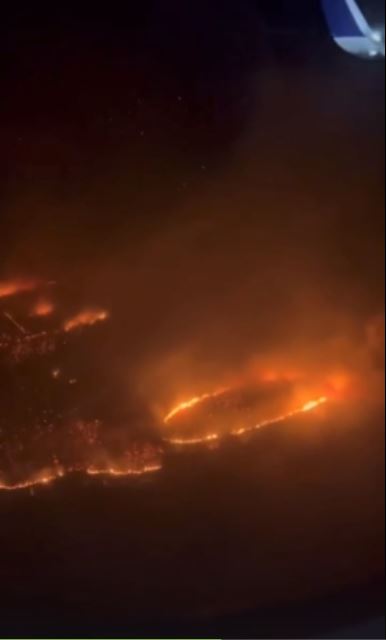 .
Interesting that the governor's house was spared… but his neighbors' homes were desecrated.
A water management company's request to make more water available to fight the devastating fires on Maui was DELAYED by a state agency. So, there wasn't adequate water to help fight the fires! Ironic and absolutely heart-breaking, since the island is surrounded by water…
In Honolulu on Monday, September 25, 2023, the Hawaii Digital Government Summit 2023 will be held. Scroll down on their site to see the agenda. Maui may or may not be mentioned that day, but how can they fail to mention it? It's been said that the government is touting that Maui could be the first Smart Island. This must NOT be allowed to happen, if the good people of the island want to remain free!
The people on Maui need to kick out this illegitimate deceitful government and claim their true sovereignty so they can live as a free people. Hawaiians have a right to their native land. "Maui Nō Ka ʻOi."
Beware! Hawaii's new gung-ho Governor, Josh Green, was just put into place in December 2022 and conveniently appeared soon afterwards at the United Nations Economic and Social Council in July 2023 in New York. He pointed out his sustainable development goals, as well as that Hawaii, an island state, plans to be the first US state to run entirely on clean energy.
Green seems determined to have the Hawaiians conform to the United Nations system, which is totalitarian rule! Time will tell… He has proven to be a powerful and dangerous Sustainable Development player with this New World Order and its U.N. global agenda.
Here's Governor Green's News Release from when he was at the United Nations in July 2023. He spoke at 2 events, and here are the videos of those:
MUST READ from California Globe: Hawaii Governor Green – Puppet for the United Nations
Governor doubled down on commitment to United Nations Sustainable Development Goals just one month before Maui fires

Just one month prior to the fire, Governor Green's Office issued a press release to highlight their commitment to the United Nations (U.N.) 17 Goals for Sustainable Development.
See the press release in the article linked above. More snippets:
While the United Nations, Japanese and State of Hawaii are eager to shift to '100% renewable energy', the adverse effects have been ignored. According to the Endangered Species Coalition:

"Renewable energy production often destroys habitats and hurts wildlife. Even if there are regulations against this, the sites can still cause harm to animals. Solar panels — for example —- take up a lot of space and drive animals out of their habitat.

Energy production affects biodiversity with its construction and placement:

Wildlife destruction: Renewable energy sources stress animals and even kill them. Wind turbines spin with great force and may harm birds or bats.[Just like what's going on in Carroll County, Arkansas.] Highlighted and bracketed, Secure Arkansas.

Renewable energy is supposed to be environmentally friendly, but it damages local ecosystems and threatens endangered species. For example, take the effect of a solar energy development on Mojave desert tortoises. The tortoises live up to 80 years, but the threat to their habitat puts those lives in danger. The plan meant the tortoises would likely be displaced and struggle to adapt to their new environment.

The destruction of plant life and wildlife is a common side effect of renewable energy. Endangered plants cannot relocate, so the construction of renewable energy sources threatens to destroy them."
The suffering, exploited, and abused Lahaina community needs all the support they can get because it sure looks like they were hit with "Directed Energy Weapons (DEWs)"… and if they did, it was MASS GENOCIDE. The assaulted people were jumping into the ocean to escape the meltdown and flames. What were these strikes coming from the sky?
Must see! D.E.W. COMPILATION (MAUI, CALIFORNIA…) — 33 minute video
The Department of Defence (D.O.D.) spends about $1 billion annually on developing directed energy weapons. Lockheed Martin has state-of-the-art weapons, such as lasers, microwaves, and particle beams!
Things just do NOT add up with the narrative coming from the deep state government there. Looks like a big cover-up!
And do you remember those weird fires in California a while back? Mark Crispin Miller has been talking about them and posed a thoughtful question: "How could they be 'forest fires'… if the forests weren't on fire?" Look for yourselves at the images starting at 1:21 in the D.E.W. COMPILATION video linked above…. and especially at 2:35 in the video. The houses were on fire but not the trees.
And more recently in other areas, too:
Once again, using the excuse of climate change, the global elite will burn us out if they can. After all, they have their direct energy weapons and their weather modification.
Here is what's coming, if nothing changes: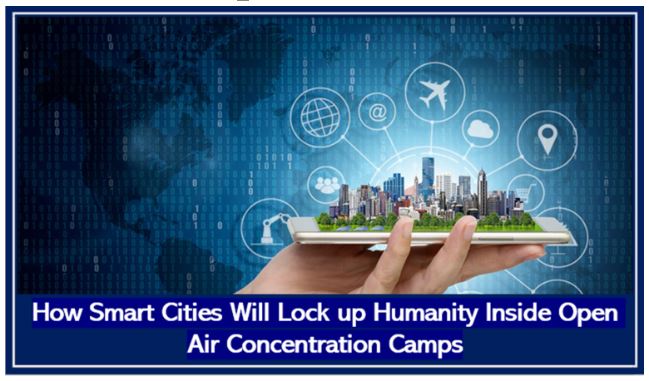 Another MUST SEE!  How Smart Cities Will Lock Up Humanity Inside Open Air Concentration Camps
Some excerpts:
A Smart City is an urban environment with omnipresent surveillance and data harvesting technologies that will monitor and record even the most intimate, personal details of everyone. 

The goal is to know everything about everybody: what you eat and drink, where you go, what you buy, who you meet, what you think, how you feel, your opinions, your habits, your health and vaccination status, and so on.

In order to make sure that everyone remains within the perimeter of data harvesting, movement in Smart Cities will be limited to 15 – 20 minutes from home. This concept has coined the phrase "15 Minute Cities" and is being promoted as the best idea ever for saving the planet from climate change.
Yes, these 5G Smart Cities pose a real and present danger to everyone!
And just how are they being implemented? The devastating fires on Maui are one tragic way.
Burning Lahaina to implement UN 'Smart City' — The global elite won't be able to build "Smart Cities" unless they destroy the cities first. As mentioned previously, Hawaii plans to be the first US state to run entirely on "clean energy".
The video mentions UN Agenda 2030 Sustainable Development Goals and that people see "Smart Cities" as "high tech"; they don't see them for what they are: enslavement cities.
Maui. Massive Plasma Fires. Trees Burning From the Inside-Out. Media Coverup 8-10-2023 — This video (on mainstream media) shows a tree burning from the inside-out. Wildfires do NOT cause this.
What about food and water for the survivor victims?
MAUI NATIVE DISCLOSURE : Help And Supplies Turned Away By Military (posted 8/13/23)
.
Residents are trying to bring in supplies like water, food, and gas… and are being turned away by the military. Also, legislation was proposed on Jan. 5, 2023:  the next phase of the Villages of Leiali'i housing project calls for 250 units. DHHL is proposing a $75 million housing project on 51 acres located mauka [native language meaning: towards the mountains/ inland] of Lahaina Civic Center.
This was proposed EARLIER this year, and this is the same area as the devastating fires. This follows the United Nations Agenda 2030 plan as well.
Below are several snippets from the video linked above, posted in the Notes section by the man who posted the video:
Does this mean that someone wants the property owners' land just like in Florida with Hurricane Ian?

FEMA was knocking on doors to buy your land for cash!

Ding, ding, ding!

*******

https://www.boeing.com/defense/missile-defense/directed-energy/

How does a Rouge Agency make money
– Create a disaster / steal the area blind while people are forcibly evacuated, especially search for guns specifically and then buying up huge Ocean Front Properties for vastly cheaper prices !!!!
I have seen that FEMA ships with those kooky octagon shaped dome radar thingies are sometimes seen trailing ( steering ? ) a hurricane's path. – Tom

———

This was just sent from an Oahu friend…

Many of the fatalities will be children who were at home because they canceled school. Parents worked and were not there to evacuate the children. Kids had no idea they needed to leave and by the time they noticed their homes or apartments were on fire, it was too late.

The government is worried about how we will react when we learn that the fire department left the fire earlier in the day and claimed it was 100% contained knowing that the winds were expected to be 70mph by the afternoon. This is against all fire control protocols. The fire department should not have left the original fire unattended. They are scared that the public calls for accountability will be more than they can control and protests and riots will occur.

They plan to lock down Lahaina for several months. It will take months to clean up the hazardous and environmental contamination. They won't have enough housing for all the desperate displaced people.

There were 2,000 unaccounted for this morning. They have a list where they are trying to keep track. They found 700 today. But there are still 1300 missing.

They are very worried that the community is going to freak out when they find out how not a single fire truck responded to the fires. The emergency sirens were not activated (hurricane sirens) and loss of life could have been kept down by better emergency management which utterly failed.

I'm not trying to make waves or stir up problems but I was so angry and sad when I found out how many children are dead that I knew I had to post this and let everyone know what I have learned.

It's time for our officials to stand up, tell the truth, and face the music. They failed Lāhainā guys. Our government is full of incompetent nepotism. The fire chief is the son of the former fire chief. We need to hold officials accountable for the mistakes they made.

God bless Maui and Lahaina! Pray for all the surviving victims.

https://rumble.com/v36z4wn-explosive-aerial-evidence-of-dew-attack-on-maui.html

https://rumble.com/v36w6yf-jan.-2023-tv-report-on-possible-chinese-use-of-lasers-on-hawaii.html

https://rumble.com/v36p1cl-probable-dew-weapon-strike-in-unusual-area-of-maui.html

https://rumble.com/v36c8jr-hawaii-fires-on-maui-081023.html

——————————–
While still calling the targeted Lahaina community tragic incident "wildfires", the emergency management chief resigns. The truth is out, though, and they won't be able to lie and downplay what actually happened there much longer. The body count grows everyday.
Maui's emergency management chief resigns, citing health reasons, a day after he defended sirens' silence during deadly wildfires
The administrator of Maui's emergency management agency has resigned, citing health reasons, Maui County said Thursday – a day after he defended the silence of the island's siren system last week during the deadliest US wildfire in more than 100 years.

The Bureau of Alcohol, Tobacco, Firearms and Explosives' (ATF) National Response Team will help local authorities determine the cause of the wildfire, the agency said in a statement Thursday.
Can't wait to hear the ATF analysis, they are such a "trustworthy" agency, especially given their unforgivable violent history dealing with Americans in this country; cases-in-point: Waco and Ruby Ridge.
In closing, we know who the Luciferian global elite are serving in order to carry out this satanic agenda, but our God is greater, whom we serve. So, choose a side; Satan's time grows shorter. And yes, there ARE moral absolutes: right vs. wrong; truth vs. lies. There are no gray areas when it comes to this.
.
As always, our articles may be viewed on our website at  SecureArkansas.com. Once there, you may:
view current articles on the main page;
view older articles by clicking "Posts & Articles" at the top left of the main page and scrolling down.
view additional past articles by clicking the "Next Page" button at the bottom right.
To find information about a topic, just type it into the Search box on our website, and click Enter!
Click here if you'd like to sign up to receive Secure Arkansas email alerts.
Securing the blessings of liberty,
Secure Arkansas
securetherepublic.com/arkansas
info@securetherepublic.com
Share This Article