Critical Things We Need to Know about the Buffalo River Potentially Changing Designation…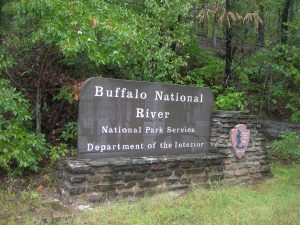 As 2030 approaches on the calendar of time, we see there have been many cunning agendas, plans, and mandates set for all of humanity and the landscape upon which we live.
Today, we hope to give you a little peak of what the ungodly globalists have in store for us as time progresses… as they are tightening the noose on humanity.
We've been battling this for a long time.
Thousands and thousands of people stand to be affected and threatened, and we need to be prepared.
In this article, we will discuss some critical things we need to know about the Buffalo National River designation possibly being changed.
.
See this 3-minute YouTube video from 40/29 news from October 19, 2023:
Buffalo River Potentially Changing Designation Has Some Concerned
.


So, what's in a name?
From the National Park Service website: Designations of National Park System Units
Some excerpts:
The numerous designations within the National Park System sometime confuse visitors. The names are created in the Congressional legislation authorizing the sites or by the president, who proclaims "national monuments" under the Antiquities Act of 1906. Many names are descriptive—lakeshores, seashores, battlefields—but others cannot be neatly categorized because of the diversity of resources within them. In 1970, Congress elaborated on the 1916 National Park Service Organic Act, saying all units of the system have equal legal standing in a national system.

National River

There are several variations to this category: national river and recreation area, national scenic river, wild river, etc. The first was authorized in 1964 and others were established following passage of the Wild and Scenic Rivers Act of 1968.

National Park

These are generally large natural places having a wide variety of attributes, at times including significant historic assets. Hunting, mining and consumptive activities are not authorized.

National Preserve

National preserves are areas having characteristics associated with national parks, but in which Congress has permitted continued public hunting, trapping, oil/gas exploration and extraction. Many existing national preserves, without sport hunting, would qualify for national park designation.
Runway Group exploring new federal designation for Buffalo National River — Article from KUAF, Oct. 16, 2023. It's a conversation between Matthew Moore and Jacqueline Froelich, Ozarks at Large senior news producer, to talk about a coordinated effort to change the designation of the Buffalo National River.
From the article:
Runway Group, LLC in Bentonville, came forward last week, announcing their intention to quote "support the Buffalo National River." The group is founded by Walmart heirs and philanthropists Steuart and Tom Walton. Runway invests in outdoor recreation, real estate, art, and hospitality. The Waltons hired Selzer & Company, headquartered in Iowa, to measure perceptions about the Buffalo National River, reaching 412 registered voters by phone residing across five counties on the watershed. The Buffalo is the first designated National River in the United States, declared back in 1972. The 135-mile-long river is managed by the National Park Service.
You'll want to read or listen to that 7-minute article. It mentions ties between the Waltons and the Sanders (as in Arkanasas Governor Sarah Huckabee Sanders… and her husband).
Also, Walton Enterprises LLC, the holding company owned by heirs of Wal-Mart Stores Inc. founders Sam and Helen Walton, owns the Massey Building. It's managed by Blue Crane, Runway Group's real estate acquisition and development arm.
Let's remember that Newton County, Arkansas, and the surrounding area is one of the most desired and beautiful counties on the earth. There's no other place like it, anywhere in the world! That's why the globalists pushed "The Man and the Biosphere" in the 1990s and the White River Watershed National Blueway in the 2000s. They wanted that area then and still want it now! You may remember this from a past Secure Arkansas article from June 2013:
The White River Watershed National Blueway designation covers 17,800,000 acres across 60 counties in Northern Arkansas and Southern Missouri.  All the land and water including "Private Land" in the National Blueway designation will be controlled by 26 stakeholders that have partnered with the Department of Interior.  This means that you as a land owner will lose all control over your private land to the stakeholders.
As crazy as this may seem, the Feds are out to run you off your land all for the sake of ENVIRONMENTALISM, which is the worship of "Mother Earth".  This is what U.N. Agenda 21 is all about.
Now, globalists are licking their chops to get their hands on this special land in the Buffalo National River area, so now they will use this National Park Preserve designation change to get it. (Secure Arkansas has a notebook about all this from many years ago.)
Senator Bryan King stated:
"It's a very controversial issue, and people need to know that the good people in Newton County, in Madison County, in these areas affected — their heart and soul and everything is in that place, and it is much more important than somebody that comes in and enjoys the river, and people need to realize that."
Attention, people in Newton County: please do NOT sell your land to the highest bidder! It's important to know who will be getting your property. Keep in mind, the buyer could be a foreign entity. This could be devastating for you, your neighbors, family, friends, and others. Think about the future implications…
"In most communities, neither victims, nor the proponents of sustainable development are aware that their plight is part of a global agenda.  Indeed, most would scoff at the idea.  Nevertheless, the transformation of America is well underway, without public debate or Congressional approval.  From watershed, to ecosystem, to village, to city, to multi-county regions, to trans-boundary biospheres- the U.N. agenda is being systematically implemented- with the help of elected officials, paid for with the taxes of American citizens."
— Henry Lamb, "Why the Government is Grabbing Our Land"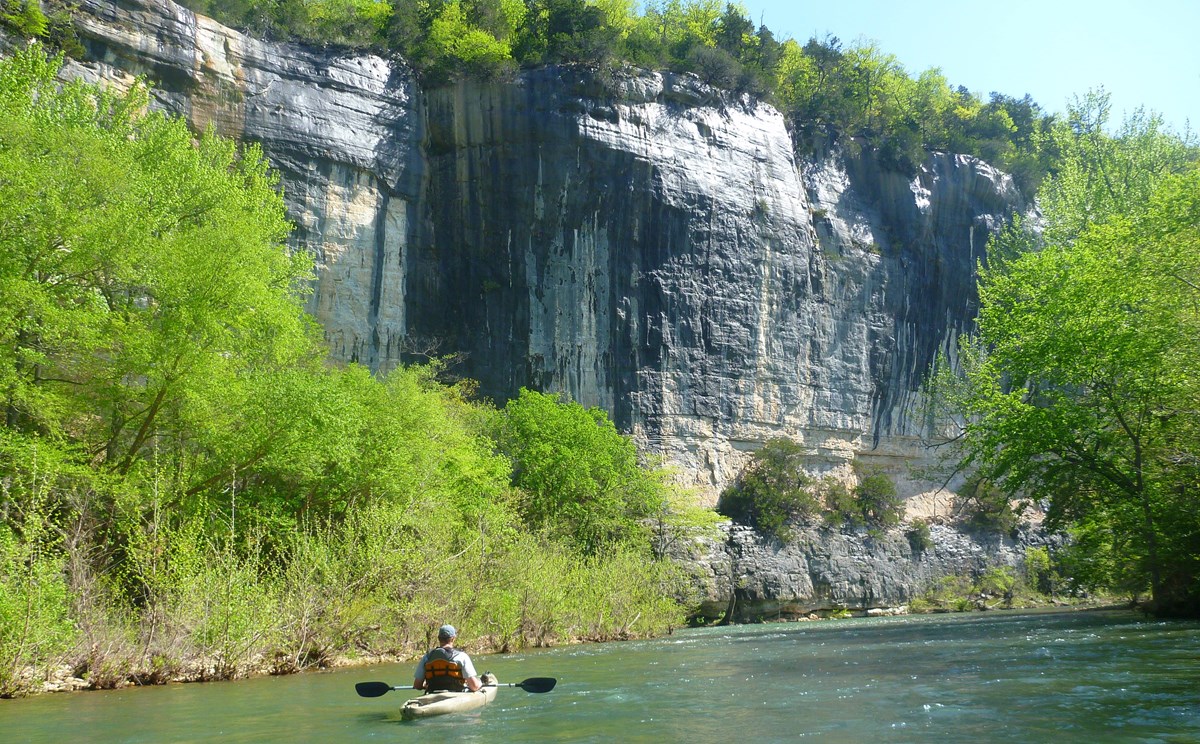 .
Informative article from the Arkansas Times dated October 18, 2023: 'Town hall' planned this month in Jasper about Buffalo River's future; Walton group won't participate
Some excerpts:
A Walton-founded company's goal of converting the Buffalo National River into a national park preserve has prompted complaints among residents of rural communities near the river and led a local group to organize a town hall on the issue next week.

But Runway Group LLC, a Northwest Arkansas-based investment company founded by brothers Steuart Walton and Tom Walton, will not be participating in the community forum, a spokesman said. Tom and Steuart Walton are third-generation members of the Walmart founding family.

Speculation about the Walton brothers' interest in the Buffalo first surfaced in June, after Gov. Sarah Huckabee Sanders unexpectedly fired Mike Mills, the director of the state Department of Parks, Heritage and Tourism. Some believed Mills' dismissal was at least in part related to his opposition to the ideas for the Buffalo advanced by the Walton brothers, who are friends of Sanders' husband, Bryan Sanders. Mills has declined multiple requests for an interview….

But when the Arkansas Times asked Runway Group spokesman J.T. Geren on Tuesday if Runway would be represented at the town hall, he replied, "No." Geren did not respond to an email asking why not.
So, is Runway Group backing out of working on the Buffalo National Park and Preserve re-designation… or not?
From one of our concerned supporters: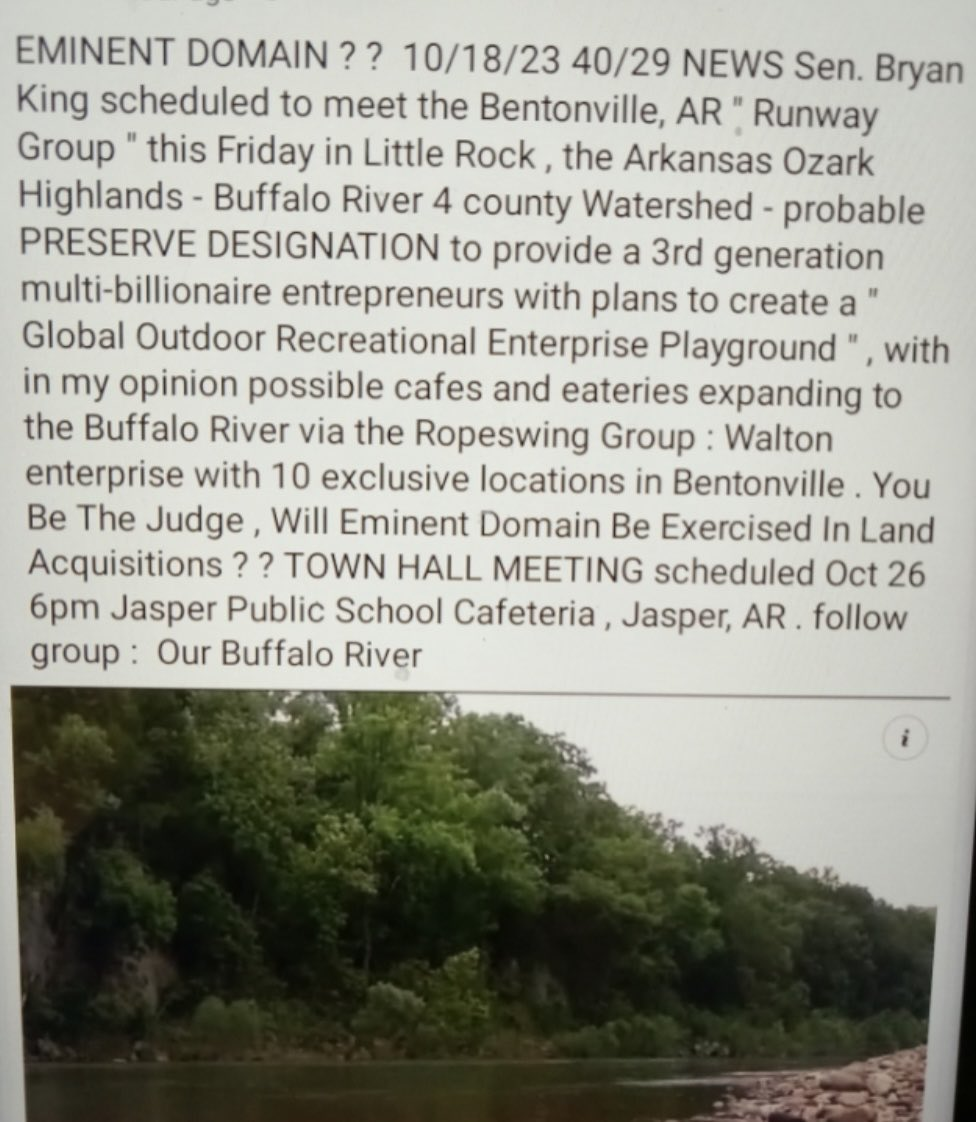 Who are the Runway Group and Rope Swing Group?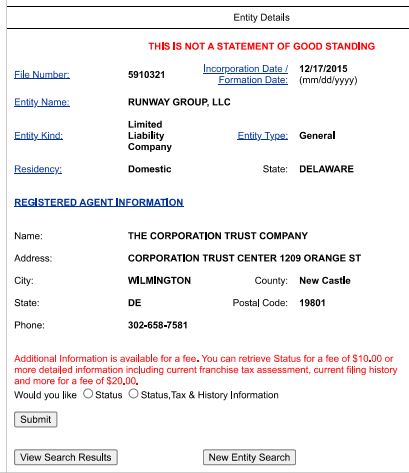 .
Rope Swing Hospitality — Wilmington, Delaware (and pictured below) — incorporated 9/8/2014 and then brought in Sunny's LLC as a foreign entity incorporated in Arkansas 5/18/2022 with Rope Swing Hospitality as the Registered Agent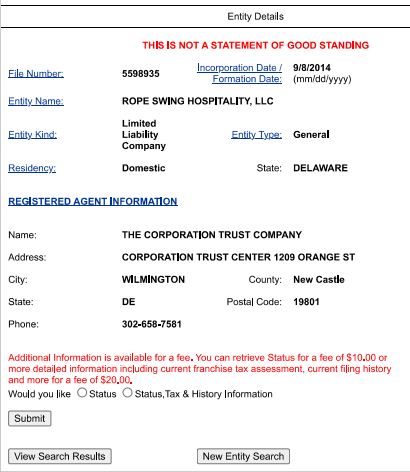 .
So, they're incorporated in Arkansas AND Delaware…
Why is Walton incorporating in Delaware and then bringing the entity into Arkansas to incorporate as a foreign entity??? Are they incorporating in Delaware to conceal ownership? Could the actual owners be foreign? This needs to be looked into…
And if some Arkansas locals weren't already suspicious enough, The Madison County Record recently reported that Kings Creek LLC, a company owned by Walton Enterprises, which is controlled by the Walton family, has been buying property in the Kingston area. The tiny Madison County town sits near the headwaters of the Buffalo. In the link below is info about their LLC and officers, including Buddy Philpot:
So, who is Buddy Philpot?
Family Advisor, Walton Enterprises

Since 2016, Buddy has served as the Senior Family Advisor on the Walton Enterprises team. Prior to joining Walton Enterprises, Buddy was the Executive Director of the Walton Family Foundation from 2001-2016. As Executive Director, he lead program strategy and grew the foundation's annual grant making from $40 million in 2000 to $5 billion in 2016. Before joining the foundation, Buddy spent more than 20 years in commercial banking, joining the Arvest Bank Group in 1987 as a founding team member and later serving as President for 10 years. He continues to serve the bank as a member of the Board of Directors and on the Executive Loan Committee.

Buddy is an active board member on national and community non-profit initiatives serving as a Director at EFF, Building Charters Fund, a member of the Northwest Arkansas Council, a Director of Camp War Eagle and on the Finance Council at St. Joseph's Catholic Church. Buddy is a founding Board Member of Crystal Bridges Museum of American Art, Endeavor Foundation and The Jones Center for Families.
This is part of a spider web of people and entities that requires further investigation, and we will be reporting on them in the future, if we need to do so.
And what about the involvement of Arkansas Governor Sarah Huckabee Sanders and her husband?
Arkansas First Gentleman: Double outdoor recreation economy in a decade — Talk Business news article from May 9, 2023
Arkansas First Gentleman Bryan Sanders hopes to double the state's outdoor recreation economy from its current $3.5 billion to $7 billion in the next 10 years.
So, he's focused on that… and he's also friends with the Walton brothers.
The Madison County Record article we mentioned above also says this:
The national river's current infrastructure dates back to 1978, according to Austin Albers, president and owner of Buffalo Outdoor Center.

The discussions surrounding turning federal lands into a national park preserve have not made their way into proposed legislation.

Albers said he had spoken to Gov. Sarah Huckabee Sanders as well as her husband, Bryan Sanders. The governor signed an executive order in January establishing a Natural State Advisory Council and appointed her husband chairman. The council is tasked with growing tourism in Arkansas and the "outdoor economy," according to a news release.

But [Senator Bryan] King is concerned about a lack of transparency.

"I am gravely concerned and disappointed at the recent formation of special interests and have deep reservations that there may be attempts to drive government and legislative action to only serve a few that can profit off government regulations or changes," King said.

"I am spending a great deal of time and effort to get this issue openly discussed, which I think only serves the best interests of the people," King said.
This Buffalo River designation change is being pushed under the guise of more tourism and competition against other states for outdoor recreation.
So, what eventually happens whenever a National River is designated a National Park Preserve?
Nothing but a big federal/global land grab via United Nations (UN) goals and Sustainable Development objectives!
The concept of sustainable development was the brainchild of the Brundtland Commission, set up by the United Nations General Assembly in 1983. The World Commission on Environment and Development published "Our Common Future," also known as the Brundtland Report; it weaves together social, economic, cultural, and environmental issues and global solutions; it popularizes the term "sustainable development." That was 1987.
When you study these goals and their wording, you'll notice how positive things may sound, for a while…  just like the wolf in the Little Red Riding Hood (but WAY worse). Of course the globalists would do that. How else can they dupe people into believing and going along with their agenda? Sinister plans are in the works, and they have already mapped out those plans and strategies. Yes, there be severe consequences implemented for the populace, and Eminant Domain is likely to happen at some point! (It's NOT what we want, and most will be blindsided.)
Management goals will be established and determined, and goals will be set with mandates. Also, best management practices (BMPs) will be used. Management plans will be reviewed every five to ten years to include NEW changes/ restrictions to the "sustainable" landscape (park preserve).

Conservation tools will be used and put into place immediately! Roads, highways, trails, and other paved areas WILL be affected. So, REDUCING the amount of roads, parking lots, and turf areas, or by placing these together, occurs. They will be minimized.

Local governments will be greatly impacted and again minimized! The United Nations goal is to destroy the LOCAL government completely.

Communities will be compromised, and people will be relocated in some areas, especially if your property is located within the watershed or National Park. Also, if your even property borders the watershed or National Park, it could be compromised! Again, eminent domain is likely to happen at some designated time in the future. The plans are always done incrementally (just like the analogy of a frog in the pot of water).
Our Founding Fathers saw this danger, even in their time… Here's what one of them had to say:
"I believe there are more instances of the abridgment of the freedom of the people by gradual and silent encroachments of those in power than by violent and sudden usurpations."
— James Madison
This possible designation change from National River to National Park Preserve could get complicated quickly. An example of the consequences for property owners to bear could be: if property owners fail to drain the wetlands on their property, fail to build or take down fences, or fail to comply with the National Park Service (NPS), they could lose the title to their property.
Policy makers: We'd better engage in this malevolent battle because the predatory globalists have summoned the hosts of hell, and their minions/government WILL enforce the UN Agenda 21/ Agenda 2030 known as Sustainable Development Goals. Here's what the demented billionaire globalists truly believe! These are more radical examples for you to consider RIGHT NOW because the obsessed globalists have ALREADY considered what is NOT sustainable, and it can be found in the UN Environment Programme called the Global Biodiversity Assessment report from 1995 (1,140-page report), and they have not wavered from it since then:
Machines that use fossil fuels (cars, trucks, heavy machines for construction, etc.) are not considered sustainable
.
All of this is considered NOT sustainable — according to the globalists! And, sad to say, humanity's needs are considered a liability, dear readers.
We definitely could list a whole lot more things (and we will do it later) that in the demonic Sustainable Development restrictive world, will NOT be considered sustainable, but we think you get the picture! The globalists will tear the world apart to meet their goals.
The Convention on Biological Diversity which was signed at the Rio de Janeiro Summit (UNCED) in 1992 and which came into effect at the end of 1993. This is one of the most vile comprehensive environmental treaties that's ever been developed and is very far-reaching. The magnitude of this will blow your mind.
Here is basic information about the Global Biodiversity Assessment from 1995 that says the Assessment and the Summary are not available online but can be searched on Cambridge University Press, but if you'll notice — that link doesn't even work!
You can sign up to download and read it here: Heywood (1995) Global Biodiversity Assessment PDF
Here's the Global Biodiversity Assessment: Summary for Policy-Makers. (7 pages)
So, let's look at a recent EXAMPLE of what happens whenever a National River is designated a National Park and Preserve. Regretfully, in West Virginia on December 27, 2020, the river became the New River Gorge National Park and Preserve, the country's newest national park:
MUST READ:   America has a new national park
but not all the locals are happy about it.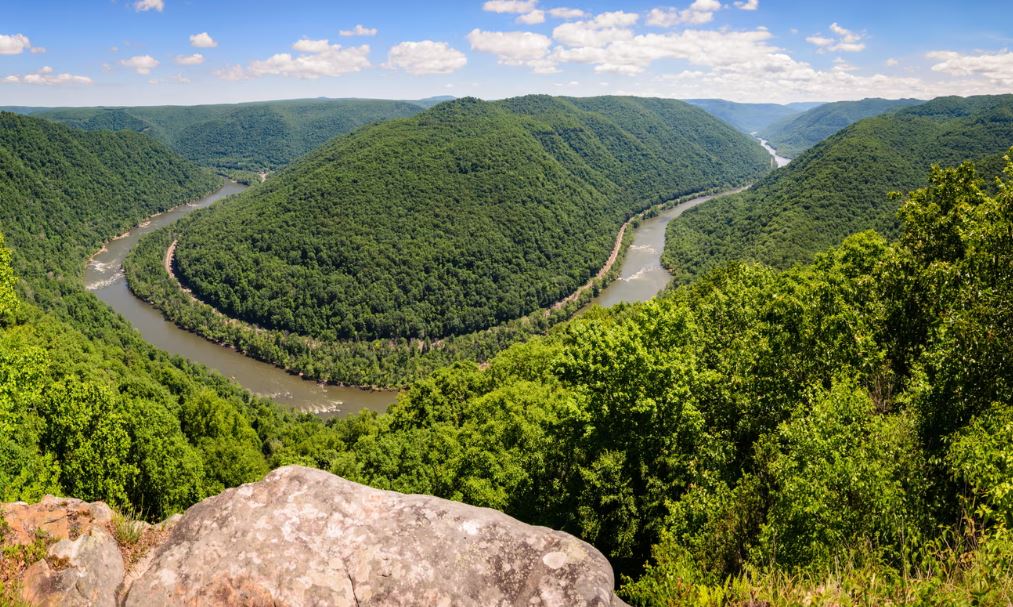 The New River Gorge in West Virginia: millions of years in the making;
Now a national park. Photograph: Alamy
From the article:

The New River Gorge first entered National Park Service protection in 1978 as a national river. At the time, hunters were assured they would have free roam of the entire property. But as part of its recent name change, about 10% of that land was put inside a national park, where hunting is prohibited.  On 27 December 2020, the river became the New River Gorge national park and preserve

After New River Gorge received National Park Designation:

New River Gorge received no additional funding when it became a National Park

The locals say there simply aren't enough amenities in the park or its surrounding communities to support the flood of visitors that will come, and the park does not have the money to fix these problems.

A local non-profit recently had to purchase 15 new backboard stretchers, at a cost of $2,000, for New River Gorge's park service rescue squads, because the park itself couldn't afford them.

The park designation will have other costs for locals, too: hunters have lost access to about 7,000 acres where they previously stalked whitetail deer, turkey, raccoons and other prey.

Melissa McCune is a council member for Thurmond, a quaint but mostly vacant former railroad town in the heart of the gorge worries this trickle of visitors will become a flood as the year goes on, and the park doesn't seem to have the money to address any problems that might arise.
.
So, has eminent domain ever been used for national parks? Yes! If you are on the losing end of forcibly losing your property… it's NOT a pretty thing. Globalists have been engaging in land grabbing for centuries. Look at this older California example below: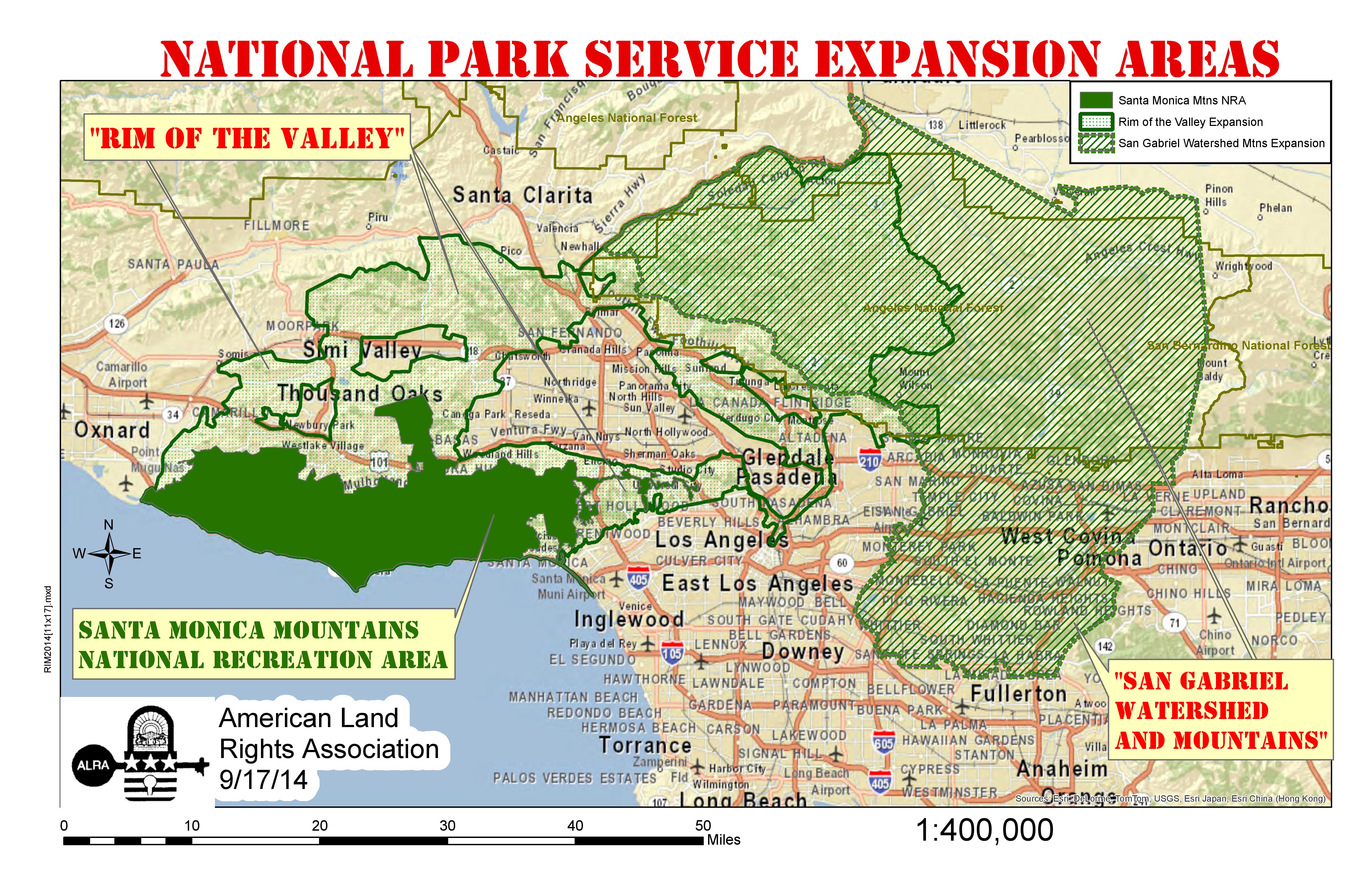 Click here for NPS Expansion Area Map
This is what we've found so far. If you have anything to add, let us know: info@securetherepublic.com
In closing: Look for future articles about these topics from us. The subject is extensive and needs much more of an explanation, but this article is getting long and must be brought to an end.
Stay tuned, and keep praying!
Psalms 120:1 "In my distress, I cried unto the LORD, and he heard me."
.
As always, our articles may be viewed on our website at  SecureArkansas.com. Once there, you may:
view current articles on the main page;
view older articles by clicking "Posts & Articles" at the top left of the main page and scrolling down.
view additional past articles by clicking the "Next Page" button at the bottom right.
To find information about a topic, just type it into the Search box on our website, and click Enter!
Click here if you'd like to sign up to receive Secure Arkansas email alerts.
Securing the blessings of liberty,
Secure Arkansas
securetherepublic.com/arkansas
info@securetherepublic.com
Share This Article