Immigration agents sue to stop Obama's non-deportation policy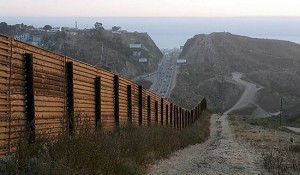 Since the story about 10 Immigration Agents suing the Obama administration didn't make our newspaper, we wanted to make certain you saw this!!!     A tiny glimmer of hope . . .
Washington Times) – Saying they're fed up with being told they can't do their jobs, 10 immigration agents on Thursday sued the Obama administration to try to halt the president's new non-deportation policy and an earlier memo instructing them not to go after rank-and-file illegal immigrants.
The lawsuit, filed in a federal court in Texas, adds a legal controversy to the political fight that has been brewing over President Obama's immigration policies, which have steadily narrowed the range of immigrants the government is targeting for deportation.
The 10 U.S. Immigration and Customs Enforcement (ICE) agents and deportation officers said Mr. Obama's policies force them to choose between enforcing the law and being reprimanded by superiors, or listening to superiors and violating their own oaths of office and a 1996 law that requires them to put those who entered the country illegally into deportation proceedings.
Upping the ante, the agents are being represented by a high-profile lawyer, Kris W. Kobach, secretary of state in Kansas and the chief promoter of state immigration crackdowns such as Arizona's tough law.
"ICE is at a point now where agents are being told to break federal law, they're pretty much told that any illegal alien under age of 31 is going to be let go. You can imagine, these law enforcement officers are being put in a horrible position," Mr. Kobach said.
Last week, at Mr. Obama's direction, the Homeland Security Department began taking applications from those 30 years of age or younger who came to the U.S. as children and who have kept a fairly clean criminal record. They are being granted "deferred action," which is an official notice they are not to be deported, and will be allowed to obtain work permits to stay and get jobs legally in the U.S.
ICE officials didn't have an immediate comment on the lawsuit, but the Obama administration has repeatedly defended the legality of its actions.
At a House Judiciary Committee hearing in July, Rep. Steve King, Iowa Republican, warned of the possibility of a lawsuit and asked Homeland Security Secretary Janet Napolitano if she would rescind the order before it came to that.
"Representative, I will not rescind it," she replied. "It's right on the law. It's the right policy. It fits within our prosecutorial priorities. And although it came out of the Department of Homeland Security, let me say that president is foursquare behind it, embraces this policy as the right thing to do."
She said the administration doesn't have the ability to issue a stay of action for a broad category of people, but said the new policy is different because it invests decisions on a case-by-case basis with agents and officers, who are instructed not to pursue cases for those who meet the guidelines she laid out.
Ms. Napolitano said she's acting in accordance with Supreme Court rulings that have established a wide latitude for discretion by the executive branch, and said federal law directs the administration to establish immigration enforcement priorities.
But in their 22-page complaint, the agents say they've been told in broad terms to ignore a whole class of illegal immigrants. They said they have been instructed not to bother asking for proof, but to take an illegal immigrant's word that he would qualify for the president's more liberal policy.
One of the instances the lawsuit cites is a now well-known case in El Paso where ICE Agent Samuel Martin picked up an illegal alien from the El Paso County jail. Agent Martin says the man tried to escape and, in the process, assaulted him and another agent – but when they got the man to ICE's processing center agency supervisors said he had to be released under the new policies.
In that case, the issue wasn't Mr. Obama's recent policy on immigrants eligible under the so-called "Dream Act," which stalled on Capitol Hill, but an earlier memo by ICE Director John Morton that said agents should focus on criminals and repeat-immigration offenders.
Chris Crane, an ICE deportation officer, president of the National ICE Council and one of those suing to stop the policy, said morale is low among rank-and-file employees at the agency.
Click here for Washington Times article.
Share This Article