Keep Calling on SB1156!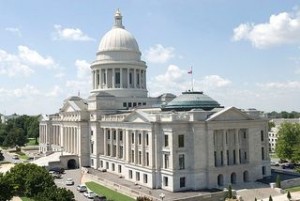 SB1156 "To prevent a runaway convention"
Senator Rapert failed to run SB1156 on Tuesday, March 19, and it is on the agenda in the Senate Committee on State Agencies and Governmental Affairs at 10 am tomorrow, Thursday, March 21.
This matter needs attention from the public.  This bill appears to be a prelude to a Con-Con bill and it will give people false confidence if a deadly Constitutional Convention is called. This bill does not prevent a "runaway convention," as stated by the lead sponsor, Senator Jason Rapert. ALEC and others have tried for years to hold a Con-Con to take away our founding documents.
An Amendment Convention is dangerous. They can literally throw out the present Constitution and our BILL OF RIGHTS.That includes our 2nd Amendment, the right to keep and bear arms. We all know Obama's is after our Bill of Rights.
There's already a Constitution for the NewStates of America, waiting to be put in place. No Bill of Rights! No 2nd Amendment! No property rights!
If you don't want to see this perilous bill go through, you need to call right now. If you would prefer to leave a message at the Senate, the number is 501-682-2902. They will take your message and give it to the senator from the committee.
Here is the contact information again.
Priority 1:  Call Sponsor ask that he table SB1156.
Senator Jason Rapert, Sponsor, 501-336-0918
Priority 2:  Call the Committee members below and ask that they vote "NAY" on SB 1156.
Committee Members
Sen. Eddie Joe Williams, Chair  501-286-9366
[email protected]
Sen. Jane English, Vice Chair, 501-257-7670
Sen. Robert Thompson, 870-239-9581
Sen. David Johnson, 501-682-6107
Sen. Bobby J. Pierce, 870-942-1031
Sen. Gary Stubblefield, 479-635-4314
Sen. Jimmy Hickey, 870-772-4444
Sen. Bryan King, 870-438-4565
* REMINDER *
PLEASE – FORWARD THIS ACTION ALERT TO YOUR ENTIRE LIST:  TO FRIENDS, FAMILY, & OTHER GROUPS.
If you've received this ACTION ALERT as a Forward, please click here to be added to our Secure Arkansas ACTION ALERT email list.  
Securing the blessings of liberty,
Arkansas.SecureTheRepublic.com 
Share This Article