Addition to Part 2 Rebuttal to ADH: OUR DAILY DOSE – a Brilliant NEW 20 min. Short Film by Jeremy Seifert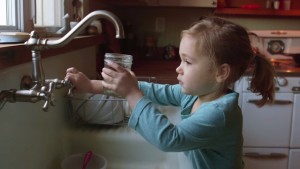 "Are we willing to risk our children's brain and thyroid health for one less cavity, at best?  That just doesn't make ANY sense.  We only get ONE chance to develop a brain, and it's a precious moment of life that we should protect and nurture in every way we can."
"Hailed by the Centers for Disease Control as one of the top ten public health achievements of the 20th century, water fluoridation is something most of us assume to be safe and effective. But new science has upended this assumption, revealing that fluoride is a developmental neurotoxin and an endocrine disruptor. The CDC tells us that drinking fluoride decreases tooth decay, at best, by 25%. That is one-half to one cavity per person over a lifetime. Is one less cavity worth risking a child's long-term brain and thyroid health? It's time to rethink this very old practice.
In OUR DAILY DOSE, filmmaker Jeremy Seifert (GMO OMG) lays out the dangers of water fluoridation informatively and creatively, highlighting the most current research and interviewing top-tier doctors, activists, and attorneys close to the issue. Through thoughtful examination of old beliefs and new science, the film alerts us to the health threat present in the water and beverages we rely on every day. This is an eye-opening look at how we have less control over our health than we may have thought."
Click here to watch this brilliant NEW 20-minute short film "Our Daily Dose".
Please share far and wide!
Here is the YouTube link to it – in case you want to copy and paste it into your web browser rather than clicking the hotlink above: https://www.youtube.com/watch?v=2mUUrZJaHPU&app=desktop
This video goes with our Part 2 rebuttal to ADH comments that we emailed yesterday, Oct. 20, 2015, which will be posted to our website soon.  After you watch this short film, you'll see WHY we're determined to end water fluoridation in Arkansas! Remember, fluoride is the most widely distributed drug in the country!
Get on board with Secure Arkansas, and be sure to send this video to your legislators!
Enjoy the video!  Thanks to Fluoride Action Network for releasing this film and posting it on Facebook.  And great job on the filmmaking, Jeremy Seifert!
Sign-up to receive our Secure Arkansas alerts here.
Also, be sure to forward this email to your family and friends!
Local control of water and our freedom from fluoride poison are important!
As always, you can find our email articles posted on our website: SecureArkansas.com.  The Search box is a handy tool.
For more information about FLUORIDE, just type it into the Search box on our website, and click Enter!
Securing the blessings of liberty,
Secure Arkansas
securetherepublic.com/arkansas
[email protected]
Share This Article