Part 2: Rebuttal to ADH Fluoridation Testimony to Ark. Joint Health Committee 10/05/15 (minutes 10-20)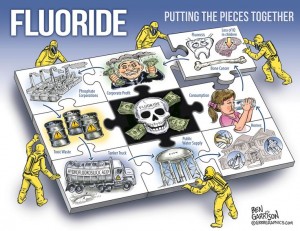 The Arkansas Department of Health (ADH) presented their views regarding water fluoridation at the Joint Public Health, Welfare and Labor Committee meeting on October 5, 2015  for 53 minutes, including questions.  The opposing view by Sandra Young MD lasted only 10 minutes.
Shown in black font below is the transcription of the second 10 minutes of the meeting.  Representative Kelley Linck, Representative John Payton, and Dr. Nate Smith and Jeff Stone of the Arkansas Department of Health, were the only speakers during this segment.
The text in red font shows Secure Arkansas' written comments about each speaker's statements after the fact.  Our intention is to continue to offer a rebuttal.  Stay tuned for future alerts, as we will be addressing and refuting more of their statements that were made during the meeting.
ADH Nathaniel Smith MD, MPH, Director, State Health Officer speaking
(begin at 10:14 of the full audio file)
I want to spend the remainder of my few minutes talking about some issues that have been sort of out there either on internet or emails that will require positive clarification.
One is the definition of dental fluorosis. It is true that about approximately 10% of the children consuming water at the recommended fluoride concentration of 0.7 ppm will develop very mild dental fluorosis and [From where does this the above percentage come? The most recent data we could find was from the years 1999-2004. November 2010 data brief 'Prevalence and Severity of Dental Fluorosis in the United States, 1999-2004  "Adolescents aged 12-15 had the highest prevalence of dental fluorosis (40.6%) (Figure 2). The prevalence is lower among older age groups. The lowest prevalence was among those aged 40-49 (8.7%). The prevalence of  dental fluorosis among children aged 6-11 (33.4%) was lower than the prevalence among those aged 12-15 (40.6%") Also see Dental Caries and Dental Fluorosis at Varying Water Fluoride Concentrations, Journal of Public Health Dentistry. As far as we can tell, there isn't any recent data gathered for effects on dental fluorosis at concentrations 0.7ppm. ]
I'm going to show you a photo of what that means, and I will say I have either a very mild or mild dental fluorosis myself but not from drinking fluoridated water, but part of my childhood was spent in a part of Africa where the natural occurring levels of fluoride were well above the recommended levels.
Those of you that have either met me or talked to me probably (noticed) my teeth don't look like the hideous pictures that are out there on the internet.
In fact, the only one that ever mentioned it to me is one of my dentist who was the dentist I saw for my many of years while I was living and working in Africa, and he only recognized it because he had seen other cases due to high naturally-occurring fluoride levels.  The upside of it is that I have never had a cavity, and I think that is a pretty good trade-off.
These pictures of severe fluorosis that are out there just do not occur at this 0.7 ppm.  That concentration of fluoride in water does not cause moderate or severe dental fluorosis, and this is very mild fluorosis.  [0.7ppm of fluoride concentration in the water may not cause moderate to severe fluorosis, but a combination of what your child is eating and drinking, and if they're swallowing their toothpaste when their teeth are developing, could cause this type of damage. If it's damaging the teeth, it is also damaging the bones! What's really tragic is that the public is not being warned that there really is a such thing as an over consumption of fluoride… so, how does the ADH manage individual dose from water and all other sources to ensure that children are not consuming over the recommended amount on a daily basis? With increasingly out of control exposures to fluorides, our children are at risk for dental fluorosis and much more. These unmonitored exposures are irrational and irresponsible!]  There are some very, very small kind of white areas at the lower part of the upper teeth. You may or may not be able to detect it and you certainly wouldn't pick it up as a cosmetic issue.  In most cases, it is actually in the back teeth that can't be seen anyhow. [The index used to determine the classification of fluorosis is the Dean's Fluorosis Index:  an Assessment of Examiner Reliability
"Dean's index has remained popular because of its simplicity and its ability to make comparisons with numerous earlier studies.
Dental Fluorosis and its Indices, what's new?  Conclusion: "Dental fluorosis used to be regarded as merely a cosmetic problem, but now it is seen as a condition that affects the esthetic, emotional, social, and even psychological aspects of an individual's life. Therefore, research is ongoing to improve the validity of its instruments of measure".
This is mild fluorosis which is a little more conspicuous but certainly not the kind of photos that have been shared around by emails and internet.  [There is a short video on dental fluorosis by clicking here.  The 2006 National Research Council (NRC) report on Fluoridation in Drinking Water states that the time of risk of fluorosis is in the first 6-8 years of life.  For the anterior teeth, which are of the most aesthetic concern, the greatest risk is in the first 3 years of life.  Severity of fluorosis is related to the duration, timing, and dose of fluoride.  A study in the Journal of Public Health Dentistry states that fluorosis prevalence is 21.7% when fluoride levels are 0.3-0.7 ppm and 29.9% when levels are 0.7-1.2 ppm  I am including a picture of a 6 year-old patient of mine with dental fluorosis (below) whom I saw earlier this year. He has lived in rural Arkansas all of his life.  And I do have to say that there sure are a lot of "Smile" dentists advertising to put veneers on teeth. – S. Young MD]
Secure Arkansas attended a water board meeting earlier this year in rural Arkansas where we heard a manager complain, "We have spent a lot of money installing equipment to take out the natural occurring fluoride because even in it's natural element it was causing harm, and now the state is mandating us to put in artificial (toxic chemical) fluoride! What in the world is going on here? I don't get it… I just don't get it!"
Couple of other safety issues that have been brought up that have been concerns, medical complications.  There is no credible evidence… [The evidence is there, but some refuse to look. Why are some doctors and dentists in denial?]  …that fluoride causes cancer, fractures, thyroid disease, lowered IQ, or any other medical complications at the recommended concentrations of 0.7ppm. [The term "concentration" can be applied to any kind of chemical mixture. Dose-response and concentration-effect should be studied in all fluoridated areas.]
[The 2006 NRC report on Fluoride in Drinking Water reviewed many studies showing harm from fluoride.  Paul Connett PhD gives an overview for nonscientists of some of the NRC's conclusions at this link. However, absence of studies does not mean absence of harm. I have written articles that were published on the Secure Arkansas website demonstrating both a correlation with cancer and with lowered IQ.  These can be found by clicking here and by clicking here.  Numerous studies have associated fluoride with hypothyroidism.  Some fluoride studies are summarized here. Further information can be found by clicking here.  Discussion of the association of fluoridation with arthritis, fracture risk, diabetes, cardiovascular disease, endocrine disruption, hypersensitivity, gastrointestinal effects, kidney disease, male fertility, pineal gland, skeletal fluorosis, and acute toxicity are discussed at this link.
Regarding the concentration of 0.7 ppm of fluoride compared with animal or epidemiological studies that use higher levels:  What the animal and biochemical studies do is help establish the biological plausibility of epidemiological findings. There have not been any studies to determine the margin of safety.  Skeletal fluorosis has been treated as the only adverse health effect of concern.  We should not have to prove absolute proof of harm.  CDC (Centers for Disease Control), ADA (American Dental Association), DOH (Department of Health) should prove absolute proof of safety.  In the time that it takes to get definitive, scientific proof that a chemical or practice has caused harm, the health of some people has been damaged irreversibly.  Many of the effects are irreversible, such as loss of IQ.  To what extent there are others, we don't know, but the animal studies indicate that it may be quite extensive.  When there is reasonable doubt about safety, we should err on the side of caution.  Studies show that the effect of fluoride is topical, not systemic.  – S. Young MD]
**Here is the link to a Review on Fluorine by Sandra Young MD which we emailed to our Action Alert list on 10/5/2015: http://securetherepublic.com/arkansas/2015/10/05/review-on-fluorine-fluoride-mtg-reminder-for-mon-10515-at-100-pm/
ADH Dr. Nate Smith still speaking: Now there are articles out there studying populations who are exposed to much, much higher levels of fluoride, and just by analogy, if you had people drinking ocean water, that would not be applicable to those drinking water out of our tap. Sodium concentration is much higher… In this case, those populations not up to those drinking community water at the concentration ratio of 0.7ppm.  [Again, I want to emphasize that the fluoride dose is cumulative; that is, it accumulates in our body.  It may take 3 years to get the same amount of fluoride in the body as someone drinking fluoridated water at 2 ppm.]
[Many communities are reversing previous fluoridation practices and rejecting fluoridation.  Snowmass, CO stopped adding fluoride to their water system.  Dentists in the area wrote a letter in support of that decision. They concluded that "there are better and safer ways of managing tooth decay." Portland, OR (pop. 900,000), Albuquerque, NM (pop. 500,000), Wichita, KS (pop. 385,000) and others have rejected fluoride.  Many communities in Canada have stopped fluoridation.  Israel (over 7 million) has banned fluoride from any community.  97% of Western Europe has rejected fluoridation, and their tooth decay rates are decreasing at the same rate as fluoridated communities.  Decay rates are not increasing when fluoridation is stopped.  – S. Young MD]
The warning label on toothpaste is also preventive concern. Toothpaste has a fluoride concentration much, much higher than our water in a range of 1,000 to 1,500 ppm on compared to the recommended concentration 0.7ppm in drinking water, and toothpaste is not intended for ingestion. Now, my understanding is that the American Dental Association has questioned whether we need that label because you really need to consume a whole lot of toothpaste in order have any kind toxicity, but we are talking about very, very different concentrations here.
[The recommended amount of toothpaste for children is a pea size on their toothbrush. Just how much is a 'pea-sized amount'? Would you drink your toothpaste? See this water/toothpaste conversion chart at the fluoride concentration of 0.7ppm.
Dr. Hans Moolenburgh, fluoride fighter of the Netherlands, reported that one of the first symptoms seen in fluoridated Amsterdam was small, white, very painful sores in the mouth (aphthous stomatitis). Later, he saw this regularly in the users of fluoridated toothpaste.]
Dr. Hans Moolenburgh
And another issue and for the final issue that I will end with here is fluoridation chemicals.  Again, the safety of these chemicals are assured in Arkansas of by the Arkansas Department of Health by requiring that all the chemicals meet the NSF National Sanitary Foundation Standard 60 for drinking water chemicals. [We believe that Arkansas Department of Health isn't following all state laws which include NSF 60 and AWWA standards. ADH doesn't necessitate verification testing on the raw fluoride chemical products to confirm that it matches the certificate of analysis of the product shipped to water plants.] It requires among other things that the product be analyzed for any potential impurities; any potential impurities well below anything that would cause safety issues in human health.  [Once again, we must mention that the fluoridation chemical is tested once a year by NSF. 'Impurities' also known as contaminants which vary from batch to batch, but for 364 days a year, the chemical is not tested.]
And another side thing here…
I have seen some concern that the fluoride that is added to the water is different from the natural occurring fluoride.  Fluoride in its solid form is dissolved in water is sort of like a salt. In sodium chloride is a table salt, and when it is dissolved in water, you have the sodium ion, and you have chloride ion.  It's the same as fluoride.
In fact, here is sodium fluoride that's added to the water.  You have your sodium ions, and you have your fluoride ions. [(Nationally, approximately 90% of fluoridating communities use hexafluorosilicic acid, and only 10% use the more expensive sodium fluoride.)
From what I can find out, all of the water treatment plants in Arkansas use hexafluorosilicic acid. Silicon fluorides do not occur naturally in nature. They are a by-product of the phosphate fertilizer industry.  It is a combination of two toxic gases:  hydrogen fluoride HF and silicon tetrafluoride SiF4 captured with a spray of water to form hexafluorosilicic acid H2SiF6 .  Under international law, this cannot be dumped into the sea, but a dilution of 180,000 to 1 is supposed to protect against all harm when it is added to the domestic water supply. Guess there's not enough ocean water to dilute it this much.  – S. Young MD]
Whatever those fluoride ions were paired with in solid form, once it is dissolved in water, it is all the same fluoride, so it doesn't matter whether it is calcium fluoride or sodium fluoride or some other fluoride salt. Once it is dissolved in water, it is the same fluoride branch.  [That's not the whole truth, here's the rest of the story.]  [While this will disassociate in neutral pH water to individual ions, in the acid environment of the stomach they reassociate with each other.  But while dissociated, fluorine, being the most reactive of all the elements, forms chemical compounds with almost every other element.  While those compounds might not be chemically reactive, they are very biologically active.  In the pharmaceutical industry, fluorine is considered to be an enhancer because it enhances the action of a drug. Many of the drugs that have been recalled have had fluorine added to them:  fenfluramine (from the Phen-Fen diet), Floxin, Baycol (Cerivastatin), to name a few.  If there is any metal in the water, fluoride will bind with it preferentially.  It prefers to bind with calcium and aluminum, however will bind with any metal.  It takes only micromolar amounts of aluminum to bind with fluoride.  Aluminum fluoride complexes are the cause of most of the adverse biological effects of ingesting fluoride.  (As an aside, enzymes have an "active center".  Frequently, metal ions like magnesium Mg2+, zinc Zn2+, and copper Cu2+ are at those sites.  Fluoride can interfere with enzyme function either by binding with the metal at those sites or by forming a competing hydrogen bond at this same active site.)  For a more detailed discussion, go to the following link for a report titled The Biochemistry and Physiology of Metallic Fluoride.  – S. Young MD]
The last issue I'd like to mention is local control because this came up especially in the last legislative session. [Yes, we supported HB 1355, the local control bill that was introduced this last legislative session.  Again, freedom of choice is an important factor when it is comes to water fluoridation. ACT 197 passed in 2011 which mandated water fluoridation.  Many felt it was forced upon us, and we were not allowed our freedom to choose in the matter.] Just a reminder that it is the poor and vulnerable Arkansans who are most affected by low fluoride levels, and they are the ones who have least access to dental care… [A large percentage of dentists won't  accept Medicaid and because of this dental emergencies persist even after the poor gain health coverage] …and they have less ability to take care of their oral health. The benefits of community water fluoridation are higher to them because they have less options when their teeth have problems.
[Actually, it's the poor and vulnerable who are harmed the most by water fluoridation!]
Susceptible populations
(Canadian NRC 1977, US NRC 2006, ATSDR)
The National Research Council (NRC) has acknowledged that kidney patients, diabetics, seniors, and infants are susceptible groups that are especially vulnerable to harm from fluorides.
In the last few years, there have been steep increases in the data from these reports. We have added the current statistics of the susceptible subgroups of the population which retain more fluoride because…
they either drink a lot more water (diabetes, construction workers in hot climates, athletes – see NRC report Section 2, "High Intake Population Subgroups."),

consume more fluoride on a dose/kg basis because they are smaller (infants and toddlers) or

because they are unable to excrete fluoride properly (the elderly, people with renal failure).
Diabetes – Of the 29.1 million, 21.0 million were diagnosed, and 8.1 million were undiagnosed. In 2012, 29.1 million Americans, or 9.3% of the population, had diabetes. Approximately 1.25 million American children and adults have Type 1 diabetes.
Currently, nearly 16% as of 2007, 2010 one in 10 American adults, more than 20 million, have some level of (CKD) renal disease.
Currently, more than 12% of the U.S. population will develop a thyroid condition during their lifetime.  An estimated 20 million Americans have some form of thyroid disease. Up to 60 percent of those with thyroid disease are unaware of their condition. Underactive thyroid (hypothyroidism) nearly twice as likely in fluoridated communities.
27-44% of diets are low in calcium, magnesium, iodine (EPA/CDC)
Promoters of fluoridation never seem to be able to cope with the effects of this noxious substance on those unfortunate enough to have a serious medical condition. These sufferers are the lost equation. They are never considered because of propaganda that is circulated by 'sponsored' governments and 'grant-dependent' scientists who repeatedly reassure us that there is nothing wrong with fluoride. Also, we must not forget the dentists who believe that their practices now extend beyond the dental surgery door and into medical practice.  What happens to our bodies outside the dental cavity is not in their scope of practice.]
ADH Dr. Nate Smith: Also local water operator not fluoridating may save them a bunch, but it is going to cost their community and state at least $38 dollars. [We really would like to know:  just how much is a "bunch" of savings for the water operator?] And so that becomes an issue where what makes sense to a local water operator doesn't make sense at all to a physically conscious state and community. [Why is Dr. Nate Smith bringing this up again? Secure Arkansas will address the $38.00 dollar statement once more. I guess he thinks if it is repeated often enough, people will actually believe it.
The statement "For every dollar spent on fluoridation, $38 is saved in dental costs"  is taken from a report written by members of the Oral Health Division of the CDC. Two of its three authors, Susan Griffin and Scott Tomar, also wrote the report mentioned in "Every major dental and medical authority supports fluoridation".  Griffin et al inflated the benefits of fluoridation and ignored the costs of any side effects, including the one effect no one can deny: dental fluorosis. Cosmetic veneer treatment for fluorosis costs upward of $1,000 per tooth. The CDC authors also allowed a loss of earnings of $18 an hour for time off work to get a dental filling. Not all people lose pay when they get dental treatment, and children certainly don't.
Recent economic evaluations of Community Water Fluoridation (CWF) contain defective estimations of both costs and benefits. Incorrect handling of dental treatment costs and flawed estimates of effectiveness lead to overestimated benefits. The real-world costs to water treatment plants and communities are not reflected.
Conclusions: Minimal correction reduced the savings to $3 per person per year (PPPY) for a best-case scenario, but this savings is eliminated by the estimated cost of treating dental fluorosis.]
Dr. Nate Smith:  I am very glad you asked that question. And I have with me Jeff Stone, our chief engineer, and he will give a better quality answer than I would be able to give.
Jeff Stone: There are three ways that ensure that only the right amount of fluoride is added. First of all, we make sure that the working amount of fluoride within their plant ready to feed is only enough for that day or 2 or 3 days, and then they have to refill that to where if there's any overfeeds will be limited. [He's actually admitting that there is a possibility of an overfeed! What exactly does he mean when he says "overfeeds will be limited"? Will an overfeed be more than the EPA's maximum contaminant levels? ]
Secondly, and most importantly, each fluoride installation of water systems, the water operator is are required to have an analyzer to where he can take daily checks and know that the amount he thinks he's feeding is in fact the amount that he is feeding.  The third way is that we also set up a schedule for the water systems to send us a check sample in once a month where we analyze it on more sophisticated laboratory equipment to give that operator feedback on whether his instrument in his plant is giving accurate results or not.  The second part of your question, "Can this concentrate out in other areas and remote lines?" The answer is "no".  It's a fact of the chemistry that once you dissolve fluoride and it disperses into the water, nature wants things to be dispersed, and only some sort of intervention could come in and concentrate it again. It may not be a perfect analogy, but it would almost be similar to smoke dissipating into the air.  You never see smoke concentrating again.  It dissipates, so… (21:08)  [Fluoride never dissipates (disappears) from the water!  If fluoride can't be boiled out of the water, it sure hasn't disappeared like "nature wants things to be dispersed " as Jeff Stone quoted.
Rep. John Payton: Well, I appreciate that answer, but let me clarify. At the plant where they add the fluoride, there's no type of monitoring equipment – it's dependent upon somebody pulling a sample and that sample being tested?
Jeff Stone:  The pump that adds fluoride is sized to add the right amount.  The operator has an analytical piece of equipment to do a daily check, and then we have a monthly check sample.  We do not rely on a constant, continuous analyzer to give a computer-type readout on concentration because the accuracy of such equipment is highly dependent on calibrations and… and those sort of things.
Rep. John Payton:  So, equipment exists… it's just not as reliable as depending on somebody to pull… a sample?
Jeff Stone:  That pulling of the sample keeps the operator directly involved in the concentration and monitoring of it and not relying on a number on a screen that may be subject to instrumentation differences.  [Wouldn't it be more protective to use both methods to ensure every  precautionary measure is taken?]
Rep. John Payton:  Ok, thank you, Mr. Chair.
***ADH Dr. Nate Smith:  And I, maybe, just add to that a reminder, we've been doing this for decades and decades, and so it's, it's pretty well worked out, and safety features have, you know, it's not proved to be a safety concern in… in places where we've been fluoridating for, you know, seventy years, so… [Fluoride overfeeds do happen and are many times not reported. There are some small water plants in Arkansas that do not have anyone monitoring the system on weekends. Here's one example of not reporting overfeeds like San Antonio,Texas. "To put this 2004 Fluoride "spill/overfeed" into perspective, 280ppm is approximately twice the level estimated in Hooper Bay Alaska in 1992, when a Fluoride "spill/overfeed' resulted in death. Hydrofluosilicic Acid, the toxic waste byproduct of the Florida Phosphate Fertilizer Industry used to "Fluoridate" is tasteless and odorless; therefore, human exposure symptoms (sickness) are the only way that the 2004 "spill/overfeed" was detected." In fact, the "overfeed/spill" in 2004 was reported to a local TCEQ employee, who apparently did not know the regulations or chose NOT to follow them."  Fluoridation is forced medication in itself, but these overfeeds are mass medication on a grand scale.]
THIS JUST IN:
*Mosaic Fertilizer Lawsuit Settlement   (October 1, 2015)
Violations
Mosaic produces phosphorus-based fertilizer that is commonly applied to corn, wheat, and other crops across the country. Sulfuric acid is used to extract phosphorus from mined rock, which produces large quantities of a solid material called phosphogypsum and wastewater that contains high levels of acid. (They are talking about fluorosilicic acid which is what is used for water fluoridation. (see below highlight) EPA inspections revealed that Mosaic was mixing certain types of highly-corrosive substances from its fertilizer operations, which qualify as hazardous waste, with the phosphogypsum and wastewater from mineral processing, which is a violation of federal and state hazardous waste laws.
Mosaic will pay a $5 million civil penalty to the United States and $1.55 million to the State of Louisiana and $1.45 million to the State of Florida, who joined EPA and the U.S. Department of Justice as plaintiffs in this case and who will assist EPA in implementing the terms of the settlement.
EPA inspected Mosaic's phosphate production facilities in Florida and Louisiana and alleged the following violations under the Resource Conservation and Recovery Act (RCRA):
Failure to make hazardous waste determinations for scrubber effluents, fluorosilicic acid-production wastes, product spills and leaks, and wastes from cleaning pipes and tanks (40 C.F.R. § 262.11);

Treatment, storage and disposal of hazardous wastes without a permit or interim status (42 U.S.C. § 6925(a) and 40 C.F.R. Part 264, Subparts A-G, K, and CC);

Failure to perform land disposal determinations and to meet land disposal restrictions for hazardous wastes (40 C.F.R. Part 268);

Failure to provide adequate financial assurance for closure, long-term care, and third-party liability (40 C.F.R. Part 264 Subpart H); and

Failure to comply with recordkeeping requirements (40 C.F.R. § 262.40).
Rep. John Payton: Thank you.
(end at 22:51 of the full audio file for this article)
= = = = =
Click here to watch part of the video about Arkansas Department of Health Claims
Click here to watch part of the video about Local Control and Questioning of ADH by legislators
Click here to watch part of the video about Engineering Question
Click here to listen to the audio-only of the second 10 minutes.
Stay tuned for Part 3…
Be sure to forward this email to your family and friends!
They may also sign up to receive our Action Alerts by clicking here.
Local control of water and our freedom from fluoride poison are important!
As always, you can find our email articles posted on our website: SecureArkansas.com.  The Search box is a handy tool.
For more information about FLUORIDE, just type it into the Search box on our website, and click Enter!
Securing the blessings of liberty,
Secure Arkansas
securetherepublic.com/arkansas
[email protected]
Share This Article