ADH Administrative Meeting 11/2/2015 – Concerning Water Fluoridation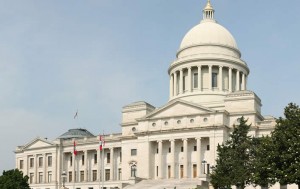 The Arkansas Department of Health is having an Administrative Committee Hearing on Monday, November 2, 2015 at 1:30 pm.
"This is an administrative hearing concerning water."
The Arkansas Department of Health sent out "orders to appear" to several water board members to attend this hearing. We're not sure what is going to happen.
YOUR presence is requested by Secure Arkansas to support the water board members who have been served with an "order to appear" concerning fluoridation.
Address:
Freeway Medical Tower
5800 West 10th St.
Little Rock, Arkansas 72205
Room 906
Click here for the map to 5800 W. 10th Street, Little Rock, Arkansas
If you're unable to attend, PLEASE call the Arkansas Department of Health at 501-661-2000 and/or Robin Michaels, the ADH Compliance/Enforcement Officer at 501-661-2623 and voice your opposition to water fluoridation in Arkansas!
Fluoride is a toxic chemical that is doing harm to the public and does NOT belong in our public water supply! We object to being mass-medicated!
Fluoride inhibits the DNA from repairing the cells which is one of the reasons why cancer is so prevalent today in the fluoridated areas.
| | | | |
| --- | --- | --- | --- |
| Date / Time | Meeting / Event | Location | Agency/Division |
11/02/2015

1:30 PM

5800 West 10th Street

Little Rock AR 72205

906

Health, Department of
ADH sets the rules, and they are also the judge!
Administrative Procedure Guide – The Administrative Procedure Guide (APA) serves as a  guide on the requirements of the APA for Board members and centers and branches within the Department.  This handbook also describes the role of the Board within the framework of the Administrative Procedures Act.
By-Laws of the Arkansas State Board of Health [Board]  – The mission of the Board is "to protect and promote the health of the people of Arkansas. The Board acts as an advocate for all Arkansas citizens, particularly those whose health is at greatest risk – the young, the elderly, the poor, the medically underserved, and those exposed to environmental hazards."
The By-laws state, "The Board shall have general supervision and control of all matters pertaining to the health of the citizens of the State of Arkansas."
Secure Arkansas SERIOUSLY questions the water fluoridation mandate that was passed in 2011!
Rules and Regulations Pertaining to Public Water Systems – The Arkansas State Board of Health website states:  "These Rules and Regulations are adopted for the purpose of ensuring that all persons in the
State of Arkansas receiving water from a public water system are provided with ample quantities of safe, palatable water which is in full compliance with the National Primary Drinking Water Regulations."
Fluoridated Water – Population Served 2007 – 2008 – This is a link to a map showing the percent (%) of each of the 75 Arkansas counties that are fluoridated with the toxic chemical poisons.
Arkansas State Board of Health
We would like to know:  why is the last Quarterly Meeting for October 2015 missing from the ADH website?
Note below: Nate Smith is is the Secretary
2015 Quarterly Meetings
Date

Time

Location

01.22

10:00 am

Freeway Medical Tower

5800 W.  10th St., Room 906

Little Rock, AR  72204

04.23

10:00 am

Freeway Medical Tower

5800 W.  10th St., Room 906

Little Rock, AR  72204

07.23

10:00 am

Freeway Medical Tower

5800 W.  10th St., Room 906

Little Rock, AR  72204
**Please note that the 4th Quarter Board meeting for October 22, 2015 is missing completely both from ADH site and the Arkansas Government Public Meeting Calendar.
State Board of Health Members
Members

Term Expiration

No Photo Available

Lawrence Braden, M.D.,  President

12.31.17

District 2

Jim Lambert,  President Elect

12.31.16

District 4

Nathaniel Smith, MD, MPH

Secretary/Director

ADH Director

Glen "Eddie" Bryant, M.D.

12.31.16

District 1

Clark Fincher, M.D.

12.31.16

District 2

Anthony N. Hui, M.D.

12.31.16

District 3

Terry Yamauchi, M.D.

12.31.15

At Large

Marvin Leibovich, M.D.

12.31.16

At Large

Dr. James Zini, DO

12.31.16

At Large

Catherine Tapp, MPH

12.31.16

APHA

Beverly Foster, DC

12.31.17

Chiropractor

George Harper, JD

12.31.16

Consumer

Robbie Thomas Knight, M.D.

12.31.17

Consumer

Alan Fortenberry, P.E.

12.31.17

Engineer

Jim Lambert

12.31.15

Hospital Administrator

Patricia Westfall-Elsberry, O.D.

12.31.15

Optometrist

Gary Bass, Pharm D

12.31.18

Pharmacist

Anika Whitfield, D.P.M.

12.31.16

Podiatric

Peggy Walker, RN, MSN

12.31.16

Registered Nurse

Mary Beth Ringgold

12.31.17

Restaurant operator

Susan Jones, M.D.

12.31.16

Rural Physician

Thomas Jones, R.S.

12.31.16

Sanitarian

Larry Fritchman, D.V.M.

12.31.16

Veterinarian

Miranda Childs-Bebee

12.31.17

Greg Bledsoe, MD, MPH

Arkansas Surgeon General
Arkansas Government Public Meetings
All agencies are required to publish the notices not less than three (3) days before the meeting or hearing is scheduled to take place. This requirement does not apply to emergency or special meetings that meet the requirements of
§ 25-19-106(b)(2) (From Title 25, Chapter 19, Open public meetings FOIA
(2) In the event of emergency or special meetings, the person calling the meeting shall notify the representatives of the newspapers, radio stations, and television stations, if any, located in the county in which the meeting is to be held and any news media located elsewhere that cover regular meetings of the governing body and that have requested to be so notified of emergency or special meetings of the time, place, and date of the meeting. Notification shall be made at least two (2) hours before the meeting takes place in order that the public shall have representatives at the meeting.
The following is from the By-Laws of the Arkansas State Board of Health Board
Section 6. Agenda. The Secretary of the Board Director of the Department of Health shall cause, at least seven (7) days prior to any regular or special meeting of the Board, an Agenda of the matters to be discussed at such regular or special meeting to be placed in the United States mail or via electronic means addressed to each member of the Board of Health.
Be sure to forward this email to your family and friends!
They may also sign up to receive our Action Alerts by clicking here.
Local control of water and our freedom from fluoride poison are important!
As always, you can find our email articles posted on our website: SecureArkansas.com.  The Search box is a handy tool.
For more information about FLUORIDE, just type it into the Search box on our website, and click Enter!
Securing the blessings of liberty,
Secure Arkansas
securetherepublic.com/arkansas
info@securetherepublic.com
Share This Article