The Lead Poisoning Crisis: Now In 11 States and Across America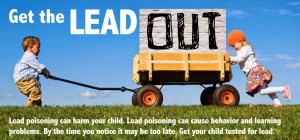 There is no safe level of lead exposure for a child – especially when it comes to ingestion of lead in food and water.
LEAD poisoning is truly a national crisis! States affected (and we believe that unfortunately this list will continue to grow) are: Michigan, Indiana, Ohio, Texas, Florida, Pennsylvania (multiple cities), California, Alaska, Louisiana, Virginia, New York, Navajo Nation… and any other place that has been fluoridated will be affected!
The so-called health experts are zeroing on the lead pipes when the real problem is the chemicals that are used which go through the water supply lines. Fluoride is one of the chemicals that must be eliminated — not only for health reasons but also to save the infrastructure. Fluoride is known to leach lead from meters, lead pipes, and copper fittings and also to burn holes in concrete. Fluoride was never meant to be ingested. This is a very important point: the fluoride added to your water is NOT pharmaceutical grade. It's a toxic industrial waste by-product, which is also contaminated with lead, arsenic, aluminum, radionucleotides and other dangerous industrial contaminants.
The Center for Disease Control (CDC) states that NO safe blood lead level in children has been identified, and it goes on to state that even low levels of lead in blood have been shown to affect children's IQ, ability to pay attention, and academic achievement. The effects of lead exposure cannot be corrected. CDC now use a reference level of 5 micrograms per deciliter to identify children with blood lead levels.
Nearly 10 percent of the more than 140,000 children tested in Pennsylvania had levels of 5 or more micrograms per deciliter of lead in the blood (5 µg/dL) — this is the threshold the government uses to identify children with dangerously elevated blood lead levels. One percent tested positive for blood lead levels greater than 10 µg/dL.
Another example of a state that is in the same predicament as Flint, Michigan is Jackson, Mississippi:
Repeat sampling shows 2 out of 13 original locations tested high

Chloramine + Lead Pipes + Fluoride = Contaminated Tap Water
Chloramines and lead pipes: not so good together. U.S. water utilities are switching to chloramines, a mixture of chlorine and ammonia, for final disinfection of drinking water supply. Chloramines drastically increase the leaching of lead from pipes as does the fluoride products. Chloramine itself has been associated with severe respiratory toxicity and skin sensitivity.
In research published in the scientific journal Neurotoxicology, researchers found that the mixture of the two chemicals: disinfectant (whether chlorine or chloramine) with fluorosilicic acid has a drastically increased potency, leaching amazingly high quantities of lead.
Where does this lead go? Into our drinking water and right on into our bodies, where it wreaks havoc by poisoning our heart, kidneys, and blood, causing irreversible neurological damage and impairing reproductive function.
Do we even need fluoride in tap water? The mixture of chloramine and fluorosilicates in drinking water causes extensive leaching of lead. We cannot dispense with water disinfection – everybody acknowledges this. Thus, chlorine and chloramine are probably here to stay for some time. On the other hand, fluoride, or specifically — water fluoridation with fluorosilicates — is quite dispensable.
As we now know, the main benefits of fluoride for dental health are derived from surface application on the teeth, not from ingestion.
Study Finds Correlation Between Fluorides in Water and Lead Levels
HANOVER, N.H. —Although the dangers of lead poisoning have been known for years, substantial numbers of children continue to suffer from blood lead above danger level of 10 micrograms per deciliter of blood (10µg/dL).
A study published this month in the International Journal of Environmental Studies, and led by Roger Masters, Emeritus professor of government at Dartmouth, describes a factor that is correlated with higher lead levels in children. Analyzing a survey of over 280,000 Massachusetts children, the investigators found that silicofluorides — chemicals widely used in treating public water supplies — are associated with an increase in children's absorption of lead. The research team included Myron J. Coplan, retired Vice President of Albany International and principal of Intellequity, Natick, Mass., and Brian T. Hone, research associate at Dartmouth College.
In their analysis, the investigators found that levels of lead in children's blood was significantly higher in Massachusetts communities using the silicofluorides fluorosilicic acid and sodium silicofluoride than in towns where water is treated with sodium fluoride or not fluoridated at all. Compared to a matched group of 30 towns that do not use silicofluorides, children in 30 communities that use these chemicals were over twice as likely to have over 10µg/dL of blood lead.
Fluoridation Increases Lead Absorption in Children
The chemical most commonly used to fluoridate America's drinking water is associated with an increase in children's blood lead levels, according to research being presented to the 17th International Neurotoxicology Conference ("Children's Health and the Environment," Little Rock, Arkansas, October 17-20, 1999).
In research published in the International Journal of Environmental Studies (September 1999), Masters and Coplan studied lead screening data from 280,000 Massachusetts children. They found that average blood lead levels are significantly higher in children living in communities whose water is treated with silicofluorides.
Lead poisoning can cause learning disabilities, behavioral problems, and at high levels, seizures, coma, and even death, according to the U.S. Centers for Disease Control (CDC). "Lead is a highly significant risk factor in predicting higher rates of crime, attention deficit disorder or hyperactivity and learning disabilities," says Masters. In an interview with the Coalition, Dr. Masters said that in still another study, now in press, his research team found higher rates of violent crime and substance abuse in silico fluoridated communities. "We're appalled that this month, the CDC celebrates fluoridation as one of the ten great public health achievements of this country, when science tells us it's harming our children," says Beeber.
When fluoride is added to a municipal water system that is already being treated with chloramine, lead-levels in that water system can increase by up to 800-900% (compared to lead levels for water treated with chloramine alone.) [This impact of the combined additives of chloramine and fluoride to water actually can result in lead levels (at the tap) measured as high as 900 ppb – which is 6,000% of the current EPA hazard level for lead in water (of 15 ppb.)]*
The mechanism by which this is happening is the combined chemical action of chloramine mixed with fluoride causing an increased corrosivity — acting on pipes, meters, fittings, and fixtures along the water delivery pathway (from the source to the tap), creating an increase in the amount of lead being leached from any lead and lead-containing brass alloys in the pipes/meters/fittings/fixtures, and an increased amount of bioavailable lead ending up at the tap.
AGAIN, there is no safe level of lead exposure for a child – especially when it comes to ingestion of lead in food and water.
*Originally presented at a State Lead Commission Hearing in Hannibal, Missouri in 1994:
All of the fluoride products used in the artificial fluoridation of water are contaminated with lead and arsenic. (We received the evidence from Margaret Stasikowski, an official with the EPA, in the form of copies of pages from Water Chemicals Codex, National Academy Press, Washington, DC, 1982.)
The EPA estimates that 10-20% of the lead in children comes from the water.
The fluoridation of water, with lead-contaminated fluoride, a substance also capable of leaching lead from the pipes.
Today, one in nine children under the age of six is said to have unacceptably high blood lead levels, even though lead paint was banned in 1978 (and hasn't been used extensively since the 1950's!). Lead in gasoline has been phased out, and lead solder hasn't been permitted on copper tubing since 1986 (eight years ago).
Here is a short history on how the hazardous contaminant fluoride ended up in our drinking water:
Fluoride: How A Toxic Poison Ended Up In Our Water Supply
The first thing you should know is that the fluoride they put in our drinking water is not a pharmaceutical grade additive. [Nor is it degradable.] Fluoride is a cumulative toxic poison. Some of the possible symptoms of Fluoride poisoning can be found by clicking here.
Fluoride is an industrial waste byproduct.
As aluminum production increased in the first half of the twentieth century, it became necessary to find somewhere to put the fluoride. Manufacturers could no longer get away with dumping it into rivers or landfills because it was poisoning crops and making livestock sick. Francis Frary, chief scientist for ALCOA, had an idea. He commissioned Gerald Cox at the Mellon Institute, to conduct research regarding the benefits of adding fluoride to the water supply. The Mellon Institute was frequently hired by big business to produce research that supported their industries, and for several decades they produced research showing that asbestos was safe and did not cause cancer.
They also produced reports assuring everyone that fluoride was not toxic and would be beneficial to add to our drinking water for healthy teeth.
Another proponent of the safety of fluoride at that time was scientist Harold Hodge, who was later revealed to to have been part of the the Human Radiation Experiment: injecting test subjects with plutonium and uranium in 1945-46. This was documented by Pulitzer Prize-winning reporter, Eileen Welsonne, in The Plutonium Files. Hodge was also chief toxicologist of The Manhattan Project, and fluoride was a key component in the production of the atom bomb. His studies were conducted with a bias toward proving fluoride safe, which would protect the government and industry from lawsuits.
Follow the money: The "research science" done to support water fluoridation was underwritten by some of these massive New World Order/Sustainable Development companies:
Aluminum Company of America (ALCOA) – Director Klaus Kleinfeld – born in Bremen, Germany. Mr. Kleinfeld also serves on the Brookings Institution Board of Trustees. He is Chairman of the U.S.-Russia Business Council which is dedicated to promoting trade and investment between the United States and Russia.

Rio Tinoto Alcan -(prior name Aluminum Company of Canada (Alcan)) Alcan started in 1902 as Northern Aluminum Company, the Canadian subsidiary of the Pittsburgh Reduction Company (later Alcoa). It was renamed Aluminum Company of Canada in 1925 and separated from Alcoa in 1928. In 2000, algroup became a subsidiary of Alcan Aluminium Limited, which was renamed Alcan Inc in 2001. In 2003, it acquired among other companies Pechiney of France. In October 2007, leading mining organisation Rio Tinto acquired Alcan. Alcan integrated with Rio Tinto's existing aluminium business, resulting in Rio Tinto Aluminium.

American Petroleum Institute (API) Jack N. Gerard is president and CEO of the American Petroleum Institute, the national trade association that represents all aspects of America's oil and natural gas industry. Prior to joining API, Gerard served as president and CEO of the American Chemistry Council, and earlier held the same position at the National Mining Association. Gerard also spent close to a decade working in the U.S. Senate and House. He came to Washington in 1981, and worked for Rep. George Hansen. He also worked for Sen. James A. McClure, who chaired the U.S. Senate Energy and Natural Resources Committee.

Dupont – Chair of the Board and Chief Executive Officer – Edward D. Breen, 59, is chair of the board and CEO. He joined the DuPont board of directors in February 2015, was named interim chair of the board and CEO on Oct. 16, 2015, and assumed his current role Nov. 9, 2015. Mr. Breen served as chairman and CEO of Tyco International plc ("Tyco") from July 2002 until September 2012. Over the course of his tenure, he transformed Tyco into a strong market leader, reviving the company from near bankruptcy and rebuilding the company's brand and credibility. He oversaw a successful restructuring, including divesting non-core operations resulting in the spin-offs of Covidien, TE Connectivity, ADT Corporation and the merger of Tyco Flow Control with Pentair. He also established and met goals within areas of operational excellence and corporate governance. Prior to joining Tyco, Mr. Breen held several senior management positions at Motorola from 2000 to 2002, including as president and chief operating officer.

Kaiser_Aluminum – Jack A. Hockema is Chief Executive Officer and Chairman of the Board of Directors. Mr. Hockema has served as Chief Executive Officer since October 2001 and Chairman of the Board of Directors since July 2006. Mr. Hockema also served as President from October 2001 to December 2015. Previously, Mr. Hockema served as Executive Vice President of Kaiser Aluminum and President of Kaiser Aluminum Fabricated Products. Prior to joining Kaiser in 1995, he was the principal in a metals industry management consulting and investment advisory firm and had held senior executive positions with Bohn Extruded Products, a division of Gulf+Western, and American Brass Specialty Products. In addition, he had previously been employed by Kaiser (from 1977 to 1982) in production/operations management positions at several Company locations. Mr. Hockema has served on the Board of Directors of Superior Industries International, Inc. since December 2014. He holds a Master of Science degree in Industrial Management and a Bachelor of Science degree in Civil Engineering, both from Purdue University.

Reynolds Steel – was acquired by ALCOA in June 2000.

US Steel – Mario Longhi is president and chief executive officer of United States Steel Corporation and serves on the company's Board of Directors. Since Longhi joined U. S. Steel in July 2012 as executive vice president & chief operating officer. He was appointed president and chief operating officer in June 2013 and was elected president and chief executive officer in September 2013. Prior to joining U. S. Steel, Mr. Longhi spent six years at Gerdau Ameristeel Corporation, serving first as president from 2005 through 2006 and then additionally in the role of chief executive officer from 2006 until 2011. Before his arrival at Gerdau Ameristeel, Mr. Longhi spent 23 years at Alcoa, Inc., which he joined in 1982 as a construction superintendent for the company's Alumar Refinery in his native Brazil. Mr. Longhi currently serves on the Executive Committee and Board of Directors of the World Steel Association. He is also vice chairman of the American Iron and Steel Institute (AISI), serves as a member of AISI's Board of Directors and is chairman of the association's Policy and Planning Committee. Mr. Longhi serves on the Board of Directors and Executive Committee of the National Association of Manufacturers. He is also a current member of the Association for Iron and Steel Technology.

National Institute of Dental Research – Director Martha J. Somerman, D.D.S. Ph D. Somerman has been director of the National Institute of Dental and Craniofacial Research (NIDCR) since August 2011. Prior to becoming NIDCR director, Dr. Somerman was dean of the University of Washington School of Dentistry, a position she had held since 2002. Before joining the University of Washington, Dr. Somerman was on the faculty of the University of Michigan School of Dentistry from 1991 to 2002. There, she served as a professor and chair of periodontics/prevention and geriatrics, and also held an appointment as professor of pharmacology at the School of Medicine. From 1984 to 1991, Dr. Somerman was on the faculty of the Baltimore College of Dental Surgery. Dr. Somerman received a bachelor's degree in biology and a D.D.S. from New York University, a master's degree in environmental health from Hunter College, and a Ph.D. in pharmacology from the University of Rochester. She completed her periodontal residency at the Eastman Dental Center in Rochester, New York.
Convincing the general public that we need to add fluoride to our water supply was one of the most sophisticated cons of all time. It created a multi-billion dollar industry and enabled manufacturers to sell this worthless toxic byproduct of aluminum to local municipalities for a profit.
PR (Public Relations) master Edward Bernays also known as "The Father of Spin" created the PR campaign to sell fluoride to the nation as an additive "recommended by your doctor and dentist for healthy teeth". He was a pioneer of modern propaganda and used the theories of mass psychology and persuasion to suit the needs of corporate and political organizations.
Bernays even created marketing campaigns for tobacco companies using the doctor and dentist endorsement.
He even wrote a book called Propaganda and another one called Public Relations. For you trivia buffs, he was also Sigmund Freud's nephew.
The main fluoride chemical added to drinking water today is hydrofluorosilicic acid, an industrial by-product from the phosphate fertilizer industry.
The Arkansas Department of Health state on their website that, "Most of the lead in household water usually comes from the plumbing in your house, not from the local water supply." (Secure Arkansas believes this is a false statement. Both chlorine and fluoride leach lead from meters, copper sweat fittings and lead pipe.)
Fluoride given to rats has been proven to cause bone cancer, liver cancer, and a host of other physical ailments.
Researcher Dr. Phyllis Mullenix was asked to study fluoride and was surprised to find and prove that fluoride is a neurotoxin and causes effects like hyperactivity, memory problems, and IQ problems similar to ADD/ADHD in laboratory rats. After submitting her findings, she was promptly fired from the Forsyth Dental Research Center. She went from being a leading neurotoxicologist at a Harvard affiliated research institute to an industry pariah. This assignment and her findings ruined her career as a grant-funded research scientist.
Not only does fluoride in water not help your teeth, too much of it causes permanent damage in young children's teeth between 3 months and 8 years old. This is called dental fluorosis. Fluoride also accumulates in the bones eventually causing a bone disease called skeletal fluorosis in adults.
It is illegal to dump fluoride into our lakes and rivers, but it is considered "perfectly fine" to put in our drinking water and toothpaste. (But we know it's not safe!)
Actually, cities with fluoridated water have higher cavity rates and higher cancer death rates when compared to cities with unfluoridated water.
Hidden sources of fluoride: Most commercial crops are watered with fluoridated water. These crops absorb the fluoride. Fruit juices from concentrate are reconstituted with fluoridated water, and bottled water, even if it's filtered, usually has fluoride in it.
Fluoride is still defended today for two reasons: the massive profit produced by selling it to local municipalities and the massive liability and lawsuits that would follow an admission that it is, in fact, toxic and harmful.
But the evidence shows it's much more than that. Let us tell you a tale of two cities –Tacoma, Washington, and Thurmont, Maryland. Both of them saw a significant decline in lead levels only six months after fluoridation was stopped.
Secure Arkansas is well aware that people in this state are greatly concerned about their drinking water and need to have free water testing available so that the added chemicals to our drinking water can be properly evaluated. Please remember, fluoride absolutely leaches lead from meters, solder, and plumbing systems AND is present in the raw chemical by-product that is added to our drinking water daily at the water plants. Once you learn about the nature of fluoride, you will never want to consume it again! Fluoride is an aggressive seeker of another electron! It's one the most electromagnetically negatively charged elements in the entire world, and it's basically one of the most interactive of all the elements.
Therefore we are asking Governor Asa Hutchinson for two things regarding our drinking water:
1) to provide us with a phone number so Arkansas residents can call for FREE water testing. All residents in Arkansas should take action immediately and call the governor at 501-682-2345! Safe drinking water is extremely important to our health and well being.
2) Secure Arkansas is asking our Arkansas governor to call for a moratorium on water fluoridation until further investigation can be safely conducted.
*Warning to mothers of infants: DO NOT use your tap water when mixing up powdered baby formula!
It's very important that you click here to read Erin Brockovich's letter to members of the Institute of Medicine / National Academy of Sciences.
One last question for Governor Hutchinson: How long are you going to ignore the outcry of Arkansas residents against fluoridation, lead poisoning, and other chemical poisoning? There is blatant injustice being perpetrated on the public! Our health matters!
Stay tuned!
Your friends and family may also sign up to receive our Action Alerts by clicking here.
Local control of water and our freedom from fluoride poison are important!
As always, you can find our email articles posted on our website: SecureArkansas.com. The Search box is a handy tool. For more information about FLUORIDE, just type it into the Search box on our website, and click Enter!

Securing the blessings of liberty,
Secure Arkansas
securetherepublic.com/arkansas
[email protected]
Share This Article