Lack of Corrosion Controls Raises Concerns About Lead in Water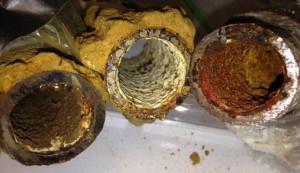 Becky Gillette, a reporter at the Eureka Springs Independent, has written another informative article about lead in water — this time addressing the lack of corrosion controls. You may read it online here or in its entirety below.
________________________________
Lack of corrosion controls raises concerns about lead in water
by Becky Gillette
Wednesday, February 10, 2016
Mayor Butch Berry said Monday he is seeking legal advice on whether the Carroll Boone Water District has violated its Memorandum of Agreement (MOA) with the city by not adding corrosion controls to the water – an action that could increase lead leaching from old pipes in the city. CBWD stopped using lime to control water acidity about three years ago, and in an email Feb. 5, confirmed it is not adding corrosion controls to the water.
The MOA between CBWD and its customers states, "The district shall produce a treated water that shall neither corrode nor scale the transmission lines or the user distribution lines of user Cities under the normal range of domestic operating conditions."
An article in the Arkansas Democrat-Gazette (ADG) last week looking at lead levels in water districts across the state concluded that only two districts are currently exceeding lead limits – one is Harrison Waterworks, a customer of CBWD.
"For corrosion control, utilities can either adjust the pH level in water – typically a lower pH is more acidic and more corrosive – or they can add orthophosphate to the water, which adds a protective coating on the pipes," said the ADG article by Chelsea Boozer. "Both aid in stopping deterioration of pipes, reducing the lead content in the water, officials said."
Lead in drinking water has drawn major scrutiny recently because of neurological harm, particularly to children. In 2014, when Flint, Mich., switched to improperly treated river water, lead leaching from old pipes occurred.
In Boozer's article, Jeff Stone, director of engineering at ADH, said, "In a lot of these problem areas, like Flint, it centers around lead-pipe service lines between the [water] main and the building. Due to Arkansas being a more recently built-out state, we don't have very many of those."
In 2008, Eureka Springs was under a mandate to reduce high lead levels in drinking water in some parts of town, and for two years the city dug up and replaced older lines. That reduced lead to below action levels, but Public Works Director Dwayne Allen said he is concerned that increased corrosiveness from fluoridation chemicals could be increasing lead and copper leaching.
Arkansas Dept. of Health spokeswoman Meg Mirivel said that compared to some other areas in the nation, Arkansas does have relatively fewer lead service lines in use. "There are some areas of the state that are more historic," she said. "People who are concerned about lead can, as a matter of habit, run the water for fifteen to thirty seconds before using it and only use drinking water from the cold faucet."
Mirivel said the ADH is monitoring water across the state to make sure it's in compliance with federal and state guidelines.
"The Democrat Gazette article mentioned that one of only two systems that tested above the action level for lead during the most recent round of testing is making plans to add a corrosion inhibitor," Mirivel said. "This is an appropriate action to take. If other systems also find corrosion occurring in a similar way, it would be appropriate for them to utilize a corrosion inhibitor."
Harrison Waterworks is considering adding orthophosphate as a corrosion inhibitor and adding corrosion controls at the CBWD plant, as required by the MOA, that would protect Harrison, Eureka Springs and Berryville.
Allen said prior to fluoridation in August 2015, water samples were taken in Eureka Springs and sent to the state laboratory, but there was such a backlog, results weren't received until November. He said those results showed the city was already close to exceeding lead limits. "Our 2015 ninetieth percentile for lead was 0.011 mg/l and 0.24 mg/l for copper, which does not leave much leeway for increased lead leaching."
Public Works has begun in-house testing to avoid delays with using the state lab. Allen said he expects to have post fluoridation test results this month.
There is widespread agreement among scientists and government agencies that there is no safe level of lead exposure, according to Pat Costner, a retired Greenpeace chemist and senior scientist.
"It is well known that fetuses, infants, and small children are far more vulnerable than adults," Costner told the Independent. "For example, young children absorb four to five times as much ingested lead as adults from a given source."
The greatest risk is to people who live in homes built before 1986. "Historic as it is, Eureka Springs has many old homes," Costner said. "However, homes built after 1986 can be at risk too, because brass pipes, plumbing devices and faucets can have high amounts of lead, as well."
Costner said too often the sampling and testing protocols approved for and used in testing for lead in tap water are flawed, so results do not reflect the actual lead levels.
"The situation can be improved if Carroll Boone Water District complies with its agreement to use corrosion control; if every home, school, and business has its own water filtration system; and even if people let their faucets run for several minutes before using the water," Costner said. "However, the only effective, long-term solution is to replace all pipes made of or containing lead, as well as plumbing fixtures and solders that contain lead."
Water operators at CBWD, who all opposed mandatory fluoridation, spoke out in legislative hearings and other venues about concerns that fluoridation chemicals might increase lead leaching and pipe failures.
In addition, it is not currently known how much lead is being added to the drinking water with the fluoridation chemicals. An article in the International Journal of Occupational and Environmental Health said contaminant levels of lead, arsenic, barium and aluminum in fluoride additives could vary widely from batch to batch. "Such contaminant content creates a regulatory blind spot that jeopardizes any safe use of fluoride additives," the study concluded.
Mirivel said the ADH is unaware of any evidence that would support the claim that National Sanitation Foundation certified chemicals meaningfully contribute lead to the drinking water.
Another issue is that CBWD uses long-tasting type disinfectants, called chloramines, because of the length of the pipeline to Harrison.
Environmental Health Perspectives said the use of chloramines "has coincided with an increase in lead levels in drinking water in those systems. Lead in drinking water can be a significant health risk."
__________________________
Stay tuned!
Your friends and family may also sign up to receive our Action Alerts by clicking here.
Local control of water and our freedom from fluoride poison are important!
As always, you can find our email articles posted on our website: SecureArkansas.com. The Search box is a handy tool. For more information about LEAD or FLUORIDE or another topic, just type it into the Search box on our website, and click Enter!
And remember:

Securing the blessings of liberty,
Secure Arkansas
securetherepublic.com/arkansas
[email protected]
Share This Article