Press Conference on Referendum to Repeal Jonesboro Property Code Results Held 2/12/2016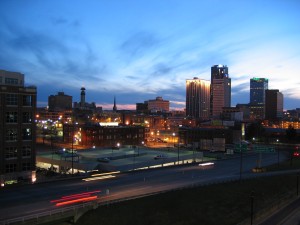 We are passing along an email we received regarding the successful gathering of more than twice the number of signatures required for the referendum petition to be placed on the May 3, 2016 ballot to Repeal the Jonesboro Property Code. This is great news!
____________________________
5,034 Signatures Were Turned in Friday, February 12, 2016
— More Than Twice the Number Required —
Repeal Property Code 105-2
Below is the Press Release on the Press Conference to Announce Number of Signatures
WE DID IT! To our own amazement, Repeal Property Code 105-2 turned in 5,034 signatures on Friday on the Referendum to Repeal the Jonesboro Property Code, more than twice as many as were required in just 22 days in the dead of winter. That number required was 2,432. It will now be put on the ballot, and people can vote for the repeal in May, 2015. We got a late start because of incorrect information from a local attorney who thought we had until August to collect the signatures. The actual time allowed is only sixty days after passage, and the Code passed December 15, 2015.
I thought we would never get the first thousand; the second thousand was also slow; but the last two thousand amazed us. There were at least 65 people involved in canvassing for signatures, some with one sheet with ten signatures all the way to around 50 sheets with 500 signatures. Our heartfelt thanks to all of you who helped and those who sacrificed greatly for the cause and to those businesses who made it possible for us to work inside. Many of our canvassers were senior citizens who because of various ailments had to sit in order to gather signatures, even one senior citizen who has to use a walker.
Signatures are not easy to obtain, especially in January and February. They had to be obtained from registered voters in the city limits of Jonesboro. You would be amazed at how many people shop in Jonesboro who do not live in the city of Jonesboro – it seemed like 3/4 of the people we approached lived outside city limits or were NOT registered to vote. You would also be amazed at how many people are not registered to vote.
Only a handful of people we approached were unwilling to sign the petition. And all those people who didn't sign refused to read our material where we gave the link to the Code. They preferred to listen to what they were told.
_________________________________
FOR IMMEDIATE RELEASE: February 12, 2016
CONTACT: Attorney Travis Story
Re: Press Conference on Referendum to Repeal Jonesboro Property Code Results
The attorney, Travis Story with Story Law Firm in Fayetteville, will hold a press conference today, February 12, at 3:15 at the Jonesboro Municipal Center, 300 Church Street, to announce the number of signatures that Repeal Property Code 105-2 has gathered.
The city council passed a controversial Property Code Ordinance December 15, 2015, that applies to all existing residential and nonresidential structures and all existing premises both interior and exterior. The Code is almost identical to the International Property Maintenance Code, with only minor changes so it can be called Jonesboro Property Code. The "right of entry" for the code official to enter the premises to inspect it has been one of the most offensive aspects of the Code. Many citizens are also concerned that the elderly, the poor, and those on a fixed income will not be able to afford to meet the extensive code requirements and even face losing their homes since the code includes placing a lien on the homes if the code requirements are not met.
Six of the city council members voted for the Code and six voted against it; Mayor Harold Perrin broke the tie and voted For the Code, allowing it to be implemented. A group of concerned citizens formed Repeal Property Code 105-2 to repeal the ordinance passed by the city council and mayor of Jonesboro as they believe this is not the right law for Jonesboro. Because Repeal Property Code 105-2 has taken this extraordinary action, all residents of the city of Jonesboro will have the opportunity to vote for the repeal of this onerous ordinance.
Those canvassing for Repeal Property Code 105-2 believe citizens should cast the deciding vote on this Property Maintenance Code, not the mayor.
##########
(We previously sent out email alerts about this topic on January 26 and February 2, and February 9, 2016. You can read them here, here, and here.)
Your friends and family may also sign up to receive our Action Alerts by clicking here.

As always, you can find our email articles posted on our website: SecureArkansas.com. The Search box is a handy tool. For more information about Jonesboro Mayor Harold Perrin or fluoride or another topic, just type it into the Search box on our website, and click Enter!

And remember:
Securing the blessings of liberty,
Secure Arkansas
securetherepublic.com/arkansas
[email protected]
Share This Article