Fluoridation is Illegal – Fluoridation Level Should be Zero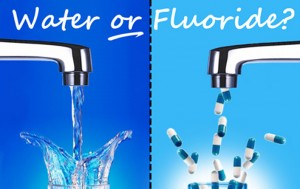 James Robert Deal is an attorney in Lynnwood, Washington, and his practice focuses on mortgage modification and foreclosure defense. See this website for more information: www.Mortgage-Modification-Attorney.com. However, James is also an environmental attorney and has taken up the fight against adding toxic waste dental chemicals to drinking water. Click here for his Fluoride site.
The following articles are reposted from Attorney James Robert Deal.
Shown below are some snippets from the article. For the full story, click on the link above.
The Flint water quality report indeed indicates that after Flint switched to Flint River water, high levels of disinfection byproducts were found in Flint municipal water, far in excess of their EPA MCL (maximum contaminant level or action level).

We humans tend to ignore our own health but to take action when the health of our animals is jeopardized. Horses drink a lot of water and their health is seriously compromised when they drink fluoridated water. Congress held hearings on the high incidence of racehorse breakdowns, which usually result in euthanization. In a recently completed study of racehorse breakdowns in fluoridated Los Angeles, evidence indicates that fluoride as HF in the acidic stomach may have aggravated ulcers, so commonly present in these animals, during racing. [Click here to see the Racehorse exposure to fluoridated water.]

Several communities have terminated fluoridation simply because they did not want to ruin their racetrack business or risk harming their large horse populations.

It must be emphasized that the ingestion of fluoride does not actually reduce dental caries. The CDC reported that blood fluoride does not act on dental caries at all. Click here for the proof.

Fluoride is not a mineral nutrient or a component of normal blood. Thus, it is recommended that drinking water fluoridation be banned. The FDA ruled in 1963 that fluoride added to water is an uncontrolled use of an unapproved drug. In 1966 the FDA banned the sale of all fluoride compounds intended to be ingested by pregnant women in the U.S. Click here to read the article.

In conclusion: I would emphasize the following:

Adding fluoridation compounds to drinking water can only increase lead by direct addition and through acid leaching.

Fluoridated drinking water will always have more lead in it than non-fluoridated water.

Non-fluoridated water will always have less lead in it that fluoridated water.

Do not fluoridate drinking water.
The following is a research article from the Journal of Environmental and Public Health.
From the Introduction in the article:
Natural calcium fluoride is considered insoluble (to 8–10 ppm fluoride maximum depending on water pH). But industrial synthetic fluorides are fully soluble and are all toxic calcium chelators. The degree of absorption of any fluoride compound after ingestion is correlated with its solubility (Goodman and Gilman [16]). Industrial fluorides are completely absorbed, but natural fluoride minerals cryolite (Na3AlF6) or fluorite (mineral fluorspar with CaF2) are poorly absorbed. (Editor's Note: Don't let the Arkansas Department of Health say they are only increasing the fluoride level to the .7 ppm. Natural Fluoride and Industrial Fluoride are NOT the same.
In the following linked article, Dr. Sauerheber educates a District Attorney on Fluoridation. Shown directly below are some snippets from that article.
… the EPA formerly regulated water additives, but presently does not, and instead requested the private organization the NSF to certify chemicals used as additives.

The EPA not only avoids regulating water additives, but especially has no authority to regulate therapeutic substances. Neither the EPA nor the NSF have clinical staff able to monitor either the effectiveness of the treatment, the blood levels of fluoride in consumers, or the ability to ensure that patients in kidney wards and those with bone disease are not treated with fluoridated water. Neither agency issues warnings for infants not to use fluoridated water, or that fluoride supplements must be discontinued when water is fluoridated.

EPA has written that fluoridation is "the responsibility of the FDA."But the FDA argues that fluoride is an uncontrolled use of an unapproved drug in public water supplies that should be regulated by the EPA, since the intentional addition of any EPA regulated contaminant violates the SDWA.

The SDWA prohibits any National requirement for adding any substance into water (other than additives that purify the water). Fluoride is thus illegal to add into water according to the SDWA. In fact, the Act was first written for the specific purpose of halting the spread of water "fluoridation" (Graham and Morin, http://www.whale.to/d/Graham.pdf footnote 8, page 211).

The claims that the National Research Council [1] concluded that there is "no credible evidence of harm when humans consume fluoridated water" is in error. Most likely, the District Attorney has been provided false information. It is hoped that there are severe penalties for submitting false information to the District Attorney's office on matters of such broad public importance. And we trust that you will halt further information collection from that false source.

…NRC is not the only source of information on harm from water "fluoridation." 1 ppm levels in blood of kidney patients using 1 ppm fluoridated water in dialysis increased morbidity, which forced the FDA to order that fluoridated water cannot be used in kidney dialysis [2]. We also now have published studies indicating increased incidence of ADHD in U.S. children, and hypothyroidism in the U.K. where water is fluoridated (see FDA.gov petition FDA2007-P-0346 for detailed information).

San Diego Water and the NSF are in violation of all these points by obtaining, certifying, and disseminating toxic hazardous waste fluosilicic acid as source materials for "fluoridation" in San Diego.
Fluoride is listed as a contaminant in Cornell University Law School's 40 CFR 141.62 Maximum contaminant levels for inorganic contaminants.
Stay tuned, as we have a very good article from Attorney James Deal coming in a day or two…
Your friends and family may also sign up to receive our Action Alerts by clicking here.
Local control of water and our freedom from fluoride poison are important!
As always, you can find our email articles posted on our website: SecureArkansas.com. The Search box is a handy tool. For more information about LEAD or FLUORIDE or another topic, just type it into the Search box on our website, and click Enter!

And remember:

Securing the blessings of liberty,
Secure Arkansas
securetherepublic.com/arkansas
[email protected]
Share This Article