Comments Needed on EPA's Proposed Rule: Definition of Waters of United States (WOTUS)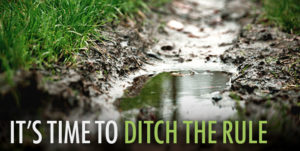 ** Deadline:  August 28, 2017 **
Your comments are requested (and vitally needed) on the Environmental Protection Agency (EPA) Proposed Rule: Definition of Waters of United States (WOTUS) – Recodification of Pre-Existing Rules.
All comments for the proposed WOTUS rule change are to be submitted no later than August 28, 2017 to regulations.gov for Environmental Protection Agency (EPA) Docket ID: EPA-HQ-OW-2017-0203 Agency: Environmental Protection Agency (EPA)
Here is a sample of a comment that could be modified using your own words and submitted:
I am writing to rescind the unacceptable 2015 WATERS OF THE U.S. RULE. As a land owner, I strongly support rescinding this miserable rule.

The current WOTUS rule is not only a flawed rule, it is overly burdensome and creates tremendous uncertainties for those of us who depend up the land for our livelihood. Congress is limited under the U.S. Constitution Article 1 Section 8. Also, under the Bill of Rights' Amendment X, it states: "The powers not delegated to the United States by the Constitution, nor prohibited by it to the States, are reserved to the States respectively, or to the people".

The EPA should ditch this unconstitutional rule totally, go back to the drawing board, and write a new rule that will protect water quality without imposing upon the rights of landowners, farmers, ranchers, businesses, and states. EPA must follow U.S. Constitution Article 1, Section 8 in their new rules.
Action Item:
Click on Comment Now! (Button on top right of page when item 1 comes up.)

Copy, paste, and modify above comments in your own words in the comment box of the form

When you are finished with your comments, click on Submit button on the form.
For more details, click here to see a previous Secure Arkansas article regarding this issue.
* Do NOT miss this public comment period! *
Remember, the deadline is August 28th!
As always, you can find our email articles posted on our website: SecureArkansas.com.  The Search box is a handy tool.  For more information about a topic, just type it into the Search box on our website, and click Enter!
And remember:
Securing the blessings of liberty,
Secure Arkansas
securetherepublic.com/arkansas
[email protected]
Share This Article