How the Communist Chinese are Hijacking America, Locally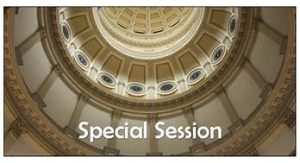 Arkansas' worried, deceived, and desperate residents are demanding a Special Session to be called immediately regarding:
 Act 851 (HB1799) To create the Arkansas Data Centers Act of 2023; and to clarify the regulation of the Digital Asset Mining Business. Sponsors: Senator Joshua Bryant of Rogers and Representative Rick McClure of Malvern. This traitorous Act deals with the dangerous crypto mining sites, and none of these crypto mining facilities should be run by foreign entities — especially Communist China!

Act 819 (HB1654) To provide sales and use tax exemptions for data centers; and to provide a sales and use tax exemption for data center equipment, data center costs, certain services provided to a data center, and electricity used by a data center. Sponsors: Senator Jonathan Dismang of Beebe and Representative Aaron Pilkington of Knoxville. This is another traitorous Act that deals with the dangerous crypto mining sites. None of these crypto mining sites should be run by foreign entities — especially Communist China! WHY are we giving the Communist Chinese tax exemptions???
These deceptive Acts MUST be repealed quickly as they violate the Exclusive Original Jurisdiction powers of the counties in Arkansas. See Arkansas Constitution Article 7, Section 28.
The legislators violated their oath of office when they introduced and passed the UNCONSTITUTIONAL legislation, and the governor violated her oath of office when she signed the UNCONSTITUTIONAL Act into law.
7 On Your Side–Arkansas' KATV has just released this fantastic piece of investigative news dated June 27, 2023:
Arkansas towns vs. Chinese supercomputers; how recent legislation removes local governments' ability to regulate cryptocurrency mines  
Don't miss this news story and the 4-minute video in it, please!
Here are some noteworthy snippets:
LITTLE ROCK (KATV) — Controversy has erupted in Arkansas towns where cryptocurrency mining facilities are springing up.

Some local governments are upset that recent legislation signed into law by the governor hamstrings their ability to regulate commercial crypto mines within city limits.

City officials said that Act 851 (House Bill 1799), signed into law on April 14, essentially precludes them from regulating commercial crypto mines, which seem to have seized the opportunity and have been appearing all over the state in recent months.

Grievances of local residents and governments in towns these businesses bring their operations to range from massive power consumption to the loud noise generated by crypto mining computer arrays, as well as suspicions surrounding one of the most active cryptomining companies new to the state, Green Digital LLC, which is a subsidiary of a holding group owned in part by the Chinese Communist Party.
Thanks to "7 On Your Side" (KATV) for this great job reporting the news about what is happening around the state locally!
Governor Sarah Huckabee Sanders, what are you doing? Have you actually scheduled a Special Session yet? We are still waiting…
And finally, here's a lame quote from Governor Sanders' liaison:
The safety and security of Arkansans is Governor Sanders' top priority. The Governor's office is aware of the issues and will continue to leverage available options to address national security and protect Arkansans. This is exactly why the Governor has signed legislation in the past to protect the state from nefarious foreign influence. She will continue to work with local officials in these communities to address their concerns.   
Once again: Arkansas Governor Sarah Huckabee Sanders, all Arkansas State Senators, and all Arkansas State Representatives must Cease and Desist all attempts to violate the "Exclusive Original Jurisdiction" powers of the counties in Arkansas. The elected officials who continue to violate their Oath of Office will be subject to being removed from office. All previously passed Acts that violate the Exclusive Original Jurisdiction powers of the counties in Arkansas MUST be repealed immediately as they are unconstitutional and they go against Arkansas' Counties laid out in the Arkansas Constitution Article 7, Section 28. The unconstitutional Acts are causing substantial harm to the citizens in Arkansas counties.
For further reading about the dangerous and problematic crypto mining sites, see these past articles:
.
As always, our articles may be viewed on our website at  SecureArkansas.com. Once there, you may:
view current articles on the main page;
view older articles by clicking "Posts & Articles" at the top left of the main page and scrolling down.
view additional past articles by clicking the "Next Page" button at the bottom right.
To find information about a topic, just type it into the Search box on our website, and click Enter!
Click here if you'd like to sign up to receive Secure Arkansas email alerts.
Securing the blessings of liberty,
Secure Arkansas
securetherepublic.com/arkansas
info@securetherepublic.com
image credit for cover image
Share This Article