In this email, we'll be concentrating on global actors and even U.S. mayors, and why these people, especially Patrick Henry Hays, should NOT be elected into office.  In order to explain our reasoning, we need to remind you about global policies that have restructured our government.  If you're Communist-minded, you'll love these policies.  If not, you'll want to take a long, hard look at the following information to help decide whom you'll support this November.  Are you aware of how involved your mayor might be in global affairs, especially in cities with larger populations?
Are you familiar with these terms?
U.N. Agenda 21

ICLEI

Sustainable Development
These entities cannot be separated.  In our opinion, they are like an evil trinity; you can't have one without the other.
You may remember that the United Nations replaced the failed League of Nations and its failed policies in 1945.  However, a United Nations' action plan called Agenda 21 is a huge threat to the sovereignty of the United States, and ICLEI and Sustainable Development are part of it.
Just a sampling of U.S. Agencies Implementing PERILOUS United Nations (U.N.) Agenda 21 policies are:
U.S. Gov't Agencies
Housing and Urban Development

Department of Education

EPA (Environmental Protection Agency)

U.S. Fish and Wildlife Service

U.S. National Park Service

United States Department of Agriculture (USDA)
Linking USDA/ UN/ Sustainable Development according to their 2007 website
Foundations
Rockefeller, Turner, Ford, Pew, Packard

Carnegie, Macarthur, Irvine
NGOs (Non-Governmental Organizations)
American Planning Association (International!)

National Audubon Society (International)

Nature Conservancy (International)

Sierra Club (International)
Timeline of U.S. Support for United Nations (U.N.) Agenda 21
1992 – In Rio de Janeiro, Pres. George H. W. Bush Signs Agreement for Implementation of Agenda 21

1993 – Pres. Bill Clinton creates the President's Council for Sustainable Development by Executive Order #12852

1997 – U.S. Counties and Mayors establish the Joint Center for Sustainable Communities

2001 – National Governors' Association endorses Smart Growth
"It is the sacred principles enshrined in the United Nations Charter to which the American people will henceforth pledge their allegiance…"
— President H.W. Bush, addressing the U.N. General Assembly Feb. 1, 1992
The general public may think that a president in agreement with their political dogma couldn't possibly be wrong, but …
The way to implement United Nations Agenda 21 is via ICLEI, which is Local Governments for Sustainability USA, but the acronym "ICLEI" stands for International Council for Local Environmental Initiatives.  We think they changed the name because too many people were getting concerned about what an international council was doing in local government affairs.
And this is where former North Little Rock Mayor Patrick Henry Hays comes in.  You may or may not know that he was formerly the PRESIDENT of ICLEI USA, also.
Watch this THV video about Mr. Hays.  Currently, he serves as Chair of the Board of ICLEI Directors, as stated in this article.  (Bio partially included below)
"Mayor Hays, a native of North Little Rock and a 1965 graduate of North Little Rock High School.  Mayor Hays is an attorney educated in Political Science and Law at the University of Arkansas in Fayetteville.  He practiced law in North Little Rock from 1973 until November, 1988, when he was elected Mayor.  Mayor Hays is currently serving his sixth four-year term.
While in law school and practicing law, Mayor Hays was active in the American Bar Association, serving as President of the Law Student Division and a National Officer in the Young Lawyers Division.
Mayor Hays' legal career, in addition to private practice, included: serving as Assistant City Attorney for the City of North Little Rock; assisting the Arkansas Secretary of State as Chief Legal Counsel; elected to the 1979-80 Arkansas Constitutional Convention; and elected State Representative for District 66 and served in the 76th (1987-1988) Arkansas General Assembly.
Mayor Hays is a current member and Past President (twice) of Metroplan, the regional council of local governments for central Arkansas and Past President of the Arkansas Municipal League.  He serves on the Board of Directors of the Little Rock Regional Chamber of Commerce, the North Little Rock Chamber of Commerce and the Boys and Girls Clubs of Central Arkansas.
Active for many years in the U.S. Conference of Mayors, Mayor Hays was elected to the Conference's Advisory Board in 1996.  In 1999, he was elected as a Trustee.  As one of 13 Trustees, Mayor Hays shares in the executive and policy-making responsibility for the Conference.  As a strong advocate of rail transportation, Mayor Hays served as Co-Chair of the Conference's Rail System Restoration Task Force. He serves as Vice Chair for Railroads and Passenger Rail of the Transportation and Communications Committee.  Mayor Hays has been on the Conference's Energy Committee for more than 15 years and is presently a Vice Chairman of the Committee.
In June, 2003, Mayor Hays was appointed Chairman of Amtrak's Mayors' Advisory Council. Additionally, Mayor Hays serves on the National League of Cities' Energy, Environmental and Natural Resources Steering Committee, as one of 39 members, who recommend energy and environmental policy to the governing body of the National League of Cities.
Mayor Hays currently serves as Chair of the Board of Directors of ICLEI USA.  He also serves on the ICLEI USA Executive Committee, the Policy Committee, and the North America Regional Executive Committee.
Mayor Hays is a recognized leader in community economic development, neighborhood revitalization, community-oriented policing, historic preservation and recreation development." [bold emphasis ours]
======================
This link brings you to the ICLEI Global site where you'll find that it's a worldwide movement implementing Sustainable Development on 7 continents.
What is Sustainability?  ICLEI's own website says "Sustainability is often defined as 'meeting the needs of the present without compromising the ability of future generations to meet their own needs.'  Sustainable Development focuses on global population control, global land use and regulation, and global education.
Wikipedia says this:  "Sustainable development is a road-map, the action plan, for achieving sustainability in any activity that uses resources and where immediate and intergenerational replication is demanded. As such, sustainable development is the organizing principle for sustaining finite resources necessary to provide for the needs of future generations of life on the planet."
The United Nations website (in the Sustainable Development: from Brundtland to Rio 2012 report), says this:
"It is generally accepted that sustainable development calls for a convergence between the three pillars of economic development, social equity, and environmental protection."
What is a Sustainable Community?  Again, their own ICLEI USA website says "a 'sustainable community,' therefore, is an urban, suburban, or rural community that has more housing and transportation choices; is closer to jobs, shops or schools; is more energy independent; and helps protect clean air and water." [bold emphasis ours]
This is why you're seeing a push towards more apartments and "stack-em-and-pack-em" housing.  We'll work, we'll play, we'll eat, sleep, and shop within a small area designed by sustainable planners.  While proponents of this will spin it to sound positive, their end agenda is slavery to New World-type global corporations, bureaucrats, and NGOs.
Is Sustainability a trend?  Yet again, from their own website:  "Individuals, small businesses, universities, local governments, national governments, and the United Nations have all adopted or promoted sustainability in different ways." [bold emphasis ours]
How do local governments approach Sustainable Development?  Their website has this to say:  "Through sustainability planning, local governments recognize their power to address global challenges (climate change, energy demand, access to education) and in the process, make their communities better places to live."
Secure Arkansas has been following Patrick Hays' career and Agenda 21-type policies for several years.  We were very surprised to hear that he allegedly stated that there's no relationship between ICLEI and Agenda 21.  Click here to read the article.  If, in fact, Mr. Hays contacted these men in Virginia and told them that there was no connection between ICLEI and Agenda 21, could he purposefully have mislead them?  This requires further investigation.
ICLEI – Local Governments for Sustainability Charter and By-Laws says:
"Charter 1.2 – Relationship to Founder Patrons
The Association shall maintain its formal institutional relationships with its founder patrons, the United Nations Environment Programme (UNEP) and the International Union of Local Authorities (IULA), the latter from 1 January 2004 merged into the newly established World Organisation of United Cities and Local Governments.
The Association shall seek an agreement with United Cities and Local Governments whereby ICLEI serves as the World Organisation's environmental and sustainable development agent." [bold and highlight emphasis ours]
As a former ICLEI president, surely Mr. Hays understood their own by-laws!
Also, this U.S. Conference of Mayors memorandum is a resolution that should tie ICLEI to the United Nations, Agenda 21, and Sustainability.  From that resolution:
WHEREAS, Rio+20, the United Nations Conference on Sustainable Development, will take place in Rio de Janeiro, Brazil, June 20-22, 2012, to mark the 20th Anniversary of the 1992 United Nations Conference on Environment and Development in Rio de Janeiro, and the 10th Anniversary of the 2002 World Summit on Sustainable Development in Johannesburg; and
WHEREAS, Rio+20 will bring together world leaders with representatives of governments, the private sector, NGOs and other groups to focus on two major themes: a) a green economy in the context of sustainable development poverty eradication; and b) the institutional framework for sustainable development; and
WHEREAS, a major outcome will be that governments will adopt clear and focused practical measures for implementing sustainable development,
NOW, THEREFORE, BE IT RESOLVED, that the U.S. Conference of Mayors fully supports Rio+20 and continued international reflection on pathways to a safer, more equitable, cleaner, greener, and more prosperous world for all.
Projected Cost: Unknown  [bold emphasis ours]
======================
Patrick Hays was a speaker/facilitator at the ICLEI World Congress in 2014.
The ICLEI World Congress 2014 document  (28 pages)
PLEASE take the time to read this document, as it's VERY informative.  The ICLEI World Congress' agenda is to decide what to do with us as people (existence, food, shelter, medical care, etc).  Their document is full of propaganda supporting the green agenda (global-to-local Sustainable Development).  A sustainable city is also known as an "eco-city", "green city", or "sustainable city".  See page 5 of the document for more info.  U.N. Agenda 21 buzz-words used in this document are:  best practice, resilient, low-carbon, biodiverse, resource-efficient, smart urban infrastructure, green urban economy, and healthy & happy community (as well as many others).  It appears that the proponents of the green agenda are trying to push us into urban living (what we've so often referred to as stack-em-and-pack-em).  Our middle-class lifestyle is not "sustainable" in the eyes of the global elite.  So, what if someone doesn't WANT to be forced to live in the city?  What then?
"Urban" is mentioned 108 times in this document!  Suffice it to say, that's what these green agenda proponents are after:  urbanization.  Just watch:  you, your children, and your grandchildren will be driven (and, in some cases, completely relocated) to the cities for school, jobs, medical treatment, and housing.  That's why stimulus money largely went to the bigger cities:  to build up their infrastructure.  You may recall that one of our previous articles mentioned the dangers of higher crime in cities like this.
As we stated, Patrick Hays was a facilitator for Ecomobility at the ICLEI World Congress in June 2012 in Belo Horizonte, Brazil.  Ecomobility is a push for walking, cycling, and public transit in these "green" cities.  They will eventually want us to give up our cars, trucks, and SUVs for what they call more "sustainable" methods of transportation.  For those of you who understand a little bit about Sustainable Development, their document says it all.  Their World Congress even hosted Martin Lees, Former Executive Secretary of the Club of Rome.  He spoke about global trends and the responsibility of today's decision makers now through 2030.  (Doesn't 2030 remind you of Jonesboro Vision 2030 in our own state?  Isn't Jonesboro Mayor Harold Perrin trying to implement that there?  We recently wrote an article about this.  Do you think the mayor and city council members are writing these plans themselves?  These plans are coming straight from ICLEI !
Back to the topic at hand:  page 21 of the ICLEI World Congress 2012 document shows this: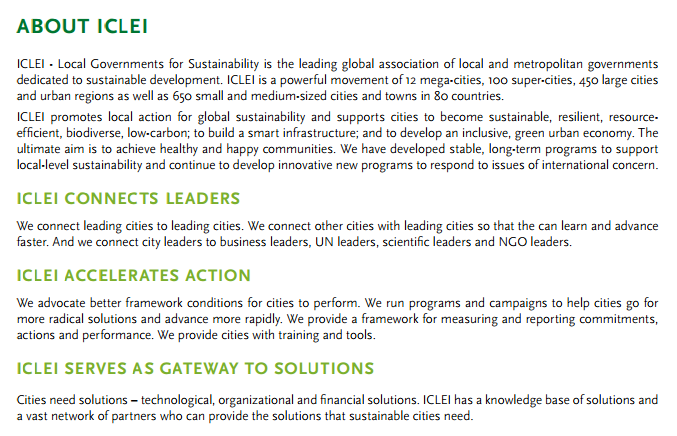 =======================
CLICK HERE to view their ICLEI Timeline.  It's a must!  This will help you put into perspective what we're trying to relate to you.  (The timeline is actually on pages 24-25 of their ICLEI World Congress document, but we've made it easier to find by making a link directly to those 2 pages for you.)  Their timeline, as well as the whole document, helps put ICLEI into perspective.
David Cadman, President of ICLEI, states in that document:
"What we decide to do today affects how the world will look tomorrow.  Local
action and bottom-up approaches are vital in the global sustainable development
debates. Urbanization is increasing in speed and scale: while in 1950 less than
one-third of the world's population lived in cities, by 2050 over two-thirds of
the world population will be living in urban areas. The ICLEI World Congress
brings Members, partners, global strategists, academics, businesses and NGO's
together to find solutions for not only a sustainable urban future but a sustainable
global future." [bold and italicized emphasis ours]
In June 2000 in Seattle, Washington, the United States Conference of Mayors adopted a Memorandum of Cooperation with the China Association of Mayors "to begin and sustain an information exchange dialogue whereby each association will endeavor to share 'Best Practices' that have been demonstrated to improve the urban condition."
Mayors who have attended the ICLEI World Congress and who have cities with populations under their jurisdictions of 30,000+ are definitely feeling like they're carrying a lot of authority and are not accountable to the people.
The 82nd Annual Meeting of the United States Conference of Mayors was held June 20-23, 2014, in Dallas, Texas.  Click here to view all of the resolutions they passed for ONE YEAR in that short three-day time span!  They tackled many topics from health and human services, community development, criminal and social justice, energy, environment, international affairs, jobs/education/the workforce, metro economies policy, tourism/arts/parks, and transportation and communications.  Two resolutions (under Criminal and Social Justice) revolve around guns and serve as a local guide for gun resolutions.  One resolution mentions "gun industry best practices".  Peter B., an editor at CIM Magazine explains that "best practices" is a very vague term that can mean nothing.  We agree with him.  However, The United Nations Public Administration Programme says that 'best practices':  "should be based on partnerships between the public, private and civil society sectors; and… should be socially, economically and environmentally sustainable."  This looks to us like the U.N. is dictating legislation, policy, and implementation for local, state, U.S, and WORLD agendas!
It seems that ICLEI is taking power away our local government and is now dictating to mayors what must be done in their jurisdiction.  Or have our local elected officials voluntarily given up their exclusive original jurisdiction to this international U.N.-associated entity?  This is totally opposite of the reason these mayors were elected!
We don't need these communist-style politicians (ie. Patrick Henry Hays, Obama, etc.) in Washington!  Our country is in such a downward spiral now from the New World Order, can we recover?
In this ICLEI – Local Governments for Sustainability video recorded at Rio Conventions' Pavilion in 2007, Patrick Hays (then Mayor of North Little Rock) says the problem is global.  "Think globally, and act locally," he says.  It's happening at your back door!  So, ICLEI is set to handle 53 million square miles on this planet?
"How big a boy are ya?"  (All of you Roy D. Mercer fans will appreciate that quote.  If you don't know who Roy is, Google can help you, if you're in need of a laugh after reading all of this serious and heavy material.)
Action:  You should start posing questions to the incumbents and candidates before you vote uninformed.  It's all about the issues!
*Stay tuned for Part 2 of this article!*
Please email us at [email protected] if you have more information.
As always, please forward this email to your family and friends!