UPDATE! Ark. Cemetery Board Responds to National Park Service, et al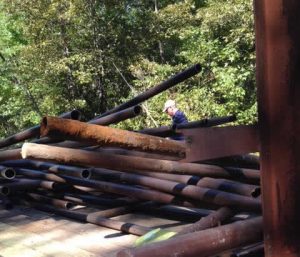 MORE BREAKING NEWS in Arkansas' 3rd Congressional District!

The Shaddox Cemetery Board in Newton County, Arkansas, has responded to:
the Buffalo National River National Park Service (NPS) in Arkansas

Arkansas Governor Asa Hutchinson

U.S. Senator Boozman (Ark. 3rd Congressional District)

U.S Representative Womack (Ark. 3rd Congressional District)
as well as these employees of the Dept. of Interior/ National Park Service/ (NPS) Buffalo National River (BNR):
Cameron Shelly, National Park Service Regional Director

Kevin Cheri, Buffalo National River Superintendent

Laura Miller, Buffalo National River Deputy Superintendent
after the National Park Service (NPS) in Arkansas destroyed private property and tore down the private fence the had been in place since August 2009 (over seven years). Shown below is a picture of the intentionally-destroyed iron fence before it was hauled away. It is being stored at a federal facility in Newton County. The original cost for fence materials and construction was over $20,000.

Shaddox Cemetery private fence before being hauled off
This is an important issue because this could be YOUR LAND at some point! Remember, this cemetery is still active!
Secure Arkansas will soon be revealing the history of this beautiful little privately-owned cemetery and how the NPS has repeatedly tried to gain control of it by attempting to manipulate the cemetery board into submitting to a "special use permit" from the Park which the Shaddox board has continually refused to do; therefore, this resulted in the destruction of their cemetery fence!
A formal complaint of incident has been filed with the Newton County Sheriff's office by the Shaddox Cemetery Board.
This is the Shaddox Cemetery Board's response to the National Park Service:
———————————————-
——————————————————-
We've also included the same notice here as a PDF if you'd like to open it and read it more easily since the font size is larger.
Click here to read our previous article about this tragic situation! These residents in Newton County need our support in standing against the National Park Service.
Share this email far and wide QUICKLY!

One of the damaged Shaddox Cemetery fence sections after being pulled out of the ground
Stay tuned!
As always, you can find our email articles posted on our website: SecureArkansas.com. The Search box is a handy tool.
For more information about FLUORIDE, just type it into the Search box on our website, and click Enter!
Securing the blessings of liberty,
Secure Arkansas
securetherepublic.com/arkansas
[email protected]
Share This Article