ADH covers up Lyme Disease in Arkansas!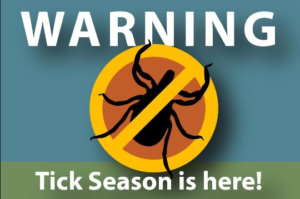 High alert for all Arkansas residents! You will be horrified and appalled to find that the Arkansas Department of Health denies that our state has Lyme disease, even though we are the number one state for tick-borne diseases. Many Arkansas residents (and all across the country) are having major problems dealing with this disabling disease. Please read the extended article below to evaluate for yourself the problem currently going on concerning this nightmare cover up from ADH!
Hunting season is ideal weather for exposure to ticks. Arkansas has some of the highest levels of tick-borne diseases (and ticks) of any state in the nation. The diseases they spread can be debilitating and even deadly, so why the deception from ADH?
Pay close attention because you and your own family members could be directly affected, too!
Once again, Secure Arkansas strongly disagrees with the Arkansas Department Of Health and finds yet another reason to be in undeviating opposition with them concerning another important health issue: Lyme Disease in Arkansas.
What is Lyme disease?



Lyme disease is caused by a spirochete—a corkscrew-shaped bacterium called Borrelia burgdorferi. Lyme is called "The Great Imitator" because its symptoms mimic many other diseases. It can affect any organ of the body, including the brain and nervous system, muscles and joints, and the heart. Patients with Lyme disease are frequently misdiagnosed with chronic fatigue syndrome, fibromyalgia, multiple sclerosis, and various psychiatric illnesses, including depression. Misdiagnosis with these other diseases may delay the correct diagnosis and treatment as the underlying infection progresses unchecked.
Lyme Disease is a complicated spirochetal bacterial infection which is most commonly passed through the bite of an infected tick. Ticks perch on the top of shrubs and plants, waiting to hitch a ride on hosts such as passing deer, raccoons, birds, rodents, dogs, and people. These hosts migrate and travel, so it would make sense that Arkansas would not be immune to Lyme disease, yet a controversy exists about which many Arkansans are unaware.
Remember, many people are shocked to hear that the Arkansas Department of Health denies that Lyme disease exists in our state. If you ask most people, including many doctors, they will say, "Yes, of course there's Lyme disease in Arkansas. My husband, my wife, my child, my mom, my father, my friend, my local forest ranger, my patient, or my neighbor has it." Lyme disease occurs in all 50 states, and millions of Americans are suffering from it today.
We should be aware that tick-borne disease are on the rise, and this includes Arkansas!
This is why Secure Arkansas is questioning the statements in the 2011 report in Arkansas Medical News. Cases of tick-borne diseases had tripled, yet ADH still denies the existence of Lyme Disease! The Arkansas Department of Health's Naveen Patil, MD, MHSA, an infectious disease expert and medical director for the HIV and STD programs, states in the 2011 report linked directly above: "Lyme disease is not on the list of common tick-borne diseases here, although some people in Arkansas believe they have contracted the disease. [Why isn't the State of Arkansas on this critical list???] While Arkansas has the causative organism, ticks that can carry the infection, and deer, the state doesn't have a necessary component to complete the cycle of transmission. Immature ticks in Arkansas feed on lizards rather than on mice, and the lizard host is not conducive for transmission of the infection. Asked about individuals in the Northwest part of the state who have reported testing positive for Lyme disease, Patil said it is possible they contracted the disease in another state, that they had improper testing, or that they had false-positive results."
It appears to Secure Arkansas that Dr. Patil is shamefully downplaying the actual cases of Lyme disease in Arkansas and the seriousness of the illness, and he is grossly misleading the public by not including Arkansas in the list of states with common tick-borne diseases. He also discounts the believability of truly-affected Lyme disease sufferers! Some MDs are known to be full of hubris, and if this doctor was not properly trained regarding this disease, perhaps a coaching session or some proper Lyme-literate re-education is in order.
Photo credit goes to a 10 year old NW Arkansas victim of Lyme Disease along with her sisters.
Stay tuned for their story in our future series called "The many Faces of Lyme Disease".
Most people don't realize Lyme Disease is the largest vector-borne illness in the nation. There are more positive cases of Lyme Disease than Breast Cancer and HIV combined!
Not all ticks are infected. Within endemic areas, there are a considerable number with Lyme Disease, and tick infection rates vary depending on the type of habitat, presence of wildlife, and other factors. Tick infection rates can vary from 0% to more than 70% in the same area. This uncertainty about how many ticks are infected makes it hard to predict the risk of Lyme disease in a given region; yet somehow, ADH can unequivocally say, "There is no Lyme Disease in Arkansas." There have been reports of Lyme in 138 Arkansas ticks confirmed by one respected national laboratory (though they estimate a total of 1,104 true cases of Lyme of disease in Arkansas.) Keep in mind, this is just only one lab reporting.
The Centers for Disease Control and Prevention (CDC) estimate that 300,000 people are diagnosed with Lyme Disease in the US every year. That's 1.5 times the number of women diagnosed with breast cancer, and six times the number of people diagnosed with HIV/AIDS each year in the US.
Diagnosing Lyme can be difficult, and many people who actually have Lyme are likely misdiagnosed with other conditions. Many experts believe the true number of cases is much higher. Lyme disease affects people of all ages. The CDC notes that it is most common in children, older adults, and others such as firefighters and park rangers who spend time in outdoor activities and therefore have higher exposure to ticks.
Make sure you watch this documentary: "Under Our Skin" exposes the hidden story of Lyme disease. It's a gripping tale of microbes, medicine and money, one of the most controversial and fastest growing epidemics of our time. Each year, thousands go undiagnosed or misdiagnosed, often told that their symptoms are "all in their head." Following the stories of patients and physicians fighting for their lives and livelihoods, the film brings into focus a haunting picture of the health care system and a medical establishment all too willing to put profits ahead of patients.
Although the Arkansas Department of Health's (ADH) Mission Statement is to protect and improve the health and well-being of all Arkansans, this governmental agency refuses to accept or report positive cases to the CDC, whether patients are diagnosed clinically with symptoms or diagnosed by CDC positive blood tests.

Dr.Susan Weinstein
image credit
Dr. Susan Weinstein is the State Public Health Veterinarian at the Arkansas Dept of Health in the Zoonotic Disease Section. Dr. Weinstein has the job of reporting positive human tick-borne illness cases in Arkansas, including Lyme Disease, to the CDC. This position is extremely important as doctors in Arkansas base their diagnosis and treatment protocol on which tick-borne illnesses are reported to the CDC (or not reported).
We find it interesting that with this vital job, dictating the medical accuracy of our state, neither Sue Weinstein, DVM, nor her position is listed on ADH's own organizational chart.
What complicates the issue further is that most doctors in Arkansas are not taught about Lyme Disease; therefore, they lack accurate knowledge on how to properly diagnose and treat Lyme patients, especially in chronic form. Doctors are told that there is no Lyme Disease in Arkansas, so, in turn, this is what they tell their patients which leads to a misdiagnosis.
Many physicians in Arkansas with whom we have spoken are afraid to test and report Lyme to the Department of Health for fear of repercussions! Some are even unaware that it is a reportable disease. Treating it outside of the CDC protocol could lead to their license being revoked.
This previous study "Provider knowledge, attitudes, and practices regarding Lyme disease in Arkansas"which was initially supported by the ADH, has been completely ignored by the ADH since delivery of the results. The results included the following from Arkansas Physicians: a correct response rate of 59.1 % for symptom recognition, 46.2 % for knowledge of recommended testing processes, and of 78.9 % for knowing LD is a reportable disease.
Residents of Arkansas deserve to know the truth and to have access to doctors who are educated on how to properly diagnose and treat Lyme. Sadly, there are none of whom we are aware. There are many Arkansans at this very moment who must travel to out of state doctors to get proper care. This is completely unacceptable!
In 2010, the Journal of Arkansas Medical Society released "A Clinical Review of Lyme Disease in Arkansas". The third sentence states: "Lyme Disease is not endemic in Arkansas and testing for Borrelia Burgdorferi (the bacteria responsible for Lyme Disease) can lead to clinical confusion, unnecessary treatment and excess cost."
But what is "confusing" about running tests to get a proper diagnosis? If Lyme is diagnosed and properly treated in the early (acute) stage, most will not have lingering symptoms. Unfortunately, most Lyme patients will go for an average of 2 years undiagnosed, which leads to chronic pain, irreversible health issues, more cost, welfare, and disability.
Dr. Gary Wheeler, Chief Medical Officer at the Arkansas Department of Health, was quoted in January of 2016 in the Arkansas Democrat-Gazette as saying, "They are finding a lot of Lyme spirochetes in the larval forms but not necessarily in the nymphal forms, which seems to be the form where they most infect human." The theory is that larval ticks in Arkansas primarily feed on a certain species of lizards that carry a protein in their blood which eradicates Borrelia Burgdorferi (Lyme bacteria), rendering the tick unable to pass the bacteria on the later hosts.
Listen to the confusing and senseless statements the Arkansas Department Of Health continually spews out to the public. They state that "ticks in Arkansas have different feeding habits" as a fact, but there has not been any research performed to support this theory. According to Sue Weinstein, it is just something that the ADH "feels" may contribute to why they believe Arkansas ticks do not carry Lyme Disease.
"Although the spirochete bacterium responsible for Lyme disease has been found in deer, canines and ticks in Arkansas, the risk of acquiring this disease in Arkansas is currently considered low." — (This is a study that covers Arkansas in general – while stating the risk here is low – WITHOUT stating any proof or WHY they "feel" that way.)
As stated before, they are referring to the Western/Eastern Fence Lizard – commonly known in Arkansas as the Prairie Lizard – or the Blue-Bellied Lizard. This lizard carries a protein in its blood that cleans the Lyme infected tick of the lyme causing bacteria. (There are many studies about this particular lizard, but many conflicting). Secure Arkansas believes that our population of Prairie Lizards vs. the actual tick population does not support this theory. Birds, mammals, and insects carry Lyme disease infected ticks. These hosts migrate and travel.
One big problem with ADH's lizard theory is a study done in California showed areas without lizards had a significant drop in tick populations. Here's a quote from the article: "We found that the result of lizard removal was a decrease in infected ticks, and therefore decreased Lyme disease risk to humans." Does that sound like lizards are helping keep lyme disease out of Arkansas????
The ADH also says that ticks hatch out at different times here than other states. ADH has not been able to provide any evidence that any of these claims are true.
The last time we checked, there are no physical borders around the State of Arkansas! So, we ask again: how is it possible that Arkansas has NO reported human Lyme disease cases?
THE FACT IS: ALL of our surrounding states have cases of Lyme disease.
Shown below is a map of reported Lyme disease between 2007-2014. As you can see, only one case was reported in 2007, and ADH claims that the case originated out of state.
Here's the MOST RECENT ADH Tick-borne Disease Activity Summary 2015 (End of Year Summary June 24, 2016. Note, they make no mention of Lyme disease.)
The CDC consistently reported Lyme in Arkansas prior to 2005. Coincidentally, the same year (2005), Susan Weinstein DVM, became employed at the ADH to be in charge of CDC Lyme reporting for human cases and now shows NO Lyme disease cases in Arkansas.
There is solid evidence of Lyme Disease in Arkansas, and it's time for drastic action!
This scientific study was funded by the ADH in 1993 and proved there are Lyme-carrying ticks in Arkansas. From that report: 'Lyme disease, caused by the spirochete, Borrelia burgdorferi, has been reported from 36 of Arkansas' 75 counties."
"36 of Arkansas' 75 counties" — That's nearly half of the counties in Arkansas! And then magically, those numbers dropped drastically since then, and only ONE case was reported in 2007? Think about all of the UNreported cases and misdiagnoses!
Here's a 1995 Military study conducted on the Little Rock Air Force Base which states Central Arkansas is at a moderate to high risk for Lyme Disease. This also speaks about the Little Rock Air Force Base Tick Infestation on page 11.
Testing of infected ticks submitted from Arkansas to respected speciality laboratory: TICK CHECK – ARKANSAS / REPORTS OF LYME IN ARKANSAS
As of November 2, 2016, just one of the many labs responsible for testing Lyme in dogs had reported 282 positive cases for Lyme in Arkansas. The risk of getting Lyme disease is often reflected in risk maps. Some maps show the number of human cases of Lyme disease reported for surveillance. These maps may not accurately reflect risk because only 10% of reportable Lyme cases are currently captured by CDC surveillance. Other risk maps show the number of infected ticks that researchers have collected in a certain area. These maps are often not accurate because many states and counties have done little or no testing of ticks in the area. The best maps of risk may be canine maps. This is because dogs are routinely screened for Lyme disease through a nationwide program, and there is a close association of dogs with humans. However, since many Arkansas Veterinarians are told the same things as Medical Doctors by the ADH, and dogs do not always present the same clinical symptoms as humans, the actual number of dogs infected by ticks is likely many times higher than reported figures.
So, just how intelligent are the ticks in Arkansas? Are ticks are so smart that they choose their very first meal to be the blue bellied fence lizard, and can Arkansas ticks only cause lyme in dogs instead of humans? How are we supposed to believe that?!
The fact that the ADH has reported 0 positive cases of Lyme in Arkansas since 2004 (with the exception of one infection reportedly originating out of state in 2007) does not add up or even come close statistically with national growing numbers of Lyme. Please see additional statistic info here. This major clerical error incorrectly assumes that our state is safe from Lyme Disease.
In the opinion of Secure Arkansas, this irresponsible oversight means they aren't protecting the residents of Arkansas from this devastating disease — especially children — who are at the highest risk of infection.
What does having Lyme Disease in Arkansas look like?
If you are bitten by a tick and infected with Lyme disease, most likely you will go untested or treated. Many patients to whom we have spoken were sent home without any diagnosis. Often, a more seasoned doctor will give the catch-all diagnosis of "tick fever" or STARI (a Southern tick-borne illness almost identical to Lyme). Both diagnosis are unreportable in Arkansas.
After a short round of antibiotics, not sufficient enough to thoroughly kill the very smart spirochetal Lyme bacteria, patients are sent on their way, only to later have chronic health issues that are commonly misdiagnosed as Chronic Fatigue Syndrome, Fibromyalgia, Crohn's disease, ALS, Alzheimer's, all arthritis conditions (including juvenile arthritis), IBS, Lupus, depression, anxiety, and sleep disorders. It is common for most patients to have an overlapping of these conditions. Since Lyme Disease affects the central nervous system, the body's circulation, joints, all major organs, and much more, a person can experience continuous pain which is a major challenge for those who fight the disease. This leads to being prescribed pharmaceutical pain medication and antidepressants which often just complicates the disease. The pain can be so debilitating that many people turn to opioids for relief and find themselves addicted, which creates another problem. Without a proper diagnosis, they are left wondering why they are in so much pain and their illness is not getting any better.
For further information, we found this to be a good resource for accurate information about Lyme disease signs and symptoms.
There are three stages to Lyme Disease:
Stage 1
Early localized infection (The first month)
Bull's eye rash (erythema migrans) The rash is usually circular and has a fading spot in the center. EM rashes don't always look like a bullseye though. Less than half the people infected will develop a rash. Note: Some people will never have any symptoms in this stage.

Flu like symptoms (usually the first symptoms)

Fever

Headache

Stiff neck

Muscle and joint pain

Swollen lymph nodes

Fatigue
Stage 2
Early disseminated infection (1 to 4 months)
If Lyme disease is not detected and treated while early symptoms are present, the infection may disseminate and affect the skin, joints, organs, nervous system, and heart.
Extreme fatigue

Rashes

Migrating pain (pain that changes locations and comes and goes)

Weakness and/or numbness in the arms or legs.

Twitching muscles

Severe and recurring headaches

Poor memory and concentration problems

Irritability Vision problem

Internal buzzing feeling

Heart palpitations

Panic Attacks

Mood disorders
Stage 3
Late disseminated Lyme
Swelling and pain in the joints

Numbness and tingling in the extremities

Severe fatigue

Insomnia

Bell's Palsy (partial paralysis of the face)

Getting lost in familiar places

Problems speaking

Word retrieval problems

Word block

Migrating pain and symptoms

Heart damage

Pericarditis

Meningitis

Depression

Panic Attacks

Bladder problems

Tinnitus, ear ringing or feeling of fullness

Poor balance

Shortness of breath

Rib and sternum soreness

Fevers/sweats

Vertigo

Upset stomach and GI problems

Burning and stabbing pains
This is just a generalized short list of symptoms. Lyme disease can cause almost any symptom because it is a multisystemic disease. It can travel anywhere including your central nervous system (spine and brain), and one of the common complaints of patients with Lyme Disease is that the symptoms come and go and change locations frequently. You can take a group of several people infected with Lyme, and all might be experiencing different symptoms. The time frames of each stage are generalized, also. Each patient moves through these stages at different timing. One person may not show symptoms for several months, while another may get Stage Three symptoms rather quickly. It all depends on strains, co-infections, and the person's own immune system.
Lyme Disease has become an umbrella term for several different infections, viruses, parasites passed on by ticks, other bugs such as dust mites, congenital disease, and possibly sexual transmission.
Please educate yourself further if you have lingering symptoms that doctors are having a hard time explaining. Learn more about the other tick borne infections here, and please read the article, "Lyme is not just Lyme."
What steps need to be taken to remedy how Lyme Disease is treated in Arkansas?
The Arkansas Department of Health needs to implement a new reporting policy. They are not following current CDC guidelines. https://www.lymedisease.org/idsa-guidelines-removed-ngc/
Dr. Sue Weinstein, a doctor of veterinary medicine at the Department of Health, is the State Veterinarian in charge of reporting human cases of tick born illnesses. She needs to be educated by a knowledgeable Lyme Literate Medical Doctor or placed in a more appropriate position for her knowledge level.
The ADH and Arkansas doctors need to update their current understanding of the spread of Lyme with re-education, which should include a change of attitude in dealing with Lyme Disease.
Arkansas legislators need to construct a Commission for Tick Borne Illness like our neighbors in Alabama. Alabama is also another state that once denied Lyme disease but has changed their tune recently due to current science and doctor re-education. Ironically, the head of the Alabama Lyme Disease Association began his journey there because his son was infected with Lyme Disease while visiting a farm in Arkansas.
ACTION: Please contact your state legislators about implementing this important legislation that is needed to stop the ADH denial of Lyme disease in Arkansas and start helping Lyme patients get proper treatment.
This is just the tip of the iceberg, and there's more to come on Lyme disease in Arkansas, so stay tuned for "The Many Faces of Lyme Disease". We will be sharing intimate stories of local people who have been quietly suffering with the pain and isolation that comes with fighting a disease in a state that claims, "It doesn't exist here!"
Stay tuned, and stay informed!
Your friends and family may also sign up to receive our Action Alerts by clicking here.
As always, you can find our email articles posted on our website: SecureArkansas.com. The Search box is a handy tool. For more information about a topic, just type it into the Search box on our website, and click Enter!
And remember:
Securing the blessings of liberty,
Secure Arkansas
securetherepublic.com/arkansas
[email protected]
Share This Article