HIGH ALERT: U.S. Constitution At Risk!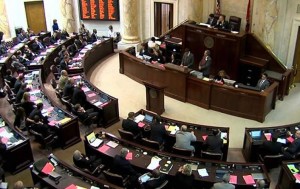 SENATORS: Don't Be Fooled by an Article V Convention, no matter what moral argument is used!
*** Vote NO on SJR 7 and SJR 9 ***
Senator Jason Rapert is using his political influence as a State Senator and religious leader to promote his Article V Con-Con. The so-called front groups with which Senator Jason Rapert is involved are hiding their true agenda from the public. We must all stand up for our Constitution and resist all methods being used by our Arkansas State legislators to call an Article V Convention.
In a recent article Secure Arkansas wrote: So, what are Senator Rapert's deceptive excuses for unnecessarily amending the founding document of our country? "Right To Life and Marriage" He's using Ad Misericordiam — the fallacy of appealing to one's emotions — and an appeal to morality and conscience in order to justify his selfish motives and globalist agenda. (Someone who does that is typically considered a CON MAN!) Christians should be outraged! No matter what moral excuse Senator Rapert gives, we cannot allow it as a reason for a radical overhaul of our U.S. Constitution, one of the most important documents of all time! Having or applying for an Article V convention is setting us up for a pitfall! The very idea that our founding document is in need of a "review" and needs "amendments" via an Article V Amendments convention has gripped some so-called Christian conservatives/progressives because of propaganda and lies.
Don't be fooled by the disinformation being promoted by American Legislative Exchange Council (ALEC), Convention of States (COS), Wolf PAC, and Jerry Cox's Family Council organization. These organizations are stating that the state legislators are in control of an Article V Convention (Con-Con). Not true, folks! All the states can do is apply for a convention. [See U.S. Constitution Article_V and Article 1, Section 8, Clause 18 (last clause).]
Article 1, Section 8, Clause 18:
"To make all Laws which shall be necessary and proper for carrying into Execution the foregoing Powers, and all other Powers vested by this Constitution in the Government of the United States, or in any Department or Officer thereof."
Click_here for some examples where Congress used Article 1, Section 8, Clause 18 to exercise their power.
A NO VOTE is required on all Article V legislation calling for a Convention.
There are several resolutions and bills floating around the Arkansas legislature calling for a Article_V Convention (a.k.a. Con-Con) to amend the U.S. Constitution. Under Article V of the U.S. Constitution, upon application of two-thirds of the states. Congress must convene an Article V Convention to amend the Constitution. While the U.S. Constitution has only been amended 27 times, there has never been an Article V Convention to propose amendments. We are on very treacherous grounds, and this method cannot be trusted!
The idea that there might be a simple fix to the Constitution has fooled many thoughtful and well-meaning legislators over the years. People are gullible and will believe most anything, especially if it sounds too good to be true. Don't believe anything without checking out the facts. A convention would be highly politicized, and the results are impossible to predict, so expect utter chaos for this country! This is very serious, dear readers! Many globalists are touting, "National sovereignty shouldn't exist!" and "Global government is inevitable!"
The supporters of an Article V convention accuse those who oppose an Article V convention as being "FEAR mongers". Here is something else you need to think about: under the North American Union (NAU) plan, "Building a North American Community" — Canada, the United States, and Mexico will merge, and a Parliament will be set up over them. President George Bush, a Council on Foreign Relations (CFR) member, was responsible for the NAU plan that is being sponsored by the CFR, Canadian Council of Chief Executives, and the Consejo Mexicano de Asuntos Internacionales. Heidi S. Cruz (2016 Presidential Candidate Ted Cruz' wife) was a task force member of this Building a North American Community document. See page 9 of the document (linked above) for the task force members.
In order to set up the North American Union (NAU), a new Constitution is needed that will transform the United States from a sovereign nation to a member state of the NAU. You might ask how will this happen? By an Article V convention! The Article V convention is being sold to the American people that they can limit the subject matter to amend the existing Constitution which will limit the power and jurisdiction of the federal government.
People don't think for themselves. They follow what popular people tell them, and then they repeat it as if they know all about it. (Propaganda and cultural conditioning are powerful.) And then they insult, criticize, and try to shut out the people who do tell the TRUTH — as they have been programmed by the promoters (ALEC, COS, Family Council) of an Article V convention to do.
***Danger regarding the delegates: Most people don't realize that the delegates of an Article V convention have "Plenipotentiary Powers" (a person, diplomatic agent with full power or authority to transact business on behalf of another) and thus have the power recognized in our Declaration_of_Independence, 2nd paragraph:
"That whenever any Form of Government becomes destructive of these ends, it is the Right of the People to alter or to abolish it, and to institute new Government, laying its foundation on such principles and organizing its powers in such form, as to them shall seem most likely to affect their Safety and Happiness."
In the Federalist Paper No. 40 (15th paragraph), James Madison invoked this clause in the Declaration of Independence as justification for what they did at the federal convention of 1787. Instead of proposing Amendments to the Articles of Confederation (as they had been instructed to do), they wrote an entirely new Constitution which created a new government!
Americans don't know that because of the "Plenipotentiary Powers", Delegates to an Article V Convention can do whatever they want. It makes no difference whether the delegates were sent to the convention for the sole purpose of proposing amendments they are not bound by the spurious limitations put on them by the states. Bond and faithful delegates are a joke.
Article V Delegates have plenipotentiary powers and sovereign immunity for whatever they do! So, that is how a Constitutional Republic is destroyed and replaced by some form of global government.
So far, we have six of the following pieces of legislation that are calling for an Article V convention (Con-Con) that have been proposed by our Arkansas ALEC legislators:
SJR_7 AN APPLICATION TO CONGRESS TO CALL A CONVENTION FOR PROPOSING AN AMENDMENT TO THE UNITED STATES CONSTITUTION CONCERNING THE DEFINITION OF "MARRIAGE". SJR 7 will be voted on in the Arkansas Senate 91st General Assembly, Monday, February_27, 2017_at_1:30 pm.


Action item:

Vote NO on SJR 7.


(ALEC member Jason Rapert is sponsoring 57 bills and co-sponsoring 14 more, for a grand total of 71 bills! Do you think this bully is trying to make a name for himself? Do you think that he wrote all those bills himself, OR is there a hidden agenda he is following? This man is skilled and highly trained at using religion as his cover, a true wolf in sheep's clothing!) Both SJR 7 and SJR 9 appear to have come from Liberty Center for Law & Policy and the team at Liberty Counsel. This is the same organization that Senator Jason Rapert is partnering and pleading for money with through his Holy Ghost Ministries.

Click here

for the Arkansas Times article. Could this be a conflict of interest on Senator Jason Rapert's part? Here is a snippet from that article about Senator Jason Rapert:

The RiverStone facility takes money to operate and Rapert reaches out for regular contributors to his ministry. For example:

"You can become a Kingdom Ambassador by sowing at least $500 monthly to help us accomplish all seven areas of ministry emphasis that God has assigned to Holy Ghost Ministries. We are believing God for 500 Kingdom Ambassador Partners by December 31, 2018. By committing to sow $16.44 per day into Holy Ghost Ministries you will be helping us spread the Gospel, touch the world and honor Israel. We would love to have you be one of our first 500 for $500!"
Readers, please note that Secure Arkansas is non partisan but does advocate for the protection of the unborn. There are many groups that claim to be pro-life but that are hiding behind the pro-life name to promote their own agenda and financing. Don't be fooled. We must each do our own homework and study to show ourselves approved!
Sen. Stanley Jason Rapert
ALEC Member
Sen. Gary Stubblefield
ALEC Member
Sen. Bob Ballinger
ALEC Member
Rep. Karilyn Brown
ALEC Member
Some of the Arkansas legislators pictured above have Con Con resolutions and even a bill positioned and ready to strike a death blow to our U.S. Constitution by recently calling for a Convention of the States to "amend" the U.S. Constitution! The global elite and corporate America via the American Legislative Exchange Council (ALEC) have to open up our Constitution very soon in order to push their radical, progressive agenda and amend (or actually REPLACE) our Constitution! Please click here to check out Constitution 2020 and George Soros.
ALEC supports and wrote the handbook for legislators on applying for an Article V convention: ALEC Reaffirms Support for Article V Initiatives February 11, 2016. And ALEC State Chairs sign an oath stating they will support the interest of the organization (ALEC) first.
The Convention of States, one of two ways to amend the nation's founding legal document, would be called to draft an amendment requiring Congress to pass "Right to Life", "Marriage", "Balance the Budget", "Rein in the Federal Government", and even to "Choose Delegates for a Convention". They are using moral arguments, appeals to emotions, and excuses that the public might buy into and be fooled into supporting their trickster measures so they can create a dangerous platform that will open the the U.S. Constitution that psychopath George Soros has commanded to be mandated before the year 2020!
Once convened, however, delegates to the convention could radically rewrite the Constitution, a potentially dangerous development that should be avoided at all costs. (Rep. Brown, are you paying attention?) This is NOT fear mongering, this is an honest warning of the consequences of passing Article V legislation.
Under Article V of the Constitution, there are two ways to amend the document. The first and more traditional method of amending the Constitution is through a two-thirds majority vote in both the House of Representatives and the Senate. Then the amendment would need to be ratified by three-fourths of the states in order to become law.
The second very risky method is a convention of states. If two-thirds of the states – the magic number is 34 – call for a convention, representatives from all 50 states would meet to draft amendments. As with the traditional method, those amendments would then go to the states for ratification OR state conventions, possibly ratifying committees (this is the part the state legislators are NOT told!).
The U.S. Constitution gives no guidance at all on a convention. (The states will NOT be able to control a convention!) It does not mention the number of delegates to be chosen or how they should be selected. Because there is no real blueprint, anything could and – rest assured would – happen! (Soros will seize this one in a lifetime opportunity!) And rules limiting the convention could be suspended. The last time the states met in a convention – the 1787 Constitutional Convention in Philadelphia – they completely changed America's government.
A new convention that could rewrite or replace the Constitution would be definitely a chaotic nightmare! The traditional method of amending the Constitution one provision at a time is by far superior, for it does not carry with it the perils and hazards of a runaway convention. The radical liberal think tanks have been working to overthrow our government for years! Don't you see that our time-tested U. S. Constitution is still working to protect our rights to this very day? It has blocked the United Nations on every turn, and it is still hanging on.
Our Bill of Rights holds the government back from a totalitarism. We cannot allow our state legislators to destroy our constitution; it doesn't matter what so-called "good" reason they use! Stand up for our Constitution!
Secure Arkansas can't help but wonder: who might possibally be paying our state legislators off? Here's the reason we question this possibility:
Arkansas is not the only state dealing with this Con-Con conundrum. Representative Ivory from UTAH was found on the PAYROLL of Mark Meckler's group (Senior Legislative Liaison) — the one pushing the Convention of States (COS) application! Talk about a conflict of interest…
This shows that Utah State House Representative Ken Ivory is actually paid by the Citizens for Self Governance (another front group) and Convention of States Project to promote the Article V Convention application resolutions that have been submitted in Utah, Washington, and other States. That's why another Utah State Rep. (Merrill Nelson) submitted HJR 003 this year instead of Rep. Ken Ivory.
Ending quotes: The idea of a one-world government isn't new, folks. Winston Churchill said, "The creation of an authoritative world order is the ultimate aim toward which we must strive." And Charles De Gaulle was convinced that "Nations must unite in a world government or perish." When our U.S. Constitution falls, then we will all be at total mercy of those who destroyed it.
ACTION: Call, call, CALL and send emails TODAY! SJR 7 and SJR 9 come up for a FULL SENATE VOTE on Monday, Feb. 27, 2017 at 1:30 pm. Tell the Senators to VOTE NO on SJR 7, SJR 9 (coming up tomorrow), HJR 1001, HJR 1022, HB 1570, and SJR 2.
[email protected]
[email protected]
[email protected]
[email protected]
[email protected]
[email protected]
[email protected]
[email protected]gov
[email protected]
[email protected]
[email protected]
[email protected]
[email protected]
[email protected]
[email protected]
[email protected]gov
[email protected]
[email protected]
[email protected]
[email protected]
[email protected]gov
[email protected]
[email protected]
[email protected]
[email protected]
[email protected]
[email protected]
[email protected]
[email protected]
[email protected]
[email protected]
[email protected]
[email protected]gov
[email protected]
[email protected]
[email protected]gov
| Title | Name | Phone | email | District |
| --- | --- | --- | --- | --- |
| Senator | Cecile Bledsoe | | | 3 |
| Senator | Will Bond | | | 32 |
| Senator | Ronald Caldwell | | | 23 |
| Senator | Eddie Cheatham | | | 26 |
| Senator | Linda Chesterfield | | | 30 |
| Senator | Alan Clark | | | 13 |
| Senator | Linda Collins-Smith | | | 19 |
| Senator | John Cooper | | | 21 |
| Senator | Jonathan Dismang | | | 28 |
| Senator | Lance Eads | | | 7 |
| Senator | Joyce Elliott | | | 31 |
| Senator | Jane English | | | 34 |
| Senator | Jake Files | | | 8 |
| Senator | Scott Flippo | | | 17 |
| Senator | Stephanie Flowers | | | 25 |
| Senator | Trent Garner | | | 27 |
| Senator | Jim Hendren | | | 2 |
| Senator | Bart Hester | | | 1 |
| Senator | Jimmy Hickey, Jr | | | 11 |
| Senator | Jeremy Hutchinson | | | 33 |
| Senator | Keith Ingram | | | 24 |
| Senator | Missy Irvin | | | 18 |
| Senator | Blake Johnson | | | 20 |
| Senator | Bryan King | | | 5 |
| Senator | Uvalde Lindsey | | | 4 |
| Senator | Bruce Maloch | | | 12 |
| Senator | Jason Rapert | | | 35 |
| Senator | Terry Rice | | | 9 |
| Senator | Bill Sample | | | 14 |
| Senator | David J. Sanders | | | 15 |
| Senator | Greg Standridge | | | 16 |
| Senator | Gary Stubblefield | | | 6 |
| Senator | Larry Teague | | | 10 |
| Senator | David Wallace | | | 22 |
| Senator | Eddie Joe Williams | | | 29 |
Senators' names listed above in red font are ALEC members.
BE SURE TO SHARE THESE ALERTS with your friends and family!
Your friends and family may also sign up to receive our Action Alerts by clicking here.
As always, you can find our email articles posted on our website: SecureArkansas.com. The Search box is a handy tool. For more information about a topic, just type it into the Search box on our website, and click Enter!
And remember:
Securing the blessings of liberty,
Secure Arkansas
securetherepublic.com/arkansas
[email protected]
Share This Article