Extortion in Arkansas – Tax Increase Part 3 AND ACTION ITEM!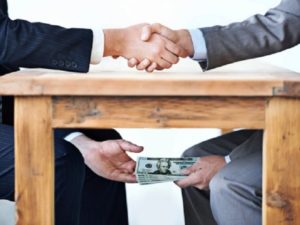 More problems with the NABORS Landfill!
A Federal Grand Jury Needs to be Called Forth!
Since the FBI is already investigating the General Improvement Funds (GIF) here in Arkansas, they need to go a little further and investigate landfills and districts as well. (The mob loves trash and waste disposal fraud! They have multiple contracts in the North and many other states. Could they be operating here in Arkansas, too?) As always, follow the money!
If this is the first time you are reading about this, you might want to go back and read Extortion Part One in Arkansas and Extortion Part Two in Arkansas. This problem affects the whole state, so people in other areas of the state need to read this article too.
There was a Quarterly Inspection Conducted by ADEQ on December 20, 2017 of Ozark Mountain Solid Waste District (permitted as Northwest Arkansas Solid Waste Management District).
The following snippets were pulled directly from the report linked above and show a lack of compliance (see yellow highlighted areas below):
Category 1 [ADEQ Comments]
Records maintained and available 14.1207
The owner or operator of a waste tire processing facility shall record and maintain information regarding their activities. The records shall be available for inspection by Department personnel during normal business hours.
Comments:
No records on-site for review- Facility has not operated since 2010.
Emergency preparedness manual on site and updated 14.1402(N)
The operator of the site shall prepare and keep at the site an emergency preparedness manual. The manual shall be updated at least once a year, upon changes in operations at the site.
Comments:
No emergency preparedness manual was available for review on-site.
Communication equipment maintained on site 14.1210, 14.1402(L)
The owner or operator shall submit, for review and approval, an emergency preparedness plan that adequately mitigates all fire hazards, and provides for the safety and health of all persons who may be potentially affected by a fire event at the facility.
Communication equipment shall be maintained at all facilities to ensure that the site operator can contact local fire protection authorities in the event of a fire.
Adequate equipment to aid in the control of fires must be provided and maintained at the facility at all times.
Comments:
No communication equipment or fire control equipment was observed on-site at the time of this inspection.
Category 2 [ADEQ Comments]
Facility operates in accordance with permit documents 14.1201
Waste tire processing facilities shall obtain a permit and shall meet the requirements contained in this regulation for waste tire processing facilities (Waste Tire Processing Facility Requirements) or shall meet the general permit requirements contained in this regulation.
Reg.14.1215 Annual Reporting
Owners and operators of waste tire processing facilities shall submit to the Department an annual report by March 1 that summarizes information on facility activities. The report shall be submitted to the Department on FormTP5 (Waste Tire Processing Facility Annual Report).
Comments:
There has been no Annual Report submitted since 2009.
Site kept free of vegetation 14.1402(M)
The waste tire site shall be kept free of grass, underbrush, and other potentially flammable vegetation at all times.
Comments:
Excessive vegetation was observed around the tire piles. (Refer to Photo #4.)
Mosquito and rodent control 14.1209 Vector Control; 14.1402(E) Outdoor Above -Ground Tire Storage
Vector Control: An approved vector control program must be operational at all times for tires stored outdoors.
The owner or operator shall develop and implement a program to control mosquitoes and rodents or request such control measures from the local mosquito and vector control office, so as to protect the public health and welfare. Mosquito control measures may include covering containers and trailers used for the collection and storage of waste tires with a tarp or placing them under some type of constructed cover during inclement weather and/or when the business is closed.
Comments:
The Permittee has taken no action to control vectors.
Site bermed for runoff control 14.1402(J)
Effective surface water controls run-on/run-off controls, such as berms and ditches, shall be established for all waste tire storage and processing areas to prevent surface water from entering the storage and/or processing area and to prevent liquid runoff from a potential tire fire from leaving the site or entering surrounding water bodies.
Comments:
No run-on berms were observed preventing surface water from entering the processing and storage area. No berms or surface water ditches were observed preventing run-off from entering the DAMCO Project lake. Currently all run-off surface water is being collected in the lake. (Refer to Photos #3 and #5.)
Category 3   [ADEQ Comments]
Processed tires meet storage criteria 14.1204
The storage limit for processing facilities is thirty (30) times the daily capacity of the processing equipment used.
Comments:
The facility currently has no processing equipment in operation.
Outdoor Above-Ground Tire Storage 14.1402 (D)
A fifty foot wide fire lane shall be placed around the perimeter of each waste tire pile. Access to the fire lane for emergency vehicles must be unobstructed at all times.
Comments:
Fire lanes are obstructed by vegetative growth and are not fifty feet wide. (Refer to Photo #4.)
NABORS Landfill (CLASS 1 HAZARDOUS WASTE) in Baxter County, Arkansas originally served six (6) counties, but by 2012, only Baxter and Marion counties continued to use the landfill, and the Ozark Mountain Solid Waste District's board of directors decided to halt landfill operations.
As of May 18, 2017, the Ozark Mountain Solid Waste District was still taking Electronic Wastefor free.
If the troublesome NABORS Landfill stopped receiving waste November 2012, then why were they still accepting Electronic Waste as late as May 2017? Is this practice still going on, and who is benefiting from this?
And why are people in ALL SIX of those counties supposedly on the overtaxing hook for an unconstitutional amount of $15 to $20 Million, paying for the two counties who were using the landfill before it closed? (Closure could take up to 30 years!) This is ridiculous!
So, what is being done about this fiasco? A resolution was drafted to express disapproval regarding the "service fee" (trash tax) and was passed in Boone County recently. Newton County tabled theirs. We are including an UPDATED resolution for each of the affected 6 counties (Baxter, Boone, Carroll, Marion, Newton, and Searcy) in our article below (keep reading).
The Newton County "RESOLUTION EXPRESSING DISAPPROVAL CONCERNING THE SOLID WASTE ASSESSMENT ON NEWTON COUNTY PROPERTY OWNERS" did not pass as originally reported. This resolution was put on hold and tabled after the devious Prosecuting Attorney David Ethredge told the Newton County Quorum Court that they could end up in litigation for going against Circuit Court Judge Tim Fox's court ruling that added the $18 fee to most real estate property tax bills in six county area of the Ozark Mountain Solid Waste District. (Keep in mind, Secure Arkansas believes that Judge Fox's ruling was ILLEGAL in the first place, not to mention unstatutory and just plain WRONG!) This resolution will be brought up again at the next Newton County Quorum Court meeting (the first Monday of each month at the Newton County Courthouse).
Circuit Court Tim Fox's court ruling which caused the extra $18 "service fee" to be added to most real estate parcels of the six counties in the Ozark Mountain Solid Waste District for the next 18+ years (our guess is 30 years) was to pay off the bondholders' bad investment. This unstatutory ruling is making excessive demands on Arkansans' ability to pay for the illegal activity that occurs in and around Class 1 landfills, and we suspect this occurs wherever there's a Class 1 landfill distinction, NOT JUST THE NABORS LANDFILL!
You need to ask the question: why is Prosecuting Attorney Ethredge trying to protect Circuit Judge Tim Fox and the bondholders instead of the property owners?
The court ERRED and chose to ignore this part of the code of Arkansas Code Ann. § 8-6-714(d):
for which the board makes solid waste collection or disposal services available.
This is the complete code
Arkansas Code Ann. § 8-6-714(d):
d) The board may levy a service fee on each residence or business for which the board makes solid waste collection or disposal services available.
(Secure Arkansas Note: For the Board to be able to assess the $18 fee, they MUST make solid waste collection or disposal services available. The COURT did NOT provide any services for this $18 fee, thus the charge should be Null and Void and removed from taxpayers' tax statements immediately!)
Click here to see the Newton County Resolution that was tabled this week. It's also in the body of this alert directly below.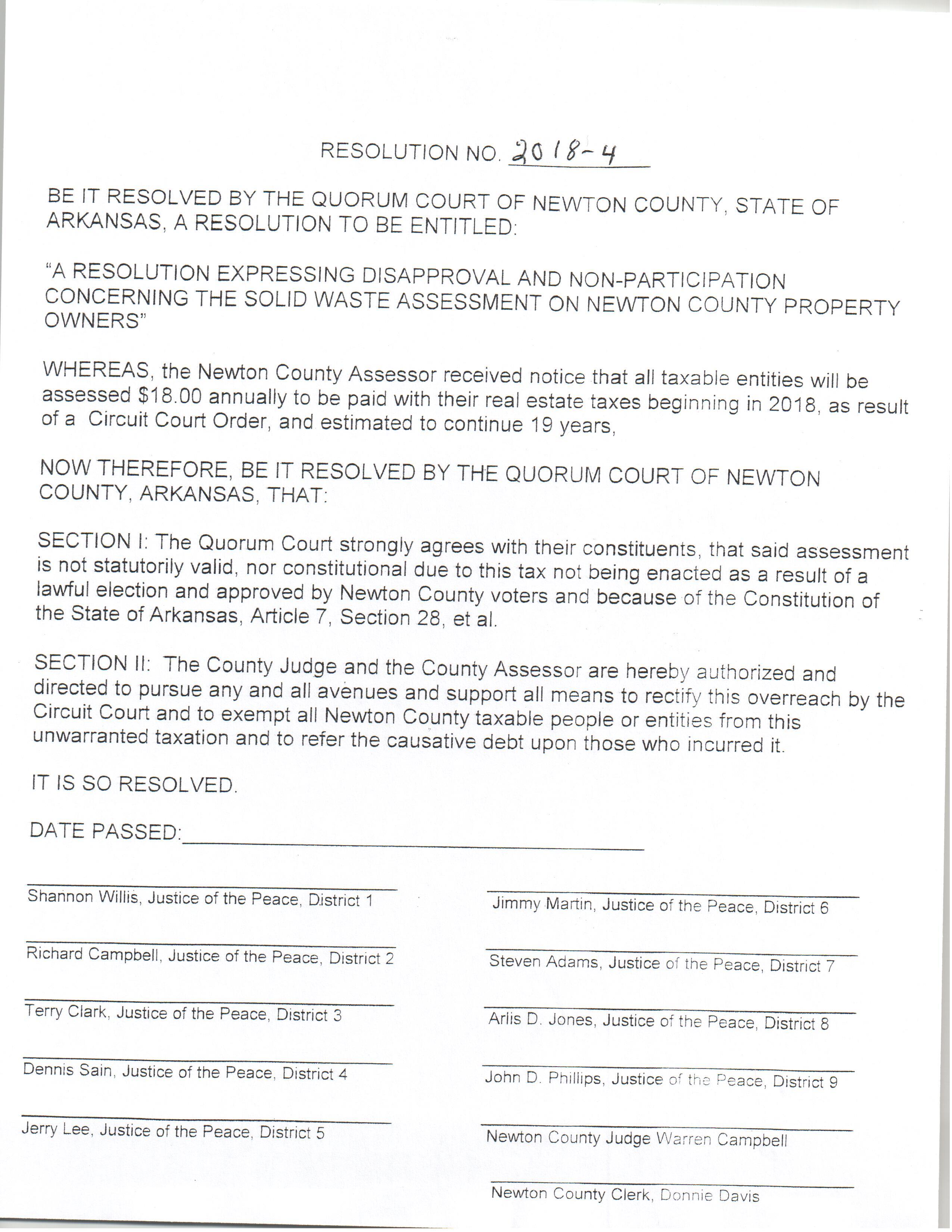 ACTION DESPERATELY NEEDED BY YOU!:
CALL YOUR JUSTICE OF THE PEACE (JP) IMMEDIATELY! Ask them to sponsor the resolution! Reminder, the JPs are the ones that present legislation and vote on it, NOT the County Judge. He presides over the quorum court without a vote, but with the power of veto (ACA 1-4-14-1101-1102) , unless there is a tie.
JPs, you are the ones who would sponsor this resolution.
Contact information for Newton, Searcy, Carroll, Marion, Baxter, Boone County JPs is shown below.
(Thank you, Boone County, for passing your resolution!  This newer resolution for the other 5 counties used Boone County's as a model and added an action item to it and is linked above each county. Let us know if your quorum court needs an editable .docx version of the resolution emailed to them — so they don't have to completely retype it, in case corrections are needed in the JP or other information at the bottom of it.) :
Attention! Be sure to save these JP contacts for future reference — the phone numbers are hard to get!
***Click here for the Newton County Resolution***
Newton County Judge, Warren Campbell
District #1 Shannon Willis, 870-446-2648 or 870-688-2618 (cell)
District #2 Richard Campbell, 870-715-0753
District #3 Terry Clark, 870-861-5805
District #4  Dennis Sain, 870-294-5229 or 870-294-5295
District #5 Jerry Lee, 870-429-6400
District #6 Jimmy Martin, 870-429-5533  

[email protected]

District #7 Steven Adams, 870-446-5125 or 870-428-5520
District #8 Arlis Jones, 870-365-9771
District #9 John D. Phillips, 870-446-5523 or 870-577-0975
**Click here for the Searcy County Resolution**
Searcy County Judge, Jim Harness 870-448-3554
Searcy County JPs:
District #1, Ronald Ragland, 870-448-5467
District #2, Danny Hiett, 870-496-2210
District #3, Michelle Manes, home 870-439-2693
District #4, Nathan Treadwell, home, 870-221-3509 cell,
District #5 Johnny Horton 870-448-7128
District #6, Jeff Mays, 870-448-3047 or cell 870-221-1253
District #7, Ronald Garrison, (870) 448-2986
District #8, Wesley Smith, 870-504-0390
District #9, Larry Dye, cell 870-448-7902
***Click here for the Carroll County Resolution***
Carroll County Judge Sam Barr: 870-423-2967
***Click here for the Marion County Resolution***
Marion County Judge: Terry C. Ott, 870-449-6231  [email protected]
Marion County JPs:
***Click here for Baxter County Resolution***
Baxter County Judge Mickey Pendergrass, 870-425-7756  [email protected]
District #1 – Gary Smith, Phone: 870-431-8070
District #2 – Luci Soltysik, Phone: 870-481-5843
District #3 – Rick Steiner, Phone: 870-492-7245   

[email protected]

District #4 – Bill Lucas, Phone: 870-425-7809
District #5 – James Kerr, Jr., Phone: 870-404-4326
District #6 – Rhonda Tink Albright, Phone: 870-656-4095
District #7 – Marilyn Williamson, Phone: 870-405-5312
District #8 – Edna Fusco, Phone: 870-421-6368
District #9 – Neal Pendergrass, Phone: 870-492-4576
District #10 – Kevin Litty, Phone: 870-421-0664
District #11 – Ty Chapman, Phone: 870-499-0380
***Boone County UPDATED Resolution***  (ONLY if JPs there want to use this updated version; it does have more "teeth" to it.)
Boone County Judge Robert Hathaway, 870-741-5760, [email protected]
District #1 Jim L. Milum, 870-741-7532
District #2 Glenn Redding, 870-754-9305 

[email protected]

District #3 Dan Roberts, 870-743-5916
District #4 Bryan Snavely, 870-741-1280 or 870-391-1139
District #5 Fred Woehl Jr., 870-743-4600
District #6 Bobby Woods, 870-741-2222 or 870-365-5422 (cell), 

[email protected]

District #7 Bill Michel, 870-416-1334
District #8 James D. Harp, 870-365-6069 or 870-365- 0321 (cell)
District #9 Ralph H. Guynn, 870-741-7177 or 870-365-9600
District #10 James Widner, 870-741-3363
District #11 David Thompson, 870-436-5788
Now, what else has been happening?
Attention, everyone! Looks like a secret meeting was held in Harrison Arkansas, Tuesday, March 6, 2018 by the Ozark Solid Waste District at the Harrison City Council Chambers. Looks like the questionable players and/or some possible sneaky individuals in government are scrambling! Secure Arkansas just heard today that on March 5, 2018, KTLO news radio has confirmed that a meeting for Ozark Mountain Solid Waste District was held Tuesday morning, March 6, 2018 at 10:00 am, with NO NOTICE provided AND evidently, "there was NO AGENDA provided" either:
Secure Arkansas immediately sent out an FOIA request on March 6th asking for the minutes of March 6th's "covert" meeting. One thing that could have triggered this emergency meeting may have been the recent FOIA requests Secure Arkansas sent to ADEQ asking them to provide and make available for public enlightenment the documents listed below. So far, it appears that ADEQ and Ozark Mountain Solid Waste District are stalling!
Secure Arkansas previously sent out some FOIA requests on February 28, 2018 and as of March 7th, we only received 2 out of 14 items that we requested. We need that Sunshine Law obeyed by ADEQ so that proper light can be shed on what we consider a government cover-up!
Per the Arkansas Freedom of Information Act 93 of 1967, Secure Arkansas requested the following information concerning NABORS Landfill of Mountain Home, AR
Blank forms listed above came from ADEQ website
The response from the above request was provided in four PDF files. Only two requests (2) were fulfilled so far.
———————————————————————————–
And here is the response we received from ADEQ:
The Nabors Landfill did not utilize all of the fourteen (14) instruments listed below. These are templates that were developed by ADEQ for permitted facilities to choose from and demonstrate financial assurance.

Trust Fund Agreement –Signed Copy Attached (First Attachment);
Performance Bond – This instrument was never established for Nabors Landfill;
Payment Bond – This instrument was never established for Nabors Landfill;
Standby Trust Agreement – This instrument is only used if a performance or payment bond is utilized; Nabors never used a Performance Bond or Payment Bond; therefore, a Standby Trust Agreement was notestablished;
Irrevocable Standby Letter of Credit – Arvest Bank established a letter of credit in 2005 (Second Attachment), but this letter of credit was not renewed in 2009 (Third Attachment);
Certificate of Insurance – This instrument was never established for Nabors Landfill;
Corporate Financial Test – This instrument was developed for companies that could pass several financial ratios. These ratios assess 1) the Company's outstanding debts; and 2) the Company's ability to convert assets into cash; and 3) the Company's working capital. The Company has to have at least $10 million in tangible net worth and rely on a 'six-times multiple" (Company's tangible net worth is at least six times the sum of current closure and post-closure cost estimates covered by the Corporate Financial Test. This instrument was never established for Nabors Landfill;
Corporate Guarantee – An owner and/or operator may obtain a written guarantee from another company (the guarantor) to ensure coverage for closure and post-closure care costs. The guarantor must be a Director Corporate Parent Company, a Corporate Grandparent, a Sibling Corporation, or have a "substantial business relationship" with the owner and/or operator. This instrument was never established for Nabors Landfill;
Local Government Financial Test – only utilized by Counties or Municipalities. This instrument was never established for Nabors Landfill;
Local Government Guarantee – only utilized by County or Municipalities. This instrument was never established for Nabors Landfill;
Municipality Contract of Obligation – only utilized by a Municipality. This instrument was never established for Nabors Landfill;
Municipality Resolution – This is supporting documentation for a Municipality Contract of Obligation.
County Contract of Obligation – only utilized by a County. This instrument was never established for Nabors Landfill;
County Resolution – This is supporting documentation for a County Contract of Obligation.
Nabors Landfill also established a Money Market account for financial assurance for the closure of Area 1-2(Fourth Attachment). (Secure Arkansas Note: Item 15 was provided but this information was not requested)

Perhaps this addresses some of your concerns.
————————————————————————————————————–
And readers, here were the attachments included with that email reply from ADEQ:
—————————————————————————————————
Notice in the reply from ADEQ – how many instruments (documents) were NEVER established!  Why is this? Those were documents that NABORS Landfill SHOULD HAVE FILED, according to ADEQ's OWN REGULATIONS!
What's going on here? What kind of cover-up is this?
Now, you'll see that the questionable Berryville Mayor Tim McKinney was the signer on the "Signed Trust Agreement"!  Keep reading to see what we found on him, folks…
Berryville Mayor Tim McKinney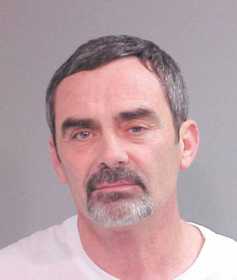 Looks like Berryville Mayor Tim McKinney is a big player/ questionable actor in the woeful polical arena, Agenda 21 practices, and this lousy landfill business! He's been mayor for around 30 years now. Carroll County residents have complained about how difficult it is to deal with the local government there, including contentious County Judge Sam Barr. Regrettably, McKinney has been in office way too long, and the voters NEED to get him OUT!
Mayor Tim McKinney of Berryville says his city received $61,000 in state grants after he dropped objections to other state grants to a private college in Springdale.

Mayor Tim McKinney told the Northwest Arkansas Democrat-Gazette he objected in 2014 to $91,000 in state General Improvement Fund grants [GIF] to Ecclesia College.
Those indicted included former State Senator Jon Woods and Ecclesia College President Oren Paris III for kickbacks allegedly paid to Woods for GIF grants through the suspicious Northwest Arkansas Economic Development District. Surprisingly, former Rep. Micah Neal helped obtain one grant to Ecclesia College and subsequently pled guilty in January.
Berryville Mayor McKinney has been quoted as saying that he was pressured to drop his objection and eventually decided not to block the grant to the college. He said Woods then offered to support grants for Berryville, and he accepted them because the money would go toward local and public projects. Were there any kickbacks for the mayor? We don't know…
Here's more on this mayor and his activities…
McKinney is on the Executive Committee of the Arkansas Municipal League. In 2015, McKinney stated that former Camden Mayor Chris Claybaker accepted the position of Director of Economic Development for the City of Berryville. Before Claybaker was mayor, he owned abstract and title insurance offices in Camden, Hampton, and Rison. Claybaker also serves as executive director of the Berryville Chamber of Commerce, and McKinney worked closely with Claybaker on the Executive Committee of the Arkansas Municipal League.
Oh yes, there's more, and we believe we've just scratched the surface here!
Arkansas Online 3/24/2008
Timothy McKinney has been mayor of Berryville since 1991. A police report says he was arrested Sunday and charged with DWI, possession of a controlled substance and speeding.
Arkansas Times 6/23/2009
Tim McKinney was arrested March 18, 2009 on Interstate 540 between Springdale and Fayetteville on marijuana and drunk-driving charges. Though he was found with less than a gram of marijuana, a second marijuana offense is a felony.

McKinney's lawyer, Beth Storey of Fayetteville, told Judge McBeth Tuesday that a plea agreement will be presented Friday in Washington County in which McKinney will plead guilty to that misdemeanor drunk-driving charge and enter drug court under Judge Mary Ann Gunn to deal with the marijuana offense.
Arkansas Online 7/22/2010
McKinney served one 39-day jail term in Carroll County for driving while intoxicated and marijuana possession, then served a 15-day term for a DWI in Washington County.
Now we come to the another troublesome, murky player/actor in all this crummy mess! Ex-Mayor of Harrison, Jeff Crockett, whom we have addressed in past articles.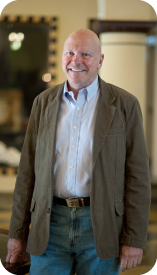 Jeffery Crockett Real Estate Holdings in Boone and Carroll County.
Looks like the Jeff Crockett Trust is worth millions and millions of dollars! Oh, this man!
Hope he's not trying to go into Carroll County and run for government!
Be sure to read your Harrison Daily Times article: "Landfill fee upsets Newton County property owners" by Jeff Dezort for March 7, 2018.
Here's an excerpt from that piece, in case you don't receive the paper:
JASPER — Newton County property owners showed up at the Monday, March 5, quorum court meeting to ask why an $18 fee has been attached to their property taxes. They wanted to take down names of those responsible and called on the quorum court to take legal action on the grounds that the taxpayers didn't vote for what they feel is an illegal tax.
Here's another Harrison Daily Times article: "Landfill fee to be aired" by James L. White from March 7, 2018, also and a snippet from that piece:
At an Ozark Mountain Solid Waste District board meeting Tuesday, district lawyer John Verkamp said he had been talking with the receiver put in charge of collecting money for bond holders who financed the purchase of NABORS landfill in 2005.

Verkamp said the receiver wants to have four meetings on two separate days — one during the daytime, one at night — but he wasn't sure where those meetings would be held.

A woman in the audience asked that at least one of those meetings be held in Mountain Home because people were so surprised to see the $18 fee appear on their property taxes this year.

Board chairman Mickey Pendergrass, also the county judge in Baxter County, asked the woman why she hadn't gone to his office in Mountain Home to talk to him about the issue.

She said she hadn't heard anything about the collection until she got her property tax statement. [!!!]
Judge Pendergrass (Chair of Ozark Mountain Solid Waste District Board and a board member of NWA Economic Development District), stop trying to intimidate the residents! They need your clear, proactive communication and support as their PUBLIC SERVANT; they don't need your condescending attitude.
Board member and Marshall Mayor Kevin Elliott said he has been getting a lot of questions about the issue and he hasn't been able to answer his constituents. He said he would like to know a little more about the fee collection.

Board member and Berryville Mayor Tim McKinney patted a folder in front of him and told Elliott they could get together for a few hours and talk about it.

But McKinney summed up the issue by saying the district spent far too much money buying something it didn't need, then mismanaged it. He also said the bonds sold weren't guaranteed by tax revenue, making them junk bonds, and there was plenty of blame to go around.

"It's a long sad story," McKinney said.
NOTE:  The bondholder should have taken the loss, but instead, they had ADEQ and Judge Tim Fox force the property owner to cover the bondholder loss.
In closing, be sure to support your local newspapers. Much of the information in our articles comes from those, and they keep us informed of what's going on in your area.
Now… a sneak peak into a future article:  Inland Waste Solutions — who are they?
We know they're in 6 U.S. states and operating under 3 different names…
Stay tuned!
Remember:  eternal vigilance is the price of liberty.
As always, you can find our email articles posted on our website: SecureArkansas.com.  The Search box is a handy tool.  For more information about a topic, just type it into the Search box on our website, and click Enter!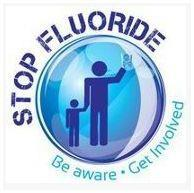 Securing the blessings of liberty,
Secure Arkansas
securetherepublic.com/arkansas
[email protected]
Share This Article