Extortion In Arkansas – Tax Increase Part 10 – NABORS Landfill Bond Default Hearing 8/28/18 in Berryville, Ark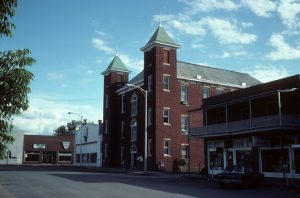 Finally!  A court hearing/recent notice filed in the suit by Carroll County Circuit Judge Scott Jackson's office says a hearing on motions filed is set for the NABORS Landfill bond default (trash tax/service fee) for Tuesday, August 28, 2018 at the Carroll County courthouse at 210 W. Church Street in Berryville, Arkansas! The meeting starts promptly at 9:00 a.m. that day, and this is welcome news to the people in the area as well as anyone in the state of Arkansas!
Note: The suspicious parties (government and private partners) involved in the original vile and unjust action of the $18 fee assessed against the innocent property owners in the six counties are:
Bank of the Ozarks: 

The name was recently changed on July 16, 2018 from Bank of The Ozarks to Bank OZK … what's up with this name change? Could it be that they are trying to distance themselves from ramifications of the pending lawsuits?

Ozark Mountain Solid Waste Management District (OMSWMD)
Northwest Arkansas Economic Development District (NWAEDD)
Bondholders – Represented by The Bank of the Ozarks as trustee
Arkansas Department of Environmental Quality (ADEQ)
Baxter County Tax Collector
Boone County Tax Collector
Carroll County Tax Collector
Marion County Tax Collector
Newton County Tax Collector
Searcy County Tax Collector
If you've read Part 8 of our "Extortion in Arkansas!" alerts, you'll recall that we mentioned that the Northwest Arkansas Economic Development District (NWAEDD) and the General Improvement Funds (GIF) may be involved with the NABORS Extortion Landfill deal. Crimes have already been involved with the General Improvement (GIF) Funds and Northwest Arkansas Economic Development District (NWAEDD), with more indictments to follow! Be patient, folks. This year, you will see more corrupt legislators and players exposed for their underhanded dealing! This is NOT the time to sit back and relax, dear reader… Looks like lobbyists, banksters, Big Business, and politicians have dirtied their own hands with corruption, and it needs to be exposed!
We suspect that many of the Arkansas Senators and Representatives involved with passing legislation which attempts to protect the Bondholders of NABORS Bonds are some of the bondholders themselves.
The lawsuits are filed against the Ozark Mountain Solid Waste District AND all 6 tax collectors to stop the trash tax and refund any money illegally collected in the affected area in regard to the $18 illegal trash tax/service fee currently being collected on residents' and businesses' property taxes in the 6-county area.
Remember, we still need to know:
WHO is protecting the bondholder(s)?
Why aren't these names being revealed?
"People who have nothing to hide, hide nothing."
Hearing Set In First $18 Fee Lawsuit by Harrison Daily Times
In Summers' suit, the $18 fee is alleged to be an illegal tax because a fee is only imposed in the government's exercise of police purposes.
The constant attempt from local government to extort the public in the six counties for almost a year now is underway regarding the illegal trash tax/"service fee" involving Baxter, Boone, Carroll, Marion, Newton, and Searcy Counties!
Secure Arkansas is encouraging those affected by this illegal trash tax in those six counties named above and who have had their personal property tax statement hijacked to please attend this hearing at the Carroll County Courthouse in Berryville, Arkansas. Most residents in that area fell victim to this caper and had this forced upon them!
The bottom line is that this $18 trash tax/"service fee" is not only unjust, but it is also unconstitutional because of lack of jurisdiction!
We have written many articles about this debacle this last year, so if this is the first time you are reading about this scheme by the local government and bondholders, then be sure to click on the other nine articles at the end of this article, should you really want to entrench yourself in this unjust and ridiculous matter. Read for yourself what the local government and their partners are trying to perpetrate upon the innocent residents in that area.
Here's more information from the article from the Harrison Daily Times mentioned above:
The first of almost identical lawsuits filed in each of the six counties in the solid waste district — Baxter, Boone, Carroll, Marion, Newton and Searcy — was filed on behalf of Paul Summers in Carroll County on May 16. 

Those suits, filed by Fayetteville lawyers Matthew Bishop and Wendy Howerton, name the solid waste district and each respective county's tax collector as defendants.

The solid waste district sold bonds to finance purchase of what was then RLH Landfill in 2005. There were environmental problems with the landfill at the time of purchase and some of the bond money was supposed to go toward remedying those problems.

However, the solid waste district contends, the Arkansas Department of Environmental Quality rejected some proposals to fix problems, so the work was never done.
So…… ADEQ "rejected some proposals to fix problems", huh? Which "environmental problems"? That particular information kinda makes a sane person wonder if the toxic Class 1 NABORS Landfill WAS and IS violating any of these MANY federal regulations:
*  The Code of Federal Regulations (CFR)
Some of the primary Federal environmental laws (enabling acts) include:
Emergency Planning and Community Right to Know Act
This law EPCRA was passed in 1986 and commands companies to report whether they have one of following   listed toxic substances stored (or dumped?) at their facility or place of business. Plus, any company that releases one of these substances (either intentionally or ACCIDENTLY) is required to report such release to authorities. The law also requires that companies (and landfills) storing and handling any of these substances develop emergency plans in case of a spill to avoid chemical exposure.
Secure Arkansas wonders: did RLH Sanitation, NABORS Landfill, and Ozark Mountain Solid Waste District have an "Emergency Plan"? If they did, we want to see it! Remember, RLH and NABORS was a Class 1 landfill. Same landfill, just the name changed.
(Remember: NABORS Landfill is a Class 1 toxic landfill. Click here to view the permit approved by Steve Martin of ADEQ on August 10, 2006. This pdf document also lists various ADEQ correspondence going forward to 2012 with numerous modifications for the landfill permit.)
National Environmental Policy Act
The first major environmental law passed was NEPA back in 1970, and it does require any "major Federal project" that "significantly impacts the human environment" to undergo an environmental impact analysis to determine the project's influence on the environment.
Secure Arkansas feels this should apply to the Class 1 NABORS Landfill located in Baxter County Arkansas.
Occupational Safety & Health Act
The OSH Act was passed to protect employees in the workplace. The law is generated if there is a "significant risk of a material health impairment" to an employee. Thank goodness there have been many asbestos lawsuits that have been successfully litigated for injured workers under this act.
OSH Act, storing and the handling of toxic chemicals in the workplace was passed to protect employees.
*A special side note example that could apply to many of these federal laws listed in this article:
Most water operators in Arkansas do NOT want to handle the risky bags of powdered fluoride or if in a liquid bulk form of fluoride that, upon delivery, is transferred into holding tanks at the water facility that contain thousand of gallons of poison (a highly toxic by-product from the fertilizer industry) which comes with a skull and crossbones warning label on it. 
This harmful chemical has to be housed and stored in a separate building at each location of the water facilities, and most water operators know that this lethal chemical is extremely corrosive to pipes and will damage all equipment. In addition, this toxic chemical is extremely dangerous and hazardous for our water operators to handle; yet sadly in 2011, our state was mandated and fell victim to fluoridation by our corrupt politicians, the Arkansas Department of Health, and Delta Dental with their payouts to the politicians to vote for the mandate.
Now we are forced to have FLUORIDE put in our tap water for the unsuspecting public to consume and ingest which can be very damaging to our health.
Fluoride is NOT safe or effective! (Fluorides are absorbed into the blood.) What a lie we have been told…
Types of fluoride added to different water systems are fluorosilicic acid, sodium fluorosilicate, and sodium fluoride. Fluoride can cause serious medical and environmental damage.  Most countries have already banned fluoridation.
Toxic Substances Control Act
TSCA banned nine known toxic substances. The Environmental Protection Agency is allowed to ban additional substances if the agency can prove that the risks associated with the substance are "unreasonable."
Federal Insecticide, Fungicide, & Rodenticide Act
FIFRA requires producers of any new insecticide, fungicide, or rodenticide "to prove that the risks associated with the new product do not exceed the benefits".
Federal Food, Drug, & Cosmetic Act
FFDCA requires the Food & Drug Administration to monitor the food we eat and the drugs and cosmetics we use.
Resource Conservation & Recovery Act
Enacted in 1976, RCRA "regulates the handling, transporting, storing, and disposing of hazardous solid waste". The goal of RCRA is not to restrict or stop the production of hazardous waste materials but rather to make sure such materials are handled properly.
Secure Arkansas is greatly concerned about this Class 1 landfill because it was reported to us by eye witnesses, that people have seen out-of-state trucks transporting and dumping at the landfill site. So, that means we don't really know what has been actually dumped in the Baxter County area at the landfill now known as the defunct NABORS landfill. We have been checking around the state and we hear that more of this illegal dumping of hazardous waste is occurring in more than just NABORS landfill. Again, why should the taxpayers have to pick up the tab for all that has been allow to transpire there over the years and let the bondholders off the hook? They knew the risk of investment.
Comprehensive Environmental Response, Compensation, and Liability Act
Enacted in 1980, CERCLA deals with landfills and other contaminated sites. A "superfund" was created by Congress to cover the monumental cost of cleaning up these sites.
And according to the link directly above,
"EPA cleans up orphan sites when potentially responsible parties cannot be identified or located, or when they fail to act. Through various enforcement tools, EPA obtains private party cleanup through orders, consent decrees, and other small party settlements. EPA also recovers costs from financially viable individuals and companies once a response action has been completed."
Many of the parties involved in this NABORS landfill scheme and who have caused all of this illegal taxing/assessment of fees to occur this year in the affected counties CAN BE IDENTIFIED, all except the bondholders!
Con-artist-type industry lobbyists point out that nearly every substance known to man can be toxic. They argue, bamboozle, and bribe politicians saying that it is the dose, or the "amount of exposure" to a substance, that matters, not the particular substance itself. For example, even pure mountain drinking water may be toxic — because a person can drown in it! Most attorneys define a toxic substance as one that can "cause serious medical or environmental problems in relatively low doses or exposure levels".
Over 70,000 different synthetic chemicals have been developed since World War II to be used in foods, cosmetics, fertilizers, pesticides, and other products. Federal agencies like the U.S. Department of Agriculture (USDA), Occupational Safety & Health Administration (OSHA) and the Environmental Protection Agency (EPA) have attempted to monitor and evaluate these chemicals; however, only a small fraction (less than 15%) have been studied heavily. Complicating matters, over 1,000 new chemical substances are developed every year.
Secure Arkansas wants to know: even if a substance is supposedly considered "safe" short term, what is the effect of long-term exposure? It's known that naturally-occurring substances can be toxic, such as lead, arsenic, fluoride and radon. In other words, uncertainty abounds.
What are the consequences of toxic exposure to our bodies? These can include irritation, mutation, birth defects, cancer, cardiovascular problems, respiratory problems, neurological disorders, and sadly even death. Those people born in the 1940's have a 35% greater chance of contracting cancer than their grandparents, and women who live quite close to certain types of chemical plants have a 70% greater chance of developing breast cancer than those who do not.
Stay with us! Our regular readers will already be familiar with this trash tax/"service fee" issue involving corrupt government and YOUR tax dollars, but you may want to review some of our past articles (linked below) to refresh your memory:
Extortion in Arkansas! Tax Increase – Trash Tax for 6 Counties in Northern Arkansas.
In summary, there are definite problems with the defunct toxic landfill in question, let alone this illegitimate and unconstitutional trash tax/service fee being imposed on most residents in the six county area.
BE SURE to attend the hearing in Berryville on Tuesday, August 28 if you're able!  Details are at the top of this alert.
Stay aware, stay involved, and stay vigilant… and remember to stay tuned!
And, as always, FOLLOW THE MONEY!
Remember:  eternal vigilance is the price of liberty.
As always, you can find our email articles posted on our website: SecureArkansas.com.  The Search box is a handy tool.  For more information about a topic (such as FLUORIDE), just type it into the Search box on our website, and click Enter!
Securing the blessings of liberty,
Secure Arkansas
securetherepublic.com/arkansas
[email protected]
Share This Article