Jonesboro Voters: VOTE NO on 1% Sales Tax Increase! Tues 9/10/19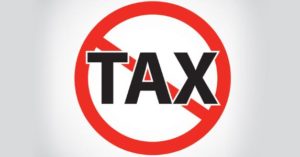 Attention, Jonesboro Voters:  VOTE NO on the proposed 1% Sales Tax increase
Tuesday, September 10, 2019, Jonesboro will hold an expensive special election (borne by the taxpayer) on a proposed 1% sales tax increase. If you are opposed, be sure you go out and vote early on Monday, Sept. 9, or vote on Tuesday, but please remember to vote!
This absurd Quality of Life sales tax increase is open-ended, people! Voters, we must question as to why this was not done in a general election. Unfortunately, big money is usually behind a sneaky special election, and the outcome will surely not benefit the public!
Sadly, here in Arkansas we have one of the highest state/local sales tax overloads in the country, and our small state carries the third lowest median income! Also, we bear the eighth highest poverty rate in the United States! Good grief! Most people, and especially those with a limited income, cannot carry any more tax burdens on their shoulders!
Honestly, "Team Jonesboro" and the Oversight Integrity Council do NOT sound like they have the residents of Jonesboro at heart!
Regarding the proposed sales tax increase, here is a short news clip from KAIT.
As always, you can find our email articles posted on our website: SecureArkansas.com.  The Search box is a handy tool.
For more information about a topic, just type it into the Search box on our website, and click Enter!
Securing the blessings of liberty,
Secure Arkansas
securetherepublic.com/arkansas
[email protected]
Share This Article