Chronic Wasting Disease in Arkansas: Exercise Caution!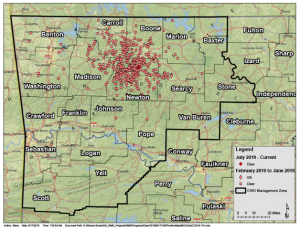 UPDATE
Deer found in Independence County tests positive for CWD
CAUTION! Is Chronic Wasting Disease (CWD) a problem in Arkansas? YES!
Read all the information, educate yourself, and then YOU decide!
Do NOT rely on testing results at this time!
The Chronic Wasting Disease (CWD) Management Zone has expanded to Baxter, Scott, and Stone Counties. (The counties within the bold, black line in the map above are in the CWD Management Zone.)

What is CWD?  According to the Arkansas Game and Fish Commission (AGFC) website:
Chronic wasting disease is a fatal neurological disease that affects members of the deer/elk family (cervids). It was first described in 1967 in Colorado and since has spread to 26 states, Canada, South Korea, Finland and Norway. CWD is similar to scrapie in sheep/goats and "mad cow disease" in cattle. These diseases are caused by misshapen proteins called prions, which accumulate in the tissues of affected animals, especially the brain, spinal cord, and lymph nodes. CWD is a slowly progressing disease. Infected animals will not show signs of disease for a long period of time, but late in the disease process, they will be thin and may demonstrate weakness, abnormal behavior, excessive thirst, or drooling. Animals generally die soon after the onset of these signs.
Keep in mind that test results for CWD are NOT conclusive because they don't show that samples of deer, elk, or moose are "CWD free"; they only show positive, not detected, or unsuitable. From the article linked above, written by Jeannine Fleegle, a Wildlife Biologist:
Now that I've picked myself up off the floor, here are a few things you should know:

Results of these USDA-APHIS testing methods are reported as either positive, not detected, or unsuitable. Note that those results do not include "CWD-free." That's because a conclusive negative result is impossible because the animal may be infected but the CWD prions may not be at a high enough concentration to be detected by the test.
Neither USDA-APHIS test is a food safety test.
Any approved test includes a standardized test protocol, data to support reproducibility, data to support suitability, and data to support the sensitivity (proportion of time it correctly identifies a positive sample) and specificity (proportion of time it correctly identifies a negative sample) of the test.

According to the Ms. Fleegle, the author of the article linked above:  As stated, no CWD test is a food safety test nor does it guarantee an animal is not infected but it does reduce the risk of possible exposure.

There is nothing the wildlife community wants more than an easy, quick, affordable blood test for CWD. And some day it may be developed. But today is not some day.
Secure Arkansas believes we should have access to safe venison, so we started researching Chronic Wasting Disease (CWD) in deer and elk populations, and we found some alarming information, dear reader! This transmissible spongiform encephalopathy (TSE) disease has spread into 26 states and up into Canada! Many experts are saying CWD prions will remain in the environment for a a long time, even years, if the dead animal is not disposed of properly (and who knows how to safely do that?), meaning other animals can contract CWD from the carcass. Evidently, it takes 18 to 24 months before symptoms can be detected in the deer or elk population. See the CDC's article on transmission of the disease.
Here is what we pulled up on the Arkansas Game & Fish Commission (AGFC) website:
Positive CWD cases found as of September 15, 2019
| | | | |
| --- | --- | --- | --- |
| County | CWD-positive Deer | CWD-positive Elk | Total Cases |
| Benton | 3 | 0 | 3 |
| Boone | 70 | 0 | 70 |
| Carroll | 76 | 0 | 76 |
| Johnson | 1 | 0 | 1 |
| Madison | 47 | 0 | 47 |
| Marion | 6 | 0 | 6 |
| Newton | 369 | 14 | 383 |
| Pope | 2 | 0 | 2 |
| Scott | 1 | 0 | 1 |
| Searcy | 14 | 5 | 19 |
| Sebastian | 2 | 0 | 2 |
| Washington | 9 | 0 | 9 |
| Total | 600 | 19 | 619 |
Secure Arkansas would like to know: what is being done in the Newton County area to stop this rapidly spreading infectious disease? Examine above the high number of deer and elk that tested positively with this chronic wasting disease! This is WAY too many infected animals, and we must NOT sit back and overlook what is happening. AND, that is only the number we know about…
We need to see MORE news reporting on this startling topic, please!
Looking at CWD-INFO.ORG here is a snippet from their recommendations for hunters:
However, public health officials advise caution and recommend that human exposure to the CWD infectious agent be avoided as they continue to evaluate any potential health risk. Hunters are encouraged not to consume meat from animals known to be infected with CWD. In addition, hunters should take certain precautions when field dressing and processing deer or elk taken in areas where CWD is found.
Let the AGFC Commissioners hear from you! (The link has their contact information.) In addition, click here for a list of their regional offices.
Also, is Dr. Nate Smith at the Arkansas Health Department on top of this disturbing situation? We understand he is especially interested in emerging infectious diseases. If he previously served as a consultant of infectious diseases at a hospital in Kenya, to whom is he consulting now about the possibility of CWD spreading to humans? He also serves as president-elect of the Association of State and Territorial Health Officials (ASTHO).
Attention! Please read this ENTIRE U.S. News article written Febuary 25, 2019 which opened our eyes to the real problem of CWD and concerned us greatly when reading.
Here are some quotes from an informed Epidemiologist, Michael Osterholm during this news interview:
"I think the risk is very high" that CWD could emerge in humans exposed by eating infected deer meat, says Osterholm, an epidemiologist, professor and director of the Center for Infectious Disease Research and Policy at the University of Minnesota.

To date, CWD has really been handled largely as a wildlife-management issue. It has not been handled as a human health issue.

Remember, if we were going to see cases in humans in 2019, these would have been people who were exposed back in 2005 to 2009. And there were very few animals back then that were infected. I have every reason to believe that it's going to get much worse in the wildlife.

The control measures still are far from complete when you consider the transmission that's occurring right now. And once this gets ceded into an area, in the wildlife population or in the deer or elk, this is very difficult to get out. 
Unfortunately, like mad cow disease, this devastating chronic wasting disease is spread by prions that are virtually impossible to contain because, unlike viruses and bacteria, prions can't be killed.  Researchers from Scotland and Canada showed via an experiment in a petri dish that prions from infected animals that are sick can indeed infect human cells. The paper was published as on the CDC website, "Emerging Infectious Diseases."
Also, we wanted to include this 2017 article from the U.S. National Library of Medicine National Institues of Health entitled Chronic wasting disease: Emerging prions and their potential risk.
Here are a couple of excerpts:
Prions cause fatal neurodegenerative diseases in humans and animals by converting the cellular prion protein PrPC into aggregation-prone PrPSc. Chronic wasting disease (CWD) is a prion disease or transmissible spongiform encephalopathy (TSE) of free-ranging and farmed cervids. CWD is highly contagious and transmitted through horizontal transmission enabled by the shedding of prions in excreta and their persistence in the environment. The disease is undergoing a dramatic spread across North America, has been found in South Korea, and, recently, has been identified for the first time in Europe in free-ranging reindeer (Rangifer tarandus tarandus) and moose in Norway.

Even though management policies for captive animals through quarantine and depopulation of CWD-affected herds appear efficient, attempts to control CWD even in confined facilities failed because of persistence of infectivity in the environment.
Secure Arkansas wanted to close with information from Dr. Mercola, one of our favoured doctors! Mercola is NOT afraid to step up and say it like it is! Here are two good snippets found on his website:
Infected Factory Farmed Meat May Be Another Causative Factor for Alzheimer's Disease
By Dr. Mercola
The only differentiating factor between Mad Cow infection and Alzheimer's is the time it takes for symptoms and death to occur. Up to 13 percent of all "Alzheimer's" victims are thought to really have Mad Cow infection.
Alzheimer's disease, which affects an estimated 5.2 million Americans,1 is a devastating degenerative brain disease that develops slowly over time, and tends to be quite lethal in its final stages.
According to the latest data, the death toll from Alzheimer's exceeds half a million Americans per year.2 This places Alzheimer's in the top three killer diseases in the US, right behind heart disease and cancer.
The Intriguing Connections Between Alzheimer's, Mad Cow, and Chronic Wasting Disease  
The key player here is an infectious protein called TDP-43. This protein has already been linked to a number of animal and human diseases, including:
Amyotrophic lateral sclerosis (ALS, also known as Lou Gehrig's disease)
Mad Cow disease
Chronic wasting disease, a transmissible neurological disease in deer and elk
Lastly, another report we want to include from the American Society of Microbiology published as:  Chronic Wasting Disease in Cervids: Implications for Prion Transmission to Humans and Other Animal Species.
So, here's one last snippet from the above article:
ABSTRACT  

Chronic wasting disease (CWD) is a prion-related transmissible spongiform encephalopathy of cervids, including deer, elk, reindeer, sika deer, and moose. CWD has been confirmed in at least 26 U.S. states, three Canadian provinces, South Korea, Finland, Norway, and Sweden, with a notable increase in the past 5 years. The continued geographic spread of this disease increases the frequency of exposure to CWD prions among cervids, humans, and other animal species. Since CWD is now an established wildlife disease in North America, proactive steps, where possible, should be taken to limit transmission of CWD among animals and reduce the potential for human exposure. 
IN CLOSING, folks, if you are concerned, you can contact the AGFC (Arkansas Game and Fish Commission) or other health officials, but we definitely need to keep an eye on the scary sad situation because the infectious disease is spreading rapidly!
Keep in mind that test results are NOT conclusive because they don't show "CWD free"; they only show positive, not detected, or unsuitable.
Stay tuned! There may be a Part 2 to this. More evidence is being discovered every day!
As always, you can find our email articles posted on our website: SecureArkansas.com.  The Search box is a handy tool.
For more information about a topic, just type it into the Search box on our website, and click Enter!
Securing the blessings of liberty,
Secure Arkansas
securetherepublic.com/arkansas
info@securetherepublic.com
Share This Article