*UPDATE* – Trash Tax Fee Ruled Illegal!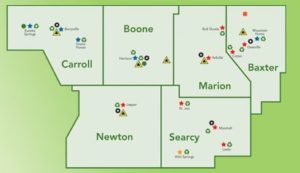 Heads up — Baxter, Boone, Carroll, Marion, Newton, Searcy Counties in Arkansas!
In five of the six affected counties, the Trash Tax/"Service Fee" has been ruled illegal! This is a very good ruling that just recently occurred in favor of the taxpayers. Unfortunately, all collected tax funds will remain in Bank OZK (formerly Bank of the Ozarks) until all is resolved because the court appointed receiver, Geoffrey Treece has appealed the decisions…
Ozark Mountain Solid Waste District has scheduled a meeting Monday, June 29, 2020 at 10:00 a.m. at the City Hall in Harrison, Arkansas located at 115 N. Spring Street. PLEASE ATTEND. Many decisions will be made that morning regarding what's happened regarding this illegal $18 Trash Tax/"Service Fee."
So far, so good!  Most of the affected counties that have had the illegal trash tax fee collected have had good circuit court rulings. Again, five of the six circuit courts have ruled the $18 assessment is an illegal extraction. Hopefully, Boone County will rule it illegal, too!  Secure Arkansas expects all counties to have a good court ruling soon. We especially thank attorneys Matt Bishop and Wendy Howerton for their legal expertise.
All court records are filed on the Administrative Office of the Court's website. (To do your own search of the court records, click here and select the third item down which is Display Case Information and Activities. When the Display Case Information and Activities page is displayed, enter the case number (each shown below) in the Case ID box, and click "submit". Upon the completion of this task, all the related court papers will be available to view by selection the appropriate item you want to view or print.)
Listed below are the six court cases concerning the illegal $18 Trash Tax:
Update! There was a motion hearing on Case 60CV-14-4479 on June 22, 2020 at 11:00 a.m. in the 6th Division of Pulaski County Circuit Court with Circuit Court Judge Timothy Davis Fox. However, nothing has been entered in Docket Report Results reflecting what occurred in Judge Fox's courtroom on June 22, 2020. (It may take several days for the court record to be updated.)
Here is an older report from March 12, 2020 from KY3 News regarding the illegal Trash Tax/"Service Fee":  Two judges rule $18 fee in north Arkansas is illegal
Some snippets:
This week, Searcy County followed Carroll County's lead: ruling that $18 fee to pay back debt is actually an illegal tax…

According to Bishop, in Carroll County, the judge said they can continue collecting pending the appeal, but they have to hold it in an account pending a final ruling by the Arkansas Court of Appeals or Arkansas Supreme Court.

In Searcy County, the judge said they have to stop collecting, but it's still unclear how that will work out. Bills have already gone out.

All the judges have told the Receiver for OMSWD that he cannot release the money to ADEQ or the bondholders, so the funds collected to date are sitting in an account at Bank of the Ozarks.

Bishop said even if the appeals all started today, we'd still be looking at likely six months or more before they were finalized.
Again, that was an older news article from when only two counties had ruled the Trash Tax/"Service Fee" illegal.  Now, we're up to five counties!
In closing, some of the property owned by Ozark Mountain Solid Waste District in Mountain Home, Arkansas will be sold. See the notice below from Ozark Mountain Solid Waste District:
Notice: On July 11, 2020, some of the property owned by the Ozark Mountain Solid Waste District will be sold at auction. It contains a large office with attached office building on about 4 acres on Rossi Road in Mountain Home, AR. Also to be sold, is a smaller shop building on about 3/4 of an acre  a block from the office building. For more details, follow this link
Stay tuned!
As always, you can find our email articles posted on our website: SecureArkansas.com.  The Search box is a handy tool.
For more information about a topic, just type it into the Search box on our website, and click Enter!
Securing the blessings of liberty,
Secure Arkansas
securetherepublic.com/arkansas
[email protected]
Share This Article