RINO-Remover Reynolds vs. RINO Incumbent U.N. Appointee French Hill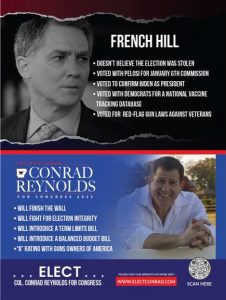 How are you going to vote in the Primary? Haven't we had enough of this U.S. Rep. French Hill?
Check out this 30-second You-Tube video
Also, a must-watch: Short video of French Hill and his friend Liz Cheney. Wyoming Congresswoman Liz Cheney? We cannot believe he brought her in for his fundraiser! She is a RINO and not a conservative in any way, shape, or form!
Chummy Cheney (Hill's friend) sits on the House Armed Services Committee and also serves as the Vice Chair for the House Select Committee to Investigate the January 6th attack on the United States Capitol. No wonder Hill voted with Speaker Pelosi and the Democrats for the investigation regarding the Capitol.
Rep. Hill's wife, Martha Hill, is a lawyer and lobbyist that works for Mitchell Williams Law Firm here in Little Rock. She lobbies for the insurance industry that was overwhelmingly in support of the implementation of Obamacare.
Is Your Representative in the Republican Millionaires' Caucus?  French Hill was…
He has four (4) Financial Disclosure Reports listed for 2020:
Notice where the Hills are invested… because that's how Hill will vote in Congress. Martha and French Hill also have a LLC corporation New Gascony Company, LLC in Arkansas that lists J. French Hill as the manager and Martha M. Hill as the agent.
Hill (a banker) is a member of the U.S. House Committee on Financial Services where he serves as Ranking Member of the Subcommittee on Housing, Community Development and Insurance. Rep. Hill serves alongside Senator Pat Toomey (R-Pa.) on the Congressional Oversight Commission established by the CARES Act to monitor the Treasury's response to COVID-19. In 2021, Rep. Hill was appointed as one of two Congressional Representatives to the 76th United Nations General Assembly.
(The CARES Act or Coronavirus Aid, Relief, and Economic Security Act was initially granted $2.2 TRILLION DOLLARS, but $4.61 TRILLION DOLLARS is the total. Looks like the U.S. has spent most of the so-called relief funding!) Here is how the Covid relief funding was spent and what Rep. French Hill was to oversee as it went to 44 different agencies according to USASpending.gov. Do you like how the money was appropriated? We don't either!
It's time for a change from this RINO! 
Colonel Conrad Reynolds is a RINO-Remover. Let's get behind him and support him for U.S. Congress.
Emergency Funds Needed! You may view Conrad Reynolds' website here and click the "Donate Now" button at the top right to send him financial support.
If you haven't already, please register to vote if you want to be able to vote in the Republican Primary May 24, 2022! The April 23rd deadline is approaching quickly.
Be sure to pass this alert on to your friends, family and colleagues. We cannot afford to miss this opportunity to vote out this self-serving incumbent, Rep. French Hill, and to elect RINO Remover, Conrad Reynolds!
As always, you can find our email articles posted on our website: SecureArkansas.com.  The Search box is a handy tool.
For more information about a topic, just type it into the Search box on our website, and click Enter!
Securing the blessings of liberty,
Secure Arkansas
securetherepublic.com/arkansas
[email protected]
Share This Article