Elect John Thurston Sec. of State; Arkansas' Clear Choice!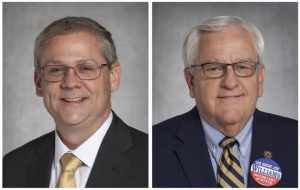 Incumbent Republican John Thurston is running for re-election as Arkansas Secretary of State this year against RINO Eddie Joe Williams. Which one will you choose?
Our clear choice is the current Secretary of State John Thurston because Mr. Eddie Joe Williams has caused us to be greatly concerned over the years. Why? Keep reading.
Let's talk about the corrupt candidate running against John Thurston:  former Mayor of Cabot, RINO Eddie Joe Williams was first elected to the Arkansas State Senate in 2010. He served as a grim and dictatorial Chairman of the Senate Committee on State Agencies and Governmental Affairs and on Governor Asa Hutchinson's transformation team. Trump appointed him to serve in his administration to represent the White House on energy issues, BUT Mr. Williams has NOT been officially endorsed by our Former President.
What dirty activities has Eddie Joe Williams been engaged in?
FACT #1:  While serving in the State Senate, Eddie Joe Williams set up his own political action committee (PAC).
FACT #2:  Eddie Joe Williams used his personal PAC to rake in thousands of dollars from special interests.
FACT #3:  "Go Eddie Joe PAC" accepted thousands of dollars from Gilbert Baker, a lobbyist indicted on felony corruption charges.
FACT #4:  "Go Eddie Joe PAC" accepted money from disgraced lobbyist and convicted felon Rusty Cranford.
FACT #5:  Eddie Joe Williams funneled his PAC dollars to convicted felon Jon Woods.
FACT #6:  After filing to run for Secretary of State, "Go Eddie Joe PAC" was recently re-started after years of being shut down…
Eddie Joe conveniently left the Arkansas Senate just as the FBI began arresting legislators he was associated with for misusing campaign funds such as Gilbert Baker and Jeremy Hutchinson.
RINO Eddie Joe Williams is a man with many facades and will do what he can to serve his own pocketbook and NOT the good people of Arkansas. He is a bully and has been bought and paid for by lobbyists from corporate America. Do you want that sort of man as your Secretary of State?
Here is an older yet vital article from Secure Arkansas written in 2015 about his corrupt actions at the Arkansas Capitol. Here are some snippets:
Go Eddie Go PAC.  This PAC has had $110,445.74 rotate through this PAC between 2012 and 2014.
Senator Williams has set up his own PAC (Political Action Committee) which could allow money to be funneled from other PACs and individuals to his own GoEddieJoePAC.  The GoEddieJoePAC could then possibly transfer money to other legislators.  We think that this practice is being done by many of the Arkansas legislators.  When you give money to some of the legislators, your money may end up financing the election of another legislator/campaign.
Republican Senator Eddie Joe Williams donated over $42,000 from his campaign funds to other Senators and Representatives for ticket events in 2012.   He's the Chair of the Senate State Agencies and Governmental Affairs Committee.  Senator Williams is the Vice Chair of the Energy – Joint Committee.
The Eddie Joe PAC can be looked at as a money laundering scheme.  There are many corporations that use PACs to hide their identity regarding the source and final destination of funds.  It appears that the Go Eddie Joe PAC, which had $110,445.74 rotate through it between 2012 – 2014, is used by Senator Eddie Joe Williams to reward some of the members of the committees of which he is the chairman and co-chairman.
Eddie Joe Williams is running for Secretary of State, but he cannot be trusted with money, let alone integrity or leading our great state in an executive capacity.
EDDIE JOE WILLIAMS – OBAMACARE
Eddie Joe Williams supported Obamacare by voting for EVERY part of Obamacare that couldn't be imposed in Arkansas without state approval
Voted to adopt Obamacare's Medicaid Expansion in Arkansas
Voted to keep it funded
Voted to create a task force to recommend how to continue it
Voted to authorize Arkansas to take the risk of creating a state-run Obamacare Exchange. (Without Eddie Joe's help, Former Governor Mike Beebe would never have gotten it passed.)
He was also Gov. Asa Hutchinson's advisor during the time that he vetoed the chemical castration bill.
We visited with our current Secretary of State, John Thurston, about the malevolent accusations that Eddie Joe Williams is hurling at him while in office, and here is what Thurston said:
SPENDING ON THE DRONE- This drone is used by our police for security. The drone was a useful tool and proved vital by law enforcement during the Arkansas Capitol riots.
John Thurston's statement when he served in 2011-2019 as the Arkansas State Land Commissioner:
COSL CONSULTANT- When I came into the Commissioner of State Lands (COSL), my Democrat predecessor had left that office a mess. We had a statutory obligation to provide a water ways system, and at the time there wasn't a vendor who could do it. We hired an individual who had experience working with COSL before.
COSL BOAT- The Waterways Division is one of the biggest responsibilities of the COSL office. Due to legislation, the office was required to field complaints regarding the states navigable waterways. The purchase of the boat was simply done to help fulfill the duties of the office.
Prior to the purchase, we had to have Game and Fish chauffeur us on waterways.
Eddie Joe is clearly grasping at straws in an attempt to discredit John Thurston and get into this office. Please, dear voter, do NOT turn this unscrupulous man known as Eddie Joe Williams loose to pillage our Arkansas Capitol once again. This questionable man is out, and let's keep him out!
We need to vote to keep John Thurston as our Arkansas Secretary of State.
About John Thurston:
Currently serving his 1st term as Secretary of State
Lifelong resident of Saline County
Husband to Joanna and father of five
Served as Commissioner of State Lands for eight years.
Manages a $40 million-dollar annual budget
Has returned over $118 million dollars back to the counties of Arkansas with more than 80% of that money going to our public schools
Will work with county and state election officials to ensure fair and accurate voting
Will observe honest and ethical practices in redistricting so that every Arkansan's voice is heard
A man of conviction who backs up his words with action and integrity
His promise to the people of Arkansas:
"My objective as an elected official is to do my job so well that my constituents can live their lives, raise kids, pursue their careers, enjoy life, and never have to be concerned with the office I have been entrusted with."
Vote John Thurston as Secretary of State in the 2022 Arkansas Primary Election on May 24, 2022!
Early voting started May 9.
As always, you can find our email articles posted on our website: SecureArkansas.com.  The Search box is a handy tool.
For more information about a topic, just type it into the Search box on our website, and click Enter!
Securing the blessings of liberty,
Secure Arkansas
securetherepublic.com/arkansas
[email protected]
Share This Article