Politicians Bought Off by Fluoridation Lobbyists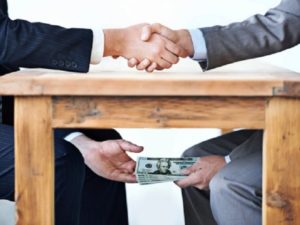 Once again, collusion, deception, and fraud are being used to pass legislation at the State Capitol. Sadly, any legislative bill can be brought for enough money offered! A fraudster is someone who gets money by deceiving people. Follow the money to go behind the scenes and discover the players who are promoting the toxic water fluoridation, and you will then have your eyes opened.
Big Money is involved all the way around!  See below for information that could expose Delta Dental and their questionable practices of shuffling money to politicians around the country.
The FBI may be interested in the information in this article and can be contacted in Little Rock, Arkansas at their Field Offices at 501-221-9100. Click here for the FBI's Little Rock website.
Public corruption is the FBI's top criminal investigative priority.
We will get back to the corruption and deception… after we share this latest optimistic news:
Still holding out, thank goodness! The Ozark Mountain Regional Public Water Authority (OMRPWA) plans to take their case to the Supreme Court!
This water wholesaler DOES NOT want to be forced to add poison (fluoride) to their drinking water. Here's a fantastic news article written by Becky Gillette of the Eureka Springs Independent from March 27, 2019. Directly below are excerpts quoting Andy Anderson, Chair of the water authority:
"We have to get the law changed," Anderson said. "The more I learn about fluoridation, the more it irritates me that our state legislators and ADH have forced this on us. They do not seem to understand or are willing to admit the harm fluoride causes to a lot of people. It is a neurotoxin, more toxic than lead, and has been linked to autism, ADHD and Alzheimer's disease. A couple weeks ago, a new study showed the eyes are affected by fluoride increasing glaucoma and macular degeneration."

Anderson said there is no doubt in his mind that the addition of fluoridation chemicals to the Carroll Boone Water District in 2015 is to blame for increased lead levels seen in the drinking water of Harrison and Eureka Springs. Harrison has exceeded the EPA threshold for lead and is taking corrective action. In 2018, lead testing in Eureka increased to .014 ppm, which is just .001 ppm away from the EPA lead action level of .015 ppm.

"It has been demonstrated that fluoride will leach lead out of plumbing," he said. "Around the country there are reports of when they stopped feeding fluoride the lead levels dropped."
[Bold font for emphasis, Secure Arkansas']
Now back to what occurred in 2011 regarding the water fluoridation mandate…
We've linked two articles from that timeframe and some excerpts directly below. Keep reading to follow the collusion.
Arkansas Senators Don't Let Science – or the Public – Stand in the Way of Mandatory Fluoridation – February 25, 2011
NEW YORK, Feb. 25, 2011 /PRNewswire-USNewswire/  
Despite admission by the Federal Government that American children are being over-exposed to fluoride, and that fluoride's benefits are primarily topical, the Arkansas State Senate passed legislation on Thursday to force fluoridation on the entire state. This legislation will require cities to add unnecessary, untested fluoride chemicals into the water supply, clearly risking the health of many Arkansas residents.

Fluoridation chemicals—often purchased from Mexico, China, and Japan—are waste products of the phosphate fertilizer industry that are often contaminated with arsenic and lead. These industrial-grade chemicals have never been tested for safety in humans or animals, and have never received approval from the U.S. Food and Drug Administration.

While the Arkansas House and Senate rush to cast votes that will affect most residents of the State, the public's voice has been excluded from the process. Oddly, the push for mandatory fluoridation in Arkansas comes in the wake of an historical shift in the U.S. fluoridation program.
Arkansas legislature ignores science, mandates toxic fluoridation for entire state
– March 01, 2011 by Ethan A. Huff
The decision, which comes at a time when many studies and reports are questioning the safety of fluoride, especially in children, is highly concerning. It is also based on neither the public support of Arkansans nor valid science, which is illustrated in part by the fact that the Pew Research Center for the People & the Press, a Washington D.C.-based think tank that claims not to take positions on policy issues, was one of the driving forces behind the initiative.

And perhaps one of the reasons they avoid the science is because it proves fluoride is harmful. Many studies have shown that artificial water fluoridation is linked to thyroid dysfunction, bone damage, and lowered IQ, among other things (https://www.naturalnews.com/fluoride.html).

"There are at least 24 studies that have found an association between lowered IQ and levels of fluoride in water as low as 1.9 ppm," said Paul Connett, PhD, director of the Fluoride Action Network, a non-profit advocacy group devoted to exposing the truth about the dangers of fluoride.
So, how does this affect Arkansas?  SB 359, now Act 197 from 2011, is known as the water fluoridation mandate bill in Arkansas. Much of the entertainment and lobbying for the bill was done by Delta Dental through lobbyist DBH Management Consultants, and it appears that this was done to hide the true source of lobby funds given from Delta Dental and their other clients to DBH. Remember: Delta Dental is a client of DBH Management.
To get around the election laws, DBH formed multiple PACs (Political Action Committees).
There is no difference between the nursing home bribes from Michael Morton to Judge Maggio's campaign funds that ended up in the judge going to prison and the Delta Dental bribes to the Arkansas politicians to get SB359 passed as Act 197! This is not the only case where Big Corporate Money came in and paid off the legislators to get legislation passed.  Click here to read one of Secure Arkansas' articles on Judge Maggio and the nursing home connection with several Arkansas politicians. There are still other politicians mentioned in this article who have not yet been charged with bribes in exchange for voting for favorable legislation for nursing homes.
The contribution limit is $5,000 from any person per Political Action Committee (PAC) in any calendar year. DBH being organized under NINE current entities means that contributors can donate up to $45,000 total. (NOTE: Election Law Reform should be required.)
Bruce Hawkins, the DBH founder, was a former Arkansas State Senator who became a lobbyist, and he set up seven of those separate DBH PACs.
DBH Management Consultants is organized under the following nine entities (again, to bypass current election laws):  
D. Bruce Hawkins 2 PAC
DBH Management Consultants 3 PAC
DBH Management Consultants 4 PAC
DBH Management Consultants 5 PAC
DBH Management Consultants 6 PAC
DBH Management Consultants 7 PAC
DBH Management Consultants PAC
DBH Management is a Client of FHF Enterprises, LLC (Register Agent and Incorporator/Organizer is Fredrerick Freeman, Forrest City, AR)
DBH Management Consultants is client of The Perimeter Group (Register Agent and Incorporator/Organizizer is Len Pitcock, Hot Springs Nationa Park, AR)
The recipients of the DBH money past political campaign contributions are as follows:
Rep Andrea Lea $ 500
Senator Bart Hester $ 2,750
Senator Blake Johnson $ 2,000
Rep Brandt Smith $ 500
Senator Bruce Holland $ 3,750
Senator Bryan King $ 750
Senator Cecile Bledsoe $ 2,000
Senator Charles Collins $ 1,200
Rep Chris Richey $ 1,750
Rep David Meeks $ 1,000
Rep Deborah Ferguson $ 750
Rep Dwight Tosh $ 1,000
Senator Eddie Joe Williams $21,950
Senator Garry Stubblefield $ 750
Rep Greg Leding $ 500
Senator Jack Crumbly $ 5,000
Rep Jack Ladyman $ 1,000
Senator James Hendren $ 2,500
Rep Jana Della Rosa $ 1,000
Senator Jason Rapert $10,250
Rep Joe Jett $ 750
Rep Danny Watson $ 250
Senator John Copper $ 6,500
Senator Johnny Key $ 3,000
Rep Jon Eubanks $ 2,225
Rep Jonathan Dismang $ 250
Rep Josh Miller $ 750
Rep Justin Boyd $ 1,000
Rep Ken Bragg $ 500
Senator Lance Eads $ 4,000
Rep Lanny Fite $ 250
Senator Larry Teague $ 1,000
Rep Les Eaves $ 500
Rep Mark Lowery $ 1,000
Rep Mark Perry $ 1,250
Senator Mathew Pitsch $ 500
Rep Matthew Shepherd $ 750
Senator Missy Irvin $ 4,000
Senator Michael Lamoureux $ 2,000
Rep Monte Hodges $ 1,000
Rep Nate Bell $ 1,250
Senator Linda Collins-Smith $ 9,150
Rep Rick Beck $ 3,761
Rep Ronald Caldwell $ 250
Rep Douglas House $ 250
Senator Stephanie Flowers $ 1,785
Rep Stephen Magie $ 3,000
Rep Stephen Meeks $ 500
Senator Terry Rice $ 1,250
Rep Tommy Thompson $12,500
Senator Trent Garner $ 8,000
We want to remind you that the predatory Delta Dental Foundation provided the grant money for the startup costs for all fluoridation installation, and the Delta Dental Plan of Arkansas transferred these startup costs to Delta Dental Foundation of Arkansas.
Years ago, Secure Arkansas reviewed the 2011 IRS 990 filing of Delta Dental of Arkansas and found that Dr. Lynn Mouden was a Director of Delta Dental at the same time he was director of the ADH's Office of Oral Health.
The Harrison Daily Times also reviewed the filing and found Dr. Lynn Mouden's name listed as a director of Delta Dental. This is a direct conflict of interest between the ADH, Delta Dental, and Dr. Lynn Mouden, Director of Oral Health of the ADH in 2011.
Dr. Mouden moved on to become the Chief Dental Officer for the U.S. Centers for Medicare and Medicaid Services (CMS) in 2012.  This con man has travelled from Weston, Missouri, all the way to Washington D.C! That's quite a step up for a small town Missouri dentist!
Update on Mouden: Mouden retired as the Chief Dental Officer for the U.S. Centers for Medicare and Medicaid Services (CMS) September 30, 2017. (Medicaid is a huge cash cow, folks!) He then went to work for Avesis, a Guardian Company. We are sure Avesis hired him to develop ideas for state-based Medicaid programs and for Medicaid and Medicare Advantage partners. Unfortunately, he also still holds three faculty appointments at the University of Arkansas for Medical Sciences (UAMS) in the Colleges of Medicine, Public Health and Health Related Professions. In the past, this man has proven to be unethical in order to get his way and move up the ladder.
For more important information that you may have missed on Mouden, click here.
Secure Arkansas is still holding the 6 affidavits which state that the reports Mouden used to promote the need for water fluoridation NEVER HAPPENED, meaning he falsified his reports!
Click here for more information on Delta Dental.
Pay Attention! Delta Dental of Arkansas has given $194,700 to 131 different filers spanning 14 years.  The split of the money is as follows:
Democrats           $137,450   70.6%
Republicans          $ 54,500  27.991%
Not Designated     $ 2,000     1.03%
Nonpartisan          $ 750        0.385%
                             $194,700     100%
This practice of bribing politicians is still going on, in order to keep the public water supplies fluoridated. Delta Dental preys on greedy politicians and knows how to cover all their bases in government!
SB 359 was referred to the Senate Committee on Public Health, Welfare and Labor. The committee members in 2011 and total amount received from Delta Dental and DBH (Delta Dental is a client of DBH) were:
Chair Senator Percy Malone $ (unknown at this time)
Vice Chair Senator Randy Laverty $ 500
Senator Cecile Bledsoe $2,500
Senator David Burnett $ 500
Senator Jack Crumbly $5,000
Senator Jonathan Dismang $3,000
Senator Missy Irvin $2,500
Senator Bill Pritchard  $ (unknown at this time)
SB 359 was passed out of committee. It takes 5 members to pass a bill out of the committee.
The recipients of the Delta Dental past political campaign contributions are as follows:
US Senate – AR Blanche Lambert Lincoln $7,500 (Re-ran but lost race)
Rep Monty Davenport $500 (Ran for Comm. of State Lands but lost race)
John Burkhalter $500 (Ran for Lt. Gov. but lost race)
John Fogleman $500 (Ran for Sup Ct Pos 3 but lost race)
US House Dist 4 Mike Ross $10,500 (Ran for Governor but lost race)
Judge Rhonda Wood $250 (Re-ran for Appelate Court Dist 2 Pos1 but lost race)
Governor Asa Hutchinson $7,300
Governor Mike Beebe $5,500
Atty General Leslie Rutledge $2,000
Atty General Dustin McDaniel $1,250
Senator Jason Rapert $5,200
Senator Jonathan Dismang $3,000
Senator Cecile Bledsoe $2,500
Senator Missy Irvin $2,500
Senator Stephanie Flowers $2,500
Senator Jane English $2,500
Senator John Cooper $2,250
Senator Keith Ingram $1,500
Senator Fred Allen $1,250
Senator Bob Ballinger $1,000
Rep Justin Boyd $1,000
Senator Linda Chesterfield $1,000
Rep Deborah Ferguson $1,000
Rep David Fiddler $1,000
Senator Kim Hammer $1,000
Senator Mathew Pitsch $1,000
Senator Matthew Shepherd $1,000
Senator Terry Rice $750
Senator Joyce Elliott $750
Rep Frederick Love $750
Senator Greg Leding $750
Rep Mark Perry $750
Lt. Gov Tim Griffin $500
Senator Gary Stubblefield $500
Senator James Sturch $500
Senator Larry Teague $500
Senator Randy Laverty $500
Rep Kenneth Bragg $500
Rep Andy Davis $500
Senator Lance Eads $500
Senator Blake Johnson $500
Senator Mark Johnson $500
Senator Jeffery Wardlaw $500
Rep Laurie Rushing $250
Rep Chris Richey $250
Rep Aaron Pilkington $250
Rep Bruce Maloch $250
Rep Karilyn Brown $250
Rep Bruce Coleman $250
Rep Jana Della Rosa $250
Rep Rebecca Petty $250
Rep Dan Douglas $250
Rep Jon Woods $1,500  convicted felon
Senator Gilbert Baker $1,000  indicted for felony charges
Senator Paul Bookout $1,000  convicted felon
Here are the steps the bill went through in order to be signed by former Governor Beebe, in order to become law as Act 197.
Please scrutinize the bill sponsor and supporters carefully:
The Pew Report was the main report that the lobbyists used in persuading the legislators to pass SB359. This was a fraud since six of the eight items in the report did not apply to Arkansas.
From the Arkansas Ethics Commission "Rules on Lobbyist Registration and Reporting"  under Prohibited Acts and Penalties § 517. Prohibited acts page 17:
(g) No person engaging in lobbying may:
(1) influence or attempt to influence, by coercion, bribery or threat of economic sanction, any public servant in the discharge of the duties of his or her office;
(2) purposely provide false information to any public servant as to any material fact pertaining to any legislative or administrative action;
(h) (1) Any person criminally convicted for violation of any provision of Ark. Code Ann. § 21- 8-607(a) or (b) shall not act as a lobbyist for three (3) years from the date conviction and shall be subject to a fine of not less than $100 and not more than $1,000.
(2) Any person violating this three (3) year ban will be deemed guilty of an additional violation of subchapter 6 of chapter 8 of Title 21.
SB 359 went through the Senate Public Health, Welfare and Labor Committee in 2011. The former committee members in 2011 were:
Senator Percy Malone – Chair – Occupation: Pharmacist
Senator Randy Laverty – Vice Chair – Occupation: Insurance
Senator Cecile Bledsoe – ALEC
Senator David Burnett – Occupation: Retired circuit and chancery judge for the Second Judicial District of Arkansas
Senator Jack Crumbly – Occupation: Educator
Senator Jonathan Dismang – ALEC
Senator Missy Irvin – ALEC
Senator Bill Pritchard – Occupation: small business/rancher; Razorback Rentals (now lobbyist)
In addition, UAMS backed the water fluoridation back in 2011. Other groups that backed the water fluoridation are as follows:
Arkansas State Dental Association
American Dental Association – ALEC
Arkansas Advocates for Children and Families
Delta Dental
Here's a brief excerpt from the UAMS article linked directly above:
UAMS joined several health advocate organizations in support of the bill, including the Arkansas State Dental Association, the American Dental Association and Arkansas Advocates for Children and Families.
All of the Arkansas Water Districts were threatened by ADH that they must enter into and sign a contract with Delta Dental for the start up money needed for public water fluoridation, mandated by Act 197. The problem is that for a contract to be legally binding or valid, an agreement must be formed between two parties. Any contract that lacks an agreement between the two parties is NOT VALID. A water district cannot be forced to sign any contract with which they don't agree, due to threats by any individual, group, or government agency.
Reminder: The SENATE PUBLIC HEALTH, WELFARE AND LABOR COMMITTEE in 2011 was the committee that pushed and passed SB 359, the fluoride mandate legislation. This was an Act to mandate fluoridation in all systems that serve 5,000 or more.
For the 2011 Arkansas Senate Vote on the Fluoride Mandate SB359, click here.
For the 2011 Arkansas House Vote on the Fluoride Mandate SB359, click here.
So, what's been happening lately regarding water fluoridation? Some news from last week (March 2019): The skilled actor/player Senator from Berryville, Bob Ballinger ran a good bill, SB 604, in the Senate Public Health Committee … yet, the problem is, it looks like he knew that this good bill had NO CHANCE in this corrupt committee. Secure Arkansas sees this as a charade in order to please his outraged constituents in his area that are concerned about the hazardous water fluoridation, knowing all along that his 8 negligent Senate buddies would never vote in favor of this good bill because they are all dominated by their master manipulators in the American Legislative Exchange Council (ALEC) that promote toxic water fluoridation. Ballinger (ALEC) and the committee put on a phony show like always, but regretfully, the fine folks that travelled to the Capitol to testify about the dangers of fluoride, from all across the state, left disappointed once again because there was no rebuttal allowed. Could they be afraid to let the truth come out?
Note: you may recall that Attorney/Senator Bob Ballinger from Berryville represented Ecclesia College and is still hiding records on how the GIF money was spent and how many other legislators were involved in the corruption.
Current Senate Public Health, Welfare and Labor Committee (ALEC) members:
LAST NAME

FIRST NAME

BUSINESS #

CELL #

EMAIL

Irvin (Chair) and also
ALEC State Chair

Missy

870-269-2703

870-740-9694

Wallace (Vice Chair)

David

870-919-8046

Caldwell

Ronald

501-682-6107

Flippo

Scott

870-421-3420

Hammer

Kim

501- 682-6107

501-840-3841

Hester

Bart

479-531-4176

Hickey, Jr.

Jimmy

903-824-8861

Sample

Bill

501-624-3445

501-627-5386
In closing, it seems that we cannot get GOOD bills through this Senate Public Health Committee and haven't for years, and it appears that the committee is working for the lobbyists and not for we, the people.
Stay tuned…
Stay aware, stay involved, and stay vigilant.
Remember:  eternal vigilance is the price of liberty.
As always, you can find our email articles posted on our website: SecureArkansas.com.  The Search box is a handy tool.  For more information about a topic (such as CONVENTION), just type it into the Search box on our website, and click Enter!
Securing the blessings of liberty,
Secure Arkansas
securetherepublic.com/arkansas
[email protected]
Share This Article