Coronavirus / COVID-19 – Exposing Dr. Fauci & the Deep State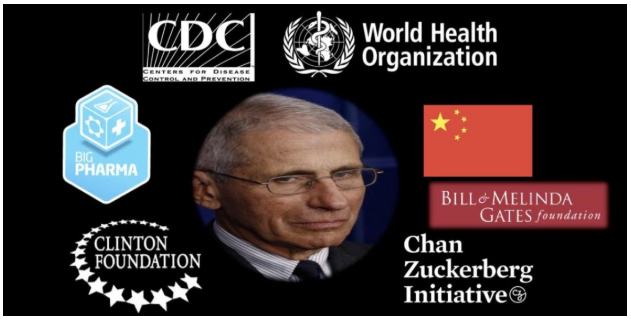 So, who REALLY is at fault for the shortages?
Personal protective gear, ventilators, and lack of instruction about true health care via healthy immune systems…
The World Health Organization (WHO) Failed the American Taypayers!!!
Leadership and supplies lacking!
So, the World Health Organization (WHO), the U.S. Dept. of Health & Human Services (HHS), the Centers for Disease Control & Prevention (CDC), the National Institutes of Health (NIH), the National Institute of Allergy and Infectious Diseases (NIAID), and Bill Gates would have America locked down for the entire Summer…
if they had it their way.
And if Alex Azar and the U.S. Dept of Health & Human Services were truly concerned with the well being of Americans, why didn't they replenish the stock of N95 masks and other PPE (Personal Protection Equipment)?
Here are a few agencies under the U.S. Dept. of Health and Human Services (HHS): the Centers for Disease Control & Prevention (CDC), the National Institutes of Health (NIH), and the Food & Drug Administration (FDA), for example…
Moreover, if you want to know who controls HHS and all the agencies thereunder, check out this website: SERCO (We've mentioned them in a previous article.) This sinister British group that was contracted out did NOT handle or manage the U.S. Health and Human Services very well, did they, readers? Looks like they have put many lives in danger!
Readers — do you REALLY want your health contracted out to people and organizations who don't have your true health care or your best interests at heart?
This is from SERCO's website: (A British Company)
We have been entrusted with delivering vital services for the U.S government, the Canadian government, and leading private and public sector organizations across the world.   
This looks like a high National Security Risk!
America and the world are at a stand-still. Unfortunately, we have a narrative that is being driven largely by one individual, Dr. Anthony Fauci. We have been manipulated and lied to via poisonous propaganda that is playing on our fears in an attempt to manipulate the emotions and actions of the public! Our struggling U.S. consumers cannot carry the economy any longer. Many businesses, especially smaller ones, will NOT survive long enough to wait for anything from a stimulus package… and Bloomberg News has stated we could see wartime rationing.
An Urgent, Honorable Letter to the President! The medical field is requesting help now, and the Association of American Physicians and Surgeons, Inc. (AAPS) penned this powerful letter to President Donald J. Trump on March 21, 2020. These doctors did not want the medical system to be overwhelmed… and they mentioned in the letter that 90% of pharmaceutical drugs come from CHINA.
Secure Arkansas would like to give a special shout out to Dr. Graves from Kansas City and for bringing this letter to our attention.
It looks like some players on Trump's Task Force need to be replaced…
What IS going on? Can you handle the truth?
Are YOU following the New World Order objectives? Do you recognize the deep state and its players?
The World Health Organization (WHO) declared a coronavirus pandemic to the world on March 11, 2020. The United Nations and their minions will take whatever actions are necessary to achieve their Sustainable Development Goals. These "sustainable objectives" appear to be what the overseers of the planet want to be implemented on humanity… one way or another. We had better understand that harsh measures have been laid down in order to "move forward" according to their dictatorial agenda.
The media will be involved in implementing Agenda 2030 and the global immunization plan. The mass media has been preparing the masses for a long-drawn out crisis, and whoever is over the media has an influence over the narrative. Overt and covert shady operations are happening daily…
George Soros's Open Society Foundations has been influencing the former Soviet bloc media outlets and institutions. The World Health Organization (WHO) vaccination plan should NOT be expanded. President Trump mentioned in a Coronavirus Task Force briefing on April 7 that he's considering withdrawing funding to WHO… He also needs to include Serco, the Pirbright Institute, Wellcome Trust, Microsoft, and the Bill and Melinda Gates Foundation… and that's just to name a few! These coronavirus-promoters don't need funding!
We were told that a pandemic would affect every sector in the world… and it has!
Note what Director-General of WHO, Dr. Tedros Adhanom Ghebreyesus, addressed in 2017 that will affect you, me, and the entire globe: 
Immediately after taking office on 1 July 2017 Dr Tedros outlined five key priorities for the Organization: universal health coverage; health emergencies; women's, children's and adolescents' health; health impacts of climate and environmental change; and a transformed WHO.
The WHO Director-General is advised by the Global Policy Group. Dr. Tedros Ghebreyesus is NOT a medical doctor. (Here's his bio.) Gates has worked with Ghebreyesus for many years.
Pandemic or epidemic …The United Nations has been talking about antimicrobial resistance (AMR) for quite awhile now. Referred to by Dr. Barbara Birx as a micro epidemic. Here's this WHO document regarding AMR and implementation of the United Nations Global Action Plan, referencing Paragraph 12b of United Nations General Assembly Resolution 71/3 (2016) This shows more general information from their site, and here's more on the U.N. AMR global action plan.
Here's a snippet:
To ensure that the views and contributions of all interested organizations and other groups are considered in the development of the global action plan, WHO invited contributions from all relevant organizations, institutions, networks, civil society groups, national authorities and ministries during an online consultation held between 4 July and 1 September 2014.
Note: The Secretary-General of the United Nations is Antonio Guterres. He is the former President of Socialist International (1995-2005) and seeks to establish democratic socialism. (Stemming from ruthless Marxism with communist-like tactics such as not owning property…)
Just in case you missed it, see an alarming report from Tucker Carlson — "How long will the lockdowns last?"
We've been hearing a lot of numbers discussed. What about the projected numbers of beds and ventilators needed that were being touted on the news?
Over estimated! See this article about the Institute for Health Metrics and Evaluation: HUGE! Official IHME Model for Coronavirus Used by CDC Just Cut Their Numbers by Half!… They're Making It Up As they Go Along!
So overnight, the University of Washington's Institute for Health Metrics and Evaluation (IHME, funded by Gates)— the suspicious official group Dr. Fauci and Dr. Birx have been promoting — cut their numbers by more than half!
Here is what the new estimation that IHME NOW HAS for April 5th:
– All beds needed: Was 179,267 … Now 90,353
– ICU beds needed: Was 33,176 … Now 17,589
– Invasive ventilators: Was 26,544 … Now 14,951
And what about the numbers of deaths from the Coronavirus/COVID-19? 
Are those accurate?
The following are CDC's Instructions on How to Falsify Death Certificates.
CDC tells Hospitals to List COVID as Cause of Death, even if the person died with COVID and not of COVID. This new rule states: rules for coding and selection of the underlying cause of death are expected to result in COVID- 19 being the underlying cause more often than not.
Issued March 24, the guidance tells hospitals to list COVID-19 as a cause of death regardless of whether or not there's actual testing to confirm that's the case.

Instead, even if the coronavirus was just a contributing factor or if it's "assumed to have caused or contributed to death," it can be listed as the primary cause.
This is very misleading! The question is: why is NCHS (National Center for Health Statistics; part of CDC) trying to run the total numbers up… and who is behind this?
We're still looking into that…but we do know that there is a cutthroat competition going on for the vaccine industry and getting patents approved. It's about money and power! It could add up to trillions of dollars and it involves Sustainable Development Goals.
So, how are things looking now? The new information from The Washington Post was updated on April 7, 2020 to estimate a downward trend.
Bill Gates is a big proponent for the population lock down scenario for the Coronavirus outbreak, and he has a lot of pull in the medical world: he has a multi-million dollar relationship with Dr. Fauci, and Fauci originally took the Gates line supporting vaccines rather than looking into other options. If left up to him, he would have mandatory vaccinations with the military and police surveillance.
There is conflict of interest involving Bill Gates, Dr. Anthony Fauci, and Dr. Deborah Birx. (Both doctors are members of the White House Coronavirus Task Force.) In question are Gates' multi-million dollar donations to IHME, National Institutes of Health (NIH), NIAID, WHO, etc.
Just look at the money tossed around, dear reader!
The National Institutes of Health (NIH)'s Fiscal Year 2020 annually enacted budget is $41,684,000,000. 
That is a 6.7% increase from 2019. 
The National Institute of Allergy and Infectious Diseases (NIAID)'s total Fiscal Year 2020 annually enacted budget is $5,885,470,000.
Follow the money!
Dr. Deborah Birx is promoting the University of Washington's Institute for Health Metrics and Evaluation (IHME) Coronavirus Model.  Dr. Birx used a disputed Bill Gates-funded model for the White Houses' Coronavirus effort. Remember: Gates heavily impacts IHME through funding.
This IHME model is funded by the Bill & Melinda Gates Foundation which pledged $279 million to IHME , and
The Global Fund's key partner is the Bill & Melinda Gates Foundation with a total contribution of $2.24 Billion. Their current pledge for 2020-2022 is $760 Million.
Bill Gates is one of the largest funders of the World Health Organization (WHO) and thus influences WHO policies. Gates is also a large funder of National Institutes of Health  (NIH) and NIAID.
Dr. Deborah Birx is also a board member of The Global Fund
No wonder Dr. Fauci is singing Gates' tune that we need a vaccine for COVID-19.
Dr. Birx used a disputed Bill Gates-funded model for the White Houses' Coronavirus effort.
The Coalition for Epidemic Preparedness Innovations (CEPI) is backed by Gates' Millions to fund a Coronavirus/ COVID-19 vaccine developed under INOVIO Pharmaceuticals. Vaccine INO-4800 is set to be tested on humans THIS MONTH, April 2020.
While everyone's attention is on China right now, we want to draw your attention back to something…
See this dubious August 2019 article on vaccine bonds:  How Japanese investors primed a global market for vaccine bonds.
The despotic dominance of the skilled, high-handed billionaires: We believe we are seeing Big Philanthropy and their actors at work. They believe that they… and only they… can solve the world's most challenging problems. They are wielding a stupendous amount of power and cash that could reshape nations! The public narrative is being controlled most by the toxic media… even by independent news organizations. (Grants could have been promised.) Yes, public opinion is often manipulated, especially through Facebook and Twitter.
More about Gates: One of the largest private foundations in the world is the Bill and Melinda Gates Foundation. Charitable funds have attracted the super-rich players because they are a legal means of tax avoidance, AND they can influence policy! Our US Treasury has seemingly co-financed the actions of these foundations and their investors, because investors are NOT required to sell their stock positions and vote their shares without restriction. We have allowed our U.S. laws to shelter these types of foundations long enough! The super-rich foundations are empires and accountable to nobody! This little apocryphal billionaire club might NOT have the best intentions in mind for the world's population, dear reader.
Dig a little deeper, and YOU can find BIG Philanthropy discussing OVERPOPULATION and how to stop it! Yes, you can see that their aim is to REDUCE the world's population and/or shorten your lifespan! Their social expenditures rivals many countries' budgets. (And in case you didn't know: Bill Gates' father, William Henry Gates Sr., was the HEAD of Planned Parenthood!)
Click here to see the World's Billionaires. (Scroll down to see them by year, ranking, name, net worth, and source of wealth.)
When the titans of transformative totalitarianism meet, they thrust population control and reduction plans on the world… and this brings about self-destructive policies.
Money talks, and Gates has a great deal of it. With his money, he heavily influences the UN, WHO, CDC, National Institutes of Health (NIH), NIAID, GAVI, Wellcome Trust, and many others.
The protocol of the United Nations (to whom Gates donated $42,281,950 according to his 2017 IRS filing) is being dictated by Gates and being followed by: 
The National Institutes of Health (NIH, to whom Gates donated $7,514,673)
(Note: National Institutes of Health (NIH) does a substantial amount of research on behavioral health. Are they watching our behavior right now to see how we're responding to all of this? They need more transparency, especially on their grant-making with foreign governments!)
Dr. Fauci – Director of NIAID, National Institute of Allergy and Infectious Diseases, or (NIAID, to whom Gates donated $2,837,886) and
the Centers for Disease Control (CDC) (to whom Gates donated $19,896,092)
They are SHUTTING DOWN AMERICA!
These players above have truly failed this country… acting like a change agent, Dr. Fauci and CDC are in the pockets of Big Pharma, NGO's, and the deep state. We truly believe that Dr. Fauci is working against Free World and is in bed with the deep state. It appears they are trying to manufacture consent for their suspicious activities through the manipulation of public opinion.
So, what is Dr. Fauci pushing? From Dr. Fauci's own website NIAID:
NIAID-funded scientists are exploring ways to treat and prevent human coronavirus infections by working to develop new antibodies, drugs, and vaccines that block entry to cells, delay the immune system response, or block viral replication.

The NIAID Vaccine Research Center (VRC) is drawing on broad research experience with coronaviruses, combined with a wide network of collaborators from academia, other government agencies and industry, on the development of a vaccine candidate expressing the viral spike protein of SARS-CoV-2 using a messenger RNA vaccine platform technology.
Some history: What You Don't Know About Dr. Tony Fauci
Back in 1984, the only questions to be studied were: how HIV causes AIDS and what can be done about it. Here are some disturbing excerpts from the linked article:  
The scientists directing his search, included Robert Gallo, David Baltimore and Anthony Fauci, had previously risen to the top of the biomedical research establishment as experts on viruses or contagious diseases.

And make no question, even back then, Fauci was thought of as an establishment power broker… [Secure Arkansas note: We do not have time to bring in the sycophant Clintons…]

Fauci did some shady renaming to keep his AIDS theory strong:

The literature includes more than 4,621 clinically diagnosed AIDS cases that are all HIV-free. To cover up the discrepancy with the overwhelming correlation, HIV-free AIDS cases were renamed in 1992 as idiopathic CD4 lymphocytpenia cases by the CDC and Anthony Fauci.

And then there was the Fauci BIG lie:

But even four years after its approval for human consumption, Anthony Fauci, director for AIDS research at the National Institute of Allergy and Infectious Diseases, stated to the New York Times "ddI has never been compared with a placebo in a large study."

And the BIG Fauci misleading boast:

Fauci's own Nature paper, boasting large amounts of virus in AIDS patients, actually analyzed just three patients who showed only tiny amounts of dormant HIV genes, even in the lymph nodes, and no infection virus at all.
And most despicable here is the breakdown of Fauci testing pregnant women with a dangerous drug (he used heroin-addicted pregnant mothers) and then proclaiming the testing a success before the full original trial was completed as planned. The Lancet exploded over this dangerous and shady operation.
Quite a pair! This suspect couple is well recognized by the deep state players in Washington D.C. In 1985, Dr. Anthony Fauci married Dr. Christine Grady who serves as the Head of the Department of Bioethics at the National Institutes of Health Clinical Center (part of National Institutes of Health (NIH)). See Dr. Christine Grady under the Obama Administration. She also serves as Head of the Department's Section on Human Subjects Research. She's been a big player at the National Institutes of Health (NIH) and Health and Human Services (HHS) for many years now. Experimental medicine, dear reader.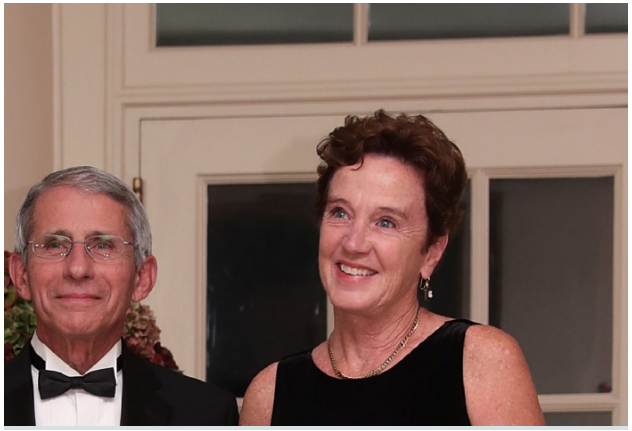 Director of the National Institute of Allergy & Infectious Diseases at the National Institute of Health Anthony Fauci and his wife Christine Grady arrive at the White House for a state dinner on October 18, 2016 in Washington, DC.
(Photo by Alex Wong/Getty Images) 
So, who is Bill Gates?
Co-founder –Microsoft Corportation
Co-chairman — Co-founder Bill & Melinda Gates Foundation; has the five top number of holdings in the foundation
Berkshire Hathaway holding – 50 million shares worth $11 billion
Waste Management holdings of over 18.6 million shares worth $2.2 billion
Canadian National Railway Company holdings of over 17.1 million shares worth $1.54 billion
Caterpillar Inc. holdings of 11.2 million shares worth $1.66 billion
Walmart Inc holdings of 11.6 million shares worth $1.40 billion
Chairman and founder —  Branded Entertainment Network
Chairman and co-founder — TerraPower
Chairman and founder — Casade Investment Technology
Advisor at Microsoft Corporation
Founded Giving Pledge with Warren Buffett
Funding many colleges and universities with donations in the billions
Funding many Chinese Communist Government programs with millions
You can see the vested interest that Gates has. Again, remember that Gates works with Dr. Fauci, and sadly, since 1984, Dr. Fauci has had a free hand in making the public subjective to his questionable health policies. That's 6 presidential administrations he has held hostage.
Dr. Anthony Fauci is continuing Obama's mission to cripple America and turn it into a vaccine police state. Here are some excerpts:  
In the last few days, Dr. Fauci has demanded that the entire nation remain locked down until every last infection is snuffed out. He wants the entire population to remain in quarantine lockdowns, in other words, until no more new infections are detected across the entire country. This is an impossible standard to achieve and would likely result in the whole country being locked down for a year or more, utterly destroying what's left of the US economy. This is a global agenda that far supersedes President Trump.

It should be no surprise this was always part of the plan to destroy personal health freedom and roll out a medical police state run by vaccine zealots. Dr. Fauci is a puppetmaster for the vaccine industry and claims nothing can stop the virus except a non-existent vaccine. As part of the National Institutes of Health (NIH), Dr. Fauci helped funnel hundreds of millions of dollars in taxpayer money into the biological weapons / vaccine industry (it's the same industry, just two different faces). He's currently downplaying hydroxychloroquine + zinc, a combination that has so far achieved an astonishing cure rate among coronavirus patients, because he's trying to position his buddies in the vaccine industry to reap windfall profits from whatever vaccine they come up with, which will of course be heralded as the savior of humankind.
Check out this 12:25 minute YouTube video entitled "How to End The Pandemic" from Mike Adams of Natural News.
But Dr. Fauci won't dare mention Zinc, Vitamin C, Vitamin D, or anything that works, for fear the coronavirus might be stopped before the vaccine is available  .
So… let's listen to some other doctors besides Fauci and Birx…
Let's hear from doctors who are literally on the front lines of this pandemic, involved in patient care.
By now, you've heard about some possible drug interventions for COVID-19 patients, and physicians have been sharing their successes and findings.
In mid-March of this year, French researcher and Professor Didier Raoult posted a successful COVID-19 drug trial. (Here are the results of that trial, cited as as Gautret et al.)
There is no need to rush for a development of a vaccine and push the United Nations global immunization plan on the public when there is a treatment available for curing COVID-19. The treatment that is being used is a combination of both hydroxychloroquine, an anti-malaria drug, and the antibiotic azithromycin.  Click here for the open-label non-randomized clinical trial results.
French research Dr. Didier Raoult MD, PhD has a successful cure after 6 days 
100% of patients treated with HCQ + Azithromycin were virologically cured. 
Dr. Didier Raoult, MD, PhD
Director, Research in Infectious & Tropical Emergent Diseases
Professor of Infectious Disease Faculty of Medicine of Aix-Marseille University
Classified among the ten leading French Researchers by the Journal, Nature
Has over 2000 scientific publications
Has discovered over 90 new bacteria
First to discover large sized viruses
Been tasked by – and consulted by – the French government to research possible treatments of Covid-19.
Statements from Dr. Raoult
Actually. from all respiratory infections, it's probably the easiest to treat.
So there is really no reason to get excited anymore.
There is really no reason to get excited and rush to produce a vaccine.
Professor Raoult is an infectious disease specialist and head of the IHU Méditerranée Infection, who has been tasked by – and consulted by – the French government to research possible treatments of Covid-19.
We've also read that Dr. Vladimir Zelenko has treated 700 COVID-19 patients in New York with 99.9% success using a drug cocktail of hydroxychloroquine, in combination with azithromycin (Z-Pak: an antibiotic to treat secondary infections), AND Zinc sulfate. (Of the 700, one patient reportedly died after not following the protocol.) Dr. Zelenko details that it is Zinc which actually helps slow or decelerates the viral replication within the cell. But on its own, Zinc cannot penetrate the cell without the help of hydroxychloroquine.
And Dr. William Grace, an oncologist affiliated with Lenox Hill Hospital in New York City, stated that they have not had any deaths of patients taking hydroxychloroquine in the hospital of close to 100 patients.
Dr. Stephen Smith of East Orange, New Jersey claims: "This is the beginning of the end of the Pandemic", announcing a hydroxy-choloroquine study that is a "Game Changer" in the battle against Coronavirus. Regarding his findings from his work at the Smith Center for Infectious Diseases and Urban Health, Dr. Smith "revealed that in his treatment of coronavirus victims he has not seen a single patient under the age of 70 who was not diabetic, pre-diabetic or obese." He then pointed out that "not a single coronavirus patient under his care who was on the hydroxychloroquine regimen needed to be intubated."
Dr. Anthony Cardillo, CEO of Mend Urgent Care with locations in Sherman Oaks, Van Nuys, and Burbank, California, is also "seeing significant success in prescribing the malaria drug hydroxychloroquine in combination with zinc to treat patients with severe symptoms of COVID-19." "Every patient I've prescribed it to has been very, very ill and within 8 to 12 hours, they were basically symptom-free," Cardillo told Eyewitness News. "So, clinically I am seeing a resolution."
Some doctors are prescribing Plaquenil, which, we've been told, is actually Hydroxychloroquine Zinc.
In a letter dated March 28, 2020, the FDA agreed to allow the use of hydroxychloroquine sulfate and chloroquine phosphate products for the treatment of COVID-19 patients in very specific and limited cases.
These results sound promising, and we know that people around the world are searching for answers. That being said… it's important to err on the side of caution, and before anyone places too much hope in these pharmaceutical drug protocols, it's important to remember that NOT every patient would respond the same way, and many people have other heath issues and are on other medications that could cause some very serious drug interactions and/or side effects in some cases…
Here's biologist and Doctor Shiva Ayyadurai taking on Dr. Fauci:
Coronavirus myths and fear mongering: MIT Biologist doubles down his attack on "Deep State," slamming Dr. Anthony Fauci as "Deep State Emperor Fauci"  
In his latest tweet, Dr. Shiva said: "Glad to see @realDonaldTrump is reading my tweets! Time to expose "Deep State" Emperor Fauci & his "illustrious" career of #FakeScience imposing "one-size-fits-all" Medieval Mandated Medicine to profit his BIG PHARMA minions, the expense of crashing our economy. More to come…."
If you'd like to sign the petition letter to President Trump, you can do that via Twitter at #FireFauci. 

Click below to watch a video of Dr. Shiva Ayyadurai.
Dr. Shiva Live: We are at War. 
Fire Fauci. End the Shutdown
Policy is being controlled by China – this is a must watch video
Fear is being generated by Fake Pharma Fauci
A summary of the video linked above —
Dr. Shiva Ayyadurai explains that Dr. Fauci is avoiding telling the whole truth about your health. Fauci is not telling you that your immune system needs Vitamin D. He is not talking about vitamins A or C. Most of Fauci's policy is based in deceptive science. Fauci and several universities are controlled by Chinese money. We are seeing that we can't trust Big Pharma. They want you to be handcuffed to Big Pharma vaccines and mandates with top down medicines that the states tell you what to do. That is not America that you want to be part of. We are heading to being economically, philosophically, biologically, and politically a colony of China. The Communist party treats its people like dirt. Six months before all of this took place in China, the people in Wuhan were protesting in mass. Tens of thousands were protesting in the streets. Why? They wanted clean air, clean water, and clean food. (Does that sound familiar?) Our government keeps us in ignorance by not telling us what builds immune health. You support your body with Vitamin A, C, and D. When you support your body, it takes care of you.

It is time to fire Dr. Fauci! and sign the petition on Twitter at #FireFauci. Fauci is connected to CDC, WHO, Big Pharma, the Clinton Foundation, the Bill & Melinda Gates Foundation, Chan Zuckerberg Initiative, the Chinese Communist Government, and Hollywood. The Chinese government owns most of Hollywood now. The Communist party has bought all of the AMC theaters. You have the Harvard School of Medical Health owned by China. Dr. Shiva is running for U.S. Senate in MA, and his campaign is Truth, Freedom, and Health. We need to challenge Fauci on his fake science of the immune system. We do not want fake problems and fake solutions. 
We want real solutions for real problems.
Here are a myriad of remedies that have proven very successful.
There is an old natural Indian / Ayurveda medicine, Curcumin [Turmeric], that comes in capsules as C90. It is an anti-inflammatory, antioxidant compound that has been successfully used to treat cancer, infectious diseases and, yes, coronaviruses.
Other simple, but effective remedies include the use of heavy doses of Vitamin C, as well as Vitamin D3, or more generally the use of Micronutrients essential to fight infections, include vitamins A, B, C, D, and E. [NOTE: Vitamin D is like an immune modulator, a key part of the body's immune system.]
Another remedy that has been used for thousands of years by ancient Chinese, Romans and Egyptians, are Colloidal silver products. They come in forms to be administered as a liquid by mouth, or injected, or applied to the skin. Colloidal silver products are boosting the immune system, fighting bacteria and viruses, and have been used for treating cancer, HIV/AIDS, shingles, herpes, eye ailments, prostatitis – and COVID-19.
No surprise: FDA aggressively attacking colloidal silver products to clear the way for a Big Pharma coronavirus VACCINE  (Looks like FDA Does Not Want Any Competition) 
Instead of focusing on FDA-approved pharmaceuticals, which maim and kill hundreds of thousands of Americans every year, the FDA has instead indicated that it will be "actively monitoring" companies that sell colloidal silver to ensure that they're not trying to help people avoid infection using this natural alternative.
In order to make way for an eventual Wuhan coronavirus (COVID-19) vaccine, the FDA is trying to clear out natural things like colloidal silver, vitamin C, zinc, and quinine that threaten to expose the inevitable jab "solution" as unnecessary, and thus fraudulent.
Secure Arkansas' position on this is that we support using supplements and a healthy diet and lifestyle to promote a healthy body and immune system. Some of you may even want to consider a homeopathic regimen to boost your immune system and help remedy some of your health problems, especially if you feel you're vulnerable to the spread of this disease. It's important that people invest in their own health. And on the other hand, if you need emergency care, drug therapies might not be a bad option to choose.
In case you were not aware of the testing problems for this newest coronavirus, here's an article from Global Research, March 27, 2020: Manufactured Pandemic: Testing People for Any Strain of a Coronavirus, Not Specifically for COVID-19  
I work in the healthcare field. Here's the problem, we are testing people for any strain of a Coronavirus. Not specifically for COVID-19. There are no reliable tests for a specific COVID-19 virus. There are no reliable agencies or media outlets for reporting numbers of actual COVID-19 virus cases. This needs to be addressed first and foremost. Every action and reaction to COVID-19 is based on totally flawed data and we simply can not make accurate assessments.

This is why you're hearing that most people with COVID-19 are showing nothing more than cold/flu like symptoms. That's because most Coronavirus strains are nothing more than cold/flu like symptoms. The few actual novel Coronavirus cases do have some worse respiratory responses, but still have a very promising recovery rate, especially for those without prior issues.

The problem is that the test is known not to work.

And coronavirus are incredibly common. A large percentage of the world human population will have covi DNA in them in small quantities even if they are perfectly well or sick with some other pathogen.

Do you see where this is going yet? If you want to create a totally false panic about a totally false pandemic – pick a coronavirus.
This pandemic has enabled the "testing" of various authoritarian measures that are exactly in line with the world elite's long-term Agenda 2030 plans.
In short, have you noticed that nearly all forms of social and cultural distractions have been replaced with wall-to-wall COVID-19 coverage?
Make no mistake: this "health crisis" serves as a cover for a global superpower "economic war" on a scale never experienced before.
The threat posed by COVID-19 itself is relatively low based on most current known information (and against information from previous pandemics). Although there has remained a legitimate risk for older people with weakened immune systems and pre-existing conditions, the disease is "survivable" according to every metric to date.
In a White House press conference March 23, 2020, U.S. Vice President and Coronavirus Task Force leader, Mike Pence, stated that "9 of 10 people who think they have coronavirus, do not even have it". 
Wake up. Wake up now, dear reader.
We do NOT want to be used as lab rats for the rich and famous! Why would we mention this? Because of our own country's past history!
Here are some links showing past history of what the government is capable of doing:
Oddly enough, this was done without informed consent as well…
Also, could immunization be used as a cover for a DNA collection database?
And what about vaccine damage?
Disturbing news:  All Drugs and Vaccines Used Against Covid-19 Have IMMUNITY from Lawsuits
March 17, 2020 from the U.S. Health and Human Services Department (HHS): 
The Secretary is issuing this Declaration pursuant to section 319F-3 of the Public Health Service Act to provide liability immunity for activities related to medical countermeasures against COVID-19
The covered entities and products would naturally include drug makers, antiviral medicines (including hydroxy-chloroquine), and of course, vaccines!
Coronavirus – No Vaccine is Needed to Cure It
Here are some snippets from this Global Research article:
Virus COVID-19 has so far caused far fewer infections and death than the common flu in past years. WHO reports on 30 March worldwide 750,000 infections with a death toll of 36,000. In the US about 161,000 cases and 3,000 deaths. Yet, alarmist Fauci claims that there may be millions of US coronavirus cases and 100,000- 200,000 deaths. And, coincidentally, so does Bill Gates, using pretty much the same figures.

All with the idea of pushing a vaccine down the throat of the public.

A multi billion dollar vaccine is not necessary.

The NIAID and the Bill and Melinda Gates Foundation are collaborating with a view to developing a COVID-19 Vaccine.
Bill Gates is a global organizer and the front man of big networks between government agencies, non-profits, and private business (like the World Health Organization and the pharmaceutical industry). He is constantly looking for big investors and has developed a nefarious agenda. Note: Bill Gates and Jeffrey Epstein
You may recall Secure Arkansas addressing the evils of Public-Private Partnerships in our past articles…
One of Gates' favorites…The Global Alliance for Vaccines and Immunizations (GAVI), the GAVI Alliance, is a Public-Private Partnership (PPP) between the World Health Organization (WHO) and the vaccine industry! They work together with:
the U.S.
the E.U.
the U.N.
Secure Arkansas does NOT support these Public-Private Partnerships nor the global agenda they follow.
The Bill and Melinda Gates Foundation will drive the mass vaccination effort which is scheduled to be launched in the period after the lock down.
All vaccines are not safe!  We need vaccine choice, dear reader:
Truth Will Prevail – 1200 Studies to Vaccinate or Not to Vaccinate? Thousands of Scientists and Researchers weigh in. (This is a must read and save 559 page e-Book)
The Flu Shot Remains The Most Dangerous Vaccine This was pulled from the link. From 5/16/2015 through 8/15/2015 there were 211 cases for vaccine injuries and deaths listed. If you suffer harm or death due to a vaccine, you cannot sue the manufacturer of the vaccine, but you or love one must sue the Federal Government. Congress gave the pharmaceutical companies immunity against lawsuits for injuries or deaths resulting in vaccines in 1986. legislators let the manufacture off the hook.
So, what about the patents on these vaccines? In 2006, under President George W. Bush, SERCO was awarded the handling of all patents.
Patent Classification
SERCO, a British Company, does the classification for all incoming US patents and runs the U.S. Patent Office under the Commerce Department. Could patents have been stolen from people? Probably! Virus patents, communications, computers, and wireless technology patents are some examples that come to mind.
*Wake up, American inventors… What can we say? It looks bad for you. We have foreign intelligence running our patent office and trademark office!
Secure Arkansas is concerned about the licensure for a coronavirus /COVID-19 vaccine getting fast-tracked, because the British firm Serco will be handling it. See this Lew Rockwell site.
Looks like this coronavirus pandemic is being used to eliminate informed consent on the vaccines! It will lead to mandatory vaccinations to escape being locked down and forced to shelter in place.
It looks like the coronavirus vaccine will be the first genetically engineered messenger RNA vaccine to be fast tracked to licensure, just like Gardasil was the first genetically engineered virus-like particle vaccine to be fast tracked to licensure.

There likely will be lots of questions about whether the fast tracked coronavirus vaccine was studied long enough to adequately demonstrate safety, especially for people who have trouble resolving strong inflammatory responses in their bodies and may be at greater risk for vaccine reactions. However, there is no question about what will happen if the Centers for Disease Control's (CDC) Advisory Committee on Immunization Practices (ACIP) recommends that all Americans get the newly licensed coronavirus vaccine.

The government has a National Vaccine Plan. It is a Plan designed to make sure you, your child and everyone in America gets every dose of every vaccine that government officials recommend now and in the future.
Warning: we should be questioning the rushed vaccine, and we should check the ingredients. It could be worse than the disease for healthy people. (Get as much information as possible BEFORE your children get introduced to all the vaccines, since pharmaceutical companies are not liable….)
Here's a must watch! A National Plan to Vaccinate Every American:
Barbara Fisher's video
Be informed. Don't get suckered in by the fear tactics of the liberal deep state. All available data suggests a fatality rate below 1%. "Presenting a fear appeal more than doubles the probability of a change relative to not presenting anything or presenting a low-fear appeal."  We must all wise up and not fall for the agenda of radicals.
Using the European monitoring of excess mortality for public health actions, we find that COVID-19 did not show any increased mortality observed in the reported mortality figures for the COVID-19 twenty-four countries that were charted.  Click here for the charts covering the mortality by age and country between week 4 of 2016 and week 12 of 2020.
Many of you may have been wondering — Is lock down an overreaction?
Here are some snippets:
Dr. Frank Ulrich Montgomery, President of the German Medical Association and President of the World Doctors Federation, argues that lockdown measures as in Italy are "unreasonable" and "counterproductive" and should be reversed.
Dr. Yoram Lass, Israeli Physician and former Director General of Israel's Health Ministry notes:
In every country, more people die from regular flu compared with those who die from conoravirus
Whoever thinks that governments end viruses is wrong.
In closing, we can't address this issue right now because this article is already very lengthy … but we must remember that Wuhan, China fully deployed 5G during this pandemic…
As always, you can find our email articles posted on our website: SecureArkansas.com.  The Search box is a handy tool.
For more information about a topic, just type it into the Search box on our website, and click Enter!
Securing the blessings of liberty,
Secure Arkansas
securetherepublic.com/arkansas
[email protected]
Share This Article