Doctors Being Blocked on Effective Medicines for Covid-19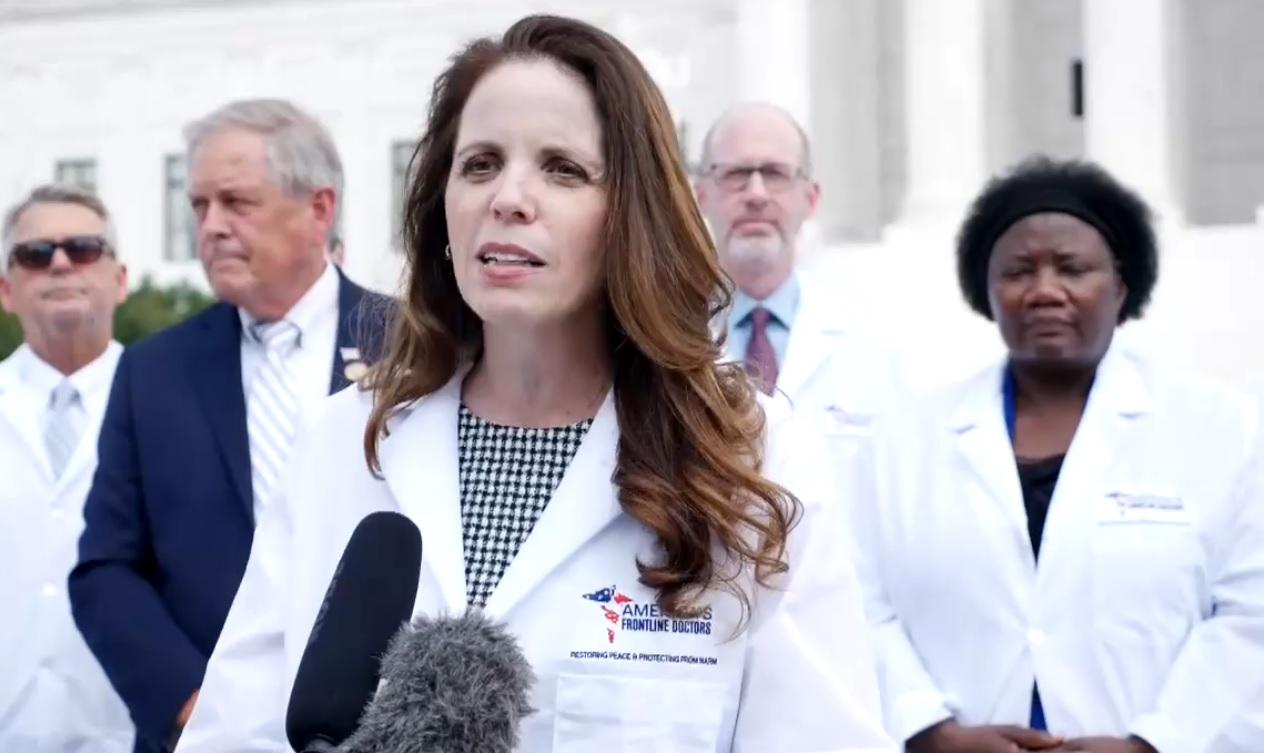 Hydroxychloroquine (HCQ) with Zinc can prevent and cure Covid-19
Physicians are Demanding Full Access to Hydroxychloroquine!
"Nobody Needs to Die" — Frontline Doctors Storm D.C. Claiming "Thousands of Doctors" are Being Silenced on Facts and Treatments for COVID-19
— To watch the short video from Health Impact News, click here and scroll down until you see the video window with the red dot with the white arrow; click that to watch.)
Shouldn't we be listening to the frontline doctors like these, who are actually treating their patients and crying out NOT to have their hands tied by the destructive controlling CDC guidelines… rather than listening to the so-called government experts?
Unfortunately, the U. S. Food and Drug Administration (FDA) sent out this June 15, 2020 document that blocked the emergency use of Hydroxychloroquine. Also, here is the latest July 29, 2020 document from Arkansas Department of Health (ADH).
Moreover, here is an FDA document listing the misleading reasons used on the revocation of the emergency-use-authorization for Hydroxychloroquine Sulfate. (You'll notice that Zinc isn't even mentioned in their document, and it's Zinc that's the KEY to stop the virus from replicating! Antibiotics aren't mentioned, either, and they may be necessary.)
We've been hearing a lot about positive cases of the virus, across our nation and our state. Shown below is a color-coded map of Arkansas showing the number of Covid-19 cases, as of August 6, 2020.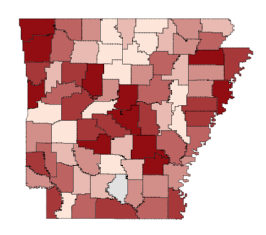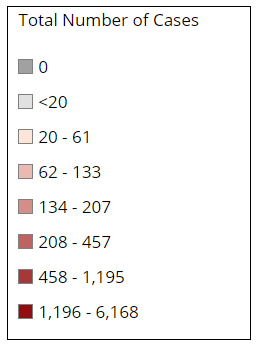 *Data courtesy of USAFacts.orgexternal icon downloaded each day at 4:00pm EST or when earliest update is available. Refer to USAFacts.orgexternal icon for data collection and processing methodology. Official verified statistics from CDC are provided on the US Cases page.
NOTE: If you click here and select the state of Arkansas in the dropdown box under Deaths by County, you can then hover over any county to see its name and the total number of current Covid-19 cases in that county. Click the other dropdown box to the right on that same page (next to Data🙂 to see total current number of deaths by county.
Is it outrageous for us as curious, caring human beings to ask — how many lives could have been saved IF the people who died from Covid-19 had been given a timely regimen of the lifesaving treatment of HCQ, Zinc, and azithromycin?
Were any of those individuals who died from Covid-19 people that YOU know?
What if they were? Wouldn't you want them to be given the "right to try"?
Secure Arkansas believes so, and many great doctors believe so.
Recently, frontline Dr. Stella Immanuel from Houston explained how Hydroxychloroquine can not only cure the disease but also prevent it in the first place, saying: "Nobody needs to get sick. This virus has a cure. It is called Hydroxychloroquine, zinc, and Zithromax."
In the video linked at the top of this article ("Nobody needs to die"), Dr. Immanuel recounted her many successes in treating patients with Hydroxychloroquine, including a 92-year-old who was suffering from coronavirus. All told, she says that she has treated more than 350 patients personally with the drug, including those with asthma, diabetes, and high blood pressure. She's using the regimen that many Hydroxychloroquine studies back, pairing the drug with zinc and azithromycin (Zithromax) – an antibiotic.
"In the past few months, after taking in over 350 patients, we have not lost one," while treating patients with Hydroxychloroquine, said Immanuel. "Not a diabetic, not somebody with high blood pressure, not somebody with asthma, not an old person. We've not lost one patient." She notes the importance of including zinc as well.
Why HCQ and Zinc?  Hydrochloroquine is a zinc ionophore — a substance which is able to transport particular ions across a lipid membrane in a cell, and Zinc is a mitogen — something that causes the immune system to grow and respond to a pathogen, especially a virus. Hydrochloroquine allows the Zinc to get into the cells to slow or stop the virus' ability to replicate. Also – interestingly:  one of the symptoms of a Zinc deficiency is atrophy of the thymus gland, a very important immune gland, and when a person is deficient in Zinc, the thymus gland SHRINKS. A Zinc deficiency can also lead to lymphopenia, a decrease in lymphocytes. Lymphocytes are part of our immune army: they are the main soldiers that defend the body against microbes and viruses. Also, Zinc supports the lungs and is an anti-inflammatory.
So, take your Zinc!
*Midwest doctors are speaking out! Here is an important quote from a very caring and dedicated Missouri physician, Dr. Karladine Graves —
"There is now scientific evidence worldwide that Hydroxychloroquine (HCQ) WITH ZINC can save lives and has saved lives. Two major articles were recently refuted and retracted as having poor data and methodology in their outcome studies (the Lancet and the New England Journal of Medicine). Since this time, there are hundreds of thousands of Americans suffering and dying due to the restrictions and unnecessary warnings placed on the potentially life-saving medication HCQ with Zinc by the FDA, CDC, and NIH.

According to the CDC, we are now approaching 140,000 deaths attributed to Covid-19. It is time that the American people are allowed a "right to try" with the patient/physician relationship secured, as it has been historically throughout medical history in America. The FDA's role is only to approve a medication for safety. HCQ was approved almost 70 years ago as safe. The use of HCQ has been proven. It has been used off-label for different rheumatoid, dermatological, and research purposes in cancers, such as breast cancer, without difficulty. There are no restrictions in using a medication off-label. One in five prescriptions written by physicians are off-label. A study was recently done by the FDA involving around 470 patients using HCQ in HOSPITAL patients WITHOUT Zinc. They state that it did not show effectiveness. They also stated it did no harm and appeared "safe". Why did they stop the study that was just started on June 20, 2020 if it was doing no harm and appeared safe? Yes, from the study, HCQ was deemed "safe". Why did they not include Zinc as indicated? Why did they not do early out-patients as also done and showing effectiveness worldwide? It is time to stop needless loss of life and economic calamity in America. We as physicians are demanding full access to using HCQ and Zinc as we clinically deem appropriate without threats from national and/or state boards to our licenses or reputations. We demand not to be restricted by pharmaceutical boards in ordering appropriate dosing as established in well-documented scientific clinical studies." (end quote)
Read this devoted doctor's above quote again, dear reader! She stated that the Lancet and the New England Journal of Medicine retracted their articles from the journals and were found fraudulent, but the FDA still condemned hydroxychloroquine (HCQ) for COVID treatment! Pharmacy boards…get out of the way, PLEASE! Quit tying the doctors' hands.
Look at the news from this state! Ohio Withdraws Ban On Hydroxychloroquine; Fauci Accused Of 'Misinformation Campaign' — July 30, 2020 
From the linked article:
The Ohio Board of Pharmacy withdrew a rule preventing the use of hydroxychloroquine to treat COVID-19 after Governor Mike DeWine called on the board to halt the rule, according to the Dayton Daily News.

On Thursday, DeWine said that he agreed with FDA commissioner Stephen Hahn, who said that the decision to use HCQ should be between doctor and patient.
YES! Secure Arkansas agrees — the decision SHOULD be between doctor and patient.
Good job, Governor DeWine!
That's GREAT news!
And yet… sadly, our state health department (and county) will still hold to the questionable, strict CDC guidelines and whatever they want to be implemented in the state… including blocking vital medicines that work during this critical time.
It sounds so simple. So, what's the deal? The World Health Organization (WHO) has stated that currently there is no cure for the virus.  Really?  Are we forgetting that the Director of WHO has a depraved background?  (WHO is where the CDC guidelines come from in most instances.)
The World Health Organization (WHO) Director, Tedros Adhanom Ghebreyesus, has strong ties to Bill Gates, the Clinton Foundation, Dr. Fauci, China, and genocide.  These unprincipled villains continue to prey upon humanity. Tedros portrays himself as a kind, humble man… so, it's shocking to learn that his political career "began at the politburo of the Tigray People's Liberation Front (TPFL), a terrorist organization of the Tigray minority ethnic group (6% of the Ethiopian population), listed in the U.S. Homeland Security Global Terrorism Database for a series of kidnappings, bombings, and armed robberies."
Did we actually expect these evil power players and their sinister activities to be or act in our best interest? We allowed them to take over the world. The human cost has been astronomical, and our suffering continues! Economies devastated and millions of people are STILL out of work!
Let's be clear! If we do not stand up right NOW, the global elite planners will turn our lives completely upside down by 2030! The framework has already been set up.  Yes, Agenda 2030 is a strategic plan that has been set up for many years in order to destroy us and our way of life.  This Covid-19 crisis started what the news media is calling a "RESET." What that means is that some medical experts are still calling for shutdown time!  You MUST wake up, stand up, and share critical information. Pay attention to what's going on locally, not just nationally.  You had better make a decision, or someone is going to do it for you. Do you understand what that means?
Money:  the motive for murder?  Dr. Meryl Nass Discovers Hydroxychloroquine Experiments Were Designed to Kill COVID Patients – How Many Were Murdered?  These were government-sponsored Hydroxychloroquine trials in which massive, high toxic doses – four times higher than safe of Hydroxychloroquine – were given to severely ill hospitalized patients in intensive care units. No wonder these trials failed. It looks like it is all about money and the global depopulation agenda that has been in play for a very long time now.
Again, money, the motive for greed? Dr Fauci's conflict of interest:   Dr. Fauci is pushing vaccines and the drug Remdesivir instead of Hydroxychloroquine (HCQ). Dr. Fauci has a financial holdings in Gilead Sciences, the maker of Remdesivir, via Edgewood Growth Fund. Click here for Contributory IRA (Fauci's holdings in Edgewood Growth Fund via Gilead Sciences, Incorporated which produces the drug Remdesivir). Fauci also has holdings in JP Morgan which also holds stock in Gilead Science Inc.  China holds a patent on Remdesivir, but only in China!  The patent in China is real but only applies to the drug's distribution there. Gilead, an American company, owns the patent globally.
Dr. Fauci, a master at deception, has a Conflict of Interest with Remdesivir.
(He owns stock in Gilead Sciences, the maker of Remdesivir.) 
Conflict of Interest is punishable under:
It's time to wake up and realize that the black-hearted global Covid-19 players have conditioned us to receive the propaganda of fear and lies coming forth in the media. Yes, many people have been socially engineered to believe they NEED a fast-tracked vaccine to survive, never looking at the dangers that lie ahead and the billions of dollars that have been paid out already to those afflicted by vaccine injuries! Thankfully, today, many people are at least skeptical and starting to do their own research.
Remember who funds the CDC? (We expounded on that in this previous article as well as this one.) Here's a brief excerpt from Children's Health Defense:
Further, Pharma directly funds, populates and controls dozens of CDC programs through the CDC foundation.  A British Medical Journal editorial excoriates CDC's sweetheart relationship with pharma quotes UCLA Professor of Medicine Jerome R. Hoffman "most of us were shocked to learn the CDC takes funding from industry… It is outrageous that industry is apparently allowed to punish the CDC if the agency conducts research that has potential to cut into profits."
Remember, the CDC Foundation is a non-governmental organization, or NGO. It is an independent, non-profit organization that intertwines partnerships between the Centers for Disease Control and Prevention (CDC) and private-sector organizations. It is classified as a 501(c)(3). See the CDC Foundation Partners. Bill Gates' Microsoft Corporation is one of the partners of CDC.
It is appalling to see how much money is given out by the corrupt pharmaceutical industry to big media, government agencies such as NIH, NIAID, NIMH. Also, Big Pharma funds are handed out to the American Academy of Pediatrics (AAP), the American Medical Association (AMA), and the American Academy of Family Physicians (AAFP).
Another tool doctors could use for treating Covid-19 patients:
Some doctors have been very concerned about their patients and getting them the treatment they need for Covid-19. Dr. Richard Bartlett has found Pulmicort to be helpful, as well as others. Secure Arkansas has been contacted by several doctors regarding this treatment.
Dr. Richard Bartlett in Odessa, Texas is using medicine often used for asthmatics to reduce the inflammation in the lungs of coronavirus patients. All of these countries, Singapore, Taiwan, Japan, S. Korea and Iceland stopped seeing people die from COVID-19 after they started treating sick people with Pulmicort in nebulizers.
Budesonide is used to control and prevent symptoms (wheezing and shortness of breath) caused by asthma. This medication belongs to a class of drugs known as corticosteroids. It works directly in the lungs to make breathing easier by reducing the irritation and swelling of the airways.
See this article from The Texan, dated July 23, 2020, West Texas Doctor Sees Improvement in Coronavirus Using Inhaled Steroid Treatment.
Here are a couple of snippets:
Knowing that the virus creates inflammation, starting in the lungs and which can eventually affect various organs, Bartlett tried budesonide to target the source of the inflammation.

"I was shocked at how well it worked," Bartlett confessed, but then he started researching and found that there were studies that showed it would be of use against the SARS family of viruses.
Big Pharma is doing everything in their power to censor this because it only costs $200. This is another drug that can help stop the coronavirus if the truth gets out.
Here's another tool: Also, this supplement is suggested by one of our favorite doctors: add Quercetin to your daily supplements:  Researchers recommend administering quercetin with vitamin C, because vitamin C helps recycle oxidized quercetin, thereby producing a synergistic effect and enhancing quercetin's antiviral capability
Are you prepared with the knowledge to ask a doctor for the right prescriptions, if you or your family member happen to test positive for Covid-19?
Speaking of family members… Most of Arkansas' Nursing Home residents are suffering through this Covid-19 crisis, but many more will die without having been given better prescriptions. HCQ should not be suppressed. 
Families of residents have become very concerned!
From KAIT News: AHCA Executive Director Rachel Bunch says it's heartbreaking to see families separated from each other and they are looking forward to the day when families can reunite, but right now, there's no other way to do that.
The good doctors in this article have spoken about Hydroxychloroquine, along with Zinc, a Z-pak, and Pulmicort. If only all the families knew about these treatments for their loved ones now suffering.  Also, those poor souls that had to go through an anguishing death with this disease…
Wake up, people! The elderly population have been hit the hardest during this man-made pandemic. Following the strict CDC guidelines for care of the elderly will put some of them closer to their grave. The elderly and their families have to "right to try"… and for some, it could be a life saver. (Secure Arkansas is praying for our elderly that reside in this once great country and state… Our elders are so precious. They have many interesting stories and much wisdom to pass on to our younger generations. When they pass away, it's like an entire library has ceased to exist.)
Who's looking out for our elderly?  We must be careful whom we trust, especially when it comes to non-profit organizations who lobby our government. Remember — money talks. Many people are becoming aware of the American Health Care Association and are NOT happy about their policies, especially if their loved one resides in a nursing home or care facility. Patients and their family members have lost the right to choose effective treatment with this virus. Check this out…
The American Health Care Association (AHCA) is a non-profit federation of affiliated state health organizations, together representing more than 10,000 non-profit and for-profit assisted living, nursing facility, developmentally-disabled, and subacute care providers that care for more than 1.5 million elderly and disabled individuals nationally. AHCA was founded in 1949 and is based in Washington, D.C. The National Center for Assisted Living (NCAL) is part of AHCA.
Interesting! 34 out of 45 American Healthcare Association (AHCA) lobbyists in 2019 have previously held government jobs… so it's become a revolving door! 
AHCA spent almost $4 million for 2019 lobbying!  NOTE: The organization itself did not donate, rather the money came from the organization's PACs, their individual members or employees or owners, and those individuals' immediate family members. Organizations themselves cannot contribute to candidates and party committees. Totals include subsidiaries and affiliates.
We ourselves must be looking out for our elderly! Shouldn't we be questioning the AHCA? They oversee and help inspect the nursing homes and are supposed to improve the quality of care provided to residents.
And what about nursing homes and Covid-19? Here's some Covid-19 Nursing Home information from the CMS (the Centers for Medicare and Medicaid Services) which follows CDC guidelines. Scroll down on that page to see a MAP of U.S. nursing homes and long term care facilities, as well as other maps showing total resident Covid-19 cases and resident deaths by state.
Is our destiny in the hands of the CDC?  Forever?
Are you okay with that?
Regrettably, we will continue losing our rights, including the right to choose effective treatment and healthcare, if we continue allowing the CDC and the WHO (etc.) to dominate and control.
Below is just a sampling of Covid-19 cases in Arkansas Nursing Homes and Long Term Care Facilities scattered around the state: 
The Arkansas Democrat Gazette released this tragic Arkansas Online article dated Saturday, August 1, 2020. Newton County, in Jasper, Arkansas has been hit very hard with 72 infections in nursing homes! Evidently, three patients living at the facility died in hospitals.
The Magnolia Reporter: Columbia County, in Magnolia at a facility called, The Springs At Magnolia, has had positive Covid-19 cases that spiked over a month ago. Earlier it was Summit Healthcare nursing home located in Taylor.
KAIT News:  Craighead County, in Jonesboro, the Craighead County Nursing Center had 16 residents and 2 workers test positive back in late May.
KAIT News: Randolph County Nursing has 80 active COVID cases reported August 5, 2020.
KAIT News: Sharp County, Ash Flat Healthcare had trouble with Covid-19 cases spiking a couple of months ago with 39 positive results.
KATV News: Lawrence County, Walnut Ridge Nursing and Rehabilitation Center had 33 residents and 8 workers test positive.
KATV News: In Pulaski County, The Lakes at Maumelle Health and Rehab Center had 29 residents and 4 workers test positive earlier this year. Also, the Briarwood Nursing Center in Little Rock had 43 patients and 17 workers test positive.
Here's the Covid-19 County Data from the Arkansas Department of Health (ADH).
As of August 6, 2020, Arkansas has had 515 COVID deaths.
Will they treat the infected people with HCQ… or are they willing to let more of them die?
No vaccine will be needed if people find out the truth about HCQ with Zinc and other treatments mentioned! Honestly, we all have the right to choose, or like Dr. Graves stated above, "the right to try."
This alert may be deemed an emergency, if you have a loved one come down with Covid-19, especially in a nursing home or if you are aware of some family in need.
In closing, let us all share vital information that could help save lives. The death rate can be cut down dramatically, if only the malevolent global planners who have overseen this carefully calibrated disaster will get out of our way!
Secure Arkansas sincerely thanks the many good doctors who have been speaking out and the many other brave souls that we failed to mention who are actively bringing much-needed truth to this dark narrative.
Soldiers of light, stand up… The time has come!
Here is Secure Arkansas' previous article about Covid-19 from July 20, 2020.
Please help pass this on to your family, friends, and co-workers.
As always, you can find our email articles posted on our website: SecureArkansas.com.  The Search box is a handy tool.
For more information about any topic, such as Coronavirus, just type it into the Search box on our website, and click Enter!
Securing the blessings of liberty,
Secure Arkansas
securetherepublic.com/arkansas
[email protected]
Share This Article