Internment Camps are Here (called CICs or "Community Isolation Centers")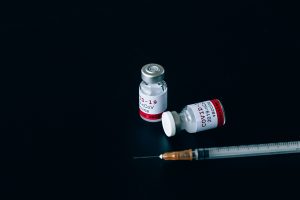 Oppressive Public Health Demands from Tyrannical Corporations, Government, and Military Doing the Dirty Work for Fauci
Heads Up! This is serious.
Internment camps are here, called CIC or "Community Isolation Centers"
Are you noticing how major corporations and governments are aligning even further with globalist policies and the malicious World Economic Forum (WEF) and following their mandates, rather than the will of the people who want what is best for their country? Remember, the German Klaus Schwab is the founder and Executive Chairman of WEF, an International Organization for Public-Private Cooperation. (Globalism has lowered our standard of living.)
In this article:
Tyson Foods (Covid injection mandates)
Matrix Medical Network (the provider giving the injections)
Tennessee Governor calls for COVID internment camps/isolation centers
Military tactics being deployed
Internment camps are here (known as CIC, Community Isolation Centers)
Lawsuits
COVID shots do not prevent infection or transmission
The Nuremberg Code, a law to protect us
Here's an uncensored, must watch video from August 8, 2021. Indiana Doctor, Dan Stock, stands up for Freedom of Choice and follows actual science. The video shows Dr. Stock's Presentation to the Mt. Vernon School Board in Indiana over the futility of mask mandates and Covid-19 Protocols. See the studies referenced in the video here, and read the transcript of Dr. Dan Stock's speech here.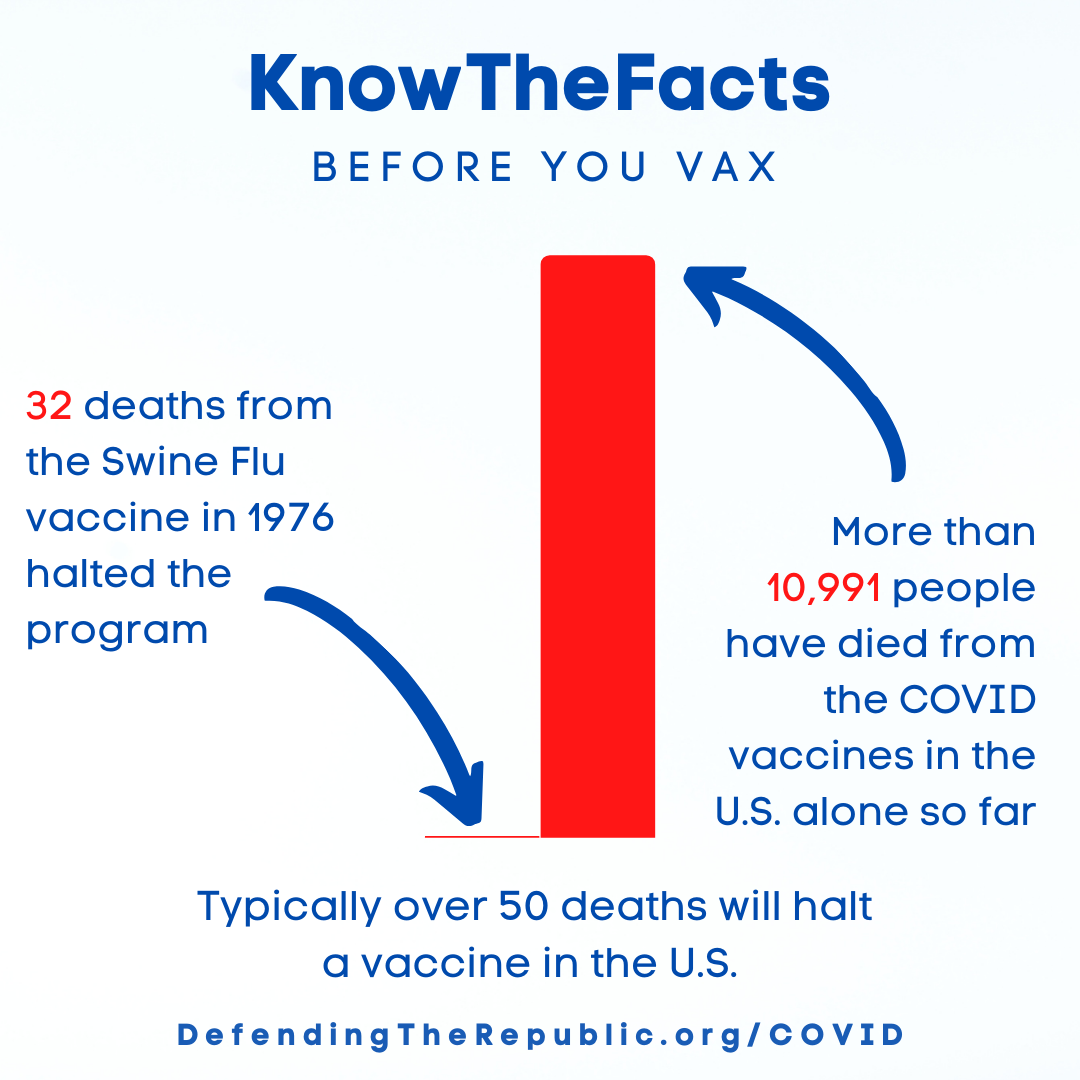 Total U.S. Deaths 12,366  from Covid-19 Vaccinations (info from VAERS)
This figure may be only a very small portion of the total ACTUAL deaths. From the Whistleblower document below, the death figure is over 45,000 deaths from the COVID-19 injection in the U.S.
Update: 8/03/2021
Total European Union's Deaths 20.595 from Covid-19 Vaccinations
The vaccinated hospitalized in Israel and Australia.
Nobody should have to go to work, be threatened, and have to face an unproven life-threatening injection or lose their paycheck!  These tactics are unbearable, intimidating, and wrong.
Fauci, NIH, CDC, and HHS are thumbing their nose at congressional oversight.  U.S. Senator Johnson is requesting 5 USC Section 2954 to obtain complete transparency regarding Fauci's communications… and Fauci has been redacting important information on requested documents — documents that Congress is requesting from him. This is the reason we need to keep our FOIA (Freedom of Information Act) intact. Otherwise, we will not be able to get the proper information needed regarding many issues.
What is Fauci trying to hide?  Those who have nothing to hide, hide nothing.
Unfortunately, our RINO Arkansas Governor, Asa Hutchinson, and Department of Health Cabinet Secretary Dr. José R. Romero (Romero is also with the corrupt CDC ACIP Committee) appear to be the main ones in Arkansas who have gone against the wishes of the people in mandating masking, lockdowns, and Covid-19 injections. They both seem to be working directly in implementing the Gestapo rules coming from Dr. Anthony Fauci, CDC, FDA, and WHO. Remember that COVID-19 has never been lab isolated. Moreover, the Pfizer-BioNTech coronavirus vaccine has been given an "estimated study completion date" of Jan. 31, 2023.
Attention lawmakers, you might want to look at this: The UK Supreme Court case Montgomery v Lanarkshire Health Board (2015) established the principle of an individual's right to informed consent without coercion or penalty.
We should send a strong message to Dr. Fauci and Bill Gates: "KEEP YOUR HANDS OFF OF OUR CHILDREN!" No injections! No molestation, either! Remember that Bill Gates met with convicted sex offender Jeffrey Epstein many times, despite his past. Another article REVEALED: Epstein, Maxwell has deep connections with Fauci, Eric Lander, (Biden's science advisor), and the Clintons.
And if that's not enough… Wake up, people!
Covid internment camps announced in America; Tennessee governor signs EO authorizing National Guard to carry out covid medical kidnappings…  
Tennessee Governor Bill Lee called for COVID internment camps.
See Executive Order 83 from August 6, 2021  which states on page 8:
18. Temporary quarantine and isolation facilities may be constructed. The provisions of Tennessee Code Annotated, Section 68-11-202( c )( 1 )-(8), are hereby suspended to allow for the construction of temporary structures, the plans for which would otherwise be subject to review for new construction, additions, or substantial alterations, as directed by the Commissioner of Health and the Director of TEMA in response to COVID-19; provided, that there shall be inspections of such structures to ensure safety, as necessary.
You'll want to invest the time to read the entire order as it authorizes National Guard and State Guard troops to break into peoples' homes, kidnap them at gunpoint, and take them to Covid internment camps, all without any due process or respect for civil rights.
Executive Order 83 is based on direction coming from the CDC in a CDC Document titled "Operational Considerations for Community Isolation Centers for COVID-19 in Low-Resource Settings"  
This is how manipulation is done: Notice how they put a positive spin on these isolation camps/internment camps (info taken from their own website):
Key Points
Community isolation centers (CICs) give people experiencing mild to moderate COVID-19 symptoms a safe place to isolate and can help conserve healthcare facility resources.
People with mild or moderate illness who have been tested and are waiting for their results should be encouraged to isolate at home until they know their status to avoid becoming infected by other CIC patients.
CICs are not intended to care for severely ill patients. If resources allow, individuals with increased risk of severe illness should seek care at a healthcare facility or hospital where advanced care and treatment can be provided.
Establishing a CIC requires early planning to supply adequate resources and ensure operations are sustainable.
Let's not forget about the depopulation agenda. Our freedom is disappearing fast, and you need to wake up before it's too late.
Now, what's going on in Arkansas about the dangerous Covid-19 injections? Our legislators are looking at Senate Bill 719 — the study of a bill that would prohibit employers from requiring the disclosure of an employee's vaccination status. We hope this turns out to be a good bill. We have some questions about the grant mentioned in it.
SB719 was filed on August 5, 2021, and there are no upcoming events for this bill. It has not been assigned to any legislative committee as of the date this article was published.  
Where does your lawmaker stand on this issue? Maybe you should find out. We need Freedom of Choice to protect our constitutional individual rights.
Sponsors of SB719 are: 
Senator Bob Ballinger (R)
Representative Joshua Paul Bryant (R)
Senator Co-Sponsors of SB719: –  Total Arkansas Senators (35) There are 28 that have not co-sponsored the bill yet.
Senator Trent Garner (R)
Senator Terry Rice (R)
Senator Mark Johnson (R)
Senator Jason Rapert (R)
Senator Alan Clark (R)
Senator Gary Stubblefield (R)
Representative Co-Sponsors of SB719 – Total Arkansas Representatives (100) There are 82 that have not co-sponsored the bill yet.
Representative Mary Bentley (R)
Representative Jimmy Gazaway (R)
Representative Richard McGrew (R)
Representative Richard Womack (R)
Representative John Payton (R)
Representative Cindy Crawford (R)
Representative   Robin Lundstrum (R)
Representative Stephen Meeks (R)
Representative Justin Gonzales (R)
Representative Karilyn Brown (R)
Representative Jim Dotson (R)
Representative David Tollett (R)
Representative Delia J. Haak (R)
Representative Mark H Berry (R)
Representative Brant Smith (R)
Representative Marcus E. Richmond (R)
Representative Josh Miller (R)
ACTION ITEM: This is not a party issue but simply a freedom issue. Call your senator and call your representative today, and ask them where they stand on this bill SB719 immediately. Offer them some suggestions for this bill: they need to include "No mandatory vaccinations or vaccine passports."
Here is a list of ALL Arkansas legislators, so please remember to call or email them. It's easy, so send them a note today… Just click on their email found in the link above.
Have you seen the great work being done in the state of Florida? Arkansas Governor Hutchinson should follow the direction of the Florida Governor and issue an Executive Order similar to Florida's Executive Order Number 21-81. This executive order states that:
Vaccines will not be mandated
No COVID-19 vaccine is required by law
Individual COVID-19 vaccination records are private health information which should not be shared by mandates
No government entity, or its subdivisions, agents, or assigns, shall be permitted to issue vaccine passports, vaccine passes, or other standardized documentation for purpose of certifying an individual's COVID-19 vaccination record or similar health information.
Business are prohibited from requiring patrons or customers to provide any documentation certifying COVID-19 vaccination or post-transmission recovery to gain access to, entry upon, or service from the business.
That's great news!
Sadly, though, one of the state's largest employers doesn't support health freedom:
Tyson Foods Partners with Matrix Medical Network to Provide On-Site Healthcare Services — Matrix will be administrating the mandatory COVID-19 death shots to all Tyson employees. It is time to boycott all Tyson products and all other businesses that mandates the COVID-19 synthetic injection to their employees. Leave that nasty meat laying on the store shelves.
As of April 30, 2020, Tyson Foods, Inc. of Springdale, Arkansas, is partnering with Matrix Medical Network (Matrix). Matrix operates a network of locally based clinical providers and a fleet of mobile health clinics to provide community-based services.
acquired by Frazier Healthcare Providers on August 29, 2016
acquired by Providence Service Corporation on October 23, 2014. (New name of Providence is ModivCare as of January 6, 2021)
According to a recent interview conducted by Secure Arkansas with Tyson Foods, which employs approximately 24,000 people in Arkansas, is going to force mandatory vaccination for all their employees. All corporate officers must comply by October 1, 2021, and all team members who work in the facility have until November, 1, 2021 to come into compliance with the mandate. Moreover, when asked about the mandatory vaccination policy moving forward using only an Emergency Use Authorization (EUA) and that the COVID-19 injections are NOT fully licensed by the FDA, the reply was "yes", we will move forward. Surely, this company would not dismiss employees that would be seeking medical or religious exemptions, or would they?
Lawsuits against Matrix Medical:
*Seven suits settled for $448,000: four new lawsuits announced. Community Care Health Network, LLC, dba Matrix Medical Network…  
*Matrix Medical Accused of Acquiring Competitor Just to Ground It
Matrix Medical Network works hand-in-hand with the corrupt Centers For Disease Control (CDC) and the National Institutes of Health (NIH). This medical network is out to expand clinical trials in a broad range of diverse communities and extend their geographical reach. It seems the Matrix Medical Network has concluded that if they can go into where participants live and work, people will comply. Matrix Medical helped Bill Gates' Moderna with their "vaccine" trials. So, Matrix is conducting clinical experiments/trials on people at their worksite?? Here's a quote from their website:
Our clinical teams can augment our partners needs for trial site management, on-the-ground or home clinical support, patient recruitment, and laboratory testing to drive on-time study completion.
Matrix Medical sure looks suspicious, especially since they work with Bill Gates and Moderna…
So, who is standing up for us? Here's one attorney.
Vaccinated Are Dying, Government Is Lying & Are Suing Them All W/Thomas Renz
Thomas Renz is the Lead Attorney in several major cases brought in Ohio, New Mexico, Maine, and Nationally against the CDC and DHHS regarding the COVID-19 lockdowns, mask mandates, business closures, false PCR data, fraudulent death numbers and more. Attorney Thomas Renz works with and represents America's Frontline Doctors, Make Americans Free Again, and Ohio Stands Up. 
Americans need to have freedom of choice on the Covid-19 injection, so Attorney Thomas Renz has brought the injunction to stop the "Emergency Use Authorization", since there is no true emergency. The survival rate of COVID-19 is 99.8% GLOBALLY and 99.7% for persons above age 70, which is right on par with those who have seasonal flu.
Linked below are the court papers of the lawsuit and the Whistleblower Jane Doe Declaration:
–>  45,000 Death Count from Covid Shot Lawsuit  <–
The following is the table of contents from the above preliminary injunction lawsuit.
TABLE OF CONTENTS
I.     INTRODUCTION……………………………………………………………………. 3
II.    SUMMARY OF FACTS……………………………………………………………… 3
  A. The Unlawful Vaccine Emergency Use Authorizations…………………………….. 3
       (1)  21 U.S.C. § 360bbb–3(b)(1)(C): There is No Emergency………………………..3
       (2)  § 360bbb–3(c)(1): There is in Fact no Serious or Life-Threatening Disease
               or Condition……………………..,…………………………………………………7
       (3)  § 360bbb–3(c)(2)(A): The Vaccines Do Not Diagnose, Treat or Prevent
              SARS-CoV-2 or COVID-19………………………………………………………. 7
       (4)  § 360bbb–3(c)(2)(B): The Known and Potential Risks of the Vaccines
              Outweigh their Known and Potential Benefits…………………………………..9
       (5)  § 360bbb–3(c)(3): There Are Adequate, Approved and Available
             Alternatives to the Vaccines……………………………………………………….20
       (6)  § 360bbb–3(e)(1)(A)(i) and (ii): Healthcare Professionals and Vaccine
              Candidates are Not Adequately Informed……………………………………….23
       (7)  § 360bbb–3(e)(1)(A)(iii): Monitoring and Reporting of Adverse Events……….32
B.   The Under-18 Age Category………………………………………………………… 35
C.   Those Previously Infected with SARS-C0V-2…………………………………..38….
D.   Whistleblower Testimony: 45,000 Deaths Caused by the Vaccines……………..41.
III.  LAW AND ANALYSIS…………………………………………………………..42..
A. Likelihood of Success on the Merits…………………………………………………. 43
      1)   Plaintiffs Have Standing…………………………………………………………..43
       2)  Defendants' Actions are Reviewable……………………………………………. 44
Plaintiffs' Injuries are Within the Zone of Interests……………………….. 44

No Statutory Preclusion……………………………………………………… 46

The Emergency Declaration and the EUAs are "Final" Agency Action….. 54

Not "Committed to Agency Discretion"…………………………………….. 56
B.   Irreparable Injury…………………………………………………………………….58
C.   Balance of Equities (Hardships) and the Public Interest……………………………64
IV  CONCLUSION……………………………………………………………………….. 65
     CERTIFICATE OF SERVICE……………………………………………………… 67
Here is the Whistleblower Jane Doe Declaration part of the above lawsuit.
This is another document you might want to look over:
American Frontline Doctors White Paper On Experimental Vaccines For COVID-10
This document represents the preliminary findings of an investigation conducted by the member-physicians of America's Frontline Doctors. Here's an excerpt:
What does AFLDS mean by "experimental vaccine"? 
According to the Food and Drug Administration, "An investigational drug can also be called an experimental drug and is being studied to see if your disease or medical condition improves while taking it." See pg. 15. The Pfizer and Moderna and AstraZeneca applications properly identify their new agents as "investigational," which is normal at this very early stage of development. All the vaccine candidates are categorized as experimental for the following four reasons:
the pharmaceutical companies have applied for investigational use status
adverse events will be settled under the legal standard for experimental medications
recipients are enrolled as subjects in a medical trial to gather data on side effects.
persons are enrolled in a pharmaco-vigilance tracking system for at least two years
many groups of persons have not been studied at all, including: prior COVID-19 patients, pregnant women, youths, elderly
no published animal studies data
We need to remember — these EXPERIMENTAL shots have NOT been tested with the usual standards, so EVERYONE should have concerns for their safety.
The Illegality of Any University Mandating Experimental COVID-19 Vaccinations for Students
The same section that authorizes the FDA to grant an EUA [Section 564 of the Federal Food, Drug, and Cosmetic Act (the "Act"), codified at 21 U.S.C. 360bbb-3], requires that the public have "the option to accept or refuse administration of the product." 21 U.S.C. 360bbb-3(e).

It even provides that the Secretary of HHS is to "ensure that individuals to whom the product is administered are informed" of "the option to accept or refuse administration of the product." (Id.)

The FDA and CDC's guidance and regulations reflect the statutory prohibition from mandating that an individual receive a product that has only been granted EUA.

The Executive Secretary of the CDC's Advisory Committee on Immunization Practices ("ACIP"), Dr. Amada Cohn, publicly stated that "under an EUA, vaccines are not allowed to be mandatory."

Therefore, early in the vaccination phase individuals will have to be consented and cannot be mandated to be vaccinated."8

Dr. Cohn then reaffirmed to the FDA's Vaccine and Related Biological Products Advisory Committee that no organization, public or private, can mandate the COVID-19 vaccines:

Organizations, such as hospitals, with licensed products do have capability of asking their workers to get the vaccine. But in the setting of an EUA, patients and individuals will have the right to refuse the vaccine.9
The Nuremberg Code is still law, even today.
The Nuremberg Code was created in 1947 in Nuremberg Germany following the trial of a group of Nazi doctors accused of conducting inhumane and often deadly experiments on prisoners of concentration  camps without their consent. There were 16 people that were found guilty and ten were hung. This same Nuremberg Code is still in effect today and needs to be used to go after all involved in a Mandatory Covid-19 Policy.
The Nuremberg Code consists of 10 principles, the first of which being that the voluntary consent of the human subject is absolutely essential in any experiment on humans.
Other principles include that the experiment should be for the good of society, that all unnecessary physical and mental suffering or injury should be avoided and no experiment should be conducted if there is good reason to believe it may result in death or a disabling injury.
They also say that the human subject should be free to exit the experiment if they are suffering, and that the scientist in charge must be prepared to end the experiment if they have good reason to believe it may cause injury, disability or death to the subject if it continues.
Also, here in America, the Code and the related Declaration of Helsinki form the basis for the Code of Federal Regulations Title 45 Part 46, which are the regulations issued by the United States Department of Health and Human Services for the ethical treatment of human subjects, and are used in Institutional Review Boards (IRBs).
Boycott the businesses listed below. (At least as many as you can.) Either stand with tyrannical Biden, or stand up for Freedom of Choice!
This fake President Biden orders tough new vaccination rules for federal workers
The federal government directly employs about 4 million people, but Biden's action could affect many more when federal contractors are factored in. New York University professor of public service Paul Light estimates there are nearly 7 million more employees who could potentially be included, combining those who work for companies that contract with the government and those working under federal grants.
These are some of the companies mandating COVID-19 injections for some or all of their employees:
Ascension Health
BlackRock
Disney
DoorDash
Facebook
Federal Worker and Federal Contractors
Frontier Airlines
Goldman Sachs
Google
Hollywood workers
Jefferies
Lyft
Mayo Clinic
McDonalds
Microsoft
Morgan Stanley
Netflix
Saks Fifth Avenue
The Washington Post
Twitter
Tyson Foods
Uber
Union Square Hospitality Group
United Airlines
Walmart
And do we really believe that Pfizer and Moderna developed their COVID-19 "vaccinations" in only two days?
In closing, the COVID shots do not prevent infection or transmission, hence the variants created inside vaccinated individuals will spread. This hypothesis was confirmed in a 2015 study, which found that "imperfect vaccination can enhance the transmission of highly virulent pathogens."
BOMBSHELL: HHS documents admit the CDC has never isolated any "covid-19 virus" … PCR tests nothing but instrument NOISE … the global HOAX is rapidly unraveling  …
No isolated Certified Reference Materials for "covid-19" virus.  The CDC document proves that COVID-19 was never lab isolated. Here is a snippet pulled from page 40 of the CDC document: Since no quantified virus isolates of the 2019-nCoV were available for CDC use at the time the test was developed and this study conducted, assays designed for detection of the 2019-nCoV RNA were tested with characterized stocks of in vitro transcribed full length RNA (N gene; GenBank accession: MN908947.2) of known titer (RNA copies/μL) spiked into a diluent consisting of a suspension of human A549 cells and viral transport medium (VTM) to mimic clinical specimen.
PCR tests that find "positive" results for covid merely the result of amplified instrument background.
FDA admits PCR tests were developed without any isolated covid-19 virus samples. So they simulated the virus.
Virologist Dr. Judy Mikovitz confirms common coronaviruses and monkey viruses fraudulently labeled "covid."
Dr. Jane Ruby explains the lack of any viral isolate and why the pandemic is based on coordinated science fraud.
CDC FOIA documents reveal proof the CDC has never isolated covid-19.
The spike protein bioweapon is real, and covid "vaccines" are kill shots to achieve depopulation.
CDC Director Walensky admits the covid vaccine doesn't stop covid infections.
Sen. Rand Paul calls for Americans to resist covid tyranny.
Yes, it is important to pray and keep praying, and it's also imperative that we DO something. Contact your legislators. Share our articles. Speak out.
"The only thing necessary for the triumph of evil is for good men to do nothing."
What's developing has been planned for years by the scheming global elitists who spread chaos and confusion as part of their evil agenda, and the media will keep suppressing vital information for you to be able to determine properly what is actually happening.
Stay tuned…
As always, you can find our email articles posted on our website: SecureArkansas.com.  The Search box is a handy tool. 
For more information about FLUORIDE, just type it into the Search box on our website, and click Enter!
Securing the blessings of liberty,
Secure Arkansas
securetherepublic.com/arkansas
[email protected]
Share This Article