Ivermectin vs Mandates and Community Isolation Centers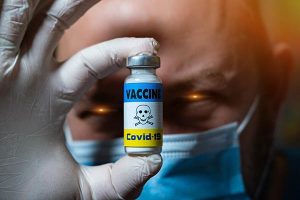 UPDATE ALERT: In our alert (included below) from 8/23/2021, we wrote that the Covid-19 Pfizer injection had been fully FDA approved… but let's look at this further.
Here is more documentation that our readers need to look into:
This is the 13-page letter from the FDA regarding the Pfizer-BioNTech COVID-19 Vaccine Emergency Use Authorization Letter of Authorization reissued August 23, 2021 and shows the new name "Comirnaty (Covid-19 vaccine, mRNA)" under an extended Emergency Use Authorization (EUA) for certain uses that were not included in the approved EUA.
Here's the 11-page letter of approval (LOA) from FDA dated August 23, 2021.
Here's a snippet from the 13-page letter from the FDA (their reference #14 at the bottom of pages 8 and 9):
14 The following types of revisions may be authorized without reissuing this letter: (1) changes to the authorized labeling; (2) non-substantive editorial corrections to this letter; (3) new types of authorized labeling, including new fact sheets; (4) new carton/container labels; (5) expiration dating extensions; (6) changes to manufacturing processes, including tests or other authorized components of manufacturing; (7) new conditions of authorization to require data collection or study. For changes to the authorization, including the authorized labeling, of the type listed in (3), (6), or (7), review and concurrence is required from the Preparedness and Response Team (PREP)/Office of the Center Director (OD)/CBER and the Office of Counterterrorism and Emerging Threats (OCET)/Office of the Chief Scientist (OCS).
EXTENSIONS of expiration dates??? Good grief!
And from the last page of that letter:
IV. Duration of Authorization

This EUA will be effective until the declaration that circumstances exist justifying the authorization of the emergency use of drugs and biological products during the COVID-19 pandemic is terminated under Section 564(b)(2) of the Act or the EUA is revoked under Section 564(g) of the Act.
What is different now when compared to the December 2020 authorization of Pfizer-BioNTech COVID-19 Vaccine? Here's an excerpt from the FDA Q&A for Comirnaty (COVID-19 Vaccine mRNA):
How is Comirnaty (COVID-19 VACCINE, mRNA) related to the PFIZER-BIONTECH COVID-19 VACCINE?

The FDA-approved Pfizer-BioNTech product Comirnaty (COVID-19 Vaccine, mRNA) and the FDA-authorized Pfizer-BioNTech COVID-19 Vaccine under EUA have the same formulation and can be used interchangeably to provide the COVID-19 vaccination series without presenting any safety or effectiveness concerns.  Therefore, providers can use doses distributed under EUA to administer the vaccination series as if the doses were the licensed vaccine. For purposes of administration, doses distributed under the EUA are interchangeable with the licensed doses. The Vaccine Information Fact Sheet for Recipients and Caregivers provides additional information about both the approved and authorized vaccine.
What's next from this regime? Looks to us like this is part of them trying to bypass proper formal approval and fast-track this injection and then drop the EUA distinction…
Check out the links above. We will look further into this and inform you what we find in a future article. Please email us and let us know what you find in your research: [email protected] 
_______________________________________
The COVID-19 Pandemic Can Be Ended Immediately
by the Use of Ivermectin…
yet, the Powers That Be are still pushing Community Isolation Centers
Medicine has become political.
Remember, COVID didn't crash the economy — the government did, and Covid-19 has a survival rate of OVER 99%! So, why the "vaccine" and why the fear? The jabs were never meant to keep you from getting infected…
Scientists Sound Alarm: Vaccines Will Kill Millions
Table 2 Adjusted Vaccine Deaths and Adverse Events, May 2021 (due to the Covid-19 injection)  
| | | | |
| --- | --- | --- | --- |
| Date | Country/Region | Deaths | Adverse Events |
| 13 May | UK | 114,500 | 22,454,400 |
| 24 May | USA | 486,300 | 26,252,100 |
| 22 May | EU | 121,840 | 11,961,900 |
| TOTAL |   | 722,640 | 60,668,400 |
Normally, 50 deaths would cause vaccines to be taken out of the market. We now have HUNDREDS of THOUSANDS of deaths, and Covid vaccines continue to be aggressively promoted. Why are these hazardous vaccines not taken off the market?
How many vaccine-induced deaths are there… REALLY?
Big Pharma, government, and the media are skewing the numbers and suppressing cheap and effective treatments in order to push the experimental "vaccines". They work under the cover of darkness, literally AND figuratively. The Covid-19 "vaccines" have killed more in a year than all of the other vaccines combined.
Keep standing up against the cabal. Speak the truth. Knowing the truth brings freedom.
Summary Intro:
Benefits of Ivermectin and health protocols
CDC Admits: Financial Hospital Incentives Drove Up COVID-19 Death Rates
Does the Covid-19 virus even exist? (SARS-CoV-2 Has Not Been Isolated)
Ivermectin wins in other countries!
Dangers of Community Isolation Centers
Latest peer-reviewed research: Immediate Global Ivermectin Use Will End COVID-19 PANDEMIC — Also see American Journal of Therapeutics: May/June 2021 – Volume 28 – Issue 3 "Review of the Emerging Evidence Demonstrating the Efficacy of Ivermectin in the Prophylaxis and Treatment of COVID-19″  . From the article:
Meta-analyses based on 18 randomized controlled treatment trials of ivermectin in COVID-19 have found large, statistically significant reductions in mortality, time to clinical recovery, and time to viral clearance. Furthermore, results from numerous controlled prophylaxis trials report significantly reduced risks of contracting COVID-19 with the regular use of ivermectin. Finally, the many examples of ivermectin distribution campaigns leading to rapid population-wide decreases in morbidity and mortality indicate that an oral agent effective in all phases of COVID-19 has been identified.
Why is our government ignoring and sabotaging this proven treatment? We need to stop acting like we have to be in complete compliance with sinister government dictates. The experimental shots come with zero liability and are useless in protecting us or stopping Covid. They should NOT be mandated, and they are NOT safe or effective!
Update: On August 23, 2021 the FDA fully approved the Pfizer shot, and it will now be termed a "coronavirus vaccine". FDA Commissioner Janet Woodcock said the Pfizer BioNtech shot will now be marketed as "Comirnaty". Now Pfizer will ramp up to give more booster shots. (They are not done with us yet because they plan on an endless amount of injections… forget the trail of dead and injured bodies that were left behind.)
But was there even a formal hearing done before the FDA decision was made to approve the Pfizer "vaccine"? We don't know what the data even looks like before the injection was approved… Have they lowered their standards for future "vaccine" approvals? 
From the British Medical Journal published August 20, 2021:
Transparency advocates have criticised the US Food and Drug Administration's (FDA) decision not to hold a formal advisory committee meeting to discuss Pfizer's application for full approval of its covid-19 vaccine.
These advocates rightfully criticized the FDA. The article goes on to say:
The vaccine has already been rolled out to millions of Americans through an emergency use authorisation. Companies typically apply for full approval after a longer period has elapsed so that more data are available for review.
The FDA is just like a Nazi-run organization.
The data has been cut short.
The trials have been cut short.
A public hearing was NEVER opened up!
There was NO public input.
Who got paid off to get this through?
Were the COVID-19 dead bodies ever discussed? Remember, there were 486,300 killed in the USA with the COVID-19 injection.
Were the COVID-19 Adverse Events ever discussed? In the USA, there were 26,252,100 adverse events.
And what about the Nuremberg Trials? 
A few last snippets from The BMJ article:
But with the US government indicating this week that it plans to start making booster shots widely available next month, experts said the decision not to meet to discuss the data was politically driven.

Diana Zuckerman, president of the National Center for Health Research, who has also spoken at recent VRBPAC meetings, told The BMJ, "It's obvious that the FDA has no intention of hearing anyone else's opinion. But if you make decisions behind closed doors it can feed into hesitancy. It's important to have a public discussion about what kind of data are there and what the limitations are. As we think about risk versus benefit, we need to know."
[Yellow highlight, Secure Arkansas' to draw your attention.]
Here we go with politicized, tyrannical medicine and globalist agendas… This has been forced through.
Why is this all done behind closed doors in secrecy? Full approval of Covid-19 vaccines must be done in an open forum for everybody to see.
None of the Covid-19 "vaccines" available today are trustworthy… Why would anyone want to risk an unproven substance to get injected into their body? Unbelievable!
Vaccine Destroys T Cells, Weakens the Immune System
The FDA fully-approved the Pfizer Covid-19 Injections on August 23, 2021 in spite of a new study coming out of the United Kingdom that shows that the Covid-19 injection may be the most dangerous of all the shots in mass circulation today.
The shots for COVID-19, which are not good vaccines but "VBGTs"— viral based genetic treatments (as defined by the FDA) — are unapproved genetic novel agents that have never been used or injected into humans before.  
We know how the corrupt CDC manipulated data to create a false narrative of the unvaccinated. The nurses, doctors, and other healthcare workers that do NOT take the deadly jab are really under fire at this time. Remember, we have to stand up against the injustice because it looks like the injections will never stop.
Our country is under siege by the Drug Industry, NGOs, and Mega Corporations!
Here's another article: CDC Admits Financial Hospital Incentives Drove Up COVID-19 Death Rates. Be sure to view the video with Minnesota Senator Scott Jensen.
Hospitals have been incentivized to mark deaths as COVID deaths, even in cases where it may not be the primary cause of death. Hospitals were paid $13,000 per person who was admitted as a COVID case, and another $39,000 for every patient put on a ventilator.
Many hospitals aren't bringing in the money they need to be, and they're desperate for money to operate, so they could easily be tempted to falsify records and/or put people on ventilators, etc…
Brainwashed doctors are not talking to their patients or their families anymore, and unfortunately, many good physicians are being ignored at this time. Can't we see that conventional medicine will kill us? Show us how a virus invades or infects anything. Show us where SARS-CoV-2 has been isolated!!
Does this virus exist? Global Research has a wonderful article about this issue. Did the CDC acknowledge that SARS-CoV-2 has NOT been isolated? YES! Read the linked article. Here's a small snippet:
While the alleged virus was initially defined as the 2019 novel coronavirus (2019-nCoV) in January 2020, the World Health Organization (WHO) did not have in its possession details regarding the isolation/purification and identity of  2019-nCoV.

2003 SARS-CoV was subsequently renamed SARS-CoV-1. 
Read the FOIA (Freedom of Information Act) requested in the above article "Does this virus exist?".
Also, if you get your prescriptions from Corporate Pharmacy chain stores, try to go back to the Mom-and-Pop Pharmacies instead. Corporate Pharmacies are at war with the good doctors. They do NOT want to fill prescriptions for Ivermectin. They will ask you what this prescription is for, like they're practicing medicine themselves (without a license)! It's none of their business why you're taking it, unless there's a contraindication or drug interaction concern.
Craig Kelly exposing the suppression of Ivermectin as a treatment for COVID-9 in the empty Australian Parliament (12:17 minute video) – Craig Kelly and the Suppression of Ivermectin
Ivermectin Wins in India! There is a news media blackout on any conversation about how Ivermectin practically eradicated COVID-19 in India. See how cases were driven down to about zero below:
Country

United States

India

Uttar Pradesh

India

Delhi

India

Uttarakhand

Taking Ivermectin

No

Yes

Yes

Yes

Population

331 million

240 million

31 million

11.4 million

Fully vaccinated

50.5%

4.9%

15%

15%

Covid Daily Cases

127,108

26

61

24

Covid Daily Deaths

574

3

2

0
Today, the data from India shows that Ivermectin is effective, much more so than the poisonous "vaccines". Ivermectin not only prevents death, but it also prevents COVID infections and is also effective against the Delta Variant.
There are no true tests for the Delta Variant. As of August 22, 2021, the experimental PCR tests are still under an Emergency Use Authorization (EUA). We should not keep getting ourselves tested over and over! What's on those test swabs, anyway? According to the Guidance Industry: Emergency Use Authorization of Medical Products and Related Authorities, when the FDA issues an EUA for tests for use at the point of care (including SARS-CoV-2 point of care test systems), such tests are deemed to be CLIA waived tests. CLIA stands for Clinical Laboratory Improvement Amendments of 1988 (42 U.S.C. 263a).
Must read! According to the Bulgarian Pathology Association, COVID19 PCR Tests are Scientifically Meaningless.
Lockdowns and hygienic measures around the world are based on numbers of cases and mortality rates created by the so-called SARS-CoV-2 RT-PCR tests used to identify "positive" patients, whereby "positive" is usually equated with "infected."

But looking closely at the facts, the conclusion is that these PCR tests are meaningless as a diagnostic tool to determine an alleged infection by a supposedly new virus called SARS-CoV-2.

…the intended use of the PCR was, and still is, to apply it as a manufacturing technique, being able to replicate DNA sequences millions and billions of times, and not as a diagnostic tool to detect viruses.
Well, there you have it! And here's this:
Up to 90% of PCR Tests for COVID-19 May Be False Positives
The sensitivity levels of the PCR tests have been set too high. The New York Times reports that up to 90% of people testing "positive" carried barely any virus.  WHO (finally) admits PCR tests create false positives

[This is new WHO memo stating that using a high CT value to test for the presence of Sars-Cov-2 will result in false-positive results.]

Someone or some group within the CDC intentionally gave guidance for the PCR sensitivity settings knowing that this would result in an incredible spike in new cases… and economic destruction, fear, panic, and chaos.

This is a scandal of epic proportions.
CDC, FDA, NIH, NIAID, WHO, Gates, Fauci CANNOT be trusted. The COVID-19 Injection will NOT protect you or keep you from getting COVID-19.
Must open links! COVID-19 is NOT NOVEL. It's NOT new. Open this link to see the patented Rothschild method for testing COVID-19. Notice the date  is 2015/10/13. Also, why were hundreds of millions of test kits distributed worldwide in 2017 and 2018? This should prove that this event was pre-planned… thus, the plandemic. Here's the pdf proof.
Again, we ask: why are the US and CDC blocking a known cure? Also, why is the World Health Organization (WHO) taking the same illogical stand? Click here for the latest WHO guidelines and notice how many times they update and change those guidelines. With this known cure of Ivermectin, there is no need for a COVID death injection. Anthony Fauci is in bed with the devil and has stuffed Big Pharma money in his pockets, one way or another.
The United States, European Union, AND United Kingdom databases of adverse vaccine reactions show tens of thousands of deaths and over 5 million health injuries associated with the Covid injection. The databases only capture between 1% and 10% of the adverse effects, so actual numbers are MUCH higher than that, and the vaccines have done more harm than the Covid-19 coronavirus.
COVID will be bothersome as long as the known Covid Protocol cures are blocked in the US by Big Pharma, NIH, NIAID, CDC, FDA, WHO, Bill Gates and Anthony Fauci. All of those mentioned are the enemies of the people.
We need Ivermectin and/or Hydroxychloroquine used with Zinc for prevention and treatment prescribed! We could bring the numbers down quickly. Look at India and Mexico. Sweden did NOT use a lockdown. A lockdown for healthy people is ludicrous.
COVID Deaths Plunge After Mexico City Introduces Ivermectin
In the 24 Peruvian states that adopted early use of ivermectin treatment, excess deaths plummeted on average by 59% just 30 days after the peak death rate. And it had dropped 75% after 45 days in those over 60 years old.

In February, a peer-reviewed study found that Ivermectin reduces coronavirus infections, hospitalizations, and deaths by about 75%.
Dr. Pierre Kory, the chief medical officer of the Front Line Covid-19 Critical Care Alliance, is known for his congressional testimony about the effectiveness of Ivermectin. In a live Zoom conference May 13, he showed the promising data from various states in India in the two weeks after Ivermectin was promoted.
Here are the Prevention & Treatment Protocols for COVID-19.  Also, be sure to read this two-page document.
PREVENTION PROTOCOL
lvermectin

Chronic Prevention   

0.2 mg/kg per dose (take with or after a meal) — twice a week for as long as disease risk is elevated in your community

Post COVID-19 Exposure Prevention2
  0.4 mg/kg per dose (take with or after a meal) — one dose today, repeat after 48 hours

Vitamin D3

1,000–3,000 IU/day

Vitamin C

500–1,000 mg twice a day

Quercetin

250 mg/day

Zinc

30–40 mg/day (elemental zinc)

Melatonin

6 mg before bedtime (causes drowsiness)

Gargle mouthwash

2 x daily – gargle (do not swallow) antiseptic mouthwash with cetylpyri­ dinium chloride (e.g. ScopeTM, ActTM, CrestTM), ListerineTM with essential oils, or povidone/iodine 1 % solution as alternative.
EARLY OUTPATIENT PROTOCOL
lvermectin  

0.4–0.6 mg/kg per dose (take with or after a meal) — one dose daily, take for 5 days or until recovered Use upper dose range if:

1) in regions with aggressive variants (e.g. "Delta" variant);

2) treatment started on or after day 5 of symptoms or in pulmonary phase;or

3) multiple comorbidities/risk factors.

Fluvoxamine

50 mg twice daily for 10–14 days Add to ivermectin if:

1) minimal response after 2 days of ivermectin;

2) in regions with more aggressive variants;

3) treatment started on or after day 5 of symptoms or in pulmonary phase; or

4) numerous comorbidities/risk factors. Avoid if patient is already on an SSRI.

Nasal/oral rinse

3 x daily – gargle (do not swallow) antiseptic mouthwash with cetylpyridi­nium chloride (e.g. ScopeTM, ActTM, CrestTM), ListerineTM with essential oils, or povidone/iodine 1 % solution as alternative. Nasal rinse instructions below

Vitamin D3

4,000 IU/day

Vitamin C

500–1,000 mg twice a day

Quercetin

250 mg twice a day

Zinc

100 mg/day (elemental zinc)

Melatonin

10 mg before bedtime (causes drowsiness)

Aspirin

325 mg/day (unless contraindicated)

Pulse Oximeter

 Monitoring of oxygen saturation is recommended
Now, what happened to colds and flu? Seems like they miraculously disappeared… Why is everything"Covid"?
Here is proof that the World Health Organization Relabelled Flu Cases as Covid-19 to invent the pandemic. From the chart, please note that there are no flu cases for 2021. Also, most deaths being reported are listed as COVID-19 deaths, even though that was not the cause of death.
And what's going on in the military? 
COVID vaccines to be required for military under new U.S. Plan dated August 9, 2021. Here's a snippet from the AP News article:
Some unvaccinated troops have said they'd get the shot once it's required, but others are flatly opposed. Once the vaccine is mandated, a refusal could constitute failure to obey an order and may be punishable under the Uniform Code of Military Justice.  
The Uniform Code of Military Justice (UCMJ) actually protects the soldier in this situation as he/she has a moral and legal obligation to the Constitution and not to obey unlawful orders and the people who issue them. Not only should an unlawful order not be obeyed, obeying such an order can result in criminal prosecution. Military courts have long held that military members are accountable for their actions even while following orders.
How dare our healthy soldiers be subjected to this death shot! Recruiters are NOT going to get their numbers, if this asinine policy continues.
Crazy things are happening… and not just in the U.S.
Shockingly, the good people in Australia are being subjected to a cruel hand of government: Australia, NSW are going to herd 24,000 children into stadium to inject them with "vaccines". Parents are NOT allowed! There was no parental consent needed.
This should give us a clue as to how the British Monarchy rules this country. They do NOT need the queen, and they need to stand independently. The queen continues to legally own all the lands of Britain, Canada, Australia, New Zealand, 32 other members (around two-thirds) of the Commonwealth, and Antarctica. She owns about one-sixth of the planet's surface. Canada and Australia should NOT have her as the Head of State in their country. Abolish the Monarchy, and cut those ties.
Maybe we should think about pulling our children out of public school and getting them away from the thugs. Get together and organize. The school board will straighten up if they think they are going to lose a ton of money that the children generate by attending. Homeschooling is the safest way to go during this time of trouble. Alternate teaching with other parents. Let's get back to the basics.
Speaking of children, did you see that recently, in June 2021, the corrupt cabal with American Medical Association (AMA) said that sex (gender) should be removed from public birth certificates? This is utter nonsense. If your doctor has a close association with AMA, you might consider finding another physician. And we know that most physicians push vaccinations…
Now Moderna is going into human trials for a supposed HIV vaccine. If you recall, Fauci has been playing around with the National Institutes of Health (NIH) for 50 years, along with his wife Christine Grady. He has done NOTHING towards progress concerning HIV and he has had huge amounts of money to work with for decades.  
Here's an excerpt from the article linked above:
This week, the biotech company Moderna will start human trials for its HIV vaccine. Its HIV vaccine will be the first of its kind to use messenger RNA (mRNA), an approach that Moderna used in its effective COVID-19 vaccine.
You must get a grip and "see" the take over of America through the communist principles being used throughout our government including health systems, schools, universities, and churches (full of christian socialists) in countries all over the world.
We encourage you to click on all links. YOU need to click around and dig into this evil for yourself to get the full picture! Do NOT be afraid to go down the deep, dark rabbit hole. Another economy-destroying lockdown may be coming soon. Many gullible people still trust the government, CDC, WHO, Fauci, Gates, Soros, Big Pharma, and the news media owned by the untrustworthy billionaires. The Orwellian scene is developing right before your eyes. Wake up!
Totalitarian governments and their billionaire vampire global elite partners around the world have been implementing extreme surveillance systems and will permit no individual freedom. Public surveillance including biometrics/ facial recognition, social media monitoring, and their costly surveillance drones should give you a clue of how our freedoms have been crumbling. This ruling billionaire group will have complete control if left unchecked! What better way to do it than through our healthcare systems.? Checkmate! (Meaning, now what are you going to do?)
Oh, do not be unwilling to admit that there are RINOs (Republican In Name Only) that betray true conservatives everyday. Just look at our Supreme Court: Justice Kavanaugh assisted President Bush in drafting the vile freedom robbing Patriot Act. Under Bush Jr., 9/11 occurred. Was his mother, Barbara Bush, the daughter of Aleister Crowley? Evil occurs wherever they go…
Moreover, we have witnessed more questionable military activity over the past few years than we would like to admit. How can we block out from our memories the huge numbers of coffins and body bags being transported across the country a few years ago? Looks like everything is falling into place… incrementally. Didn't we know know that if the dictators successfully pulled off a lockdown in 2020 and shut down economies all over the world,  that they would try to pull the same stunt in 2021 or 2022?
2022 will prove to be an interesting election year, but be aware of the dangers and abuses that have happened in the past. A lot will be at stake next year. We will see 36 gubernatorial seats up for grab.
Now, let's get to the Community Isolation Centers. (Some people have been misled into thinking that the Community Isolation Centers are benign or just for illegal aliens. No, they will be set up for anybody and everybody.)
We can see that Biden is overloading our welfare system, but whenever we see the military activated, we should pay attention.  
August 14, 2021, Troops in Oregon to man covid units. Oregon Governor Kate Brown (D) is planning on sending 1,500 National Guard to designated hospitals in the state. Note: supposedly 71% of the state have been vaccinated, yet, they are a hotspot for Covid. Could it be because the so-called "vaccines" are causing a spread?
The egotistical Oregon governor has also tried to institute a lottery and many other strategies to get people interested in the jab, but government officials do NOT expect it to work. The people won't take the bait!
States like Maine, North Carolina, Ohio, and New York do NOT expect injection rates to get any better, and Robert Ator, a retired colonel in Arkansas Air National Guard is in charge of our state's "vaccine" distribution, said that Arkansas was "drowning in this stuff".
So, we are seeing no demand for this poison injection! States are sitting on millions of surplus COVID-19 doses, and the expiration date is about to expire.
If money, food, lottery tickets, college tuition, cash, etc. is NOT working, do you think they might get desperate and try to call for a mandate or force the injections? The World Health Organization (WHO) and Pan American Health Organization (PAHO) plan to advance the manufacturing of COVID-19 "vaccines".
Let's see what's going on in some states around the country concerning Community Isolation Centers.
Let's start with our own state of Arkansas:
State/Jurisdiction

Statute Citation (Last Amend)

Statute Summary

Arkansas

Ark. Stat. Ann. §§ 20-7-109 (1997)

Ark. Stat. Ann. §§ 14-262-101 to 109 (2010)

Authority. The director of the Department of Health has control over all quarantine measures. The state Health Board establishes rules and regulations regarding quarantine and isolation. County or district health departments have the power and duty to establish and enforce quarantine or isolation when it is necessary for public health. Cities can create health boards and appoint a health officer, with jurisdiction five miles beyond city limits in the event of a quarantine for an epidemic. Both county and city health authorities must assist state Department of Health and the Health Board. Only the state director can implement a quarantine on movement between jurisdictions.
[Bold font, Secure Arkansas', to draw your attention to it]
Attention all states! State Quarantine and Isolation Statues are being promoted by the National Conference of State Legislatures. See CDC Legal Authorities for isolation and Quarantine
See Wisconsin Governor Tony Evers' COVID-19 Local Community – Isolation State Operation Manual from 6/11/2020.
Why did the RINO Tennessee Governor Bill Lee (R) update and issue this NEW Executive Order (EO) 83 dated August 6, 2021? This is the latest EO signed by him. Just looking at some of the points in EO 83 is alarming. You'll want to read it for yourself.
Several aspects of this executive order are disturbing, including page 7, section 14 entitled Telephone Assessments for Involuntary Commitment Cases Are Permitted. When we hear the word "involuntary," our ears start to perk up.  
It states:
The provisions of Tennessee Code Annotated, Section 33-4-108, are hereby suspended to the extent necessary to allow the issuance of a certificate of need under Tennessee Code Annotated, Section 33-6-404, for the emergency involuntary commitment of a person with a mental illness or serious emotional disturbance based upon a telephone assessment of such person by a mandatory pre-screening agent designated pursuant to Tennessee Code Annotated, Sections 33-6-104 and 33-6- 427, if the following conditions are met:

a. The mandatory pre-screening agent is not reasonably able to conduct an evaluation in-person or via readily available telehealth services; and

b. The mandatory pre-screening agent determines in the agent's professional judgment that conducting the assessment via telephone with the person is clinically appropriate.

Section 33-4-108, the section that is being replaced, says:

A certificate of need for commitment for care and treatment of a person with mental illness, serious emotional disturbance, or developmental disability is not valid for any purpose unless it is based on personal observation and examination of the person made by the professional not more than three (3) days prior to the making of the certificate. The certificate shall state the facts and reasoning on which the opinions and conclusions are based.(b) The execution of a certificate concerning the mental condition of a person by a professional who has not personally observed and examined the person is a Class E felony.
In a nutshell, there were more requirements in place before the State of Tennessee could simply take you away against your will due to mental illness.  Now, all they have to do is pick up the phone and have a little teleconference with you.  Let us ask you these questions:  do you think that some of those in power believe that you are mentally ill for not taking the Covid shot?  What about masks?  Do they think you are crazy for not wearing a mask or not requiring your children to wear a mask?  We are in perilous times.  Be careful who you speak to…
What's the necessity of this form, Governor Lee? State of TN Emergency Detention Form. It mentions emergency involuntary admission. Who knows how people will be assessed if they answer questions a certain way?
Click here to view the last two years of the unwelcome Executive Orders (EOs) from the Tennessee Secretary of State site. Some of them mention the utilization of both the National and State Guard to support certain health care and vaccination efforts. He is moving along incrementally to keep everyone calm. This governor is selling out the State of Tennessee to the federal government takeover and even to the world government.
Good people in the state have been protesting all the nightmare scenarios manifesting there. Keep it up, Tennessee residents! Here's an open letter to Governor Bill Lee entitled Executive Order 83: The Brutality of Good Intentions.
The answer could be found in the Cloward-Piven strategy that's based on creation of a political crises: The governor's Executive Order 83 is a directive coming from the CDC and the World Health Organization (WHO), in a CDC document entitled "Operational Considerations for Community Isolation Centers for COVID-19 in Low-Resource Settings". See below for a snippet:
 Key Points
Community isolation centers (CICs) give people experiencing mild to moderate COVID-19 symptoms a safe place to isolate and can help conserve healthcare facility resources.
People with mild or moderate illness who have been tested and are waiting for their results should be encouraged to isolate at home until they know their status to avoid becoming infected by other CIC patients.
CICs are not intended to care for severely ill patients. If resources allow, individuals with increased risk of severe illness should seek care at a healthcare facility or hospital where advanced care and treatment can be provided.
Establishing a CIC requires early planning to supply adequate resources and ensure operations are sustainable.
Also, here are more of their twisted plans from the online CDC document:
Consider the following when adapting settings for a CIC:
Consider converting existing hotels, schools, churches, or other structures to CICs. [Could the ecumenical churches that were staged to give the COVID-19 jabs be open to becoming community isolation centers?]
Consider using a tent or convert shipping containers to be used as a CIC, if no suitable buildings exist. The size of space needed depends on the size of the community, the CIC, and the number of active COVID-19 cases in the community.
Locate the CIC next to a COVID-19-designated health facility to simplify patient transfer in case a patient develops severe symptoms. If this is not possible, consider the availability of telemedicine or telehealth as a mobile telephone service.
Avoid flood areas or areas with a danger of landslides.
Choose locations with the option to connect to basic services such as water and electricity.
My goodness, it looks like the military can commandeer any facility, doesn't it? Are we at war? Yes, and the world government is in control.
More excerpts from the CDC document:
Develop best practices [this is a code word used in sustainable development] for monitoring and managing ill and exposed healthcare workers.

The U.S. Centers for Disease Control and Prevention (CDC) is working closely with international partners to respond to the coronavirus disease 2019 (COVID-19) pandemic. CDC provides technical assistance to help other countries increase their ability to prevent, detect, and respond to health threats, including COVID-19.

This document is provided by CDC and is intended for use in non-US healthcare settings.

The WHO interim guidance for clinical management of COVID-19  external icon provides the following summary of published COVID-19 symptom descriptions and observed frequency (see box):

4. Surveillance Capacities   

Facility-based surveillance for healthcare-associated infections (HAIs), including infections in healthcare workers and inpatients, is one of the WHO's eight core components of infection prevention and control (IPC)external icon.  While surveillance is a critical component of providing safe healthcare, it is important to recognize that it requires expertise, good quality data, and an established IPC program and thus, may require time to set up. For this reason, during public health emergency response, healthcare facilities are encouraged to initially implement facility-based, suspect COVID-19 patient case finding (surveillance) that is feasible with existing surveillance capacities.

Health facility surveillance capacity varies greatly even within health systems.  A realistic appraisal of capacity can help identify the best strategy for a given context.  A general description of surveillance capacities based on existing HAI surveillance activity is provided for guidance.
Surveillance is reconnaissance! Our government wants to heavily monitor us. They want to scrutinize everything we do, every move we make.
The World Health Organization (WHO) mentions Community Isolation Centers in their documents. (Clicking that link will download the 43-page document to your computer as a PDF that you can read and/or save.)
According to them, "key actions" for facilities, leaders, and organizations are:
Ensure that community-based activities are incorporated into national response plans, and engage networks of community service providers (including NGOs, private health providers and volunteers) to support response efforts in a coordinated manner.

Identify context-relevant ways for the community health workforce to contribute to the COVID-19 response; these might include screening, making referrals, providing support for home care, staffing community-based isolation centres, and engaging in surveillance, contact tracing, risk communication and community engagement (see Part 2).
And don't miss this part:
Mental health conditions (from page 28 and 29)

Overview

COVID-19 has an impact on mental and brain health and is likely a risk factor for mental, neurological and substance use (MNS) disorders. Examples of COVID-19-related mental, neurological and behavioural manifestations are anxiety, depression, sleep problems, delirium, agitation, encephalopathy, alcohol use, gaming and domestic violence. The stress associated with the COVID-19 emergency may exacerbate pre-existing MNS disorders. Older adults with these conditions are among the most vulnerable.

People with severe MNS disorders are at risk of human rights violations and are often neglected during major emergencies. People with COVID-19 and MNS disorders should receive medical care without discrimination that is equal to care delivered to other people with COVID-19. Similarly, enforced physical isolation of people with COVID-19 and MNS disorders should not last longer than that of other people with COVID-19.
From WHO: Global Influenza Surveillance and Response System
Here's a list of the National Influenza Centers around the world.
Yes, the US CDC has one in Atlanta, Georgia:
David Wentworth
Centers for Disease Control and Prevention
1600 Clifton Road
Mailstop G-16
Atlanta, Georgia 30333
United States of America Fax: 404-639-2334
Notice the WHO Collaboration Centers located in Melbourne, Australia; Beijing, China; London, UK; and US. In the US: Atlanta, Georgia; Silver Spring, Maryland; and Memphis, Tennessee—at St. Jude's Research Hospital.
Finally, here are their WHO H5 Reference Laboratories. We have listed those in the US only.
WHO Collaborating Center for the Surveillance, Epidemiology and Control of Influenza
Centers for Disease Control and Prevention
National Center for Immunization and Other Respiratory Diseases
Influenza Division
1600 Clifton Road, A-20
Atlanta, Georgia 30329
United States of America
Fax: +1 404 639 0080
Email: [email protected]
http://www.cdc.gov/flu/
WHO Collaborating Center for Studies on the Ecology of Influenza in Animals
Virology Division
Department of Infectious Disease
St. Jude Children's Research Hospital
332 North Lauderdale Street
Memphis TN 38105-2794
United States of America
Fax: +1 901 523 2622
Email: [email protected]
http://www.stjude.org
(Now we can see why the Tennessee governor is getting nervous. The World Government is all around him.)
We are losing autonomy over our bodies, dear reader!
See the World Health Organization (WHO) Surveillance protocol for SARS-CoV-2 infection among health workers dated 28 May 2020.
See WHO, Health workers exposure risk assessment and management in the context of COVID-19 virus dated 4 March 2020.
If this isn't bad enough, we still have the Army National Guard recruiting vigorously for "Internment and Resettlement Specialists." This includes "search and restraint" training. Do these military documents reveal detaining civilians or Americans? Yes. (A detained person is called a "civilian internee".)
Here's a snippet from their website:
JOB DUTIES
Supervise confinement and detention operations
Provide external security to facilities
Provide counselling/guidance to individual prisoners within a rehabilitative program
Manage and maintain of prisoners/internees and their programs
This is pretty plain… But wait, there's more. 
Click here to see Military Document, FM 3-39.40 INTERNMENT AND RESETTLEMENT OPERATIONS,  (326 page pdf document) that Lays out the procedure for 'Civilian Internees'. This has been around for a while, but is back in the news. Sounds like a FEMA idea.
Is a National or State Executive Order constitutional?
Answer: No.
We have got to stop allowing our politicians to issue executive orders because they are unconstitutional and need to be nullified. Stay on your state legislators. Get a group together and visit with him/her.
Let's look at one final website before we close: The National Governors Association (NGA). Click here for NGA Leadership. Here are their mailing addresses. Notice that Arkansas Governor Asa Hutchinson is the Chair for NGA.Yes, Hutchinson declared a state of emergency for Arkansas last year. See Arkansas EO 20-03. Here is the latest EO 21-14 dated July 29, 2021. The governor can override the Senate and do just about anything he wants… and he will follow the strict United Nations dictates from the World Health Organization and the CDC… not what is truly best for the people.
Governor Hutchinson gave the Arkansas Secretary of Health, Dr. Jose Romero, extraordinary power as the lead agency. If you recall, he was head of the corrupt CDC Advisory Committee on Immunization Practices (ACIP Committee), but now the website has him hidden and listed as a Liaison Representative on the Board of Scientific Counselors as of August 2021. (See below from the CDC website as of 8/21/2021.)
He has been removed from the ACIP Membership Roster on the CDC website, even though he's still listed as a Liaison Representative for ACIP. (Interesting…)
Dr. Grace Lee, currently the new ACIP Chair and Dr. Jose Romero, past ACIP Chair, are the mouthpieces for Big Pharma at the CDC.
Dr. José R. Romero, a native of Mexico, was responsible for destroying much of Arkansas' economy and health with the statewide masks, lockdowns, and business closings. Dr. Romero used much of the false narratives of COVID lockdowns, being spun by Dr. Anthony Fauci and the CDC, to achieve the goals of the elite billionaire globalists.
Governor Asa Hutchinson must also share the responsibility for the destruction and closing of many businesses throughout Arkansas. Some of our small businesses were closed for good.
Dr. José R. Romero could really help with Arkansas and the USA… IF he would allow the use of Ivermectin for all COVID-19 cases, and it's good for many other viruses and health conditions. This will eliminate the COVID-19 so-called pandemic which never should have been called a pandemic… and the COVID-19 injection has been a failure from the start.
Maybe we should take a closer look at our governors and where our public policy is coming from, especially the collectivist National Governors Association… Its members are the governors of 55 states, territories, and commonwealths.
Did you know that the National Governors Association (NGA) was founded in 1908 and is a public policy organization? The tyrannical New York Governor Andrew Cuomo was the past Chair. Does that tell you about the corrupt association? No wonder he was so cruel when he was dealing with the good people of New York who were suffering. He handled them like a true communist dictator. No mercy shown.
Here's their NGA agenda — State Strategies to increase COVID-19 vaccinations in rural areas. If the NGA was serious about ending the COVID-19 pandemic, they would make Ivermectin available to all persons diagnosed with COVID-19. This is what India and Mexico did to reduce their deaths and COVID cases down to about zero. What do they have to lose? It is a crime when people are dying and the Ivermectin cure is withheld.
ANALYSIS:FDA vaccine authorization accelerated to unleash medical MARTIAL LAW as cover for collapse of the Biden regime
(Natural News) The insane, frauduent rushing of the Pfizer vaccine into "full approval" status by the FDA — just announced today (8/23/2021) — was ordered by the collapsing Biden regime. The purpose of this accelerated approval is to allow Biden's puppet masters to roll out medical martial law as a means to control the population and suppress the massive uprising that will soon commence against the illegitimate Biden regime.
The mass awakening to election fraud, combined with the increasing realization that the FDA, CDC and vaccine pushers lied to America the entire time (about vaccines halting infections or preventing transmission) will only fuel the protests that will accelerate through the months of September – November.
If you're not already, stand up and speak up against medical tyranny and for truth and freedom!
We must NOT let this dark saga continue…
In closing, a poem by Charles MacKay: 
"You have no enemies, you say? Alas, my friend, the boast is poor. He who has mingled in the fray of duty that the brave endure, must have made foes. If you have none, small is the work that you have done. You've hit no traitor on the hip. You've dashed no cup from perjured lip. You've never turned the wrong to right. You've been a coward in the fight."
As always, you can find our email articles posted on our website: SecureArkansas.com.  The Search box is a handy tool. 
For more information about a topic, just type it into the Search box on our website, and click Enter!
Securing the blessings of liberty,
Secure Arkansas
securetherepublic.com/arkansas
[email protected]
Share This Article