Arkansas' Covid-19 Injection Vote on SB732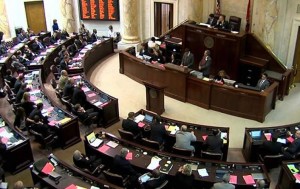 Special Session – Senate Vote – Monday, October 4, 2021
SB732 – TO PROHIBIT COERCION OF PERSONS TO RECEIVE THE VACCINE OR IMMUNIZATION FOR CORONAVIRUS 2019 (COVID-19); AND TO DECLARE AN EMERGENCY.
Click here for the current status of the bill in the Arkansas Legislature.
SB732 passed the Senate. (Emergency Clause failed of adoption.)
Referred to House.
ACTION ITEM: If you would like to see this bill pass or fail, contact the state representatives... BUT this is the part that Secure Arkansas does not like about this bill (see page 2, lines 26-29):
(2) An employee who seeks lost wages under this section shall be reimbursed comparable to unemployment benefits in this state through the American Rescue Plan Act of 2021, Pub. L. No. 117-2, or any other federal funds that may become available.
Who pays for unemployment insurance benefits? It's normally employers who are financially responsible for unemployment benefits, and each claim assessed to an employer's account can result in a tax rate increase for their future.
The regular, pre-pandemic program is funded by taxes on employers, including state taxes (which vary by state) and the Federal Unemployment Tax Act (FUTA) tax, which is 6 percent of the first $7,000 of each employee's wages.

If a company or corporation terminates an employee, the employee's wages are due by the next regular payday. If the employer fails to make payment within 7 days of the next regular payday then the employer shall owe the employee double the wages due.

[See final paycheck laws by state.]
So, what will happen if this bill passes? This would shift the liability from unemployment insurance to TAXPAYER FUNDS: rather than the employer paying the unemployment benefits via insurance coverage, we the taxpayers would pay for it!
Yes, we are desperate to see these forced Covid-19 injections stopped… BUT the devil is in the details with a lot of this legislation!! Most of the coronavirus bills at the Arkansas legislature in this special session are designed to help the EMPLOYER and mention the Biden-Harris Action Plan… so, we the taxpayers will end up funding our own demise! This is why Secure Arkansas cannot, in good conscience, support this bill.
Here are the results of SB732 after passing the Arkansas Senate. Take note of the vote, dear reader.
Yeas: 21  
Nays: 11  
Non Voting: 3 
Do you know your employee rights after a job termination ? And see here.
Again, if you'd like to see this bill pass OR fail, contact the state representatives.
We wanted to include protected philosophical beliefs used in case law because it was referred to in this bill.
In a nutshell, this is what Secure Arkansas believes — We are witnessing true crimes against humanity. Should you violate your conscience by taking a jab that has toxic substances into your body?… for your "J.O.B."? — Absolutely NOT! Do not become a victim. Do not quit your job!
Employers that are threatening and intimidating their employees to yield to the injection or lose their jobs and that are setting a deadline date for termination are criminals/thugs and intending bodily harm as far as Secure Arkansas is concerned. A great many people across this state and the country feel the same way we do. Not only are employers getting away with mandating the dangerous and deadly Covid-19 injection on their employees, they are leaning on the Biden-Harris Action Plan to fund it!
Civil liability should be in place.
The PCR tests are not designed to be a diagnostic conclusion and were known to have false positives. The numbers have been a joke all along! Testing proves NOTHING. Employers are playing this bastardized game of depopulation.
Do we need a 2nd Nuremberg Trial? Possibly, because global corporations and global non-profits (NGOs) are aligned with the sinister Klaus Schwab's (acting like a Nazi) World Economic Forum (WEF).
In the U.S., we see Biden's evolving policy for the employees/ working serfs of large companies. One jab here, one jab there, until most of us are weeded out and disposed of!
In closing, we want to remind you of some history:
Shadrach, Meshach, and Abednego replied to him, "King Nebuchadnezzar, we do not need to defend ourselves before you in this matter. If we are thrown into the blazing furnace, the God we serve is able to deliver us from it, and he will deliver us from Your Majesty's hand. But even if he does not, we want you to know, Your Majesty, that we will not serve your gods or worship the image of gold you have set up."

Then Nebuchadnezzar was furious with Shadrach, Meshach, and Abednego, and his attitude toward them changed. He ordered the furnace heated seven times hotter than usual and commanded some of the strongest soldiers in his army to tie up Shadrach, Meshach and Abednego and throw them into the blazing furnace.

Daniel 3:16-20
King Nebuchadnezzar of old is like the rulers and employers of today.
As always, you can find our email articles posted on our website: SecureArkansas.com.  The Search box is a handy tool.
For more information about a topic, just type it into the Search box on our website, and click Enter!
Securing the blessings of liberty,
Secure Arkansas
securetherepublic.com/arkansas
[email protected]
Share This Article