TIME IS TICKING! Petition for Arkansas Medical Freedom Amendment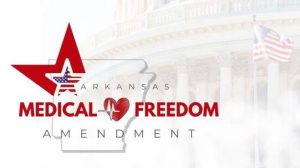 It's been a couple of months since we initially introduced this to you, so we would like to remind you of the legal petition that was filed January 6, 2022 regarding our medical freedom in Arkansas.
This is an opportunity for us to work together and ensure that this measure, a Constitutional Amendment, will be on the ballot in November, IF we the people of this state get the proper number of signatures needed on petitions to do so.
What is this amendment?  View and read the Arkansas Medical Freedom Amendment here.
Why is this particular amendment important? Humans are endowed by our Creator with unalienable rights, including bodily autonomy. So, what's the problem? We are under a depopulation agenda, and it's showing up all over. This is tyranny and is headed towards socialism and communism. The blind belief in "authority" needs to end, and freedom must prevail.
What can you do to help? What are the Action Steps? Please print off the petition onto LEGAL SIZED paper (8 1/2″ x 14″) and help gather a few pages of signatures for this amendment. (This isn't regular-sized paper. It's a bit longer.)
THIS IS VERY IMPORTANT: There is a front side and a back side to the petition, so have the amendment and rules page printed on one side of the paper and the signature page on the other side of the same sheet of paper. We must do this for EACH petition page. (We cannot have just a page of the signatures without the amendment and rules on the other side.)
To print the petition and watch the video, go here and scroll down:
https://www.defendarkansas.us/ar-medical-freedom-amendment.html
Ask your friends, family, co-workers, neighbors, church members, club members, and others to sign this very important petition!
When you're finished gathering signatures:
sign the bottom of your petition page(s) in front of a Notary Public,
have your petition(s) notarized, and then
mail to this member of our organization
Tanya Charlton
13946 Noah Rd
Gravette, AR 72736
www.defendarkansas.us
Many banks have a Notary Public on staff, if you don't already know of one. Usually, that service is free of charge.
Where can you go to sign the petition? See the map and locations here.
How much time is allowed for us to work to help gather signatures to ensure this gets on the ballot in November 2022? We must submit the notarized petitions to the Secretary of State's office before July 8, 2022 (that's 4 months prior to the General Election in November), so PLEASE mail them to Tanya Charlton WELL before that date, preferably a few weeks before that, so she can submit them to the Arkansas Secretary of State's office for you.
As we responsibly consider our role and involvement in this particular amendment, we should ask — what kind of future do we envision for our children and grandchildren regarding medical freedom?
We talk a lot about our rights, and the other side of that coin is responsibility. It's our responsibility to do what we can to help secure our medical freedom in Arkansas.
Sign, SIGN, SIGN! Pick up the petition and gather some signatures. It's going to take cooperation to get this done.
Attention, other states:  this is for you to help secure in your own states as well.
Also, please forward this information to as many people as you can. Thank you!
As always, you can find our email articles posted on our website: SecureArkansas.com.  The Search box is a handy tool.
For more information about a topic, just type it into the Search box on our website, and click Enter!
Securing the blessings of liberty,
Secure Arkansas
securetherepublic.com/arkansas
info@securetherepublic.com
Share This Article