Justin Trudeau is with The World Economic Forum School for Global Dictators…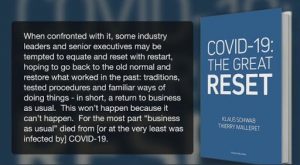 Silent weapons of war were used by the pharmaceutical industry against humanity in this life threatening Covid-19 mass vaccination campaign. Aided by Big Tech and strict media censorship, it's creating global tyranny! Their intrusive methods of control must stop NOW.
DARPA/Big Pharma bioengineers are constantly busy reformulating each subsequent generation of the harmful injections in order to raise the mortality rates of humans. This is being done under the Emergency Authorization Use (EAU). Unbelievable!
Big Pharma and the FDA still refuse to provide the details of all the components in the Covid shot. Content remains unknown, doctors. So, this would violate the foundation of informed consent. Only a limited number of people actually know what those shots contain.
It is high time for this so-called state of emergency to cease and desist! The state of emergency threshold was never defined properly, and this is a bio-security surveillance regime that is holding us hostage.
We will not comply.
In the United States on February 18, 2022, government funding was due to expire for the deadly mass campaigns of the poison Covid-19 vaccine mandates! Unfortunately, a stopgap bill passed in the House and will extend agency funding through March 11, 2022. Will Congress vote next month to fund the tyrannical federal government to enforce the mandates once again or will we have medical freedom? Call your federal lawmakers!
Are conservative Republican lawmakers finally going to stand up against the genocide of the American public? It appears that there is a coalition of 49 Republican lawmakers in the House and Senate that are saying they will oppose funding for the enforcement of Biden's vaccine mandates.
Here's a refreshing quote from Bangor Daily News: A Missouri State Representative, Brian Seitz, stated, "to have something injected into your body as a condition of employment lest you be fired or not hired, well it's not American. It tends towards socialism, communism, and whatever other -ism you want to talk about."
We hope that our Congress is NOT tempted and led off by the vast amounts of money being handed out by Big Pharma and their propaganda ministers like the Doctor of Death, Anthony Fauci. He defends himself by saying, "Everything that I have said has been in support of the CDC guidelines." 
The digital injections were not true vaccines but drugs based on technology! They have never been used in therapeutics before this man-made hoax. Therefore, the dreadful drug manufacturers should be held liable for the harm and deaths that have occurred to humanity around the globe. The mass vaccination was a global experiment.
This violent injection campaign is about depopulation. It's about culling humanity. Do NOT be misled into thinking that it is just merely about money or human compliance. Fox News recently said the virus was about compliance, but sadly, it is more sinister than compliance.
Now, doctors are calling for the dangerous 5G wireless microwave radiation to be delayed because of the health risks involving electromagnetic radiation. It is harmful to humans, animals, and insects, and it will intensify diseases. AT&T, Verizon, T-Mobile, U.S. Cellular, Cricket Wireless, Google Fi, US Mobile, Xfinity Mobile, Mint Mobile, and Visible Wireless — take note. Do not deploy this dastardly technology because people will be coming for you.
In Canada, we are seeing the brave and courageous Canadians stand up for medical freedom. Truckers have vowed not to leave Ottawa until the tyrannicidal Prime Minister Trudeau backs off from forcing vaccine mandates upon the innocent public.
Justin Trudeau, Prime Minister of Canada or as some call him, "Little Fidel", was more than likely sired by the Communist Dictator, Fidel Castro from Cuba! Here is a Statement by the Prime Minister of Canada, Justin Trudeau on the death of former Cuban President Fidel Castro on November 26, 2016.
Klaus Schwab states how proud he is of Fidel Junior and to have infiltrated half of Trudeau's globalist cabinet.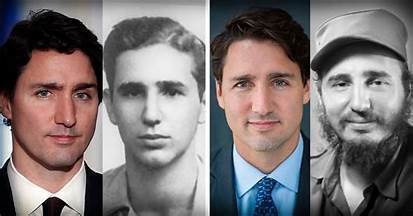 image credit
Color pictures are of Justin Trudeau
Black-and-white pictures are of Fidel Castro
And here's another one for you: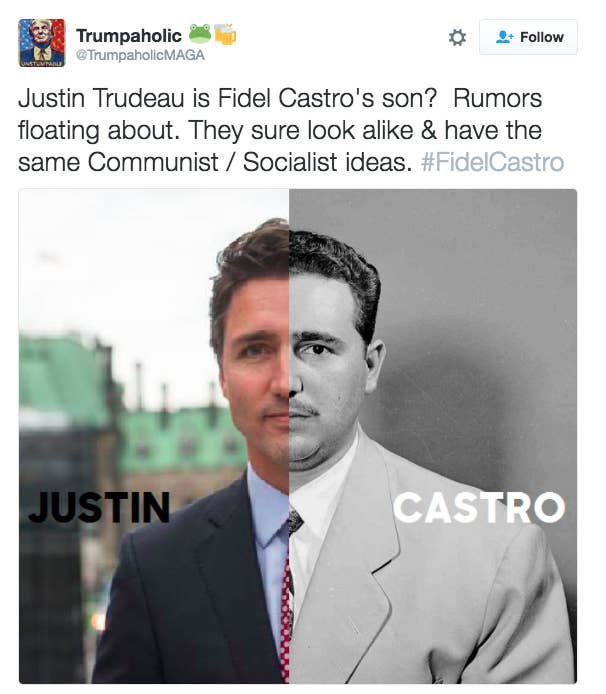 Of Course Fidel Castro is Justin Trudeau's Dad. Nobody Has 'Debunked' Anything
From the article:
In the age of sloppy journalism, few authors are sloppier than those who claim they 'debunked' the story that Fidel Castro is Justin Trudeau's biological father. They recite the Canadian governments' official travel dates to Cuba and painfully avoid the Trudeaus' extensive personal trip to the Caribbean trip in Spring 1971. It is a fact the Trudeaus were in the Caribbean in Spring 1971. It is a fact they adored Castro. It is a fact the Trudeaus were swingers. This is what you need to know.

First, Margaret Trudeau, Pierre Trudeau, and Fidel Castro were all notoriously sexually promiscuous. Margaret Trudeau was a partier who unquestionably had sex with men while married to Pierre. Nobody knows if Pierre objected. They met when he was 48 and she was 18. They got married when he was 53 and she was 23. Their marriage surprised Canada because Pierre had been a lifelong playboy with no wife or children. He would be turning 60 when she was barely out of her 20's. She publicly states today she suffered from bipolar disorder and self-control issues.

Second, the Trudeaus adored Castro. They, their aides and friends all said so. According to John English's "Just Watch Me: The Life of Pierre Elliot Trudeau 1968–2000" they were charmed by Castro and made several trips to embargo-era Cuba just to see him. In 2000, Castro made a rare appearance out of Cuba to attend Pierre's funeral in Canada. On his visit, Margaret welcomed the leader at his hotel on behalf of the Trudeaus. They demonstrated a striking level of familiarity before even getting off the tarmac of their 1976 trip. They all took photographs together. The Trudeaus introduced Castro to their children. And when Castro died, Justin Trudeau was the only leader of the Western World to give him an overwhelmingly positive eulogy without addressing his misdeeds.
That last sentence speaks volumes…
Watch: Tucker Carlson Says 'for sure' Fidel Castro is Justin Trudeau's father
Tucker Carlson said that Cuban communist dictator Fidel Castro was "for sure" the father of left-wing Canadian Prime Minister Justin Trudeau.

A Thursday evening Fox News segment featured Carlson quizzing Jeanine Pirro and Lawrence Jones on which famous dictator is rumored to be the real father of Trudeau.

"Did Margaret Trudeau bear the love child of Fidel Castro, and does he now run Canada? And of course, the answer is, 'For sure,'" Carlson said.
Moreover, of course there's money involved: Trudeau's new bank delivers for investors, not the public
The Trudeau government designed the Canada Infrastructure Bank in such as way that municipalities that want the bank's financial   support for an infrastructure project must "partner" with a private business, which drives up costs.  

Governments are generally secretive about giving handouts to business, but the Trudeau government has come up with a particularly sneaky way to deliver corporate welfare — through its Canada Infrastructure Bank (CIB).
Trudeau set this up as a sweetheart deal between the banks and the investors.  Remember, BlackRock is involved, and Larry Fink is the CEO. This is not good for the people of Canada.
Canada, we are with you. Justin Trudeau is a crook, a dictator… and an accused paedophile. He must go. What else is going on with him? More on his sexual allegations here. And in the Israel National News Trudeau paid $2.25 million to a former student who claims Trudeau had an affair with her.
The Cult of Klaus! The global group with whom Trudeau is identifying is the Communist Klaus Schwab's young global leaders from World Economic Form (WEF) placed in powerful positions all over the world. These young global leaders are dangerous because they are influencing and running some of the most powerful institutions and governments in the world.  Unfortunately, they are there for us to deal with, and there is no telling what they are capable of doing to humanity.
The Young Global Leaders of WEF have been heavily indoctrinated into globalism. That's why the brain-washed Justin Trudeau won't budge to negotiate with the truckers and show the Canadians any affection or mercy regarding the protests for the mandates. He will execute severe judgement according to his harsh communist beliefs.
Update from One American News (OAN): Trudeau Invoked Emergency Powers To Starve Protesting Canadian Truckers Of Funds. This allows Trudeau and his liberal cabinet to take on extra federal powers. So those unnecessary extreme actions would be martial law on those peaceful trucker protests.
Here are some snippets:
As part of the Act, Finance Minister Chrystia Freeland announced a slew of measures to choke off the truckers' funding, saying they could lose their commercial licenses, insurance and access to bank accounts.

The Canadian Civil Liberties Association came out against the government's decision Monday, saying the standard for invoking the Emergencies Act "has not been met."

The Act exists for situations that seriously threaten "the ability of the Government of Canada to preserve the sovereignty, security and territorial integrity of Canada" and that "cannot be effectively dealt with under any other law of Canada," it said in a statement.
The totalitarian World Economic Forum (WEF) has planned monumental changes for the American family and household, claiming we have "too much".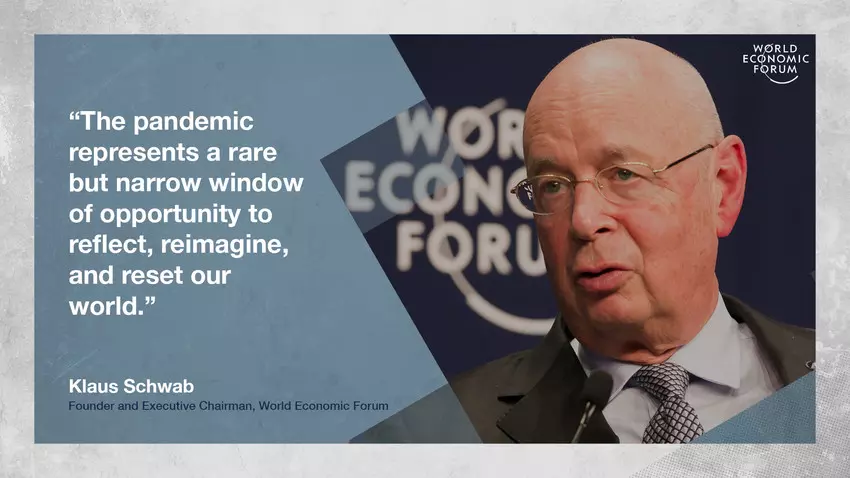 See? The quote in the image above? There's that mindset again:  "Never let a crisis go to waste." We do not need people like Klaus Schwab or Justin Trudeau resetting anything, locally OR globally.
And did you see this 48-second video clip of Bill Maher talking about what Trudeau said about people who aren't vaccinated? Trudeau sounds very elitist…
Below is a must view if you want to fully understand what's going on in this world.
Here's a statement and a vital link so you can listen to Klaus Schwab here:
I have to say then I mention names like Mrs Merkel, even Vladimir Putin and so on they all have been Young Global Leaders of The World Economic Forum. But what we are really proud of now with the young generation like Prime Minister Trudeau, President of Argentina and so on, is that we penetrate the cabinets… It is true in Argentina and it is true in France now… (Klaus Schwab)
From the WEF website — More examples of influential Young Global Leaders/ Minions
Crown Princess Victoria of Sweden
Crown Prince Haakon of Norway
Crown Prince Fredrik of Denmark
Prince Jaime de Bourbon de Parme, Netherlands
Princess Reema Bint Bandar Al-Saud, Ambassador for Saudi-Arabia in USA
Jacinda Arden, Prime Minister, New Zealand
Alexander De Croo, Prime Minister, Belgium
Emmanuel Macron, President, France
Sanna Marin, Prime Minister, Finland
Carlos Alvarado Quesada, President, Costa Rica
Faisal Alibrahim, Minister of Economy and Planning, Saudi Arabia
Shauna Aminath, Minister of Environment, Climate Change and Technology, Maldives
Ida Auken, MP, former Minister of Environment, Denmark (author of the infamous article "Welcome To 2030: I Own Nothing, Have No Privacy And Life Has Never Been Better")
Annalena Baerbock, Minister of Foreign Affairs, Leader of Alliance 90/Die Grünen, Germany
Kamissa Camara, Minister of the Digital Economy and Planning, Mali
Ugyen Dorji, Minister of Domestic Affairs, Bhutan
Martín Guzmán, Minister of Finance, Argentina
Muhammad Hammad Azhar, Minister of Energy, Pakistan
Paula Ingabire, Minister of Information and Communications Technology and Innovation, Rwanda
Ronald Lamola, Minister of Justice and Correctional Services, South Africa
Birgitta Ohlson, Minister for European Union Affairs 2010–2014, Sweden
Mona Sahlin, Party Leader of the Social Democrats 2007–2011, Sweden
Stav Shaffir, Leader of the Green Party, Israel
Vera Daves de Sousa, Minister of Finance, Angola
Leonardo Di Caprio, actor and Climate Activist
Mattias Klum, photographer and Environmentalist, Sweden
Jack Ma, Founder of Alibaba
Larry Page, Founder of Google
Ricken Patel, Founder of Avaaz
Jimmy Wale, Founder of Wikipedia
Jacob Wallenberg, Chairman of Investor
Niklas Zennström, Founder of Skype
Mark Zuckerberg, Founder of Facebook
The purpose from the beginning has been to "identify and advance a future-oriented global agenda, focusing on issues at the intersection of the public and private sectors." Public–Private Partnerships is one of the cornerstones of the World Economic Forum philosophy. That is, a merger between state and large companies (also known as corporativism) with the aim of solving global problems of in a more "effective" way. The choice of leaders clearly reflects this aspiration.
Here is a list of the wealthy World Economic Forum (WEF) supporters. We will mention only a few names like Harvard Kennedy School, Princeton University Andlinger Center for Energy and the Environment, University of Oxford Said Business School, and Singapore Economic Development Board.
Listing more recognizable names of Young Global Leaders:
The WEF is a school for global dictators! Klaus Schwab's World Economic Forum (WEF) "School for Covid Dictators", A Plan for a Great Reset, an excellent article from Global Research. The Young Global leaders under Schwab's tutelage and his cohorts are the "Yes Men" behind the Covid scheme. Here are a couple of snippets:
Members of the school's very first class in 1992 already included many who went on to become important liberal political figures, such as Angela Merkel, Nicolas Sarkozy, Justin Trudeau and Tony Blair.

There are currently about 1,300 graduates of this school, and the list of alumni includes several names of those who went on to become leaders of the health institutions of their respective nations.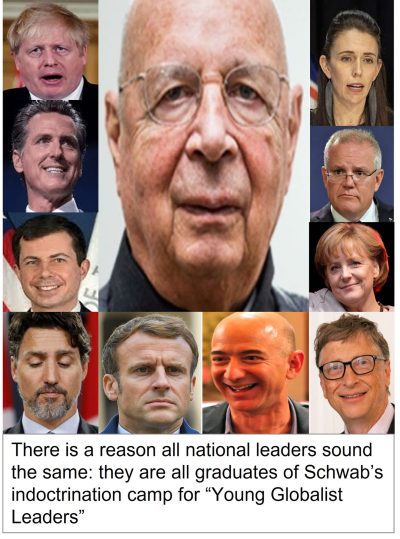 As you can see, we are in for quite a ride as the ruthless billionaire globalists move forward with their Sustainable Development Goals (SDG) which they say will "transform" not only America but the entire world. Klaus Schwab's The Great Reset, being initiated by the World Economic Forum, will be calling for the residents of the whole world to conserve energy. Expect energy outages. Radical environmentalists will be behind this agenda and will call for governments to enforce oppressive energy policies. Transform World deals with Artificial Intelligence in security, manufacturing, retail, and even more industries.
We find it interesting that the World Economic Forum (WEF) annual meeting in Davos is postponed until the summer of 2022.  Here's a quote from Schwab:
"The deferral of the Annual Meeting will not prevent progress through continued digital convening of leaders from business, government and civil society," said Professor Klaus Schwab, Founder and Executive Chairman of the World Economic Forum. "Public-private cooperation has moved forward throughout the pandemic and that will continue apace. We look forward to bringing global leaders together in person soon."
Web of Deceit: We might not want to be so trusting when it comes to the health care policies being put in place continually by the dark organizations from the WEF. Yes, these so-called health policies trickle down from global policies to our local policies. Let's be aware of the propaganda, the deception, and the out-right lies being spewed across the earth and even into EVERY small town.
People are definitely waking up to the fact that these "vaccines", better known as devices, are deadly. The devices that were are injected and implanted in the public need to be questioned and exposed quickly because the vaccination campaign continues!
Vaccines are both harmful and dangerous and are leading to generations of humans with no natural defenses against disease.
Vaccines DO NOT Save Lives. Healthy Immune Systems Do!
As always, you can find our email articles posted on our website: SecureArkansas.com.  The Search box is a handy tool.  
For more information about a topic, just type it into the Search box on our website, and click Enter!
Securing the blessings of liberty,
Secure Arkansas
securetherepublic.com/arkansas
info@securetherepublic.com
Share This Article