Petition to Stop Crypto Mining in Dewitt!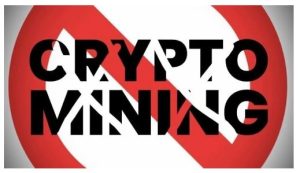 Here we go again! Communities are greatly concerned about another unwelcome communist Chinese crypto mining site that could pop up in Dewitt. Let's help support those affected by these malevolent crypto mining facilities.
From KATV:  Natural State or 'Bitcoin State?' Rural Arkansas County passionately fights against introduction of crypto mines
Some excerpts:
LITTLE ROCK (KATV) — The high-tech phenomena of crypto-mining is spreading throughout the Natural State, and a recent proposal for a new facility near DeWitt, Arkansas, has locals up in arms.

There is a lot of spirit in DeWitt and Arkansas County as a whole, and the potential threats posed by a new crypto mine have brought local outcry to a fever pitch.

"This affects every single Arkansan in the state of Arkansas. We will no longer be the Natural State; we will be the Bitcoin State," said DeWitt business owner Jackie Johnson. "And this is one of the only states that did not have Bitcoin mining. It's Sarah Huckabee Sanders and our legislature welcomed them [with] open arms. It's something else too, bitcoin miners are not little mom and pop businesses, they are big conglomerates that don't even live in the United States.

"I'm here representing the farmers here concerning electricity and water. Two vital things that farmers need to survive and make a living. We don't want anything to jeopardize those in any way," said Kenneth Graves, chairman of the Arkansas Rice Growers Association.

Arkansas' government opened the door for crypto-mining businesses in the state with the recently signed into law Act 851, which severely limits the local government's ability to regulate crypto mines.
Enough is enough with these hazardous Bitcoin mining sites! Anything could happen because the Chinese will be hooking up to our electrical substations!
Our anti-FOIA Arkansas governor is not correcting this dangerous situation, and WAR is rapidly escalating. We are looking for proper representation from our elected officials. Our country and state face many enemies living among us, and the Communist Chinese Party (CCP) is certainly one of our well-known adversaries. China openly admits that America is their greatest enemy.
See this News Nation video below about how the Army is dealing with this special threat from China.
Must Watch! Please listen carefully: Army considers big cuts to Special Ops forces
One snippet:
The Wall Street Journal and Military.com report a 10% cut in Special Forces personnel. The move, which would impact about 3,000 troops, is being made to "enable the Army to rebalance toward the large conventional ground forces needed in a potential fight in Asia," according to the Journal.
After listening to the video, we wonder if the U.S. government will want to reinstate the draft? They are talking about "large conventional ground forces needed in a potential fight with Asia," meaning war with China. America does NOT have enough soldiers…
America has had thousands and thousands of illegal aliens crossing our unprotected borders, with a large percent of them being communist Chinese!
Who is to defend America from her enemies? Looks like we are left to fend for ourselves, and we simply cannot let our own government disarm Americans! Our legislators say they can do nothing about this invasion of the CCP into our state via crypto-mining facilities.
The CCP is ALREADY prepared for "The Great Reset" of nations and has planned to be THE world's greatest superpower. Remember, the CCP supports other communist nations and many terrorist organizations.
Shown below is the worrisome facility near Greenbrier. The communist Chinese do whatever they want there.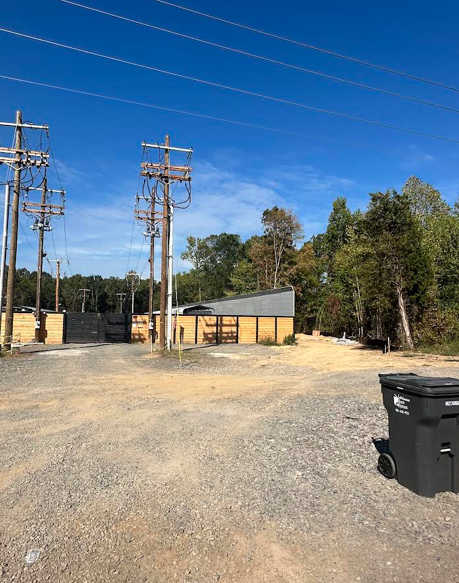 Editor's note: the photos included with this article are that of a facility in Greenbrier, Arkansas. They are not a direct representation of what is expected to be built in DeWitt.
Cryptocurrency Mining Facility is the Buzz of the Town in DeWitt
Snippets:
Arkansas County is known for its hunting. Will ducks and geese still migrate to this area with the sounds and vibrations from the numerous fans that are running to cool the 3,000 computers? We won't know until the facility is up and running, but with a huge part of the income that comes to local business owners from the hunting industry, many are a uneasy that this could become detrimental to the town of DeWitt and surrounding areas for the industry.

According to a discussion at the previous meeting, the build must be located near a substation, due to the substantial amount of power it pulls. Many asked the question "Well what happens when we have blackouts due to this facility?" and the only answer that was given was that the facility will be shut down if a blackout is on the verge of occurring. Upon the many studies and articles online, that hasn't been the case in many other locations where these same types of facilities are currently located.

Multiple locals in Arkansas County have turned down thousands of dollars in jobs to help build the facility, but there are still a few taking on the task. Community members have a Facebook page called "SAY NO TO CRYPTO IN ARCO" where locals can go to read information and ask questions.
.
Linked here and also shown below is the petition found on change.org:
Halt Crypto Mining in Arkansas County, Arkansas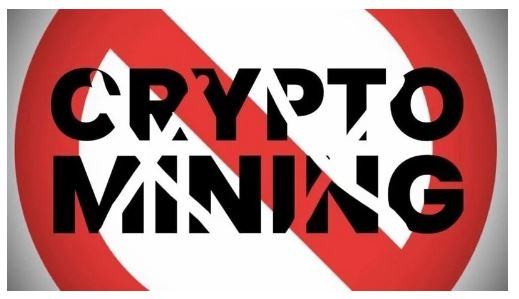 .
Started October 1, 2023
.
Why this petition matters  
Started by April Herring
We, the concerned citizens of Arkansas County, Arkansas, urge our local authorities to take immediate action to halt the progression and prohibit any future work of crypto mining within our county. We believe that allowing such activities poses significant risks and disadvantages for our community.
Crypto mining refers to the process of validating transactions and creating new cryptocurrency units through complex mathematical calculations. While this industry may seem appealing due to its potential economic benefits, it is crucial to consider its negative impacts on various aspects of our county.
1. Environmental Concerns:
Crypto mining consumes an enormous amount of electricity. According to a study by Cambridge University, Bitcoin mining alone consumes more energy than some entire countries. Allowing crypto mining operations in Arkansas County would put additional strain on our already limited energy resources and contribute significantly to greenhouse gas emissions.
2. Increased Electricity Costs:
The excessive energy consumption associated with crypto mining can lead to increased electricity costs for residents and businesses alike. As a result, households may face higher utility bills while local businesses struggle with rising operational expenses.
3. Strain on Infrastructure:
Crypto mining facilities require substantial infrastructure support such as high-speed internet connections and cooling systems for equipment maintenance. This strain on existing infrastructure could divert resources away from other essential community needs like schools, hospitals, or road maintenance.
4. Limited Economic Benefits:
While proponents argue that crypto mining can bring economic growth through job creation or increased tax revenue, it is important to note that these benefits are often short-lived or concentrated in the hands of a few individuals or corporations who control the industry's major operations.
5. Potential Criminal Activities:
The anonymity provided by cryptocurrencies creates opportunities for illegal activities such as money laundering or funding illicit operations without detection from law enforcement agencies effectively.
6. Noise Pollution: the noise generated by mining operations can be particularly troublesome for those living in close proximity to mining facilities. Some research states up to 5 miles away.
7. Wildlife: Another issue to consider is the impact on wildlife. Crypto mining operations can disrupt habitats and migration patterns of various species.
8. Farming: It is important to consider the impact on our farming communities. Many areas where mining operations are located are also home to agricultural operations. Crypto mining will have negative effects on their crops and livestock.
Considering these concerns and potential risks associated with crypto mining in our county, we strongly urge local authorities to impose a ban on all current and future crypto mining operations within Arkansas County. By doing so, we can protect our environment, preserve our resources, and ensure the well-being of our community.
We call upon our elected officials to prioritize the long-term interests of Arkansas County residents over short-term gains. Let us work together to create a sustainable and prosperous future for all.
Sources:
– Cambridge Centre for Alternative Finance: "Cambridge Bitcoin Electricity Consumption Index"
– The Guardian: "Bitcoin mining consumes more electricity than entire countries"
Signatures: 1,454 Next Goal: 1,500
—————————
As you now know, the Arkansas legislators enacted very dangerous legislation during this last 2023 legislative session that would protect crypto mines as data centers and clarify the guidelines needed to protect data asset miners from discriminatory industry-specific regulations and taxes. It even tried to override the local government! As you know, the crypto mining facility was fraudulently labeled a "data center" during this past legislative session of 2023.
We have been betrayed.
Listed below, we've bullet-pointed some previous 2023 Secure Arkansas articles regarding crypto mining dangers and the CCP:
With the malevolent creation of the HB1654, now Act 819 which provides sales and use tax exemptions for these dirty digital data centers, the door was opened for Communist Chinese players to send their people over here to work and take advantage of the good people of Arkansas, as well as violate our precious natural resources. It's happening in other states as well.
See this vital report dated February 6, 2023, from the Office of the Director of National Intelligence. The report stated, "The National Intelligence Council stands ready to support policymakers with additional information in a classified setting."
As Marxist Red China — a permanent United Nations Security member —  is pushing for global dominance, here's what's happening locally. They are buying our U.S. farmland, and we are witnessing a tremendous amount of environmentally unfriendly digital mining stations popping up around the U.S. which are draining our electrical grid and will force the installation of windmills and solar panels. Why are we allowing China-based companies a free ride on our American markets without having to comply with U.S. audit regulations? Wouldn't that increase risk for investors?
China's threat to the United States is multi-dimensional.
Here is an article from the FBI entitled "The China Threat" and also a video entitled "Made in Beijing: The Plan for Global Market Domination" from that article. (Be sure to look at the Wanted List at the end of their article to see if you have seen these Chinese Communist operatives.) Corporate America and our politicians are playing with fire dealing with the Chinese government! Get prepared to be burned because they will steal you blind and lie to your face!

From the article:

The Chinese government is employing tactics that seek to influence lawmakers and public opinion to achieve policies that are more favorable to China.

At the same time, the Chinese government is seeking to become the world's greatest superpower through predatory lending and business practices, systematic theft of intellectual property, and brazen cyber intrusions.

China's efforts target businesses, academic institutions, researchers, lawmakers, and the general public and will require a whole-of-society response. The government and the private sector must commit to working together to better understand and counter the threat.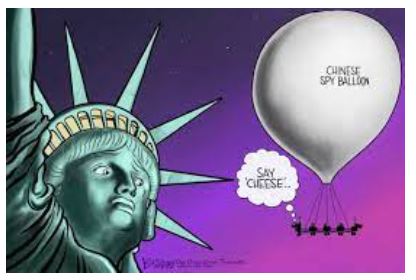 From Newsweek:
Renewed interest in new legislation comes as the U.S. shot down a fourth high-altitude object in north American airspace in eight days; a suspected Chinese spy balloon was allowed to travel across the continental U.S. before being shot down off the coast of South Carolina on February 4, and two further objects were taken out over Alaska and the Yukon on Friday and Saturday respectively. A fourth object was shot down over Lake Huron on Sunday.
The spy balloon was not just about spying; it was a signaling of dreadful political warfare in our skies, and it was a threatening sign against the United States, a definite signal of war. Also, China could use balloons or something else for an EMP attack which would wipe out our electrical grid, computers (such as banking), and disable all automobiles and airplanes. Hospitals would be endangered, too.
Electromagnetic pulse expert warns EMP is biggest danger to America — Washington Examiner
From the article:
One of the nation's leading experts on electromagnetic pulses warned that an EMP blast is the biggest danger to the United States because it could disable the entire electrical grid.

"Using a balloon as a WMD/WME platform could provide adversaries with a pallet of altitudes and payload options with which to maximize offensive effects against the U.S.," Air Force Maj. David Stuc-kenberg said in a 2015 defense report.
Two more previous Secure Arkansas articles from July 2023:
Why has Entergy betrayed the American people and put all of us and our country's power grid in great danger? All this wheeling-and-dealing with the communist Chinese has put our population at great risk and in a frightening situation because we are vulnerable to the communists with all this digital crypto mining. War threatens America in 2023.
Arkansas' beloved Channel "7 On Your Side" News has helped raise our awareness of the new crypto mining law and all of the issues surrounding crypto mines which have taken unsuspecting and outraged communities by surprise! There are now around 10 crypto mining sites around the state, and unfortunately, the hideous "Right to Mine" law goes into effect in less than two short weeks on August 1, 2023.

Senator Bryan King of Green Forest has let us know that his bill to repeal the "Right to Mine" law could be brought up at the next budget session this coming Spring 2024.
.
As always, our articles may be viewed on our website at  SecureArkansas.com. Once there, you may:
view current articles on the main page;
view older articles by clicking "Posts & Articles" at the top left of the main page and scrolling down.
view additional past articles by clicking the "Next Page" button at the bottom right.
To find information about a topic, just type it into the Search box on our website, and click Enter!
Click here if you'd like to sign up to receive Secure Arkansas email alerts.
Securing the blessings of liberty,
Secure Arkansas
securetherepublic.com/arkansas
info@securetherepublic.com
image credit for cover image
Share This Article