Attention All Vaccinated: Get Your Heart Tested!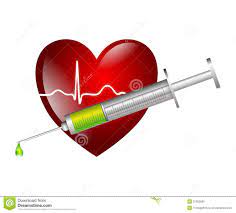 This is a Public Health Concern!
If you are concerned when hearing of vaccinated people who have "died suddenly" or have been injured after taking the COVID injections, especially the sudden cardiac deaths in our athletes, then you are not alone.
What is killing or injuring our healthy young people, and why are 3 million Americans lost to disabilities now?
The long-term dangerous side effects may still be waiting for the vaccinated, and heart issues are climbing amongst the vaccinated public, even amongst millennials. Could the deadly injections cause heart inflammation, and in sports, could adrenaline trigger injury or death?
Dr. Peter McCullough has stated that sudden cardiac deaths have increased following vaccinations. See his Tweet below: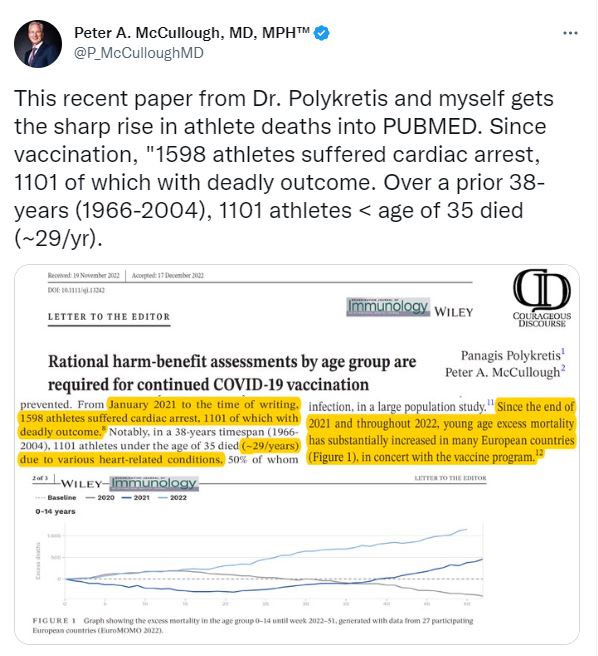 So, to sum up:
Since the Covid vaccination, almost 1600 athletes suffered cardiac arrest, and 1101 of them DIED. That's a period of about 2 years.
However, prior to the Covid vaccination, the same number of athletes (1100) have died over the previous 38 YEARS.
So, after the Covid injections, athletes are dropping like flies!
If you have had the Covid injection, please consider having your heart tested by the Heart Care Corporation, especially if you were forced to take the injection or otherwise lose your job, or to keep your child in school, or to keep your loved one in the nursing home, etc.
Here's an excerpt from their website:
The MCG™ technology is objective, non-invasive, cost effective, and easily implemented in clinical practice. When used as part of a patient's annual physical in the primary care setting, this approach to assessing a patient's full cardiac condition will reduce unnecessary advanced testing and save time, money, and the lives of untold patients. The MCG™ can identify atrial fibrillation, ventricular fibrillation, and other rhythm disturbances even before they are noticed by most patients, allowing the physician to intervene before rhythm disturbances become problematic. The ability to detect heart disease in much earlier stages than any of the existing modalities creates extraordinary value to preventive medicine while producing substantial savings in healthcare costs.
This is a blessing. Thank you to Steve Kirsch for bringing this heart test to our attention.
So, if you want to know where you stand with your heart after being jabbed, get your heart tested soon.
Also, like Kirsch said in his article, if the Buffalo Bills want to know if any of their players are vaccine injured… take the above test because they can access their team in a short order.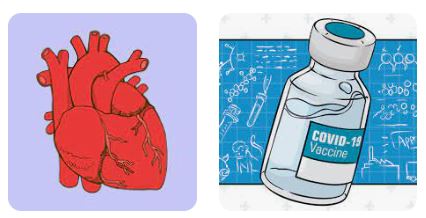 ACTION: We should ALL demand that our employers provide FREE heart testing for those employees who were mandated to take the experimental injection.
The NFL required their players to take the Covid shot as well, and even the fans and attendees were required to take the Covid shot to gain entrance to the stadiums to watch the games. Even some schools and colleges were requiring the Covid jab to participate in sports.
So, ALL high school, college, or professional sports athletes need to have this important heart test.
Here's an informative podcast from the Charlie Kirk show: An Epidemic of Sudden Deaths with Edward Dowd (a Wall Street veteran), or get the book called "Cause Unknown": The Epidemic of Sudden Deaths. The CEO of the OneAmerica insurance company publicly disclosed that during the third and fourth quarters of 2021, death in people of working age (18–64) was 40 percent higher than it was before the pandemic.
The average life expectancy of Americans fell precipitously in 2020 and 2021.
Shockingly, a revealing study in Switerland (there's a charge to read their info) and this New Swiss Study: Covid Shots Increase Risk of Myocarditis by 800 TIMES in Young Adults found the rate of subclinical myocarditis is hundreds of times more common than clinical myocarditis. Dr. Mercola alerted us that sadly, it was found that 100% of the vaccinated suffered some level of heart injury. The jabbed all had elevated troponin levels which is an indicator of or biomarker for heart damage! From the article:
Swiss research has found the rate of subclinical myocarditis is hundreds of times more common than clinical myocarditis after mRNA injection, and ALL mRNA shot recipients had elevated troponin levels, indicating they had some level of heart injury, even if they were asymptomatic
Repeating: Swiss research found ALL mRNA jab recipients suffered some level of heart injury, even if they were asymptomatic.
Also, in the article How the FDA and CDC Are Hiding COVID Jab Dangers, Dr. Mercola details how the U.S. Food and Drug Administration and the Centers for Disease Control and Prevention are refusing to release relevant data, have lied about trial findings, and even more egregiously, are now manipulating databases to artificially eliminate safety signals and hide excess jab-related deaths.
In the beginning, the tyrannical mandated experimental biological COVID shots were in the hands of Operation Warp Speed which has now wreaked havoc on people all over the country and continues to injure or kill a great number of people. It looks like working people were seriously targeted and that there was a historic spike in deaths among younger people.
We know that there are many other extremely concerning and possibly deadly health conditions that have arisen due to the Covid shots, but we are specifically focusing on the heart in this particular article.
In closing, we need hope restored because we do have some good doctors and scientists working on protocols that could reverse some of the damage caused by the injections.
As always, you can find our email articles posted on our website: SecureArkansas.com.  The Search box is a handy tool.
For more information about a topic, just type it into the Search box on our website, and click Enter!
Securing the blessings of liberty,
Secure Arkansas
securetherepublic.com/arkansas
info@securetherepublic.com
Share This Article